In the inked-up world, your skin is your canvas. Someone's body art is an extension of themselves. Sometimes it can take time to find the right style. 
You've probably been scouring the internet on all different platforms, trying to find the perfect tattoo design that speaks to you. If you're captivated by delicate tattoo styles but are hitting a roadblock in figuring out which design fits your vibe, say less — we've got you!
Why Choose a Delicate Tattoo?
Why exactly do delicate tattoos pull you in? Maybe it's their airy elegance. Most tattoos drawn delicately are described as light, bright, flowy, and airy. It's as if the ink can breathe! 
Many have a dainty design overall; the linework is fine and deliberate. The shading of these tattoos is usually softer than other designs; there is a lighter saturation of the shading. 
Also, since the pieces have less shading, the sitting time and pain are typically less. Who doesn't love that? They are graceful, sweeping across the skin as if they were meant to be there, curving and flowing with your body. Doesn't that sound beautiful? 
Some of these tattoos drape across shoulders and sweep down arms. Or they trail lightly down legs, curving around calves to stop at the ankle. Even small or tiny tattoos are a part of the light and airy category. Often the smaller designs are placed on wrists, fingers, and ankles. 
A larger piece can be etched across the upper thigh, peeking out during summer weather or through ripped jeans. Those tiny tattoos can have feathered strokes, whispers of lines, and soft, gentle movement. 
The beauty of ink is that it can really go anywhere! You and your artist will be able to find the perfect spot for your delicate design.
How Do I Choose a Tattoo Design?
Knowing what features you find enticing is helpful in picking what design to get. So if you're baffled by what design to choose, keep reading! We will do the work for you! There are a plethora of ideas and designs that incorporate a light and airy feel. 
It depends on how you do it. Any subject can be done in a million different ways. We find delicate tattoos tend towards fine lines and minimal shading or dot work. You could also create your delicate design with a few simple lines. 
Depending on the shading you'd allow, delicate tattoos can be especially quick. They can be a good way to see if you like the inked life.
Florals
Florals are always an enchanting option, even more so when drawn delicately. Roses, magnolias, and peonies can be inked in a way that they bloom up and out as if they have been a bouquet under your skin all along. 
Even the expansive sunflower with its intricate lines dances with you as you move. The precise shading on specific leaves and petals draws your eye along the contours of the inked skin. 
Car
Have a favorite car? Or maybe there's a futuristic anime vehicle you've always loved. You can get an outline or a fine-line version to remind you of the fast times and speedy escapes in your favorite movies or real life. Herbie tattoo, anyone?
Birds
Birds are a given for light and airy pieces. They are light and air-bound in nature and often in art. Birds are a great subject for a tattoo artist because there are so many different ways they can be designed. A finely shaded bird tattoo might be a great reminder of freedom and flight. 
Planets
You could get a cute face-on-the-moon design or a combo of the sun and the moon. How about a planetary system? Maybe you pine for Pluto? Planets and stars are always a neat way to show your fascination with the universe at large. 
We've seen super delicate astronomy tattoos, soft and sweet with star and floral adornments adding cute touches — a celestial outline on the back of your neck, a moon with a spattering of stars dotting downwards. 
We've also seen super geometric and realistic versions. Planets and stars can be done in sophisticated designs that don't get too heavy.
Words and Phrases
And maybe even quotes! If you're down to get some written word ink on your body, think about getting a favorite word, name, phrase, quote, or song lyric. These are all amazing reminders or odes to your favorite sentiments, whether it's a philosophy of life or your grandmother's name. Commonly, these tattoos include an important date inked on your wrist in a modern font or a line from a greeting card given to you on a special day.
Anime
Pay homage to your favorite animes with a light character recreation, or maybe there's a prop you feel attached to. We've seen a lot of ramen tattoos and Akira odes that have been done in a soft and delicate way. 
Geometrics
Have you ever heard of sacred geometry? Or maybe you just like math or shapes. Whatever your vibe is, cool shapes and interlinking designs make for aesthetically pleasing tattoos that can give a light look. 
Imagine radial designs with intersecting triangles and other geometric patterns. These designs can look especially light if you leave blank skin inside the designs.
Plants
Become a living botany book. Leaves and plants tattoos are the perfect vibe for an easy, breezy tattoo. If you're a plant person, then you already know the look. 
Plants are fascinating life forms, and the possibilities for what kind of plant you get tatted are pretty endless. Wrap vines around your arms or get the leaf of your favorite plant designed in detail. 
Insects
How about a tiny but detailed bee above your elbow? Or a line of ants marching their way up your back? A lighter take on a traditional butterfly design? 
Any majorly tattooed person is likely to have an insect tattoo; they are pretty common. An insect tattoo is like a fingerprint. Most people have them, but how you do it will be totally unique to you. Well, that's how it goes for most tattoos, doesn't it?
Tiny Tattoos
Even the tiniest tattoos make a big impact. Like when the beach incites a calm, relaxed feeling, but you can't go there all the time. 
Get a single-line ocean wave rolling along your inner elbow. A permanent nudge to breathe deeply, pretend there is ocean wind around you, and center yourself. Or get sacred geometry on your fingers. Or a little heart tattoo on your hip.
Matching Tattoos
Or if you and your best friend would like a reminder of each other but don't want a large or heavy-looking piece, get a tiny matching tattoo! Consider matching feathers sweeping on your wrists or a moon and sun behind opposite ears. 
You could get the outline of the city, state, or country you are from. The charm of a fine-line tattoo is that they don't go out of style. They stay looking uncluttered and natural. 
Keeping Your Delicate Art Beautiful!
Regardless of design, even simple line work needs proper aftercare! It is one of the key elements to keeping your ink looking the best. Luckily you've come to the right place; here at Mad Rabbit, we have you covered! 
Be sure to listen to your artist when they tell you how long to keep your tattoo covered. Once it is open to the air, that's where we come in! Aftercare! Grab our Mad Rabbit Starter Pack and make it much easier to jump-start proper healing. 
This pack includes soothing gel, a healing tattoo balm, and an SPF sunscreen — all staples to keep your ink gorgeous! Wash your hands really well with mild soap, then wash your tattoo with our fragrance-free, antibacterial soap and lukewarm water. 
You always want to be oh so gentle with your skin. Pat the area dry with a clean paper towel once you've rinsed clean. Slather on some of our Mad Rabbit Soothing Gel, perfect for a sensitive, fresh tattoo. Swipe a thin layer onto the area. Repeat this once a day for two weeks as your ink is healing. 
Final Thoughts
You're already on the right path when you pick a tattoo style you love, a delicate design that makes you happy just by looking at it. Putting together an elegant, intricate tattoo with proper aftercare leaves you with breathtaking artwork to show off for your whole life. 
No need for an art museum; the canvas is you!
Sources:
National Library of Medicine: Tattoo Aftercare | NCBI
EPA Sun Safety: The Burning Facts | EPA
Overview | Our Solar System | NASA
Try risk-free & save with the Essential Sets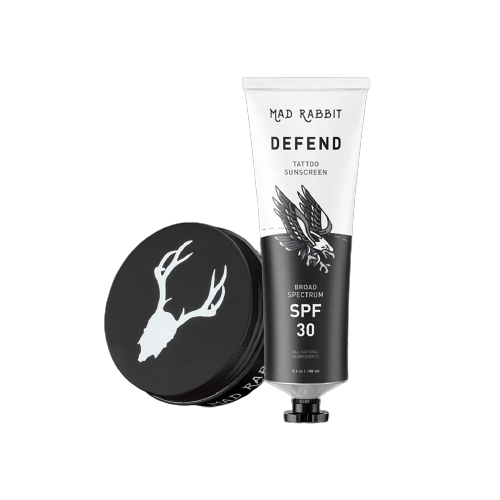 Best Seller
Daily Defense Set
Show off your tattoos in the sun and have them shining bright all day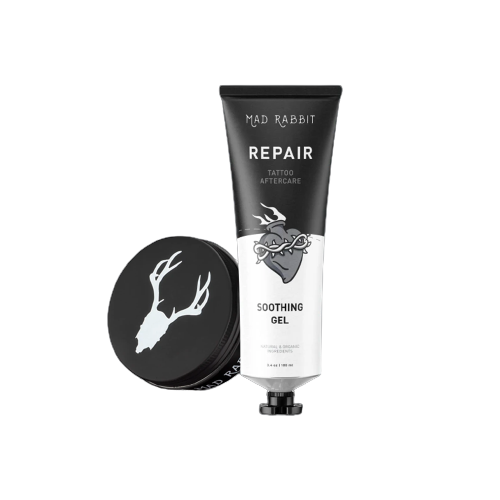 Best Seller
New Tattoo Set
The ultimate relief to heal fresh ink and make it shine