Tattoo care is one of the most important parts of the tattoo journey. There are a few key products that are key in the tattoo care process. Basically, you want to keep your fresh ink hydrated and clean while giving it the proper breathing room it needs to naturally heal. However, in order to do this, there are some important essentials you will need to add to your routine post-ink. 
A tattoo takes approximately four to six weeks to completely heal, so make sure you're doing everything you can during this time to treat your ink, and yourself, with some tender, loving care. 
Here are the four tattoo aftercare essentials worth always having on hand. 
Why Is Tattoo Care Necessary? 
First, why does tattoo care even matter? You've gotten your beautiful new tattoo and now it's there for life, right? 
Well, not so fast. There are tons of factors that go into keeping your art looking fresh and long-lasting. 
It's Good For Your Tattoo (Duh)
Caring for your fresh ink after your appointment is crucial if you want your tattoo to last. If your tattoo dries up or scabs too fast, there is a greater chance it will look distorted, cause long-lasting scarring, or even fade faster. 
Tattoo aftercare can actually increase the clarity and depth of your tattoo for longer. This means less fading, longer-lasting, brighter designs, bolder lines, and healthier skin. 
It's Just Good For You, Overall
Sure, tattoo care is important for the actual art, but have you considered the overall impact tattooing has on your body? 
Tattooing puts a temporary strain on your immune system, as your body sees a tattoo just as any other wound, triggering an immune response to heal it. Both your immune system and lymphatic systems will be working hard to heal your fresh tattoo. This means it is key to take it easy before and after your appointment. 
Internal preparation can be just as important as external aftercare. Make sure to hydrate, eat lots of anti-inflammatory foods, and get plenty of rest before the big day. 
Once your new tattoo is done, keeping up with aftercare is essential for your overall skin health and your health-health. 
What Are the Main Tattoo Care Essentials? 
There are a few MVP products that will change the game in terms of tattoo care. Use these diligently and your tattoo will be moisturized, sharp, and last a lifetime. 
Here at Mad Rabbit, all of the products you're choosing are made from clean, effective ingredients that will aid in your body's natural healing of your tattoo. Make the right choice for your body and tattoo by opting for no-nonsense, clean, and nourishing tattoo care products. 
While other companies make similar products, there's a reason artists and enthusiasts alike pick Mad Rabbit — our stuff combines the best of both naturally and synthetically sourced ingredients that are compatible with skin health and actually work. Plus, it's sustainably sourced, and we don't put a bunch of trash ingredients in it.
Calming and Soothing Moisturizing Gel 
A pain relief gel is going to be your new best friend. Anything that has soothing and calming properties and is designed specifically for tattoos will alleviate a lot of the irritability and itchiness that often comes with a new tattoo. Our Tattoo Soothing Gel is formulated with ingredients like aloe vera, argan oil, and allantoin (a plant extract from comfrey) to do just this.
Hydrating Daily Lotion  
The most important thing post-tattoo is to make sure your fresh ink doesn't dry up. This means keeping it moisturized and hydrated throughout the healing process to avoid scabbing, itching, and scarring. 
A lotion or ointment used every day will give your tattoo the chance to heal while looking fresh. It is key to look for something lightweight and fragrance-free that will give your ink long lasting hydration without leaving your skin greasy. 
Our Daily Lotion will replenish your tattoo and keep the surrounding skin healthy, and of course, we use clean ingredients so you don't have to stand there and wonder what the hell  Butylated Hydroxyanisole is doing as a top ingredient in your moisturizer. 
Rejuvenating Tattoo Balm 
Another key player in the tattoo care game is a revitalizing balm. This product should hydrate and restore your tattoo and the surrounding skin. Shea butter is one of the best ingredients for tattoo aftercare, so your tattoo will thank you if you find a balm with shea butter as a main ingredient. 
It's our balm. Our balm is the balm with shea butter as a main ingredient. Combine that with other revitalizing powerhouses like cocoa butter, calendula, and beeswax, and you've got a recipe for your boldest and brightest tats yet. 
Skin-Nourishing, Mineral-Based Sunscreen 
Arguably the most important part of tattoo care aside from keeping the thing clean is sun protection. Most tattoo artists will recommend very, very limited sun exposure right after getting a new tattoo. Harmful UVA and UVB rays can damage your skin and tattoo, causing it to peel or flake. 
Our tattoo sunscreen also protects your skin with antioxidants and provides your tattoo with moisturizing vitamins and botanicals like vitamin E, cucumber, and rosehip oil. 
Refreshing, Gently-Cleansing Body Wash
Good hygiene is a friend to all skin types, ink or no ink. The right cleansing body wash will help keep your tattoos up to spec and your skin silky smooth. You want a daily cleanser that is gentle, moisturizing, and protective of your beautiful skin. Having a nice, natural scent to it doesn't hurt, either. 
Our Daily Body Wash was created to be that gentle cleanser, for all skin types. It's a naturally-scented coconut vanilla body wash that's formulated to cleanse, refresh, and leave your skin feeling soft and smooth. 
We use nourishing plant oils, green tea extract, plant collagen, and other ingredients to help your skin feel rejuvenated while prompting that glowy, hydrated effect. Plus, it's specifically formulated to be safe for tattooed skin. 
If clean, moisturized skin isn't essential to tattoo care, we can't tell you what is!
When To Use Each Product: The Ideal Tattoo Aftercare Routine 
When looking into how exactly to care for your tattoo, you should keep in mind that the size and intricacy of the tattoo will determine how long it will take to heal. Bigger tattoos will take longer to heal because they cause more stress to the skin, so take some extra care when caring for your bigger pieces — after all, there's more to love right?
Having a predetermined timeline for tattoo care is essential. There are certain things that may make sense to do on the second day after you've gotten your tattoo, but that isn't beneficial to continue into the second or third week. Similarly, there are some daily routines that you should adopt eventually, but not right away because the area surrounding the tattoo is extremely sensitive following your appointment. 
The Day of Your Tattoo 
You will likely come from your appointment with a bandage covering your tattoo. Listen to your tattoo artist about the specifics of how long to keep the covering on. Once you do take the bandage off, some fluid may be present at the tattoo site. This is okay, it is likely just blood plasma or a little extra ink, which is normal to see after a tattoo is done. 
Your skin may be red, sore, and warm to the touch, but this is also normal. When it is time to take the covering off your new ink, wash your hands, remove the wrap, and then wash your tattoo with warm water and a fragrance-free, antibacterial soap. 
Steer clear of washcloths as they can carry lots of microscopic bacteria. Now all that is left to do is leave the bandage off so your new tattoo has the proper ventilation and time to breathe. 
Days 2-3 
On days two to three, your tattoo may be a bit duller looking and some scabs may start to form. Again, none of this is out of the ordinary. Keep washing your tattoo twice a day and apply a thin layer of soothing gel to the area as it may feel itchy and irritated at this point in the healing process. Using this product will be key to keeping your hands away from the tattoo and preventing itching. 
Days 4-6 
These are the days when your tattoo will begin to settle in and much of the previous redness should start to fade. Continue to wash your tattoo, let it breathe, and apply a thin layer of soothing gel. 
Between Days 6-14 
If your tattoo is experiencing any scabbing, those scabs will likely have hardened and flaked off — do not, under any circumstance, try to peel those scabs off. 
Again, a soothing gel can be helpful to combat itching. Make sure to also apply sunscreen whenever your new tattoo is exposed to the direct sunlight. Sun rays are harmful to your skin and therefore your tattoo. 
At this point, if your tattoo is still very red and itchy, and you are experiencing oozing or a fever, it is time to check in with your doctor as your tattoo may be infected. 
Days 15-30
This is when your tattoo area may start to look dry and dull. Now is the perfect time to start up a tattoo care routine that you can continue on even once the healing process is complete. 
Begin by applying a revitalizing tattoo balm to your art until the skin begins to look hydrated again. The outer layers of the skin should be healed by now, and a daily moisturizing lotion in the morning or at night will keep the spot looking fresh and vibrant. 
Don't forget to include SPF in your daily routine every day before your tattoo is exposed to the sun. 
Conclusions 
So there you have it! Your complete guide to the essentials of tattoo care. Finding products that include natural ingredients that you know are going to help heal, nourish, and repair your skin around your tattoo is key. 
Now get out there and care for your beautiful body art! It's as easy as devoting a small chunk of time each day to care for your tattoo and finding great products. You've got this. 
Sources: 
Tattoo Healing Process: Steps, Aftercare, and Precautions | Healthline 
Do Tattoos Boost Your Immune System | Scientific American 
How long does it take for a tattoo to heal | Medical News Today 
Try risk-free & save with the Essential Sets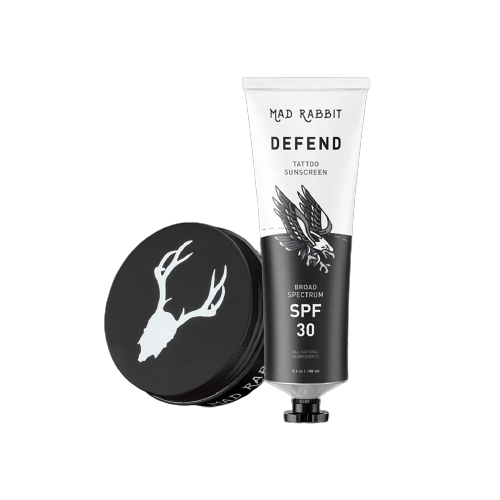 Best Seller
Daily Defense Set
Show off your tattoos in the sun and have them shining bright all day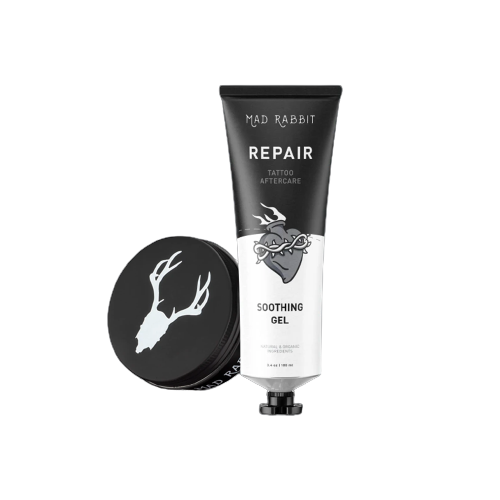 Best Seller
New Tattoo Set
The ultimate relief to heal fresh ink and make it shine