If you want a body wash that's going to reward your skin for keeping you protected every damn day, you're going to have to learn a little and maybe even spend a little.
Let's play fair with our skin — in doing so you're also going to provide the best life you can for your tattoos (which are now permanent adornments to that skin of yours!).
We are here to let you know how to keep those tattoos looking spectacular, no sweat. The real take-away is going to be how to treat your skin better. We're all victims of those amazingly-scented body washes with fantastic marketing that make for a nice sudsy shower, but the truth is, there's a lot of ick in these easy-access, brightly-colored purchases.
What's the Best Thing To Clean a Fresh Tattoo With?
First things first, let's talk cleansing. Now, the cleaning process is going to differ between a fresh tattoo and a healed tattoo.
For the sake of this article, we are going to be focusing on cleaning healed and healthy skin, but before we go there, we'll give you a little refresher
For a freshly-healed tattoo, you are going to want a gentle, fragrance-free cleanser. Use that, some warm water, and clean hands to wash the area.
Experts recommend against using anything with fragrance because it's an unnecessary additive to a healing tattoo. Some synthetically fragranced cleansers can contain ingredients that irritate the skin, especially open wounds.
This isn't quite where our body wash fits into the process — keep reading to find out where it does!
If you're looking for more tips on fresh tattoo aftercare, hop on over to this article!
What's the Best Thing To Clean a Healed Tattoo With?
Remember, a tattoo isn't fully healed until those lower layers of skin are healed as well, which takes about 4 months or so — however, that initial healing process takes about 14 days.
You'll want to keep being gentle with what you put on your tattoo and the surrounding area until it's fully healed. And after that? Let's still be extra nice to that tattoo. It's art, baby!
Just in a practical sense, you are going to want a body wash that can double as a tattoo cleanser. Simplify your life. Don't try to have a 10-step shower routine that includes a special tattoo cleanser. Anyone selling you a cleanser that is just for tattoos is scamming, tbh.
A cleanser that is sensitive and tailored to your tattoos can also help your skin stay bright, clean, and in good health.
And that's where our body wash comes in.
Mad Rabbit Refresh Daily Body Wash was specifically formulated with powerful clean ingredients to help nourish your skin while being safe and revitalizing your tattoos.
Can I Wash My Tattoo With Cleanser?
Ehhh, you can't wash your skin with just any cleanser. In fact, there are a lot of cleansers you should not be washing your tattoo with.
Cheap, low-quality products come with cheap results because they cut corners. Even your favorite bath and body store with the slightly higher price tag and wall of pretty hand soaps uses artificial ingredients and harsh chemicals that can actually strip your skin of the nutrients it needs.
Here's what's what:
What Ingredients To Avoid in Body Wash
Propylene glycol: Can cause rashes on sensitive skin
DMDM hydantoin: Releases small amounts of formaldehyde, which can cause skin irritation
BPA: Can have negative interactions with hormone receptors
Unspecified "fragrance": Can contain substances that disrupt the endocrine systems
Parabens: Often toxic preservatives which can disrupt hormones
Hot Tips
Parabens shouldn't be in anything you use on your body, ever. You can spot them by their chemical-ly name ending in "-paraben" — isobutylparaben, butylparaben, methylparaben, etc.
Look for a full list of ingredients. If they are hiding ingredients, it's not a good sign.
"Fragrance" and "parfum" are red flag words. They can be stand-ins for harmful ingredients since companies aren't required to tell you what goes into making their "signature fragrance."
What Is the Best Body Wash and Tattoo Cleanser on the Market?
We have an easy, fresh, hydrating, and no-residue answer.
Mad Rabbit Refresh Daily Body Wash
Our body wash is formulated with nourishing plant oils that support skin while gently and effectively cleansing you. We use clean, non-toxic, sustainably-sourced ingredients that are safe for the skin.
No parabens, ambiguous fragrance, or anything artificial in our Body Wash (or any of our other formulas, ever).
Ingredients We're Particularly Proud of:
Green Tea Extract: Polyphenols, catechins, and a hint of caffeine work to soothe, rejuvenate, and help minimize the signs of aging.
Plant Collagen: Promotes healthy-looking, bouncy, glowing skin.
Panthenol: Helps with skin hydration and smoothing.
Aloe Vera Extract: Soothes and moisturizes skin while being lightweight enough to give your tattoo breathing room.
Sweet Almond Oil: Moisturizes skin, promotes an even skin tone, and helps to reduce the appearance of scars.
Is It Safe For All Skin Types?
Mad Rabbit Body Wash works on virtually all tattoos, skin types, and skin tones.
Can I Use It For New Tattoos?
Save our body wash for after that 14-day mark. Stick to that simple, gentle cleanser we talked about earlier, and throw in a tattoo soothing gel to help the healing process go as it should.
Safe For Nut Allergies?
Our body wash is made with coconuts. If you have a nut allergy, consult your doctor before using, as some people with nut allergies have an allergic response to coconuts as well (even though they aren't actually nuts.)
Mad Rabbit Body Wash: The Easy Answer for All Skin
We believe your body is your most important investment. We got tired of seeing sparkly body wash that contained alcohol and parabens near the top of the ingredient list, so we made a body wash of our own that's actually good for your skin. And you know what's nice? A little bit goes a long way. This body wash should last you at least a couple months, and your tattoos and skin will thank you every time you use it!
Looking for more helpful guidance? Explore the rest of Mad Rabbit's blog here.
Sources:
Ten-Year Trends in Contact Allergy To Formaldehyde and Formaldehyde-Releasers | Research Gate
Endocrine-Disrupting Chemicals: An Endocrine Society Scientific Statement | PubMed
Exposure to Phthalate, an Endocrine Disrupting Chemical, Alters the First Trimester Placental Methylome and Transcriptome in Women | Scientific Reports
What is Sodium Lauryl Sulfate and Is It Safe To Use? | Faculty of Medicine
Body Wash: Toxic Ingredients & Safer Options | MADE SAFE
Try risk-free & save with the Essential Sets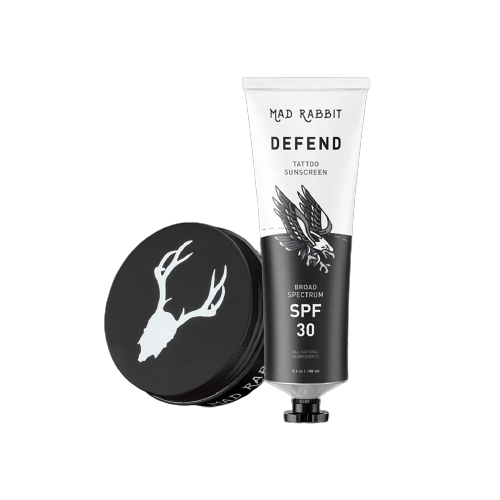 Best Seller
Daily Defense Set
Show off your tattoos in the sun and have them shining bright all day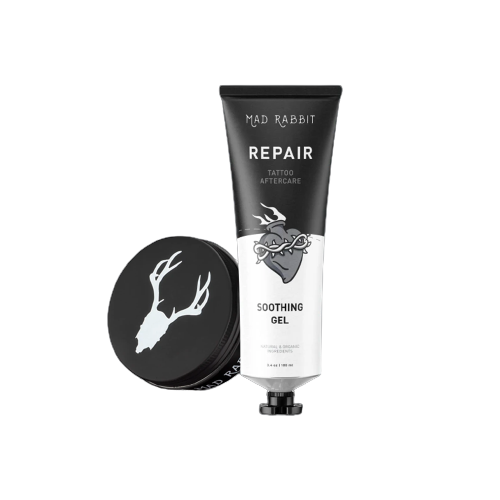 Best Seller
New Tattoo Set
The ultimate relief to heal fresh ink and make it shine