We know that the tattoo addiction is real: once you start, you can't stop. Some of our favorite celebrities are getting inked left and right; you'll be hard-pressed to find a star who doesn't have a tattoo these days. From meaningful expressions, tributes to loved ones, matching sets with partners, and even some that appear to be regrettable (hello, botch spelling jobs), tattoos are a popular form of art on well-known celebs. Each tattoo gives us a better idea as to who they are as a person, and we immediately wonder what the meaning behind the ink is. Let's take a look at some celebrities that are killing the ink game.
Justin Bieber
The pop singer (and former teenage heart throb), is on a major ink streak, with over 50 tattoos covering his body. From religious symbols, nods to his music, animals, family memories and even a portrait of his ex, Selena Gomez (yikes!), there's not much real estate left to produce art. Last month, Bieber debuted his newest tat on Instagram - a long-stemmed rose on his neck. We're on edge to see what's next with Biebs.
Skylar Grey
While she doesn't have as many tattoos as JB,  Skylar Grey has a unique collection of 16 meaningful tattoos (and counting). Girl can rock the hand tattoo well. The talented songwriter and singer (who just dropped a new single, 'Sideways'), walked through all of her body art in an interview with INKEDMAG last year.
Odell Beckham Jr.
Better known as OBJ, the NFL wide receiver for the Cleveland Browns has 86 known tattoos. From head to toe, each piece of ink is a work of art. OBJ's in-depth tattoo collection ranges from inspiring words, his love for music, portraits of influential Black figures and athletes like Barack Obama, Kobe Bryant and Martin Luther King and so much more. The tattoo addiction is real for OBJ.
Adam Levine
The Maroon 5 singer sparked interest in his extensive body art after his 2019 Super Bowl Halftime Show (performed shirtless), when fans noticed Levine's intense tattoos. The Cut runs through each and every one of Levine's tattoos, noting that most of his body art is relatively new, as of 2015. His first tattoo was a tribute to 9/11 when he was 21, dove and cherry blossoms on his left shoulder.
Mad Rabbit Tattoo Aid: Revitalize, replenish, and preserve your body art with the hottest tattoo balm on the market. Effective on both new & old tattoos. Mad Rabbit All Natural Tattoo Aid is formulated with all natural and organic ingredients, sourced from the greater Los Angeles area.
Anthony Bourdain
The late and great Anthony Bourdain has several interesting tattoos. His most famous is probably his shoulder skull tattoo, a shaded black and white piece done by the massively talented New Yorktattoo artist Chris Garver. Chris Garver is a pioneer in the NYC tattoo scene and one of Anthony's favorite tattoo artists.
As a part of the third season of Raw Craft, Bourdain lay subject to traditional Japanese tattoo and got a tebori-style blue chrysanthemum next to his skull. The artist, Takashi, first outlines the tattoo with a machine and then fills in the tattoo with the traditional tebori technique and tool.
Kehlani
Kehlani is an Oakland, California-based R&B singer who is covered in tats. Kehlani has neck tattoos, ribcage tattoos, and even a face tattoo. Notably, she's fairly barren in the back tattoo department for someone so decked out everywhere else. 
Kehlani, we have some ideas! In 2017, Kehlani got a traditional Maori "Tāmoko" tattoo from Maia Ink in New Zealand. She got matching designs tattooed on the inner wrists of her right hand and left hand. The tattoo artist notes the chatting with Kehlani about adversity, whanau, trials, and tribulations before sitting down and giving her a meaningful tattoo.
Big Latto
The 23-year-old rapper from Atlanta, most well-known for her songs B*tch from Da Souf and It's Givin, has one of our favorite sternum tattoos (next to Rihanna's). In the middle of her chest, just below her breast, Miss Latto has "Trust No One" tattooed in the shape of a heart done in red ink. 
"Trust" runs across the top, followed by a big "N" that makes up the bottom "V" of the heart, and the rest of the letters for "No" and "One" are strategically placed to create a heart. Latto also dons a handful of beautiful Arabic tattoos.
Joe Jonas
The Jonas Brothers' middle child, Joe Jonas, has a neat tattoo on his inner right arm near his elbow. The pop star got a fine line tattoo of a photo of his young grandfather inside a kind of stamp frame along with a sigil of a flying horse and his grandfather's birthday.
Brad Pitt
The longtime Hollywood heartthrob has a number of tattoo dedications to Angelina Jolie and his kids, plus some other cool tattoos.
Our favorite Brad Pitt tattoo has to be one of his first which is the phrase "absurdités de l'existence," which translates to "absurdities of existence." And who is to know how Brad Pitt interprets this phrase, we like to think about the many absurd roles he's played so well. 
He's a gorgeous man that doesn't seem to take himself or his ego seriously enough to stop him from having fun on screen and doing a phenomenal job at playing all types of weirdos, savants, and idiots on screen.
We also love his beautiful black and white, fine-line motorcycle tattoo on his left bicep. Pitt is known for his love of motorcycles. His tattoo is a front-facing view of what looks like an old cafe racer.
Brad Pitt also has a black outline tattoo of Ötzi the Iceman next to his "absurdités" tattoo on his left arm. A natural mummy that was an archeological find in 1991 in the Ötztal Alps near Austria and Italy. The mummy itself was found with a whopping 61 tattoos of his own.
Dave Grohl
Talk about a celebrity mash-up. In July 2012, Kat Von D tattooed Dave Grohl's big feather tattoos. They are two large black and white bird feathers with the stems near his wrists and the top of the feather reaching up to his elbows.
Dave Grohl also has three different Led Zeppelin tattoos. He got his first one when he was 16, and he's quoted saying it's so bad it looks like someone put a cigarette out on his arm. 
The second one he got done by an Italian man in Amsterdam using a doorbell machine reworked into a tattoo machine. The third Led Zeppelin ode was paid for with his first-ever Nirvana check at 21 years old. This was when he was living in Olympia with Kurt Cobain.
Honorable Mentions
We would be remiss not to include a few more celeb icons with tattoos. Here is a brief and not-at-all conclusive list of celebrities who have been touted across the interwebs for their ink:
Miley Cyrus
Selena Gomez
Billie Eilish
Demi Lovato
Lady Gaga
Zayn Malik
Ariana Grande
Halsey
David Beckham
Kaia Gerber
Cara Delevingne
Starred Up
We love a good celebrity tattoo, especially when it's actually good. From Bourdain's explorations of the tebori style to the alleyway tattoos Dave Grohl versus his high-end Kat Von D piece. Whatever you choose to get for your new tattoo, make sure you're taking care of that new ink!
Source:
Raw Craft with Anthony Bourdain - Episode Eleven: Takashi | YouTube
The Meaning Behind Joe Jonas's 20+ Tattoos | POPSUGAR Beauty
Brad Pitt's 10+ Tattoos & Their Meanings | Body Art Guru
Kat Von D | Instagram
Dave Grohl's Led Zeppelin Tattoos | Far Out Magazine
Try risk-free & save with the Essential Sets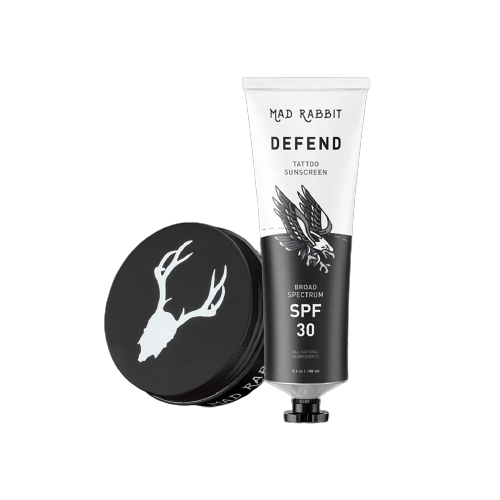 Best Seller
Daily Defense Set
Show off your tattoos in the sun and have them shining bright all day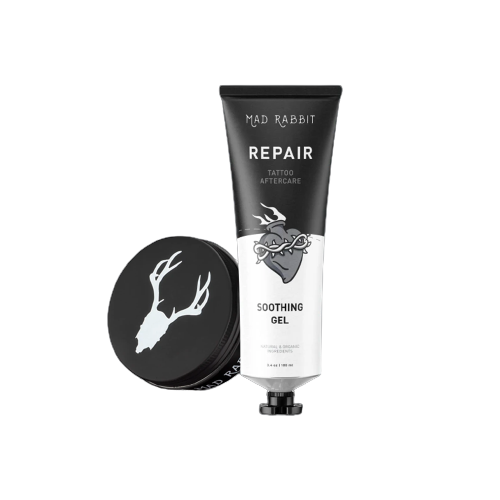 Best Seller
New Tattoo Set
The ultimate relief to heal fresh ink and make it shine