In honor of Women's History Month in the US, we wanted to dedicate a piece to females (and nonbinary folks) within our industry. Whether you just got your first tattoo, you have been inked for nearly your whole life, or you are one of the badass women breaking barriers and working as a tattoo artist — we applaud you, we thank you, and we celebrate you! 
Thanks for staying true to yourself and for being a part of this spectacular community. There has been a huge growth in the number of women getting body art and the number of non-males becoming tattoo artists. Seeing this momentum and push for self-expression has gotten us to start thinking about the evolution of tattoos for everyone. 
Yes, a tattoo might not have always been seen as the popular choice or decision a few decades ago, but now, without a doubt, tattoo art is being showcased and praised as a form of fine art, beauty, and self-expression. For this, we are so grateful and can not wait to see what the future holds. But for a moment, let us look and see how far we have come...
Let's start with the history and social stigma of women with tattoos
Prior to the 1900s, tattoos were commonly seen on men who were sailors, cultural markings, or as acts in a show or on circus performers. An article from Grunge, discusses more in detail about these eras, but for women, the 1960s and 1970s are the decades when tattoos really rocketed for all types of women in all economic backgrounds.
Interestingly enough, politics and gender roles pivoted tattoos being mainly for men to being for both men and women. These two topics still remain motivators for tattoos and have become themes for tattoos among individuals and large groups of women.
According to an article in Time.com, feminism movements lead to an increase in tattoo numbers for women in the 1970s and after that, tattoos became extremely popular for breast cancer survivors in the 1990s. However, the 2000s and pop culture and tv shows changed perspective a bit as women began being seen somewhat negatively for tattoos and associations with being promiscuous became more common.
Then something huge happened. Despite all stereotypes, in 2012, according to a study by "Best Ink" and Lightspeed Research, more women had tattoos than men (Reuters.com).
Since 2012, we have seen tattoos flourish for the female community and create more of a safe space for females. As previously noted, political movements that create turmoil or a push for passion and standing up for beliefs has led to women paying homage to female icons or lines that are being read at protests or in the Senate. We have seen women banning together and using tattoos to embrace independence, empowerment, and their rights. 
Tattooing and identity are intertwined. There also seems to be a very apparent connection between confidence and tattoos. Tattoos are becoming statements. They are a form of expression, not rebellious like they might have used to be seen as, but a strong statement of passion that shows the way a woman is living her life and what she believes in. 
Although they weren't the most popular choice for women a few decades ago, tattoos are here and here to stay and tattooers should be ready for new and custom tattoo designs. Let's hear it for the woman-owned shops out there.
Tattoos are not just a one size fits all type of deal
Queue the other stigma that gets displayed all over social media - girls love tiny tattoos, somewhat hidden, always on a wrist or ankle. These are the only tattoos that they want to get inked. 
WRONG. Ever heard of sleeves? Ever heard of larger script tattoos? Ever heard of a realistic tattoo? Have you seen a black and white only tattoo or a watercolor tattoo? There is not just one type of tattoo that all females have. There is not just one type of tattoo that anyone has for a matter of fact! 
The great part about getting a tattoo is being able to take the time to think and decide what you want. Or maybe you don't even do that! Tattoos are freedom. Tattoos are self expression. You decide what you want inked on your body and go forth and show it off! 
Let's say that maybe you are a female, maybe from New York or Brooklyn, and you have had a smaller tattoo placed on your wrist at the tattoo parlor. Guess what? That is great. We advocate for doing what you want and never feeling pressured to do what other people say or think you should be doing. 
A big round of applause to all of the tattoo artists out there - especially our female, LGBTQ, and nonbinary artists. We could never write a post for Women's History Month without mentioning the amazing female and nonbinary tattoo artists that pathed the way for many other and future artists to become who they are. 
Although we do not have definite numbers about the number of female tattoo artists or female tattoo shop owners out there, we know that this number needs to keep growing! Luckily, we have seen this number start growing and attribute it to the popularity of tattoos among all females. 
Non-males supporting non-males in the tattoo world is a beautiful and necessary thing. Some notable artists that have helped guide this community and encourage other females to pursue their passions and become tattoo artists are: Kat Von D, Hannah Aitchison, Rose Hardy, and Megan Massacre. 
Female & Non-Binary Tattoo Artists Revolutionizing the Industry
The tattoo industry has been revolutionized. Most people we know have a tattoo or several these days, and the styles get wilder and more creative every year. 
Men, women, and non-binary people have all put in blood and ink to create one of the coolest industries out there. Here are some of our favorite female and non-binary people teaching us that tattooing isn't just for boys — it's for everyone!
Tamara Santibanez
Tamara Santibanez is a Mexican-American artist living on Lanape land in Brooklyn, NYC, who works out of their private studio, Flower World. Their tattoo style could be described as neo-traditional fine line black work. 
Tamara goes above and beyond in their community to collectively educate themselves and fellow artists in the nature of history and healing. Tamara has expanded their reach from tattooing to practicing oral history of the prison system. In this place, tattoos and spoken word are intrinsically linked as the only self-written histories an oppressed person is allowed.
Tamara also holds trauma-informed tattooing workshops helping those in her community provide safer and more empowering experiences for their clients.
Tann Koga
Tann Koga is a San Bernadino, California, hand-poke tattoo artist who you might know. If you don't, maybe you've heard of the Instagram account @InktheDiaspora. The account isn't new, it was originally launched in 2017. 
Tann created the account to showcase tattoo artists that could ink people more melanated people. Brown and darker-skinned people often find themselves at a loss in their search for a tattoo artist skilled at tattooing their skin. Parker is solving that problem by creating a community. 
Ink the Diaspora doesn't stop at showcasing people of color with tattoos, it creates conversation and space for people of color in the tattoo community to connect, learn, and share experiences. 
Alma Proença
Alma Proença is a phenomenal artist hailing from Auckland, New Zealand. In February of 2022, she left her longtime job at Two Hand Tattoo, working under the mentorship of Spider Sinclaire and took a role at a tattoo studio called Greenside Tattoo. 
Alma line work is the finest of fine line tattoos and incorporates pointillism elements along with traditional American tattooing subjects… but it simply does not start or end there. The lady is also a ceramicist and a cake connoisseur. 
She molds and paints clay vases, snakes, and ashtrays we'd like to have in every room of our house, then bakes and decorates cakes we'd pay good money to have at any lightly celebratory occasion. She's our favorite kind of triple threat.
Maria Fernanda Ramirez
Maria Fernanda Ramirez is a Mexican tattooer from Mexico who taught herself to tattoo while in school studying psychology and art. It started as her designing tattoos for friends and turned into her livelihood. 
Fer's is an absolutely ink-master. Her tattoos are so gloriously colorful and full of Mexican heart. She's created a new style of tattooing that looks like your Abuela has embroidered her designs right into your skin. 
If you've ever seen traditional Mexican clothing, hand-embroidered with colorful designs of flowers, maíz, and animals – then you have a slight idea of the world Fernanda is coming from. Her strong Mexican roots, combined with her delightful palette of inks and immense talent, is forging a whole new style of tattooing we've never seen before.
Heleena Mistry
Heleena Mistry is a South Asian Brit based in Leicester, UK. Heleena mixes a contemporary style of tattooing installed with heavy inspiration from Indian art and culture. She's one of very few South Asian women who have made a successful career in tattooing. 
Mistry grew up in a Gujarati household filled with Indian artwork that inspired her to introduce Indian influence into the tattooing industry – something that hasn't been seen before. Her tattoo designs are joyful, dancing, one-of-a-kind designs.
Tyla Vaeau
Tyla Vaeau is a Samoan tattooist based in Auckland, New Zealand. She practices the traditional Samoan style of tatau. When she first started tattooing, she learned on a machine as an apprentice to Roger Ingerton and hasn't stopped since. 
Samoan tattoo styles have taken over the world. You may not even recognize that Samoan style has inspired the tattoos you regularly see. If you take a look at Tyla's work, you will see tribal patterns and geometric work that is very popular nowadays. 
This all comes from Samoa, which has one of the oldest tattooing traditions known to man. This traditional tattoo style was originally passed within families and tribes to a lineage of men, so you can imagine how rare and honorable it is to see a woman who has pursued traditional Samoan tattooing.
This list could go on and on. We continue to be impressed by the talent and ink masters that continue to appear among the tattoo artist community, the male counterparts and male tattoo artists included.
Mad Rabbit supports and advocates for the entire tattoo community. We love being able to be a voice in this industry and to be supporting all artists and tattooed friends across the tattoo world, especially during the trivial times we have all had during the pandemic. We support self-expression and confidence. 
With our various products, we strive to be a part of your daily routine and life and to enhance your tattoo experience. We consider all tattoos stories and masterpieces and our products have been designed to be a source of support through your journey. We recognize and praise all of the women who went against stereotypes and pushed forward with a tattoo. We know there is more movement to be made but we are excited to see where the future takes all of us.
Celebrate Women's History Month with us and pay tribute to your favorite women artist, tattoo studio, tattooist, or past, or present female that you look up to in our tattoo community. Tag us on Instagram — we love hearing from you! 
In Summary
We'd like to give all these fantastic artists a Mad Rabbit swag bag! Check their linked social media to see when they're passing by your city!
Sources:
Tamara Santibañez (@tamarasantibanez) | Instagram
tann koga (@okthentann) | Instagram
How Tann Parker's @InktheDiaspora Is Redefining Tattooing For Dark Skin, One Instagram Post at a Time | Allure
Alma Proença (@almaproenca) | Instagram
Don't F*ck It Up: Interview with Tattoo Apprentice Alma Proenca | Tattoodo
🧵🌸M.Fernanda Ramirez🌸🧵 (@fertattoo2406) | Instagram
Heleena (@heleenatattoos) | Instagram
Meet The South Asian Women Redefining What A Modern Tattoo Artist Looks Like | Bustle
Tyla Vaeau (@tylatatau) | Instagram
Tatau practitioner Tyla Vaeau – inspired by the resilience and strength of Moana peoples | Western Springs
The Feminist History of Women and Tattoos
The Strange History Of Tattoos
Tattooed women outnumber men in a new poll | Reuters
Try risk-free & save with the Essential Sets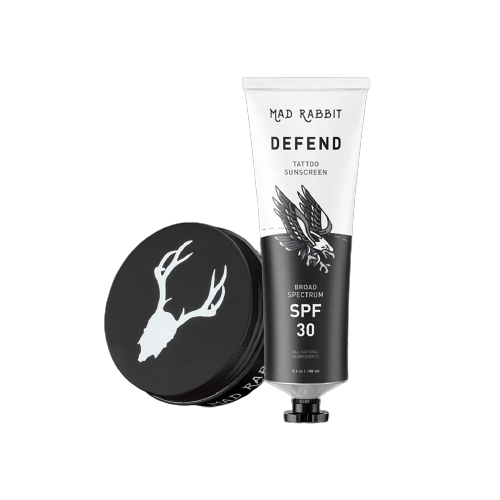 Best Seller
Daily Defense Set
Show off your tattoos in the sun and have them shining bright all day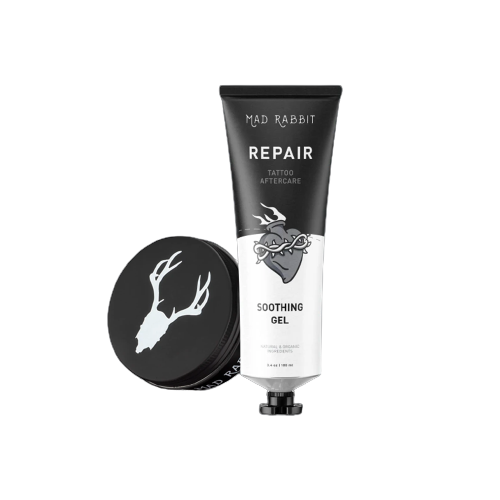 Best Seller
New Tattoo Set
The ultimate relief to heal fresh ink and make it shine