The year 2020 taught us to pause. It taught us that health is invaluable, to keep our loved ones close, and ourselves grounded. 2020 taught us to appreciate what we have, live for today, and think about others. Whether it was staying home during quarantine, wearing a mask while going to the grocery store, or delaying vacations and personal travel: we reflected. Over the course of the year, we decided to step-up. We are more than just a tattoo aftercare company. We are a community of artists, leaders, innovators, and creators. We understood that protecting each other and our planet is key. During lockdown, we saw the amazing implications a reduction in carbon emissions had on the environment. Carbon dioxide emissions fell by 6.4%, or 2.3 billion tonnes, in 2020, as the COVID-19 pandemic caused economies to slow down and travel to pause. We made a pact: Mad Rabbit will be carbon neutral by April 22, 2021. We kept this pact and Mad Rabbit Orders are now carbon neutral.
What does it mean to establish carbon neutrality? And how? Carbon neutrality refers to producing no additional release of carbon dioxide into the atmosphere through our production and accomplishing this through carbon offsets. We are reducing our carbon footprint, promoting sustainability, and taking a stance on climate action. By offsetting our greenhouse gas emissions and the use of fossil fuels through carbon offsets, we are reducing the amount of carbon released into the atmosphere. We've given you, the Mad Rabbit customer, the ability to purchase carbon neutral products.  
How were we able to accomplish this? We partnered with an organization that helps growing companies like us, flight climate change with a few simple steps in carbon reduction. By working with EcoCart, we are offsetting the environmental impact of your online order through offset projects. EcoCart has helped with the offset of 4+ million lbs of Co2, saved 8,000+ trees, and powered 700+ homes through a variety of local initiatives across the globe. What are we doing? We choose to support a specific initiative in Khum Longvek, Cambodia through the use of water filters to promote sustainable development.
You may be thinking…why Cambodia? One of our Mad Rabbit employees recently traveled across Southeast Asia to better understand the unique economies so interconnected and dependent on the environment. Specifically, when in Cambodia she saw how little the local population lived on with such scarce and limited resources. There were a few things that stood out: water, food, and shelter. Access to clean drinking water is one of the most important ways to lift communities out of poverty. Water and poverty are so critically linked. There are currently over 748 million people globally without access to safe and clean drinking water. Over 2.5 billion people live without proper sanitation, meaning they consume contaminated water and use this water to clean and cook. We knew something needed to change. And we knew our community could support a positive initiative in this local area.
Contaminated drinking water not only affects the individuals in the local community, but also the local environment. Access to clean drinking water helps to fight against the spread of preventable diseases, such as cholera, typhoid, and polio to name a few. In order to curb the spread of such diseases, local residents are obliged to boil their water in order to consume it, and often, this is not adequate purification. In boiling their water, they do so with a small wood-burning fire, which emits carbon dioxide into the surrounding area and atmosphere. The project we are sponsoring provides water purifies to local Cambodian families. By providing families with filters (made locally), they are no longer required to burn small fires in order to boil their water. This positive impact is two-fold. The first being a new resource that provides access to clean drinking water and the second being the reduction in carbon emissions. This helps to preserve the local landscape and reduce the number of tees that must be cut in order to fuel these small fires.
The positive impact is real. Over the past 7 years with this initiative, over 300,000 filters have been distributed. Moreover, this has reduced over 90,000 metric tons of carbon from being released into the atmosphere. We are committed to supporting proactive and positive initiatives internationally. We have an obligation to ourselves, those around us, and our planet to do better.
Many U.S. brands and companies export the production of their goods to developing countries, where labor costs are low. More than 68% of U.S. consumer product companies are currently outsourcing a portion of their production elsewhere in the world. They do so in order to decrease costs and increase profit margins. Using renewable energy and participating in carbon offsetting comes with a financial commitment. All of our products are made in the United States. Not only have we made a commitment to keeping jobs and production in the United States, but we have seen the detrimental impact of outsourcing production to countries across Asia and are taking a stance. We chose this initiative to offset carbon in Asia with the understanding that not all U.S. companies make their products locally. Many enterprises are focused on margins, profit, and growth. We see you. We hear you. And we are here to take a stance. We are carbon neutral with our offsets positively impacting an Asian country, while keeping our product production here in the United States. 
We are Mad Rabbit.
Try risk-free & save with the Essential Sets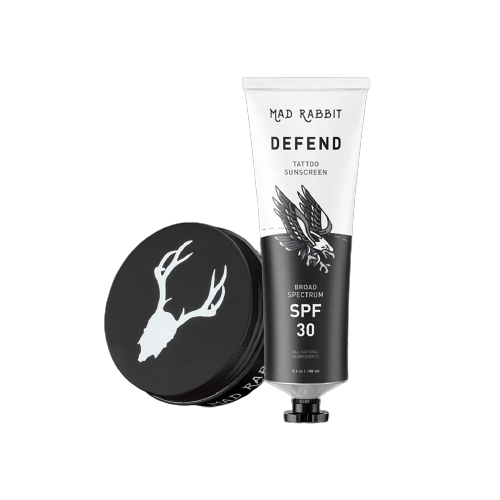 Best Seller
Daily Defense Set
Show off your tattoos in the sun and have them shining bright all day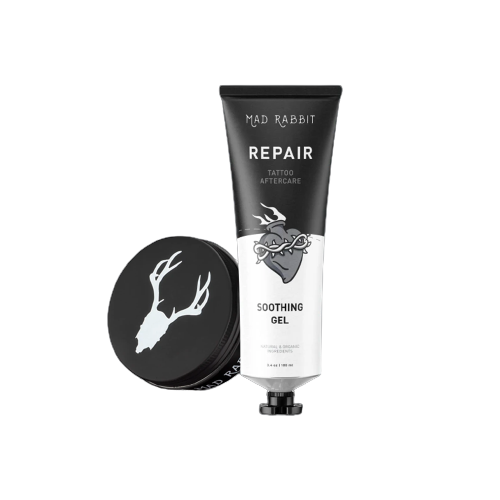 Best Seller
New Tattoo Set
The ultimate relief to heal fresh ink and make it shine