Tattooing - a thrilling decision but extremely permanent and eternal. Tattoo designs are with us for a lifetime if we let them be. For most, the decision is not taken lightly and it involves months, maybe years, of planning and ideating the perfect design or the perfect message. With that being said, we want to discuss the importance of researching this decision and best practices surrounding getting a tattoo. It is vital that you love and take pride in your tattoos. Tattoos are stories of your life and another form of self expression that allows you to own all that you stand for and to share it with the world. Even if your tattoo might be a spur of the moment decision, it is extremely helpful to know the questions that you should be asking and what you should be preparing for. 
Like any big decision, it is important to know the before, the during, and the after of getting the best tattoo for you. When considering getting a new tattoo, first, one needs to take a step back and think about how much they know about tattoos. Do you have a lot of friends or family members that have tattoos? Are you a tattoo artist? Do you know the techniques that will be used on your tattoo? Do you know how long it will take to get your tattoo done or how many appointments need to be made in order to finish it and have it colored how you want it to look? Do you know the products you plan on using after to help your tattoo maintain its color and continue to look fresh and vibrant? All of these questions are necessary to know and to understand prior to getting inked. The more prepared you are, the more pleased you are going to be with your tattoo. However, like we said before for all of you 'spur of the moment' decision makers, maybe you do not have answers to these questions. If that is the case, do one thing for us and learn more about tattoo aftercare. Maybe you can not change anything about your process of getting inked, but you can change the path that your tattoo and skin follow after it is all done. Keeping your tattoo looking fresh is as or more important than preparing for it in the first place! 
Below are some awesome tips and conversation starters to make sure you are thinking about tattooing and body art in a 360 degree lense. Tattoo planning has become an important piece for this process and getting your own tattoo. We want you to celebrate getting inked and keep on doing it. There is nothing better than expressing yourself and showing off all of your high quality designs and tattoo styles. 
The Design 
Have you always known what you wanted to get tattooed? What are your tattoo ideas or general design ideas? Do you know exactly where you are going to place the tattoo? Will it be a fully custom tattoo or a full sleeve that will be added to after the first tattoo? These two questions are normally the first that come to mind when you initially think you want a tattoo. The design of your tattoo might be very intricate and involve multiple sketches and the use of different shades of colors. Your design might be simple and just be a quote or a set of words that have a significant meaning to you. Whichever way you choose to go and whatever tattoo you choose, be sure to draw it out and have a vision of what you want it to look like. You can even go one step further and schedule an appointment with your tattoo artist or an artist to help get the outline or image of your tattoo in better condition. The more details you have to work with your tattoo artist, the better. Placement of the tattoo is also important to know. Be sure to make this decision after being educated on how difficult it can be and how much fading might occur. Consider the clothing you wear and the weather where you live. Location is key. 
The Tattoo Artist
Who do you plan on trusting with making your vision come to life? Who is the right artist for you? It is vital that you look into the background of your tattoo artist and ask about training. Ask to see other pieces that they have done or designs and stencils that they are most proud of. Do you sense the passion in the tattoo artist that you plan to ink you? Does the artist have pricing that fits into your budget? There are many tattoo artists who have learned on their own, there are also very prestigious tattoo apprenticeships that have aided many tattoo artists in becoming successful. If you can, reach out to someone who got tatted at the tattoo shop or tattoo studio with the tattoo artist you plan on using. Did they have a good experience with them? Would they go back to them for their next tattoo? Do your research  and find a tattoo artist that you fit well with. 
Getting Inked
Are you afraid of needles? Can any friend or family member come with you the day of your appointment for your tattoo? The process of tattooing and the needles might be painful to you or they might not. It is very important to consider your pain tolerance and if you need to plan accordingly to bring someone with you to the appointment. Will you be able to drive home after you get your tattoo done? Consider the whole picture and if there is anything else you should plan for the day of getting your tattoo.
Recovery and Care Right After Getting Inked
If you know nothing about tattoos or it is your first one, this part might be eye opening for you. Your freshly inked tattoo sleeve or other tattoo is not going to be the prettiest sight to see after you get it done. It will take a few days of healing before you can really see how it turned out. It is important to understand what products you can use on your tattoo and the guidelines you should be following. Most tattoo artists and tattoo parlors will equip you with this information and give you the necessary products to help aid the healing process. It is common to just use water and unscented soap after you are allowed to take your bandage off. It is also important to keep in mind how much time you are spending in your sun immediately following getting your tattoo. Try to limit sun time as well as time sweating or creating additional moisture on your body for the days following your appointment, if possible. Also, no need to wear tight clothes during the 1-3 days after getting inked. Let your skin breathe as much as possible. 
Tattoo Aftercare for a Lifetime
After your tattoo is fully healed, you need to think about how you will continue to nourish and moisturize your tattoo. Consider the ingredients you are putting on your skin and choose products that are all natural and that have ingredients that you can read and know what they are. What you put on your skin and the skincare you use is just as important as the food that you are putting in your body. Clean ingredients will help with skin regeneration and keeping your tattoo looking bright and healthy. Also consider products that have SPF in them. It is important to have cohesive tattoo products. The more effort and care that you put into your tattoos from the beginning, the better your tattoo will look as time goes on. 
To get a tattoo is to live with the tattoo and the story it represents - no wonder getting inked is so addicting. Be sure to consider the above questions and talk with friends and family about them! It is important to love the tattoo that gets inked on your body and to walk away from getting it wanting to go back as soon as you can.
Try risk-free & save with the Essential Sets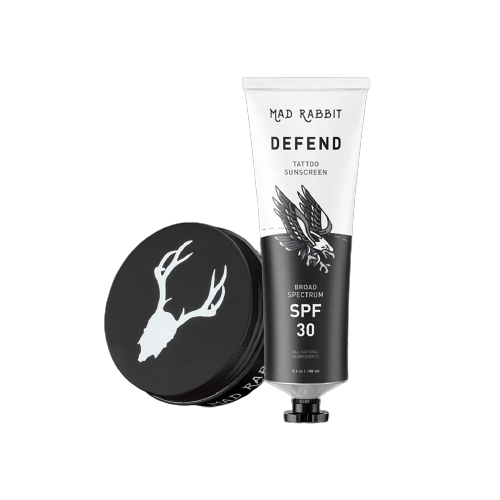 Best Seller
Daily Defense Set
Show off your tattoos in the sun and have them shining bright all day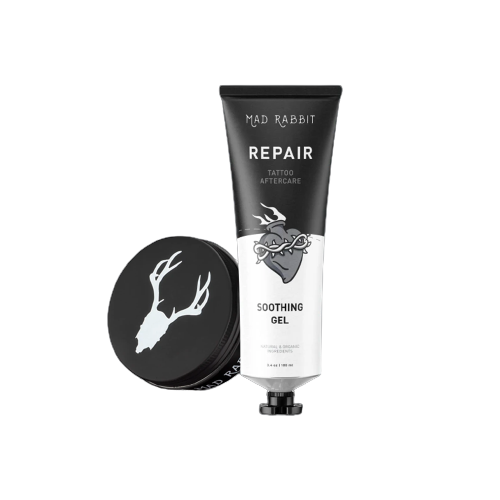 Best Seller
New Tattoo Set
The ultimate relief to heal fresh ink and make it shine