The art behind becoming a tattoo artist is both complex and requires dedication, talent, and time. From mastering the use of a vibrating needle (tattoo gun), to having the vision for art across an individual's body, it takes a unique skillset to master the art of becoming a tattoo artist. What exactly does this path of tattooing entail? How long do tattoo artists work on perfecting their styles? How do you establish your own shop? We plan to take you on a journey and explore this unique and divine world of tattooing and how to become a successful tattoo artist. 
The key to becoming a professional tattoo artist starts with mastering your tattoo designs, style and vision. What will you be tattooing? There are a variety of tattoo styles, trends, and interests amongst the community. Arguably, the most important first step is establishing your individual style and voice as a tattoo artist. Such tattooing styles could include: Traditional Tattoos, Realism or Realistic Tattoos, Watercolor Tattoo Style, Tribal, New School, Neo Traditional, Japanese and many more. You must practice drawing tattoo art. Once a distinct tattooing style has been established, moving on to shadowing and following various tattoo artists that specialize in such a tattooing style is critical in order to become a professional tattooist.
Getting a tattoo takes a certain thought process. This involves deciding the size, style and location of the art. What type of piece are you trying to create? Which tattoo shop will you go to? Will you use a stencil? Is this going to be a stand-alone tattoo? Or part of a larger piece of work? Are you going to an established tattoo artist? Getting a tattoo has become more mainstream as almost 50% of millennials have at least one tattoo. There is a distinct community amongst those that choose to memorialize pieces of art on their body. Choosing a tattoo artist  and trusting them to execute your vision effectively is quite an important decision. In addition, many tattoo artists are booked out for several months and require deposits in order to secure an appointment. Our initial thought is, what makes this profession so lucrative?  How does one break into the tattoo industry?
The tattoo industry requires a unique level of skill, talent, and expertise. There are thousands of tattoo parlors across the United States, and since the 1960s, the number of tattoo studios and artists have been increasing. The barriers to entry into the tattoo industry are quite high. Aspiring tattoo artists must first identify a style they wish to cultivate and then find an apprenticeship under a reliable and successful tattoo artist. The art of tattooing is not easy. Artists work on cultivating their style for years. Many times, they refine their drawing skills in their free time and do not have other full time jobs while they are in their tattoo apprenticeship. Some have backgrounds in graphic design and bring a level of versatility to their apprenticeship. 
Once a vision and style have been established, it's important for an aspiring tattoo artist to master the art of drawing, sketching, and visualizing tattoos. The key here is an extensive amount of practice within the artistic field, possibly attending art classes, or trade school, and beginning to establish a robust portfolio of artistic pieces. Having a cohesive portfolio that displays your artistic ability and showcases your best work to your clients is critical in communicating your style. Additionally, some artist post their portfolios on social media to showcase their work. Attending  art classes  can help to establish one's style. Moreover, there are specific programs, or tattoo school, that help to establish the groundwork for a tattoo artist, such as universities that specialize in fine arts and visual programs. This can be seen at the Academy of Art University, Fashion Institute of Technology, Pratt Institute and many more that can help to begin a tattooists career path. The key here is refining one's vision for a style, and developing the creative eye. It takes hard work, artistic skills, and some formal education to begin. 
Coupled with a unique style is the necessity to obtain a professional certification or license. Each state has various licensing requirements and certification requirements, so having a consistent mentor or apprenticeship is critical. This could include working at a local tattoo shop and shadowing one of the established artists in order to learn more about techniques, obstacles, and best practices. This type of immersion into the tattoo community can help build credibility and establish a name for yourself. There are many invaluable lessons to learn while being in an apprenticeship program. This can range from expanding your tattoo portfolio, to understanding specific tattooing techniques. During an apprenticeship, one can learn more about the complexities of the tattoo machines, how to properly sterilize the equipment, and the business behind opening and establishing a name in the tattoo community. It's quite common for apprenticeships programs to require payment or some type of fee to the main artists. Such an apprenticeship can last up to three years in training before the apprentice is really ready to begin tattooing on his / her own. In conjunction with this uphill battle, many successful artists do not wish to share their techniques or styles, so finding an artist that trust you and trains you effectively is key.
This might not make sense at first, however, tattooing is an art. Artists take years to develop their own styles, techniques, and best practices. The industry is built upon a mentality of 'everyone for themselves,' as artists have to compete for spots in shops. By sharing techniques and styles, artists run the risk of having their pieces copied or replicated. This is part of the reason why getting an apprenticeship is so difficult. An apprentice must build trust with their artists, and show dedication and commitment. The requirements and tasks asked of an apprentice range and do not always have to do with tattooing. The tattoo community and artists want to see commitment to the culture and profession. It's not a fad you can just pick up.
A common ritual for an apprentice is having to tattoo themselves. Meaning, their mentor asks them to tattoo their own body. This is a difficult lesson, as most of the time the tattoo does not turn well, however, the lesson is invaluable: what you're doing should not be taken lightly, it's permanent and on your client's body forever. Moreover, by showing your commitment to learning and developing your skillset as a new artist, you must be willing to tattoo yourself. This example may seem extreme; however, the community is founded in a strong belief system and commitment to developing artists. Such practice for a new artist does not always include human flesh, and can also consist of orange peels, pig ears, and chicken breasts.
The path to becoming an artist is complex, comprehensive, and requires an increased level of dedication. While the journey is long, it is well worth the
artistic talent
developed along the way. Becoming a
tattoo artist
is more than a profession, it's becoming part of a community.
Try risk-free & save with the Essential Sets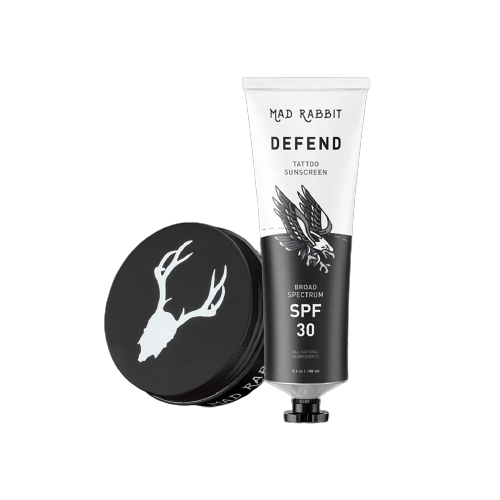 Best Seller
Daily Defense Set
Show off your tattoos in the sun and have them shining bright all day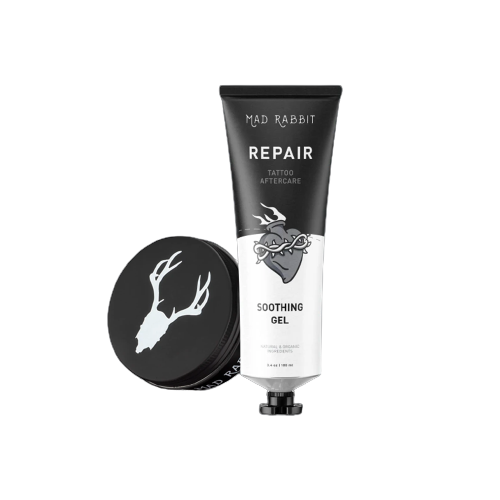 Best Seller
New Tattoo Set
The ultimate relief to heal fresh ink and make it shine