2020 was arguably one of the most defining and challenging years society has faced in the recent decades. Our world came to a screeching halt due to the coronavirus. Businesses shut down, cities went under lockdown, public transportation stopped, flights were grounded, and entire countries closed their borders. Our world completely changed. We learned how globalization and the spread of one virus can touch everyone. After almost a year and a half of living with what we all know as COVID-19, our lives have forever changed. So to have many industries, feeling the harsh impact of financial strain and the consequences of months of lockdown. The tattoo industry was shut down given their category as a non-essential business and the covid-19 impact was great. The future of the industry was in question, as shops were some of the last businesses allowed to open, as they were not deemed as an essential business to operate. While shops slowly start to open (depending on local and state regulations), we are taking a closer look at what the industry experienced, how they survived, and how the pandemic has changed the tattoo industry altogether. 
First and foremost, many tattoo shops already had advanced sterilization procedures in place, prior to the COVID-19 pandemic. This is due to the nature of the job. It's important to recall, a tattoo is an open wound, there is blood, and fluids that can be dangerous if the environment is not cleaned properly. Each tattoo shop uses disposable equipment, with a one-time use per client and thus disposes of the needles in biohazard containers. Additional measures, such as frequent washing of hands and use of sanitizer help to encourage these healthy habits amongst their clientele as well. Many tattoo artists even wear facemasks while tattooing, given the proximity to a stranger and their body. To reduce the risk of close contact, many artists also wear face shields and promote social distancing when possible within their shops. When the cdc recommended additional safety measures, these independent contractors and tattoo studios were ready to promote safety within their shops and work stations. Additional safety protocols were just one step in getting back to normal. 
Each state has different restrictions and requirements when it came to reopening and taking one step towards getting back to normal. For many artists, and shop owners, the novel coronavirus shut down their livelihood as tattooers for months. While some states categorized tattoo artists in the same segment as hair salons, others did not, and kept shops shut down for over a year (New York City). Given the extremely prolonged time of closure, many shops were forced to permanently close due to financial reasons. The numbers are staggering and have greatly impacted businesses that were closed the longest. Over 100,000 establishments and businesses that were temporarily closed due to the COVID-19 pandemic are now closed for good. 
In regard to the sterilization process, the industry was already very strict when it came to cleanliness and sterilization. Many artists are trained in cross-contamination, and many tattoo shops require such a training so each artists can understand how contamination may occur and the precautions needed. Increased precautions include getting weekly or bi-weekly COVID-19 tests for artists, requiring masks of everyone in the shop at all times, limited visitors or additional guests that are not getting tattooed, and promoting vaccination. 
Some permanent changes include the elimination of walk-in visits or walk-in tattoos. As an alternative, many shops are promoting individuals to call ahead, describe what their desired piece is, and thus, enable the artists to draw and provide a vision prior to ever meeting in person. This helps to limit contact and promote a safe work space. Coupled with this limited exposure approach, many shops are eliminating the buddy system or being able to bring a friend along for your appointment. Only the individual receiving the tattoo will be allowed to attend in person as additional guests are not required and is best to limit exposure. 
Finally, you may have trouble booking an appointment! Many artists were booked out for months prior to the pandemic and after shutting down for the better part of a year, now have to rebook all those appointments. This may cause a large delay in being able to get a new appointment or booking. In addition, the level of scrutiny when booking an appointment may increase. Meaning, many artists have minimums when booking an appointment. Said minimus may increase, or the artists might specify the work they are trying to accept with new bookings. This gives the artist more agency in what they are accepting and the work they would like to take on. 
This leads to the next shift that may occur. Many artists work in a shop, where they rent a chair or space. The COVID-19 pandemic has lead to some artists opening their own shops, so they are able to regulate their own proper rules, schedules, and clientele. This may be a strategic move to take more control over a client portfolio and build their own repertoire. The demand for individuals seeking tattoos is not slowing down and if anything, demand for ink is rising.  
The tattoo industry and tattoo shops, like many other businesses, was hit extremely hard by the pandemic. The industry and the community which it consists of is resilient and has come back in a strong and powerful way. It's important to take note of this art and how precious tattooing is as an industry. These artists have spent years cultivating their styles, work, and technique. As a community we can each recognize the triumph and sorrow that we have overcome in 2020 as we move into 2021. We are here to lift each other up and inspire greatness. We are here to promote a community of warriors. Ans we are here to show how tenacity, resilience, and persistence overcome even the most difficult of times.
Try risk-free & save with the Essential Sets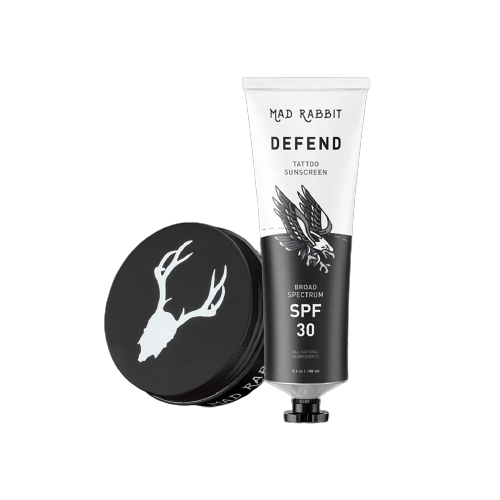 Best Seller
Daily Defense Set
Show off your tattoos in the sun and have them shining bright all day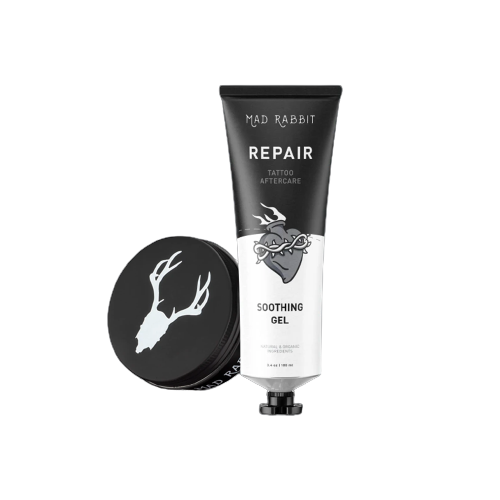 Best Seller
New Tattoo Set
The ultimate relief to heal fresh ink and make it shine