Selom Agbitor, co-founder of Mad Rabbit, is an entrepreneur who loves to solve problems and create solutions. His love of e-commerce and his ability to learn quickly has helped make Mad Rabbit what it is today: a successful and sustainable, consumer-driven company creating change. 
Through late nights, weekends in, and an overall hustle in college, Selom and Oliver (check out his post next week!) made their dream a reality. In the past year, Mad Rabbit has transformed from a 2-person company that they ran out of a college apartment, into a company with multiple employees, products, and a production line. 
Where did it all begin? Or more importantly, "How?" you might ask. Well, for Selom, it all started right when he got to Miami University in Oxford, Ohio. Growing up, Selom was supported by his family and parents and pushed to excel and to dream. His freshman year of college he did just that - he joined clubs, made friends, one in particular who became his partner and co-founder at Mad Rabbit, and took classes to help grow his knowledge base. 
Selom had always known he wanted to start a business. It was finding the perfect product or concept that he knew might take some time. At Miami, he found mentors who were in the process of starting their businesses or were already running them and began to follow their lead. 
After their freshman year, Selom and Oliver became best friends. They discussed business ideas and the desire to run their own company. They knew that it wouldn't be easy, but with the perfect idea and the perfect co-founder, it would be worth it. Prior to the creation of Mad Rabbit, Selom ran multiple other businesses, while Mad Rabbit remains the largest, the previous businesses were successful and a great way to learn more and to become a better entrepreneur.   
Currently, within Mad Rabbit, Selom plays the role of organizer and delegator. When the company had just started out, Selom became an expert at e-commerce and advertising. Now, he continues to monitor and make decisions concerning both aspects, but does more high level analysis and future planning. Without hesitation, he would willingly jump back into the day-to-day piece of the business - he loved starting the company and truly building it from the ground up. His knowledge of customer wants and needs has helped create a product that is made specifically for Mad Rabbit customers who want a product just for their tattoo.
A few questions for the co-founder:
What is your favorite part of running Mad Rabbit?
"Running MR has given me the ability to empower individuals. Our products give customers confidence in their own skin, allowing them to always put their best foot forward. Anytime we can empower and ignite confidence in individuals, to own their tattoos, is amazing. Tattoos are truly pieces of art, and each tattoo tells a unique story. These stories represent moments in an individual's life and priceless memories. We are here for our customers, through all their life moments."
If you could describe Mad Rabbit in one word, what would it be?
"Tenacious. We are the leader in the tattoo aftercare market. We have a firm understanding of our customers, their needs, desires, and challenges. MR is more than a tattoo aftercare brand, we are our best people, we are resiliently reshaping the tattoo market and what it means to have tattoos. The tattoo industry has the utmost potential for growth and opportunity. A common thread connects individuals with tattoos, with pieces of art on their bodies, enabling them to deeply understand, love and admire the preservation of assets in which they have so heavily invested."
What advice would you give your past self, just starting out creating Mad Rabbit?
"The best advice I could give my past self, is to give it my all, every day, no matter the obstacle or challenge. Staying up late, working on this brand, is worth the missed parties, events and social gatherings. Believing in myself and my vision from Day 1, is all coming to fruition. This brand is a movement, and I will be part of a revolution that puts individuals in control of maintaining and preserving their best pieces; the pieces of artwork they wear every day on their bodies."
Where do you envision Mad Rabbit in 3 years?
"In order to answer that question, I think it's important to look at our growth and our journey. In such a short period of time, we've built a community of like-minded, uniquely diverse, and daring individuals. I see the future of MR as encompassing our core values to the max and offering our loyal customers a complete and enriched product line. I also see MR as an example for the opportunities the e-commerce world presents. The possibilities are endless and this is certainly just the beginning of the brands potential."
What do you like to do for fun?
"I like connecting with other people. People come into our life to teach us something. A lesson, patience, resilience, or inspiration. There is so much we can learn from others and MR has enabled me to connect with individuals all over the world. Our team is exceptionally diverse, covering the globe. Every day I am challenged to connect with others. My beliefs, experiences and mindset are challenged by the team with which I work. Our customers challenge me to bring the best products to the table each and every day. My greatest satisfaction is combining my ability too connect with others while building a brand."
What is your favorite city and why?
"My favorite city is Piggotts, Antigua. The island of Antigua is a magical place. Located in the Caribbean, it's comprised of coral reefs, lush forests, and majestic mountains. There's something indiscernibly sweet about the air, a warm and welcoming aroma envelopes you, wrapping you up with the bright sun, creating warmth from the inside out. The stark contrast of the crystal blue water with the lush surrounding is a visual stimulus. I met the kindest people at the port, locals that lived their entire lives on the island, making a living off the sea, and relishing in the pleasure of the scenery. I admire costal towns, and finding hidden gems, off the beaten path of a busy life. I want to see the world, and for a moment, a sweet moment, I saw the core of Antigua."
Try risk-free & save with the Essential Sets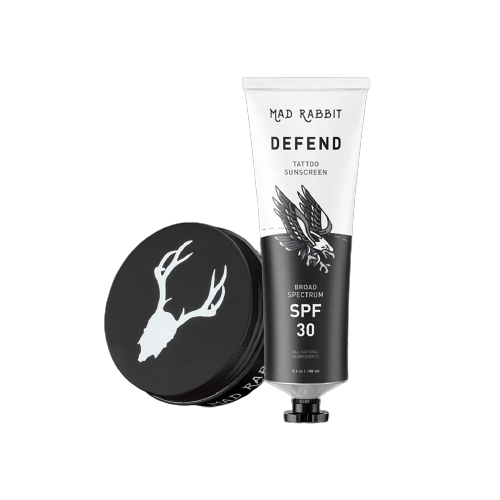 Best Seller
Daily Defense Set
Show off your tattoos in the sun and have them shining bright all day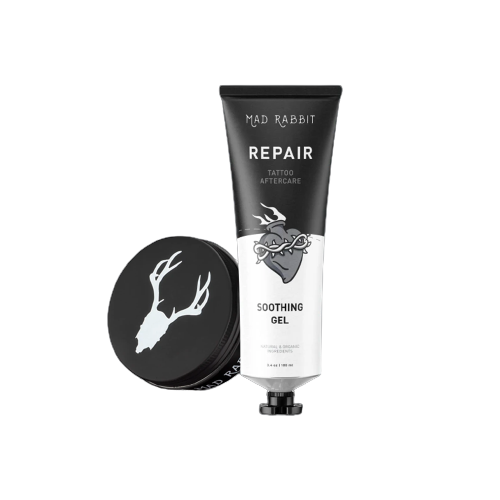 Best Seller
New Tattoo Set
The ultimate relief to heal fresh ink and make it shine