Many tattooists draw a definitive line between old-school and new-school styles, using these broad categories to make sense of an ever-expanding tattoo culture. 
But the new school style of tattooing is a distinctive and original style that separates itself from American traditional in more than name only. While the mediums of ink and skin are the same, new school tattoo designs and techniques flipped the script in many other ways.
In this article, we're getting to the core of the new school tattooart form and listing some of our favorite tattoo designs in this category. We'll see that it's more than just a departure from American traditional or neo-traditional tattoos and remains a deeply respected style in the tattooing community.
New School Tattooing Defined
The origins of new school tattooing can be traced back to the 1970s when old-school designs and techniques fell out of favor with an adventurous new generation of tattoo enthusiasts. 
While old-school designs never disappeared (and later came back with a vengeance), new-school tattoos offered a fresh perspective that quickly caught on. New school tattoos featured many of the same outlines as traditional ink but introduced new influences, an expanded color palette, and subject matter never before seen in the art form.
Old-school tattoos were limited in designs, colors, and other technical restrictions, while new-school tattooists sought to break from tradition while keeping a few select elements and methods. 
The result was a brand of tattooing that knew no bounds, featuring influences from folk art, Japanese tattooing, cartoon characters, graffiti, street culture, Disney movies, and way more. New-school tattoos were initially met with apprehension from old-school tattoo artists, but the movement opened the gates for more inventive, outstanding tattoos in their own right.
Our Favorite New School Tattoo Designs
New school tattoos are so varied that design options are infinite. However, we think a few notable tattoo designs in the new school style are worth a closer look. Check out our favorites with an open mind and see if inspiration strikes.
1. Cartoons and Characters
When flipping through new school tattoos, you'll first notice the abundance of characters from comics, movies, games, and other pop culture sources. Early new-school tattooists embraced this subject matter as they broke away from the limits of old-school flash. 
Some characters are well-known; think Scooby, Batman, or the Joker. Other examples are more niche and for die-hard fans only, but with new-school tattoos, it's all possible with the right artist on your side.
Remember that cartoon depictions will vary in realism and accuracy, and exaggerated features are commonplace in the new-school movement. 
2. Amplified Animals
While old-school tattoos are known for the usual array of wolves, snakes, and the occasional dragon, new-school ink is wide open to the entire zoological spectrum. You'll encounter all sorts of non-traditional animals in this genre, from odd fish and flamingos to crocodiles, seahorses, and even the odd platypus. 
These animals might not sound conducive to tattoo designs, but the new-school approach makes this subject matter shine with inventive color palettes and outrageous interpretations. 
The point isn't to achieve lifelike accuracy but to go over the top with animal designs playing to the wild side. Think skateboarding sloths and video gamer gorillas, and you'll start to get the idea.
3. Portraits and Caricatures
You may think that portraits are reserved for neo-traditional or realism tattoos, but the new-school style has plenty to offer in this design category. These renditions are more colorful, creative, and outside the box than in other tattoo styles, but that's the whole point of new-school tattooing.
For instance, you might see a portrait of Marilyn Monroe sporting streetwear or your favorite comic book hero in a three-piece suit. As always, new-school tattooing aims to defy expectations and shake up your vision of what's possible in the art form.
4. Deep Sea Adventures
The bold lines and expansive color palette of new-school tattoos are perfect for representing nautical themes on the skin. You'll find the usual variety of anchors, ships, and sea creatures drawn with exaggerated perspectives and plenty of depth. 
From goldfish in a bowl to giant squid and all sorts of extra flourishes, this style is very conducive to some swashbuckling good tattoos. Some of our favorite sleeve designs feature elements above and below the water's surface to showcase the distinction from sky to sea. As you might imagine, the results are mind-blowing.
5. Twists On Traditional
Traditional tattooing isn't going anywhere, but new-school tattooists are often eager to work with classic flash with a new point of view. For example, a standard 2D skull design can be brought into the third dimension with far more detail and depth while still holding true to the source material.
Many new-school tattoo artists aim to bring a cartoonish twist to old-school designs, making familiar pieces seem more fresh and more original than ever. 
As always, there's room for all-caps banner fonts to add your favorite philosophical quote or funny quip. New-school flash is for you if you want to pay tribute to old-school tattoos but want a modern twist.
6. Flowers and Plant Life
New-school tattoos are often character-focused, but flowery flourishes are often included in the mix. Expect to see roses, tulips, hydrangeas, carnations, and plenty of peonies featured in sleeves and portraits. 
Flowers might not be the main event for many new-school designs, but we guarantee your artist will be happy to add them as an embellishment for your next piece. Why not use flowers as a border or filler piece to add balance and beauty?
7. Street Art Inspiration
Since new-school tattooing emerged alongside many street art movements in the 80s and 90s, it's no surprise that many designs feature graffiti art and sticker formats.
The best tattooers capture the energy and spontaneity of street art while keeping the essence of tattooing front and center. Poster art, mural art, and sidewalk chalk are other motifs found throughout the new-school style, and these elements can easily be mixed and matched to suit your vision.
8. Video Games and Anime
Gaming is now officially bigger than Hollywood and the music industry combined, so the surge in video game tattoos should be expected. The new-school style is perfect for capturing the fun and frenzy of gaming culture, complete with characters, controllers, and scenes from your favorite levels.
Anime and gaming go hand in hand, so many artists bridge this gap with tattoos combining the best of both worlds. The bright colors of Naruto or Pokemon just make sense with new-school tattoos. If your artist is familiar with your favorite games or manga, that's always a plus. 
9. Spooky Supernatural
Who doesn't love a good scare, especially in the form of a bold and beautiful tattoo? New-school ink offers a wonderful format for displaying scary characters from Dracula and Frankenstein to Michael Myers and Freddy Kruger.
Combining black lines with vivid color and amped-up features makes for eye-catching supernatural tattoos. If you're someone who wishes that Halloween was a year-round thing, this is definitely your style of choice. 
10. Steampunk and Clockwork
The steampunk tradition spans literature, visual art, film, and more. Ever since new-school tattooing caught on, the theme seamlessly transitioned to ink.
These designs include the airships, clocktowers, and spectacled caricatures you know and love, all combined into cohesive images that last for life. You can opt for a more realistic black-and-gray style or use as much color as needed to bring your mechanized vision to life. 
11. Memes and Internet Culture
It was only a matter of time before internet culture made its way to tattooing. Since new-school tattooing knows no bounds, it's the best way to get inked with your favorite memes and catchphrases that make you LOL online.
From kooky cats to "this is fine" and Steve Irwin wearing Crocs, there is a hilarious meme tattoo waiting in the depths of your imagination. If you have to explain it, they just don't get it.
12. Super Psychedelic
Psychedelic tattoos can be found in all styles, but they feel right at home in the new school of tattooing. These kaleidoscopic designs inspired by other dimensions include tons of bright colors, spirals, melting features, and the occasional fungal flourish. 
Psych tattoos always look great, whether you're at an epic music festival or walking your dog in the park. Check out some trippy ink in the new-school style to see what we mean.
Keep Your New School Ink Looking New
New-school tattoos should last for life, commemorating your favorite characters and concepts. But because they are so highly detailed and precise, they need some extra TLC when caring for them long term. 
Make sure you repair your tattoos properly during the healing process and protect them from UV rays when the sun is shining. 
With the right aftercare protocol and ongoing maintenance, you can maximize the life span of your beautiful new-school ink and keep it looking fresh for the long haul.
Sources:
New School Tattoos: Origins, Styles, and Artists | Tattoodo
All About the New School Tattoo Style | Inkspired Tattoo Magazine
How is New School Tattooing Different? | The List
100 New School Tattoos for Men | Next Luxury
Try risk-free & save with the Essential Sets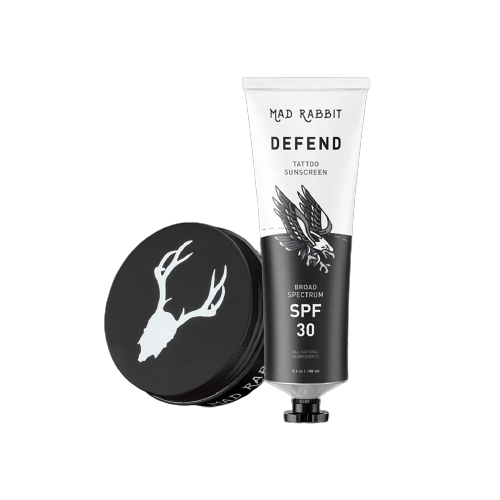 Best Seller
Daily Defense Set
Show off your tattoos in the sun and have them shining bright all day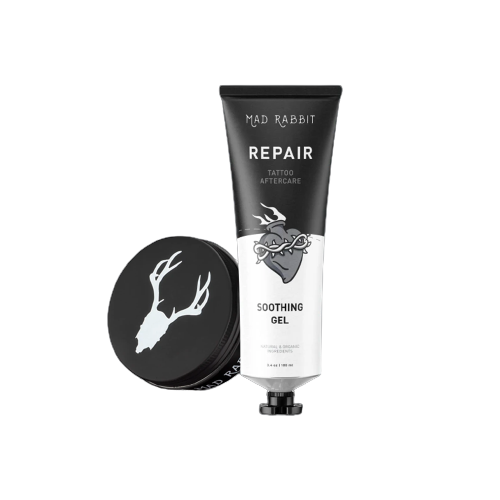 Best Seller
New Tattoo Set
The ultimate relief to heal fresh ink and make it shine