Tattoo styles continuously evolve as the years go by, and one style will dominate the tattoo culture now and then. Currently, this is what the patchwork style of tattoo is doing — and quite successfully at that!
Adding tattoos in the patchwork style allows people to switch tattoo styles and themes without feeling tied down. Where hyperrealism used to dominate with large pieces that covered whole areas of the body, the patchwork tattoo style creates a spaced-out and scattered appearance that is seen in much of the media today. 
When you work with a patchwork piece, there is less stress to keep it feeling ultra cohesive. Somehow, even though the style of this tattoo intends to be spread out, it ends up coming together regardless. 
Whether it's your first tattoo or your 13th, we've got a few ideas for you to create the patchwork tattoo piece of your dreams. 
What Are Patchwork Tattoos?
Patchwork tattoos refer to a certain style that involves placing various individual tattoos in an unstructured pattern. There are no rules to getting tattoos, and the patchwork style highlights this. 
If you want to get a variety of tattoos on your body to honor special moments and concepts in your life, you might not want to commit to just one large piece. Patchwork tattoos allow you to create art from a bunch of smaller tattoos. 
Think of it as scrapbooking or journaling, where you can place bits of your personality without committing to one theme. Some artists refer to these tattoos as "bumper stickers" as well.
If this style intrigues you and describes how you wish to continue your tattoo journey, you might begin looking for pieces you like. Keep reading for ideas on starting or continuing your patchwork piece!
1. Florals
Flowers often make for a great tattoo design. Whether you want just one specific flower or a bouquet of many, you can often find ways to incorporate them into your patchwork tattoo piece. There are so many flowers you can choose from, so you can pick one that you think is beautiful or holds meaning. 
Flowers can be done in various styles, whether you want a traditional rose tattoo or a single fine line daisy. Flowers are versatile and can be a great option for any body.
2. Greenery or Plants
Alongside flowers often comes greenery. Greenery is great for filling in gaps throughout your patchwork piece because you can choose a couple of sprigs or a stem to draw up. 
They are quite simple and don't take up too much space. You can layer flowers and greenery together or complement each other side-by-side. 
Additionally, small plant pieces are adorable and in style. People are beginning to add more frequently to their plant families and want to show off their favorites on their bodies. You could get a snake plant, spider plant, some ivy, or some succulents and place them where they fit best.
3. Animals
Animals, whether they are simply your favorite or in honor of a pet, make for a great patchwork tattoo idea. Many traditional-style tattoo artists have a wide variety of animal tattoos that they can draw up or even have drawn up already — including tigers, birds, rabbits, and snakes. You will have plenty to choose from if that's your vibe.
4. Bugs and Insects
Another highly popular tattoo design, similar to animal tattoos, is of bugs and other insects. Both traditional and fine line tattoos of butterflies, bees, dragonflies, moths, beetles, and more, can make for a great design choice on a patchwork piece. 
These tattoos are great because you can make them as big or as small as you'd like, and they can fill gaps well. 
5. Fruits and Veggies
Everyone has a favorite fruit or veggie, making for a fun and funky tattoo choice. These kinds of tattoos are gaining more popularity, and though they might not hold a ton of meaning (or maybe they do, who knows), they sure look pretty cool.
There are so many shapes that fruits and vegetables come in, making them great for filling awkward spaces. Say you have a long and thin space in which you want to place something but can't think of what would work there. Guess what — a carrot, celery stick, banana, or asparagus would. 
Maybe it's not everyone's cup of tea, but it sure does make for an interesting story!
6. Flash Designs
If your goal is a patchwork piece and you aren't too picky on what goes on to your body, then finding flash designs that you like could be just the thing for you. Most artists that you come across will have flash designs that you can choose from. 
These are great for on-the-whim tattoo decisions, walk-in tattoos, or an opportunity to get a piece of art from an artist who is challenging to book. They usually come in a booklet by the artist for you to flip through and decide.
You can show the artist the space you want and find something that fits perfectly. This is a fun way to get tattooed and can sometimes become close to addicting — once you realize how easy it is to wake up and get tattooed, it's hard to stop!
7. Focus on One Location
Another way you can get patchwork tattoos is by finding one location on your body and working solely on that until it's filled up to your liking. That means you might go for a patchwork arm sleeve or leg sleeve, or maybe you want to do patchwork across your back or on your stomach. 
Deciding based on a body part will give you somewhat of a canvas to work from to help you visualize what kind of tattoos you could have done. 
8. All in One Style
While there are no rules to patchwork tattoos, you might find that one tattoo style is what you want. The style could be all fine-line tattoos, all traditional tattoos, all black and white tattoos, or only color tattoos. 
This can give you a basis of how you want the piece to look, and then you can decide on what designs you want to combine. 
Healing With Mad Rabbit
However you decide to create your patchwork tattoo piece, you will need to ensure the healing process goes smoothly. This will help your tattoos heal properly and look bright and bold for years to come. 
You can do this with any of Mad Rabbit's products, including daily lotion and sunscreen, which protect from drying out the skin or harsh sunlight. The Mad Rabbit tattoo balm works wonders once the skin has healed to keep the tattoos looking bright. 
Patchwork tattoos might not be for everyone, but they sure make waves in the tattoo community. However you decide to decorate your body is up to you, and if this happens to be the style you want, then these are some great ways to get you started.
Sources:
Tattoo as Art, the Drivers Behind the Fascination and the Decision to Become Tattooed - FullText - Tattooed Skin and Health | Karger Publishers
Aftercare Instructions in the Tattoo Community: An Opportunity to Educate on Sun Protection and Increase Skin Cancer Awareness | NCBI
Try risk-free & save with the Essential Sets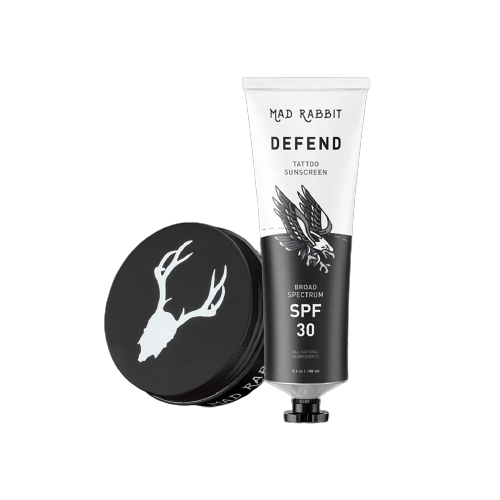 Best Seller
Daily Defense Set
Show off your tattoos in the sun and have them shining bright all day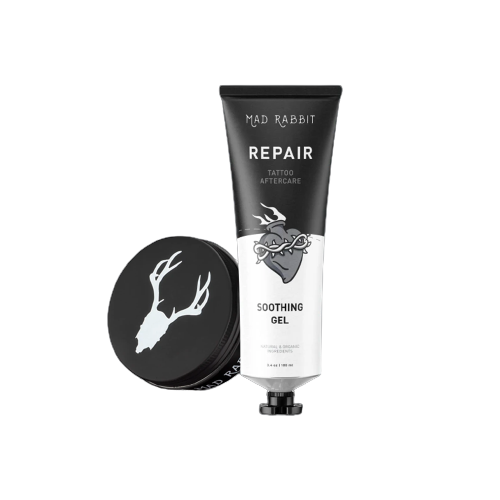 Best Seller
New Tattoo Set
The ultimate relief to heal fresh ink and make it shine