With summer just around the corner, our minds are daydreaming of outdoor activities, grill outs with friends, and laying out in the sun listening to those cool ocean waves. It's also the perfect time to show off your body art, as the nice weather allows us to trade sweaters and jeans for tanks, shorts, and swimsuits. 
But for those with tattoos, new or old, the sun can be a source of concern, whether it's the threat of fading ink or other types of damage. When it comes to your ink, how can you protect it from the sun? Do you really need to apply sunscreen every single day? 
Though it may not be the first thing on your mind, our tattoos are extremely susceptible to sun damage caused by harsh UV rays. Whether you've just finished up a session with your favorite artists or you're looking to minimize fading of your favorite body art you've had for years, there are some facts to know and steps to take. Keep reading to learn more about protecting your tattoos from the sun.
New Tattoos and the Sun
When you first get your fresh tattoo, we know the first 48 hours are critical. Caring for your new ink is key, and the sun can negatively impact this healing process. During these first few days, make sure you follow tattoo aftercare instructions so that your open wound heals properly — this will help prevent scabbing and potential tattoo blisters. Tattoo aftercare is a subject of its own, but you should know by now that sun exposure is a definite no-go during this timeframe. 
Remember that it's important to keep your tattoo out of the sun while it's healing. Your ink is still a wound at this point, so wear protective clothing when you're out and about, stay away from direct sunlight and avoid any sunblock products. 
You may be tempted to step out into the sun to show off that new ink, but it will have to wait if you want to stay safe and ensure your ink heals properly. Trust us — you do not want to experience the pain of sunburn in addition to the discomfort of a healing tattoo, no matter how tough you are. 
Besides, the skin needs to put all of its healing efforts towards forming flakes and scabs and generating new skin cells to create a smooth and even layer of skin for your ink to shine. You don't want to compromise the look and feel of your new ink, which likely took a significant time and cash investment. Remember to use a soothing gel on fresh tattoos to support recovery and calm irritated skin.
So, when should you feel safe to take your new ink outside and soak up some rays? Once your tattoo is fully healed (usually in three to four weeks), you can feel free to get your Sun Protection Factor (SPF) on and hit the beach or lounge chairs. You'll know it's okay to catch some sun when your tattoo looks and feels fully healed, and you no longer see any flakes or "milky" appearance in the affected area.
This is a "better safe than sorry" situation, so don't rush into the sun before your tattoo is healed. It's wiser to delay any sun-soaked activities until you feel confident your skin is fully healed. That's why it's typically smarter to wait until fall or winter to schedule your ink sessions. This ensures that you'll be 100% healed by the time the sun is out in full force. 
Fading and Protection
It's best to adopt a zero-tolerance policy with sun exposure as your tattoo is healing. But in terms of settled and healed ink, what can be done to minimize fading from the sun? Protecting yourself from the sun is always important, but what role does it play when it comes to your body art? Can it really do that much harm to my tattoo? 
The short answer is yes, and here's why: Sun damage can cause skin cancer, sunburn, and premature aging — that's right, the sun is responsible for most of those fine lines and wrinkles we start to see on our skin as we get older. This occurs from a mix of oxidation, stress, dehydration, and other factors that combine to cause damage on a cellular level, especially in sensitive areas of the skin. 
With tattoos, the same properties of skin and sun are in effect, but with the extra consideration of ink particles locked in the upper layers of the skin. With prolonged sun exposure, that ink can break down more quickly, resulting in a blurred or faded look quicker than you probably want. Some degree of fading is inevitable with age, but you can do a lot to prevent fading in the short and medium term with proper protection. 
For these reasons, we should always put sun lotion on when we're outside, and it's especially important to protect our tattoos from the sun. Applying sunscreen to our tattoos helps fight premature aging, prevents skin discoloration, and combats tattoo fading. Do the right thing for your tattoos, your skin, and your overall health by taking the right approach to skin protection, even when the sun isn't at its peak. 
Types of Sun Exposure
There are two types of UV light that are key contributors to sunburn and, ultimately, skin cancer: Ultraviolet A (UVA rays) causes skin aging, and Ultraviolet B (UVB rays) is associated with skin burning. Spending a lot of time in the sun increases your exposure to these types of UV light, which increases your risk for skin cancer. Invest in your skin early on in life, and avoid a potentially painful future. 
Have that one friend that just won't give up the tanning bed? While many perceive tanning beds to be safe and different from laying out in the sun, that's not the case. Think twice before hitting the tanning salon, as tanning beds also emit harsh UV radiation. Getting that beachy glow on isn't worth it when the future of your skin is on the line. While a bit of sun exposure can boost your mood and provide a healthy glow, too much of a good thing can turn bad fast.
But wait, what if I'm just going outside for 15 minutes for a quick walk? This sun exposure can still cause damage, even if you're only out for a short amount of time. Of course, the longer you're outside, the more susceptible you are to the harmful sun rays, but even a brief period out of the sun can have an impact. 
For those with fair skin or with a history of sunburn, it's even more crucial to adopt a vigilant approach to sun protection, no matter the time or place. So take a step back, and lather on some sunscreen before your outing.
Keep Your Ink Looking Great
As many of us know, the tattoo fade over time is real. We all want to maintain our tattoos' vibrancy and colorful pigment, to avoid the inevitable fading. In addition to making efforts to enhance and repair your tattoos, add a step in to defend your healed tattoos. Sunscreen is your partner in the fight against the sun's rays and helps protect your tattoo ink from fading. 
Taking the time to apply sunscreen to your ink can help you avoid unnecessary touch-up visits from your tattoo artist. When your tattoo is fully healed (timing can differ depending on the size and complexity of your new ink), start applying sunscreen regularly (we recommend SPF 30+) — make it a part of your daily routine. Cloudy day? Don't be fooled; the sun still causes damage, even when it's hiding. You invested time and careful thought and went through pain to get your body ink, so think of sunscreen as an investment in your future and thank yourself later. 
As we mentioned earlier, the sun can be a major contributor to premature aging, fine lines, and wrinkles. Who wants that? It's never too early to start caring for your skin, as it's much easier to work on preventing sun damage, rather than reversing it once it's too late. If you have an extremely detailed type of tattoo — such as ultra realistic or watercolor styles — it's even more important to take care of your ink with sun protection and a nourishing skin balm. 
Following up with a good post-sun routine can also help your ink recover from a day at the beach, hiking, or partying on a rooftop. Be sure to hydrate so that your skin gets the H20 it needs from the inside out. 
Wash the area thoroughly and consider using an all-natural tattoo balm to provide key nutrients like vitamin A. Ingredients like shea butter and cocoa butter will help trap moisture in the area and support the healing process that ensures a healthy tan while limiting the effects of damage. 
Ultimately, it takes a big-picture approach to sun protection and skincare to enjoy your ink and maintain long-term health. Mad Rabbit has all the tools you need to care for your skin and ink before, during, and after a sun session, any time of year. 
Keys to a Good Tattoo Sunscreen
What should you look for when choosing the right sunscreen for your body art? Choose a sunscreen that has SPF 30+ and has real, natural ingredients. Hard to pronounce, toxic ingredients listed? Yikes...add that on the do not buy list; you want the best protection for your tattoos. You want a non-nano, clean, and effective sunscreen, with a broad spectrum to protect against harmful UV rays. 
What makes our SPF 30 Tattoo Sunscreen the right choice for your ink and skin? The ingredients make the difference. This sunscreen includes zinc oxide to form a protective barrier while also nourishing skin with antioxidants like aloe vera and vitamin C.
Carrot and chamomile extracts support the body's natural defense against external stressors and soothes itching or irritation. Whether you've got colorful traditional ink or detailed realistic body art, this sunscreen does the job and does it well. 
Remember, the sun isn't the only stressor that affects your skin from day to day. This well-rounded sunscreen also keeps your skin feeling fresh and resilient, even on days without intense UV rays. Combined with nourishing lotions and the occasional balm to brighten your ink, you've got a balanced routine that keeps your ink in prime condition. 
So you found the ideal sunscreen for tattoos, now what? Make it a part of your daily routine – it's vital for your best results. Apply your sunscreen often – about every two hours. When you can, limit activity outside when the sun is at its strongest hours, between 10 a.m. and 4 p.m. in most regions. It's always better to think ahead and prevent damage rather than try to restore damaged skin later on!
Our SPF Protection is designed to protect inked skin without damaging your living art. Mad Rabbit makes tattoo aftercare easy with the right products to take on your ink journey. Shield your skin from the sun, maintain vibrancy and color with our all-natural tattoo sunscreen before stepping out under harmful UV rays.
Sources:
Ultraviolet (UV) Radiation and Sun Exposure | EPA
Sun Protection Factor (SPF) | FDA
Sunshine on a Cloudy Day | American Scientist
Try risk-free & save with the Essential Sets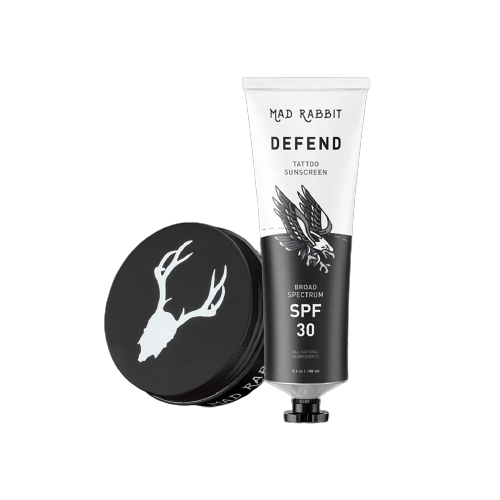 Best Seller
Daily Defense Set
Show off your tattoos in the sun and have them shining bright all day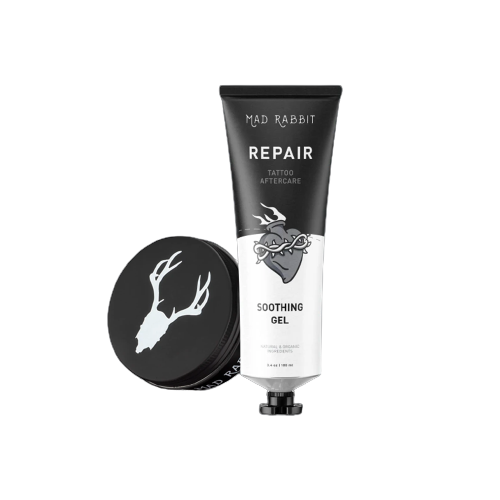 Best Seller
New Tattoo Set
The ultimate relief to heal fresh ink and make it shine