"I want a tattoo, but I am not sure what I want." Don't be ashamed of not knowing and still wanting. Whether you're getting your first tattoo or adding to your canvas, it's always a very big decision! It can also feel overwhelming when you're helplessly scrolling, looking for the perfect piece of body art but not finding it. Maybe you've had an idea of what you want for years, or maybe you're feeling spontaneous, and this is happening on a whim. 
Our advice for choosing your new tattoo is simple: Get inspired. Don't stop searching until you've come up with even just an inkling of an idea. You'd be surprised at what a tattoo artist can create off of just a few simple words!
We're going to walk you through a few simple yet meaningful tattoo ideas that we have seen growing in popularity. They're fun, they're trendy, and they can be really, really special when you add your own flair or design to them. 
Meaningful Tattoo Ideas for Everyone!
As we are all aware, getting a tattoo is a permanent decision. Not everyone is into the idea of walking into a shop and picking a random flash piece; it's okay to want to plan out what goes onto your body forever! If you're looking to create a tattoo design that has meaning to you, you'll want it done with an artist you trust so that you can feel certain the job was well done.
For many, it's important that their tattoos have meaning. So, don't take the task of choosing lightly. It's likely that if you are looking to get a tattoo with meaning, it's because you already have something in mind that you want to honor. 
This could be anything from a loved one, a past pet, a sports team you love, a band you've been listening to for ages, a symbol for your favorite hobby, or a matching tattoo with a best friend or sibling. The list could go on and on and be unique to your interests and reasoning.
Think about or look through inspirational photos of tattoos or designs you love. Create a list of things that hold meaning to you and consider which you'd consider getting put permanently on your body. We also recommend creating a Pinterest board full of small tattoo ideas for you to refer back to when deciding. 
Now, Simplify
When you think of everything that holds meaning for you, it might feel too much to put into one simple tattoo design. We recommend talking with an artist to create something symbolic of how you feel about the concept. If you're an astronomy lover, instead of going for an entire replica of our solar system, you could choose your favorite planet or star and start there! 
You don't have to "go big or go home." Smaller tattoos can hold just as much meaning as larger ones! Here are some ideas to help you decide what kind of tattoo is best for you.
1. Flower Tattoos
This classic and timeless design will continue to be a top pick for simple-yet-meaningful tattoos as years pass on and new trends arise. Flowers truly can never go out of style. Flowers can represent a quality like strength or love, or you might choose them because they're beautiful and intricate.
Some may choose a flower because it reminds them of a loved oneor might remind them of a specific moment in time they cherish. Simple flower tattoos are very common as first tattoo designs.
A few popular flowers include: 
Sunflower
Rose
Lotus
Wildflower
Hawaiian 
Baby's breath
Daisies
They can be the perfect tiny tattoo because of their versatility. Whether a rose tattoo or a sunflower tattoo, flower tattoos can range from very simple black ink to colored and more realistic. You can do a simple flower outline with little detailing or something more fine-lined and realistic. 
Many people have a favorite flower, and many tattoo artists are well-versed in floral pieces. Be sure to ask your tattoo artist about different coloring options and techniques they use to ensure you are getting what you want.
2. Animal and Pet Tattoos
Like flowers, animal tattoos are also great for designing a more simplistic tattoo. You can do so by having just an outline of an animal or even just an attribute they hold rather than the full animal. While you can absolutely get an entire animal tattooed on you, that isn't the only animal or pet tattoo option out there.
Some people honor their pets with a simple paw print or outline of their ears or tails. Maybe you can get your cat's favorite toy tattooed onto you to celebrate them! These are still simple tattoos that hold even more meaning to you as they are extremely personal. 
If you want a tattoo of your favorite animal, like a snake, bee, or turtle, you could consider doing a small and simple outline of their body with minimal detailing. Just like flowers, animals are symbolic of many things. They can be attributed to honor, loyalty, or trust. The reasoning for these tattoos is endless. Regardless, animal tattoos can vary in size, meaning,complexity, and color.
3. Line Tattoos
Do you consider yourself a minimalistand are looking for a minimalist tattoo? Do you focus on the details and the parts that make the whole? At first glance, line tattoos may not seem meaningful, but to a lot of folks, they are extremely important and meaningful. Some examples of line tattoos can be seen below: 
These tattoos are also great if you are new to tattoos. They do not take as much time as other more intricate tattoos and are normally cheaper. Line tattoos are also great on the more tender skin areas. For example, line tattoos are commonly seen as finger and hand tattoos, behind the ears or on the face. 
Line tattoos are a way to take any design you are interested in and reduce it down to something simpler. There will not be intense details in a line tattoo, making them some of the more simplified tattoos you can receive. You can do this with flowers, plants, cityscapes, outlines of childhood homes, animals, people, and so on! 
Some line tattoo ideas are:
Star tattoo
Moon tattoo
Arrow tattoo
Anchor tattoo
Tattoo of waves
Sun tattoo
Tree tattoo
Leaf tattoo
Heart tattoo
Compass tattoo
Paw print tattoo
Snake tattoo
Wave tattoo
Zodiac sign
Crown tattoo
Cat tattoo
Butterfly tattoo
Skull tattoo
Line tattoos are great for creating a solid outline of a certain image. You can often bring an image of something that holds meaning to you to your artist and have them create a line work only piece for it. These tattoos can range in size and be really small or rather large.
4. Words or Phrases
Maybe it's one word or an entire phrase that you wish to get tattooed onto you. Simple phrase tattoos across your body can be meaningful or even just fun! Do you have a specific phrase that was repeated to you growing up or a mantra that you repeat daily? Do you want a loved one's handwriting marked on your as a reminder each and every day? Word and text tattoos have always been popular and will continue to be. 
Words hold a lot of power, and getting them imprinted into your skin is often very inspirational for people. It's almost a given that if you ask someone with words tattooed on them what the meaning behind it was, they will have an answer for you. Many people have a connection to some word or phrase, so this is an easy and simple tattoo for anyone to get!
5. Dates, Times, or Numbers
Another simple tattoo idea that can hold meaning includes specific dates, times, and numbers. Maybe it's the birth of your firstborn child, and you want to memorialize it by getting it tattooed onto your body! Or it's the date of your wedding anniversary or the day you met the love of your life. 
Maybe you have a lucky number or time you constantly see, and it just feels right to get it tattooed. People have so many connections to numbers, dates, and times that it will be meaningful no matter how long it's on your body. Plus, these kinds of tattoos are often quite small and simple, making them a great option to fill spaces or start your first tattoo.
6. Hobby-Inspired Tattoos 
Many people have a hobby outside of work or family life that is extremely important to who they are as human beings. Finding a way to honor that hobby with a tattoo can be tricky, especially if it includes many moving parts.
If your hobby is in the arts, you might consider getting your tool or medium of choice tattooed. If you are a painter, a paintbrush might be suitable, or if you work in ceramics, getting a small tattoo of a piece you made could be a lovely choice. 
If you love to hike and be outdoors, a simple line tattoo of your favorite mountain range or a pair of watercolor hiking boots might be an adorable way to honor your hobby! Think about what brings you joy and find an even smaller piece of that to use for a design idea. 
7. Matching Tattoos
Two or more people with a strong bond usually get matching tattoos. That means that there is bound to be meaning behind getting this tattoo. These simple tattoos are often shared between best friends, college friend groups, siblings, children and parents, cousins, and partners. 
With matching tattoos, you can either get the same tattoo or complimentary tattoos. This can include:
A sun and a crescent moon tattoo
Two halves of a design
A locket and a key
A king and a queen symbol
For matching tattoos, you can come up with a simple design with the person you are getting it with and go from there! Best friends might get the year they met tattooed or siblings an item from their childhood memories. 
8. Geometric Tattoos
Another really fun, unique, and simple tattoo you can get is in a geometric style. This style is somewhat more abstract than others, meaning it can be more ambiguous. 
If you have something that you want to get tattooed on you, this is a cool way of doing so. You can have geometric-inspired flowers, animals, or natural landscapes, but it comes down to your artist and their ability to tattoo this style. 
You can incorporate other elements into the overall piece with geometric tattoos. Often flowers and trees are built into the design to give it even more meaning, but that's up to what kind of design you are going for! Geometric designs also make for eye-catching forearm tattoos.
Aftercare With Mad Rabbit
Ultimately, the decision of the design and coloring of your tattoo is up to you! We love the tattoos shown above but know there are many other amazing designs out there. What you come up with will be the right tattoo for you, and even if it's a while before you get it, it will be worth it in the end.
Meaningful tattoos are not meant to be taken lightly. Whether you're looking for a simple wrist tattoo or a large chest tattoo, a lot of planning and preparation often go into coming up with these ideas and bringing them to life.
Take the time to research and make sure it's exactly what you want. Design is important, but so is the tattoo artist - look at past tattoos and make sure they can execute your design exactly how you want and envision it to be. 
Once you get your tattoos, you'll also want them to keep looking as sharp as the day you got them. Take a look at our guide to learn more about proper tattoo aftercare. Putting tattoo balm and tattoo soothing gel onto your tattoo can help the healing process go smoothly. 
If you want to bolden your tattoos after the healing process, consider Mad Rabbit's tattoo balm to brighten up the design and make it look fresh. 
Sources:
Tattoos As A Window To The Psyche: How Talking About Skin Art Can Inform Psychiatric Practice | NCBI
Aftercare Instructions in the Tattoo Community: An Opportunity to Educate on Sun Protection and Increase Skin Cancer Awareness | NCBI
Caring For Tattooed Skin | American Academy of Dermatology Association
Try risk-free & save with the Essential Sets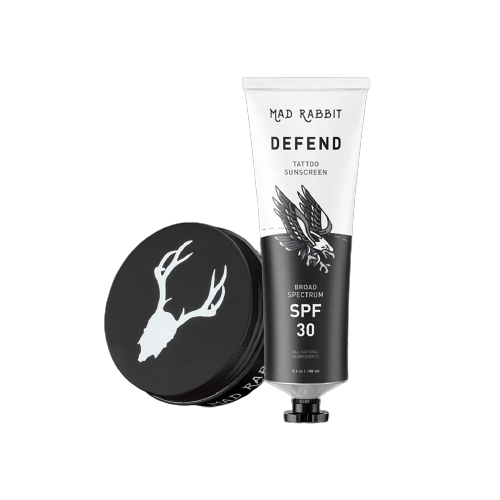 Best Seller
Daily Defense Set
Show off your tattoos in the sun and have them shining bright all day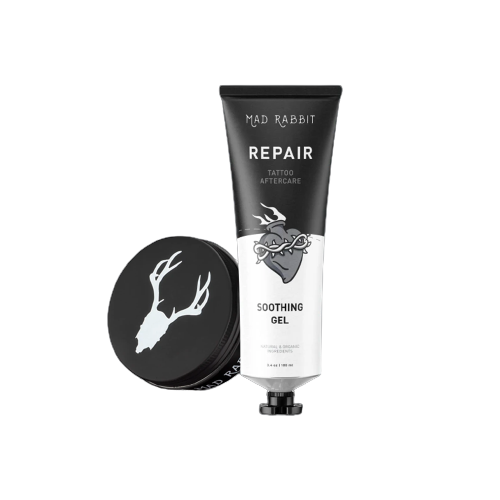 Best Seller
New Tattoo Set
The ultimate relief to heal fresh ink and make it shine