"The tattoo culture was always fascinating. My brother got me into it and I ended up getting my first tattoo when I was 15. Since then I've actually had it covered up because it was praying hands and I'm not really religious. That being said, tattoo culture is exploding along with other taboo things like piercings.


While I have a few different styles of tattoos my leg work is more modern. That style is definitely getting big with the dotted lines, blackout, and the geometrical shapes. The stuff on my back was kind of thrown together from an old artist when I lived in Florida. I've always loved the Japanese-style, so my left arm was put towards that even though I don't like it as much.


I get questioned a lot about my ink. The hardest question to answer is what do they mean, because none of them really have a true meaning. It's more of a dedication to the artwork itself rather than having a meaning behind it. It's something that makes me feel good, and I'm going to try to hit every inch of my skin. Pretty much everything from neck down. With the current job I have now, I don't see it being an issue at all, as long as things don't become offensive and derogatory.


The next project is my right arm. I'm actually thinking about doing a reverse blackout, so it's going to be a lot of black work with the design in skin tone or white, so it's going to be almost a reverse tattoo or a negative tattoo for me. I want to do this because I want to cover up the two I have, one on my shoulder and one on my bicep, but I want to keep the outline of Virginia because that's where I'm from.


Honestly, the most important thing to remember is you pay for what you get. Find an artist that you mentally vibe with, not only just because of their artwork, but somebody you can mentally vibe with because that conversation while working through a lot of these tattoos is going to help you go those long distance and hours. Once you get one, you probably won't stop." - Josh
Photos and stories created by Gray Warrior - Colorado Photographer. You can find more of his work on Instagram @Gray_Filter
Try risk-free & save with the Essential Sets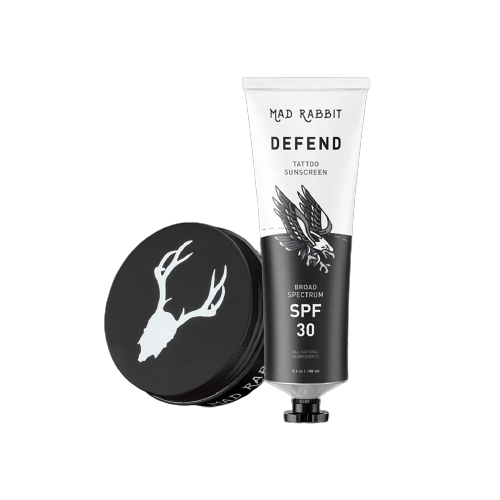 Best Seller
Daily Defense Set
Show off your tattoos in the sun and have them shining bright all day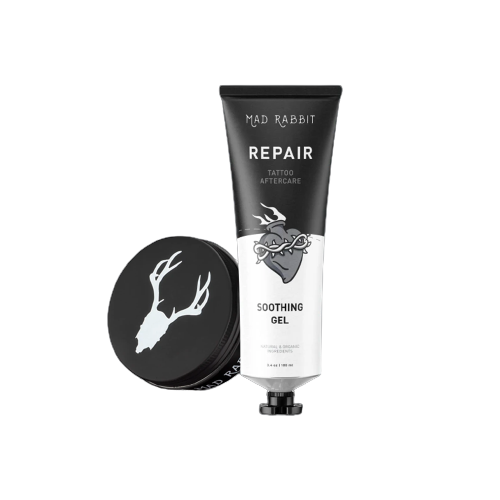 Best Seller
New Tattoo Set
The ultimate relief to heal fresh ink and make it shine