A Pandemic Can't Stop Me From Getting Another Tattoo
2020 has been an interesting year, to say the least. Never has it ever been so apparent that life is too short and the time is now to get another tattoo. Months of unknowns and staying in has given all of us time to reflect on what we want. Now, shops are opening up and artists are taking appointments again. Whether it has been something you've been envisioning, or a new idea that was recently sparked - it's time to schedule the appointment and make it happen. 
Even during a pandemic, the creative juices are flowing. We're seeing a wide variety of tattoos ranging from dainty and delicate to bold and 3D-like. Here's what we are noticing and what tattoo artists have been creating:
Intense Color and Realism 
Eye-catching. Vivid. Designs that look as if they could come to life. It's 2020 and colorful tattoos are back and better than ever. Artists all over the world are creating tattoo masterpieces and testing their skills through the creation of bright and 3D-like objects and images. We're seeing designs that replicate water colors and the flow of one ink color to the next as if paint has spilled on a blank canvas. These designs look almost surreal. This trend is definitely one to stay and we can't wait to see what else is to come. If considering a tattoo like this, be sure to check out your tattoo artist and do your research. These take some time and you'll need to care for your tattoo well in order to keep it looking vibrant and fresh. 
Hidden or Peek-A-Boo Placement 
Caught a glimpse of a tattoo but not fully sure what you're seeing? These intriguing tattoos are becoming more and more popular. Only revealed when wanted to, common placements for peek-a-boo tattoos are inside the forearm, below the rib cage, bikini line, nape of neck and many many more hidden and unique places. These are the perfect tattoos for first timers or those not yet ready to share their secret with the world. 
Minimalistic
Simple, yet sexy. We're continuing to see the trend of tiny black tattoos. Common placement being forearm, and most recently fingers and hand. These tattoos are the perfect jump into the world of tattoos or a great way to fill a space with a design, object, or word you've been dreaming about. Although simple tattoos may not stand out as quickly as larger and more colorful tattoos, they're remembered the most because of the story that goes along with them and how truly unique they are.
Whatever design or placement you decide, we know you'll love it. Always remember, when it comes to new tattoos, aftercare is vital. Listen to your tattoo artist's guidance and prevent discoloration and infection by letting it heal correctly. Once fully healed, look for a product that is specifically designed to continue to moisturize and revitalize your tattoo. 
_____________________________________________________________________
Mad Rabbit Tattoo Aid: Revitalize, replenish, and preserve your body art with the hottest tattoo balm on the market. Effective on both new & old tattoos. Mad Rabbit All Natural Tattoo Aid is formulated with all natural and organic ingredients, sourced from the greater Los Angeles area.
Try risk-free & save with the Essential Sets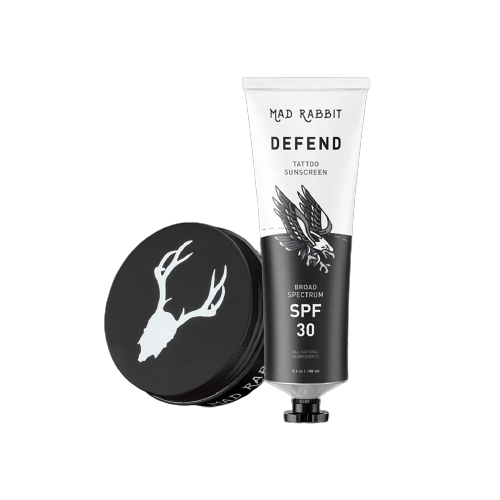 Best Seller
Daily Defense Set
Show off your tattoos in the sun and have them shining bright all day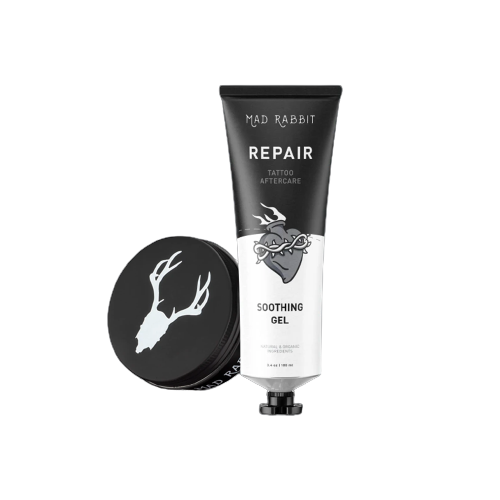 Best Seller
New Tattoo Set
The ultimate relief to heal fresh ink and make it shine