Happy Wednesday, all!

Yes, newsletter. But first, check this out 🧼

NEW Soap Duo Out Now
Whether you're looking for an everyday cleansing soap - gentle enough during the healing process for fresh ink - or a mild exfoliating soap to keep ink bright, we've formulated the perfect duo with clean, natural ingredients - made for all skin types.

GENTLY CLEANSES & REFRESHES - Use Gentle Soap during the healing process to keep your fresh ink clean or even great for daily use. Exfoliating Soap is perfect to freshen existing ink. Can be used sequentially as a double cleanse!

CREATED FOR EVERYDAY TATTOO AFTERCARE - The Gentle Soap is an all-natural coconut-based gentle cleansing soap designed to cleanse new ink during the healing process or for regular daily care.

NATURAL EXFOLIATION FOR YOUR BRIGHTEST INK - An all-natural, charcoal exfoliating soap to remove dead skin cells and help reveal brighter, more vibrant existing ink.

FORMULATED FOR ALL SKIN TYPES - INKED OR NOT - Both formulas are moisturizing, fragrance-free, water-activated cleansing soaps that lightly foam to remove impurities.
Available now on Amazon and at madrabbit.com
Thanks for checking that out 😎 These newsletters keep getting longer because cool stuff keeps happening and y'all keep crushing it. It's okay though because I'm covered in numbing cream and don't feel the arthritis I've been blessed with from typing.

In this newsletter, we will congratulate our top earners and October selling champion, admire some ambassador post highlights, announce 3+ new challenges, and reveal something coming soon that we've been working hard on behind the scenes.

Commission Update 💰
Shoutout to our October selling champion, Hannah Wieman!! When asking Hannah how she manages consistently being a top 5 seller she said, "Honestly I just have good clients! I tell as many of my clients as I can about Mad Rabbit products and that they can use my code all the time. I'm so glad they are trying your products!" When you share your love for the product with others, they practically sell themselves!

Congratulations to our top 5 earners this period:
Matthew Williams - 2nd place in the October selling challenge
Jason Sarvis
Hannah Wieman
Marison Munoz
Steve Vitali
Remember, make 5 sales this month and automatically receive 1,500 points. Nothing to submit. Points awarded 11/30.
Top 5, how do you sell? Let us know in #💰│ambassador-chat on Discord and get bonus points 🎁
New Challenges Live NOW 🤪
🐦TWEET IT | Come up with a slogan for our new Soap Duo - We want you to put your creative hats on and come up with a fun slogan for the products! Tweet out your most funny/interesting/creative slogan for your chance to win a FREE Soap Duo! We'll pick our top 5 favorite ones to gift the Soap Duo to.
🧼 IG REEL | How do you use your Soap Duo? - In an IG Reel, demonstrate how to properly use the soap you'll be including in your routine and let us know what you like about it!
✍ Review Soap Duo on our website - upload a screenshot of your published soap duo review on our website.
Full challenge details are in the ambassador dashboard now. Make sure you check in every once in a while as there is exciting content, UI changes, and more challenges coming soon.
Ambassador Post Highlights 🤳
Thank you to all who have already completed a November challenge 🖤 Only one week left to complete the Recreate a Post from our IG and TikTok | How to use your fav Mad Rabbit products challenges! When completing challenges, please make sure your social profiles are public so that you can be featured and earn bonus points too.
What has been your favorite challenge so far? Have an idea for a new challenge? Let us know in #💰│ambassador-chat on Discord.
Exciting News & Updates 📰
Discord Updates
Four new roles: Tattoo Enthusiast, Tattoo Artist, Tattoo Apprentice, No Tattoos. Click the corresponding button in #roles to add the role to your account.
We added /help to centralize and simplify all server commands. Type "/help" in a text channel to see how it works.
Missing out on all the newsletters from before you became an ambassador? Not anymore! We added a new channel #💌│past-newsletters in the Ambassador category
Not sure what to watch on Netflix? I repeat, "Not anymore!" We added @Hey, Netflix bot to help you choose. Type "/heynetflix" in #📺│media-hub to see how it works.
Looking for a more personalized shopping experience? BYOB COMING SOON!
Shh… keep this one on the down low. And definitely don't tell anyone I snuck this screenshot for you.
STAY MAD,
Noah (aka: tender) & Amy (aka: Turmanator)
Have feedback? A challenge idea? Just wanna chat? Connect with us on Discord
TAG US @MADRABBIT USE HASHTAGS #MADRABBIT #COMEGETATATTOOWITHME
Try risk-free & save with the Essential Sets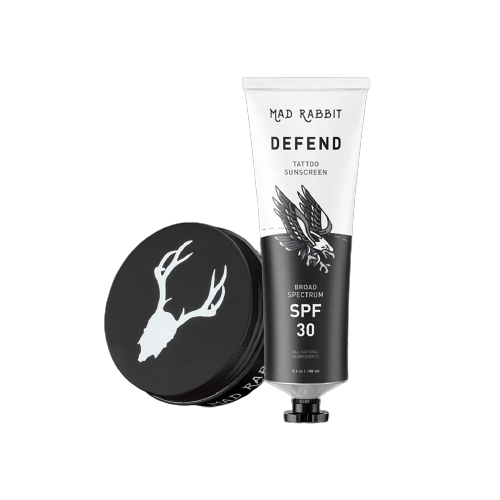 Best Seller
Daily Defense Set
Show off your tattoos in the sun and have them shining bright all day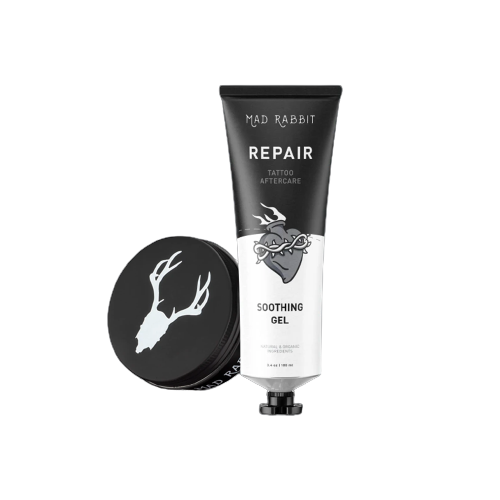 Best Seller
New Tattoo Set
The ultimate relief to heal fresh ink and make it shine