Hello Pumpkin,

Welcome to the first round of auditions for The Gourd of the Rings. Just kidding… unless?😏

Wow. Can you believe October is almost over? I can't - even though it's true. As the days get shorter, the air gets colder, and the colors start to fade (metaphorically if you aren't among the deciduous), begin reflecting on how hard you've worked to get where you are. In that, to also remember the many things you have to be thankful for.

In this newsletter, we will congratulate our top sellers, peep ambassador post highlights, introduce November challenges, celebrate our anniversary– oh, and one more exciting thing that was strategically placed at the very bottom of the newsletter so you have to read the whole thing to find out what it is.

5️⃣ Days Left To Win $500
One ambassador has already reached the $1k sales needed to unlock this challenge and several others are getting dangerously CLOSE. Think you can steal the lead for a chance to win $500? With the holidays right around the corner, you might as well try 💲😜

Congratulations to our top 5 earners this period:
Hannah Wieman
Matthew Williams
Isaiah Scurini
Tyler Villicana
Marcus Chronabery
Top 5, how do you do it? For an ambassador that hasn't made a sale yet, what do you recommend? Please bless us with your tips and tricks in #💰│ambassador-chat on Discord for bonus points 🙏

New Challenges Live November 1st 🍂
Last chance to complete the October challenges! Earn those points so you can get that thing you've been eyeing in the shop 🛒

Never completed a challenge before? It's super easy! Here's all you have to do:
Log in at madrabbit.com
Click the tab for the ambassador dashboard
Select TO DO at the top
Submit

🤳 TikTok | How to use your fave Mad Rabbit products - As we launch more awesome tattoo care products, we want to make sure everyone knows how to use them properly in order to keep their tattoos looking 💯We'd love you to share a TikTok walking your community through how to use your favorite Mad Rabbit product.

💲 Make 5 Referral Sales - Make five referral sales this month and get 1,000 points. Nothing to submit– it's really that simple.

📸 IG Post | Recreate a post from our IG - Hey Ambassador! We love all the hard work you all put into creating your content, and we'd love to give you another opportunity to be featured on our social channels- giving you and your content the opportunity to be seen by almost 300,000 Mad Rabbit lovers! For this challenge, we'd love you to recreate a post in our IG feed from ambassador Kailey Garner. Check out her IG here
Full challenge details in the ambassador dashboard 11/1.
Have an idea for a challenge? Let us know in #💰│ambassador-chat on Discord.

Featured Ambassador Post Highlights 🤳
One shipment of bonus points: en route ✈
What do you think about featuring an ambassador on our socials weekly? Make sure your social profiles are public so that you can be featured too!

Exciting News & Updates 📰
Last Chance To Support Breast Cancer Awareness Month With P.ink 💗

Join us as we lift up cancer survivors and all of those who are currently battling. Last year we donated over $20,000 to the Personal Ink (P.ink) organization with the help of our community. Donations end Oct 31: https://www.madrabbit.com/pages/p-ink


4️⃣ Days Left To Enter The Pumpkin Carving Contest On Discord 🔪🎃
Contest Rules:
Carve your pumpkin
One entry per ambassador
Post a picture of your carved pumpkin in #💬│chat with the hashtag #spooky
Photo must include a handwritten note with your Discord tag on it
Photo deadline: midnight October 30, 2022

Prize: 1,000 points and a product of your choice. Three winners announced 10/31/22. Mad Rabbit themed pumpkins might get special treatment 🤫

It's like our anniversary or something 🎉 – Enjoy 25% Off Site-Wide (excl. sets) now until 11/1. No code needed.
Join us in celebrating Mad Rabbit's anniversary and our awesome community aka YOU.

It started with a passion to help you preserve your ink. Three years later, we're still going strong! Mad Rabbit was born from the desire to reinvent the tattoo aftercare space and help improve the healing process. We combine our simple formulas with clean and effective ingredients, so your tattoos can remain vivid, withstand aging, and maintain their original vibrancy. We are so grateful for our community and thank you for being a part of it. Let's cheers to 3 years of celebrating individuality, artistry, adventure, and all things badass.


NEW Social Templates 😱
Hey there! Glad you made it this far 🥰

I'm excited to announce THIRTEEN NEW SOCIAL TEMPLATES. Fall-elujah! They are posted in #📣│social-resources on Discord 🔥. In the same Discord channel, you will also find filming best practices, video examples, and approved fonts (free).

If you love the new templates, please let our graphic designer @ffffolden#9797 know!! 🤞

Pumpkin Spice and Everything Nice,
Noah (aka: tender) & [get well soon] Amy (aka: Turmanator)

Have feedback? A challenge idea? Just wanna chat? Connect with us on Discord

TAG US @MADRABBIT USE HASHTAGS #MADRABBIT #COMEGETATATTOOWITHME
Try risk-free & save with the Essential Sets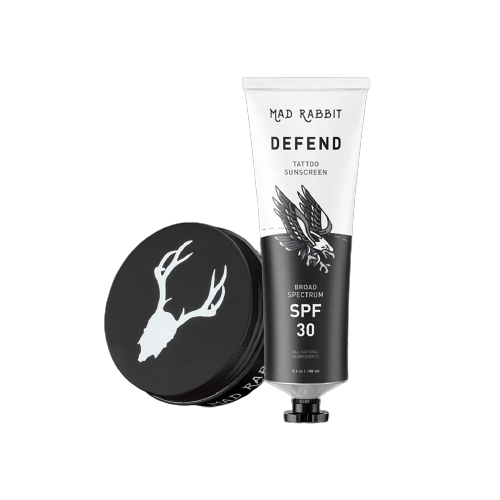 Best Seller
Daily Defense Set
Show off your tattoos in the sun and have them shining bright all day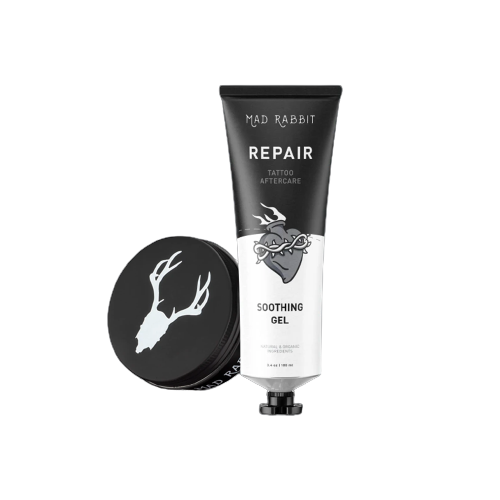 Best Seller
New Tattoo Set
The ultimate relief to heal fresh ink and make it shine