Hello gourd-geous,

We've been trying to reach you regarding your car's extended warranty. LOL I've always wanted to say that unprofessionally in a professional setting. Okay, back to business. In this newsletter, I'm excited to announce top commission earners, ambassador post highlights, NEW challenges, and share some other exciting updates 😋

Running Out Of Time To Win $500 ⌛
Whoever can sell the most this month will receive $500 PayPal. In order for you to activate this challenge, you must individually reach $1,000 in sales. Some of you are getting close but there's more work to be done! Don't forget to take advantage of 20% commission this month, it won't last forever!

Congratulations to our top 5 earners this period:
Nicole Rea
Jason Sarvis
Kylie Lindenberg
Dany Solis
Dylan Rigler
What are your thoughts on receiving our unreleased soap as a gift for being a top earner? Let us know your thoughts in #💰│ambassador-chat on Discord!

New Challenges Live NOW 🎃

IG Reel | Halloween #GRWM - Spooky season has arrived and we're sure many of you are getting in the Halloween spirit by now- and if you haven't picked your Halloween look yet, it's time to Trick O' Treat yourself! Whether you are going for a spooky, funny, or classic costume this year, your tattoos still have to look good! Show us how you get ready for Halloween using your Mad Rabbit products in an IG Reel.

IG Story | Share Your Favorite Mad Rabbit Product - Post an IG Story featuring your favorite Mad Rabbit product with a link sticker to your ambassador URL (locate yours in the ambassador dashboard). Make sure to add a sentence about why you love the product.
Check out the ambassador dashboard for more info. on the third new challenge 😏

Featured Ambassador Post Highlights 🤳
woosh woosh… SeNDinGgg 200 bonus points to:
Wanna be featured and earn bonus points like these fine badassadors? Make sure your social profiles are public and that you have your discount code in your bio.

Exciting News & Updates 📰

Tune into Shark Tank on ABC (WEWS) this Fri, 10/14, at 8 PM EDT for a Mad Rabbit update. Let's go, Rabbit Daddies! 🐇

NEW Rewards
Numbing Cream has been added to the ambassador shop. Go get some of that Mad Relief!

NEW Ambassador Badges
Now, when stacking up referral purchases, you will earn badges! Collect badges for your 1st sale, 10th sale, 100th sale, and every multiple of 100 after that.

Check what badges you've already earned by signing into the ambassador dashboard, navigating to settings, and clicking "badges". Think you could be the first to 500?

Breast Cancer Awareness Month With P.ink
Join us as we lift up cancer survivors and all of those who are currently battling. Last year we were able to donate over $20,000 to the Personal Ink (P.ink) organization with the help of our community.

Meet Eden - mom, nurse, flower and bright color enthusiast. After 8 surgeries and 5 1/2 years later, watch how she takes back her control and heals emotionally and physically through her mastectomy tattoo journey.

👉 Watch Eden's full story here

Mad Rabbit & Atelier Eva Collab With Limited Edition Soothing Gel
Our artist community is at the core of our brand, and our collaboration with Atelier Eva combines artistry + effective aftercare perfectly.

Their spa-like intentional approach to tattooing combined with our clean and effective ingredients elevate the entire tattooing experience. For those reasons, it's a collaboration that makes sense.

Check it out here


Pumpkin Spice and Everything Nice,
Noah (aka: tender) & Amy (aka: Turmanator)

Have feedback? A challenge idea? Just wanna chat? Connect with us on Discord

TAG US @MADRABBIT USE HASHTAGS #MADRABBIT #COMEGETATATTOOWITHME
Try risk-free & save with the Essential Sets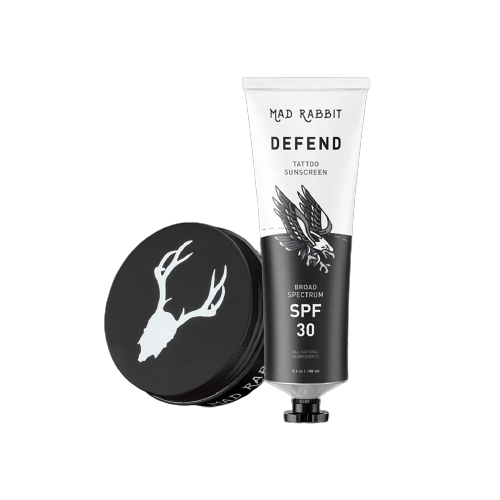 Best Seller
Daily Defense Set
Show off your tattoos in the sun and have them shining bright all day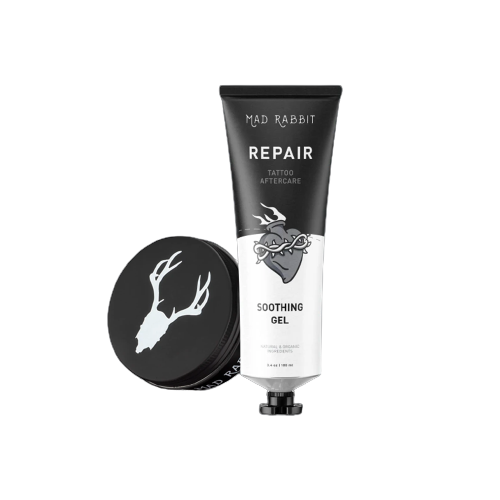 Best Seller
New Tattoo Set
The ultimate relief to heal fresh ink and make it shine