Happy Wednesday, little elves!
It's a new month! Symbolically, December both represents endings and beginnings. It's a time to gather with friends and family and reminisce about what has happened and what's to come in the new year. However this year has been for you, I encourage you to be kind to yourself and others. Whether you're working or off, busy or not, with loved ones or without, please know that you all have each other.Anyways, here's a recipe for brownies:
Preheat the oven to 350 degrees F (175 degrees C). Grease and flour an 8-inch square pan.

Melt 1/2 cup butter in a large saucepan. Remove from heat, and stir in sugar, eggs, and 1 teaspoon vanilla. Beat in 1/3 cup cocoa, flour, salt, and baking powder. Spread batter into prepared pan.

Bake in the preheated oven until top is dry and edges have started to pull away from the sides of the pan, about 25 to 30 minutes. Let cool briefly before frosting.

To make frosting: Combine softened butter, confectioners' sugar, 3 tablespoons cocoa, honey, and 1 teaspoon vanilla extract in a bowl. Stir until smooth. Frost brownies while they are still warm.
OK. OK… enough goofing around. In this newsletter, we will congratulate our top sellers, check out some social post highlights, announce new challenges, and (finally) celebrate our November challenge winners!
Commission Update 💰
Those who made 5+ sales in November have been awarded 1,500 points! Great job, all 🤗Congratulations to our top 5 earners for this period. It's great to see even more new names on the list!
Matthew Williams
Paige Tate
Micaela Nguyen
Isaiah Scurini
Chad Fenske
Ambassador Post Highlights 🤳
The post highlights for this period had me thinking… what's the most creative unboxing video you can come up with? Whatever it is, we'd like to see it!

And our best social posts were (drumroll):
​
Enjoy those bonus points 🤩

​When posting, make sure to:
Shoot in short and concise clips; think 5-15 second segments.

Use a steady hand, get help from a friend, or use a tripod to help you film.

Shoot via your camera and edit on a third-party app (not in TikTok) & save the video in the largest file format.

Shoot with natural lighting (next to a wind owl or in good lighting like the bathroom. If needed, bring a ring light or something to improve lighting if you are in a dark area.

Check out the other creative assets and posting tips in the #social-resources channel on Discord.

When completing challenges, make sure your social profiles are public so that you can be featured too! Have an idea for a new challenge? Let us know in #💰│ambassador-chat on Discord.

New December Challenges
🎁 IG Post | Gift For Tat - From now until 12/13, submit your Christmas or Winter-themed tattoos and get a chance to win a gift from us this holiday season.

Three winners will be announced on 12/19. First place will win a $100 MR gift card, a hat from our capsule collection, and a tattoo lovers' kit. Second place will win a hat from our capsule collection and a tattoo lovers' kit. Third place will win a tattoo lovers' kit.

📸 IG Story | Share Top 3 Picks From Our Holiday Sale - From 12/8 to 12/14, screenshot your top 3 picks from the Holiday Sale and share them to IG your story, telling your followers they can get 20% off the site and free shipping!

🥁 November Challenge Winners:
👉 The IG Post | WIN $100 - Feeling Thankful Winner is Luis Reyes Vaquiz! Check out his post here.
👉 Our 5 Tweet It | Come Up With a Slogan For New Soap Duo Winners are: Edward Resutek, Sarah Avery, Holly Johnson, Megyn Hostikka, and Joshua Cox


All prizes have been awarded/shipped. Congratulations, winners!
In case you missed my email on 12/1, the following challenges are also live:
🐦 Twitter | Share Your Mad Rabbit Wishlist

📌 Pinterest | Pin From Our Tattoo Care Board

▶ YouTube | Subscribe To Our Channel
Psssst… there will be even more challenges live in a week!
STAY MAD but not too mad,
Noah (aka: tender)

Have feedback? A challenge idea? Just wanna chat? Connect with us on Discord

TAG US @MADRABBIT USE HASHTAGS #MADRABBIT #COMEGETATATTOOWITHME
Try risk-free & save with the Essential Sets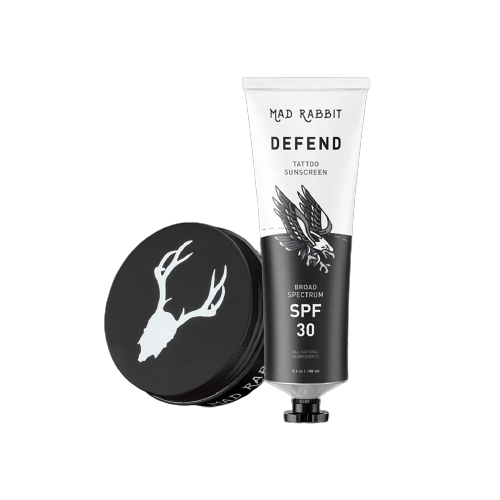 Best Seller
Daily Defense Set
Show off your tattoos in the sun and have them shining bright all day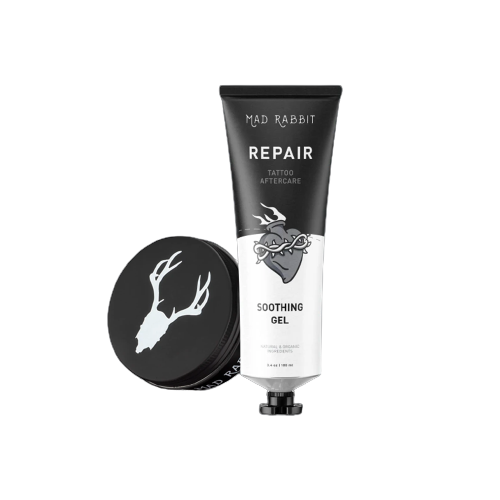 Best Seller
New Tattoo Set
The ultimate relief to heal fresh ink and make it shine