Hey, solstice sisters!
To the tune of Hey, Soul Sister - A 2009 classic by the band Train.

Could it really be the last ambassador newsletter before 2023?

Happy winter solstice to those of you who live in the northern hemisphere! While today marks the start of increasingly colder days, the love we have for each other will keep us warm. HAHA, that was so corny… but true 😏

In reflection of all that we've accomplished together this year, thank you. Thank you for all the time and effort you've spent completing challenges, making sales, engaging with us on social, chatting with us on Discord– and ultimately helping build such a supportive community.

In planning for next year, we've come up with a bountiful harvest of new challenges, new rewards, more opportunities to be featured on our socials, and maybe even some ambassador gifts! While I can't share details quite yet, please stay tuned.

Commission Update 💰

Struggling to make sales? To help you out, ambassador Marcus Chronabery has shared some insight into what has helped secure him a spot as one of our top sellers! He writes,

"The best way [to make sales] has definitely been in person. Talking to friends and family and showing them my results. I also made "business" cards to hand out with my code and a QR code to send them to the website.

Second is unique social media posts shared on various platforms. Asking friends to share, sharing publicly, etc. I think the key to social media is getting hashtags right to get your content to people interested in what you're posting.

For ambassadors that haven't made a sale yet, I would say to reach out to friends and family. Show them your most dramatic difference you've seen with Mad Rabbit. For me, at first, it was the balm bringing out the color in my 10-year-old tattoo. Then it was showing off the recovery time in healing using the soothing gel. Then it was showing them the growing line of MR products, and reminding them it's all-natural ingredients and specifically formulated for tattoos."

Thanks, Marcus!

Our top five sellers for this reporting period were:
Matthew Williams
Jolyn Johnson
Hannah Wieman
Marcus Chronabery
Isaiah Scurini

Ambassadors, if you've never logged into the ambassador dashboard, please make sure you do to check that your PayPal email address is correct. Otherwise, there's no way for you to receive the commission you've earned!

Ambassador Post Highlights 🤳

Although our challenges this month haven't asked you to create much content, it hasn't stopped you! Shoutout to our highlighted posts:

When completing challenges, make sure your social profiles are public so that you can be featured too! Have an idea for a new challenge? Let us know in #💰│ambassador-chat on Discord.

December Challenges 📝

✂ Discord | Let's Get Crafty! (challenge ends 12/24 @ 11:59 PM EST) - We are feeling quite festive and wanted to give you a fun challenge to do the same! This is a fun activity to do by yourself or with friends and family! There are two options for this DIY challenge:

Decorate a Mad Rabbit-themed Christmas cookie
Create a Mad Rabbit holiday ornament

Here are some of the amazing submissions that we've had so far:

Check out our other submissions in #💰│ambassador-chat on Discord.
⏳ Last chance to complete the following challenges:
Twitter | Share Your Mad Rabbit Wishlist (challenge ends 12/24 @ 11:59 PM EST)
Pinterest | Pin From Our Tattoo Care Board (challenge ends 12/31 @ 11:59 PM EST)
YouTube | Subscribe To Our Channel (challenge ends 12/31 @ 11:59 PM EST)

Complete all of these challenges and earn 1,650 points!!

🆕 Updates

Ambassador Shop Overhaul - check out the new rewards, updated pictures, and discounted reward prices in the ambassador shop now!

Our NEW Booking App - Calling all tattoo artists and studios! Want more leads and new client generation? We are excited to announce the launch of our new tattoo booking platform. We want to connect our community with our artist network - this tool is a way for you to leverage free lead generation to increase your client opportunities. Reply to this email to start the sign-up process!

Hope For Cancer - Help us lift up children's spirits during their treatments & raise HOPE VS. CANCER 💛 For Tyler Stover, Founder and Executive Director of @hopevscancer, tattoos have serious healing power. @the_other_tylerthecreator got his first tattoo in memory of his father, who passed away tragically one week after Stover's seventh birthday. It was only natural that Stover turned to the art form when he had the opportunity to cheer up a little girl in his building who was battling cancer.
We have teamed up with @hopevscancer and a network of incredibly talented tattoo artists at @atelier.eva, @inked_nyc, @dopehausstudio, @ponywave, and @sydsmithhh to transform the art of tattoos into meaningful healing agents for pediatric cancer warriors this holiday season. 🎄🎁
From now until Dec 31st, with every donation of $5 or more, we are gifting you a custom set of these temporary tattoos. Visit this link to donate. 💛
#hopevscancer #tattoos #madrabbit #tattoocommunity
STAY MAD & Happy Holidays,
Noah (aka: tender)

Have feedback? A challenge idea? Just wanna chat? Connect with us on Discord

TAG US @MADRABBIT USE HASHTAGS #MADRABBIT #COMEGETATATTOOWITHME
Try risk-free & save with the Essential Sets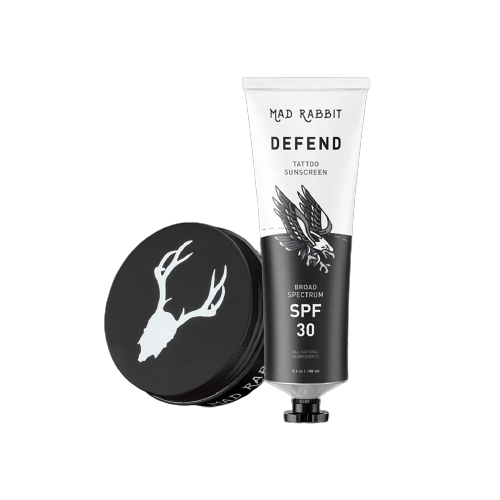 Best Seller
Daily Defense Set
Show off your tattoos in the sun and have them shining bright all day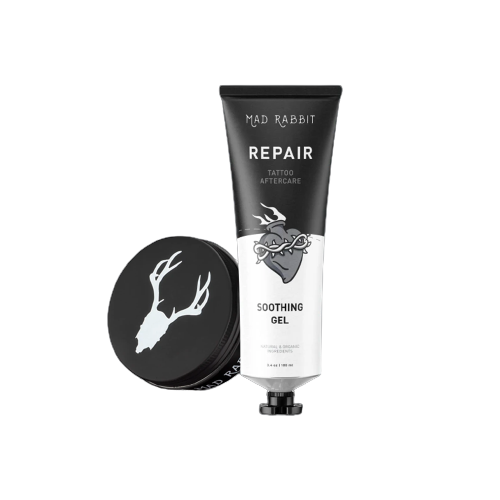 Best Seller
New Tattoo Set
The ultimate relief to heal fresh ink and make it shine