Dear Ambassador,
As the sun spreads its radiant glow upon us, we gather around the digital campfire to embark on an enchanting journey together. Whether you've been a cherished member of our ambassador family for a long time or have recently joined our ranks, we extend a heartfelt welcome to each and every one of you. These bi-weekly newsletters are more than just a compilation of updates and challenges; they are a celebration of your unique presence and the profound impact you bring to our community. So, let's immerse ourselves in captivating stories that connect us, forging bonds of purpose and authenticity.
First and foremost, I hope everyone had a marvelous (and safe) 4th of July. I trust that we still have all of our fingers and toes intact... Despite the challenges of poor air quality and relentless rain (at least where I am), summer is finally starting to make its presence felt. Whether you have exciting plans for vacations, sports events, music festivals, eagerly anticipate new movie releases, or are simply taking life day by day, remember to prioritize self-care amidst the anticipation of what lies ahead.
Within the pages of this newsletter, you will discover a wealth of updates and opportunities that will spark your imagination and propel you forward on your ambassadorial journey. We will applaud the remarkable achievements of our top sellers and share tips for fostering meaningful connections. Our ambassadors' extraordinary posts will be showcased, along with a spotlight on our remarkable "Ambassador of the Week." And, of course, prepare yourself for thrilling new challenges designed to unlock your full potential and ignite your passion for success.
So, dear ambassadors, whether you have been a part of this magical expedition for a while or are just beginning to spread your wings, let us celebrate the unique gifts and perspectives you bring. As we continue our journey through this newsletter, let us remember that our shared purpose extends beyond sales and numbers. It lies in the genuine connections we cultivate, the lives we touch, and the support we offer each other, allowing our ambassadorship to truly flourish. Together, we weave a tapestry of joy, inspiration, and transformation, leaving behind a trail of warmth and wonder.
Commission Update 💰
Imagine a radiant day, with the sweet fragrance of blooming flowers wafting through the air. In the midst of this picturesque scene, one of our remarkable ambassadors, let's call her Sarah in our tale, found herself engrossed in a conversation with a passerby while sitting on a sun-kissed park bench. Little did our imaginary Sarah know that this serendipitous encounter would blossom into an extraordinary sale, ignited by the power of genuine human connection and an unwavering passion for our products. Sarah's infectious enthusiasm and authentic approach not only won her a delighted customer but also secured her a well-deserved spot among our esteemed top sellers.
But hold on, before we unveil this week's honorary "Sarah's," let us take a moment to recognize the extraordinary efforts of each and every one of you who have been hustling and bustling in the field. You are the lifeblood of our team, and your unwavering commitment and dedication deserve our heartfelt appreciation. So, without further ado, let's dive into this exhilarating update, brimming with invaluable tips, and an electrifying dose of enthusiasm to propel your sales success as we embrace the glorious weather that lies ahead!
Shoutout to our top sellers:
Matthew Williams

Kaylee Williams

Nick Drewe

Lisa Taylor

Tyler Kayfes
Tips for Boosting Tattoo Sales in Warm Weather - With the arrival of nicer weather, numerous opportunities will arise to personally connect with potential customers. While online promotion is crucial, in-person interactions offer a greater chance to add your personal touch. To help you overcome any nerves and become an exceptional salesperson, here are some valuable tips:
Know the product line: Familiarize yourself with the benefits and features of our tattoo aftercare line to confidently answer questions and address concerns.

Approach with warmth: Wear a friendly smile and maintain an approachable demeanor to make people feel comfortable engaging with you.

Start with compliments: Begin conversations by complimenting someone's tattoo or finding common ground to spark interest and create a connection.

Highlight benefits: Explain how our tattoo aftercare products accelerate healing and enhance the longevity of tattoos.

Offer firsthand experiences: Provide product demonstrations or samples so people can see and feel the effectiveness of our aftercare line for themselves.

Educate on aftercare routines: Share step-by-step instructions for proper tattoo aftercare, emphasizing the importance of each step to ensure optimal healing.

Personalize recommendations: Understand each person's tattoo needs and offer tailored suggestions from our range of aftercare products.

Incentivize with promotion: Motivate potential customers by offering your discount code.

Capture/exchange contact information: Exchange social media handles to stay in touch with potential customers for follow-ups and future engagement.
Tip: Attention, ambassadors! We're thrilled to announce that for every glorious sales milestone you achieve, there's a treasure trove of free rewards waiting just for you. But before you leap into the excitement of redeeming these coveted goodies, we kindly remind you to double-check that your shipping address is shipshape and up to date. After all, we want to ensure those well-deserved rewards land right at your doorstep! If, by chance, your address is a tad outdated and your rewards find themselves on a detour, please note that we won't be able to shoulder the responsibility of replacing them. So, take a moment to verify your address, and let the journey to thrilling sales milestones and delightful rewards begin!
Ambassador Post Highlights 🤳
Each and every one of you possesses an extraordinary power—the ability to captivate, inspire, and illuminate the world through your unique social media platforms. Consider this your invitation to open the doors to your ambassadorial journey, allowing the power of imagery and heartfelt words to ignite the spirits of all who cross your virtual path. Let your genuine voice radiate, for it is through authentic expression that true connections are forged. In this newsletter, we gather to honor the incredible creativity, positivity, and genuine enchantment that emanate from your posts. And, of course, we can't help but shine a spotlight on our "Ambassador of the Week," a shining star whose content is sure to ignite inspiration and uplift all who encounter it. So, dear ambassadors, let your creativity soar, your positivity shine, and your enchantment thrive as we embark on this captivating chapter together!
Featured ambassador content:
Your narrating skills are exceptional! Please let me know if you'd be interested in narrating my daily life. Your post was not only informative but also well-organized.

Thank you for taking us on a virtual trip to the Dominican Republic! Your video was fantastic, and you did an excellent job incorporating trending audio.

The sound of the healing patches was incredibly soothing. Your ASMR content is top-notch, and I thoroughly enjoyed it.

Your editing skills are impressive! You did a great job using relevant hashtags to expand the reach of your posts.

Your content was both hilarious and educational. I'm eagerly looking forward to seeing more content from you!
Featured ambassador artist content:
Applying balm with a tongue depressor was a brilliant idea! I haven't seen that technique before, and it was really innovative.

The sound of cutting the box made my brain tingle. Great job showing that you can cut Repair patches down to size!

It's wonderful to witness our ambassador artists putting in such hard work. Your first attempt at a pinup was remarkable!

You've managed to make mosquitoes look cute, which is quite an accomplishment. Your soothing gel swipe was fantastic.

We absolutely adore small moths. Your soothing gel swipe captured their charm perfectly.
Tip: Fear not, dear ambassadors who weren't featured this time around—your time to shine is just around the corner. Remember, even the stars take turns in the spotlight.
Ambassador of the week - This week's spotlight is on Christopher Felix! 🔦👀 Be sure to check out all of his amazing IG content. Who's going to be featured next week? Don't forget to check our IG story to see if it's you!
July Challenges 📝
If you don't love these new challenges, Julyin'! As the month unfolds with blooming beauty and endless possibilities, we present a series of invigorating challenges that will spark your enthusiasm and push your creativity. Consider these challenges as heartfelt invitations to step beyond your comfort zone, discover new potentials, and create unforgettable moments.
Challenges offer more than just personal growth; they also provide a wonderful opportunity to connect with your audience and boost sales. As you conquer each milestone, why not share your victories with your loyal followers? Include your exclusive discount code or link in your posts, inviting them to join you in these adventures while enjoying exclusive benefits.
So, whether it's surpassing milestones, fostering a culture of inclusivity and positivity, or nurturing your personal growth, these challenges will guide you toward expansion, fulfillment, and remarkable achievements. Embrace each one as a unique opportunity to connect with your audience, amplifying your impact and sowing seeds of greatness.
Evergreen Challenges:
Join MRT on Discord

TikTok | Mad Rabbit Unboxing

(Artist) Swipe | Soothing Gel - you can complete this challenge 100 times.
Ambassador Challenges:
Pinterest | How Do You Prepare For A New Tattoo? (650 points)

IG | Summer Photo Shoot (1,000 points)

IG | Show Off Your Mad Rabbit Merch (1,000 points)

IG or TikTok | Amazon Prime Day (1,200 points)
Repair Patch Challenges:
Review Repair Patches on MadRabbit.com (200 points)

IG | Like & Share Our Aftercare Patch Launch Post (500 points)

TikTok | My First Tattoo (1,000 points)

TikTok | Healing a Tattoo With Repair Patches (1,000 points)

TikTok | Repair Patch ASMR (1,000 points)
Artist Challenges:
Discord | Showcase Your Work (500 points)

IG | Reimagine Our Logo/Mascot (1,000 points)

TikTok | What's Your Favorite Product? (1,500 points)

Reair Patch Challenges:

IG Post | Design a Repair Patch Infographic (2,000 points)

Tip: You can find all active challenge details in the ambassador dashboard.
 
Updates

Updated Repair Patch Application & Removal Instructions - In order to provide you with an exceptional experience, we have carefully collected feedback since the launch and made slight modifications to the application and removal instructions for repair patches. We kindly request you refer to our website's updated instructions for further details.
 
Limited Edition Year of the Rabbit T-Shirt - Adore the Year of the Rabbit t-shirt design? Now's your chance to get your paws on one! Hurry, though, as we only have a limited number of sizes remaining, and once they're gone, they won't be restocked. Don't miss out on this exclusive opportunity to own this unique piece of apparel. Grab yours before it's too late!
 
Wear SPF - When it comes to caring for your skin, especially those adorned with beautiful tattoos, SPF is your ultimate ally. We cannot stress enough the significance of protecting your inked masterpieces from the sun's harmful rays. Applying a high-quality mineral sunscreen is a great start, but remember, the key to maximum protection lies in consistent reapplication.

To ensure your tattoos stay vibrant and shielded, make it a habit to reapply sunscreen every 80 minutes to two hours. Even the best sunscreen formulas can gradually wear off, particularly after swimming or sweating. By diligently reapplying, you give your skin an extra layer of defense against the sun's relentless rays, preserving the vividness and longevity of your tattoos.

So, dear tattoo enthusiasts, let us emphasize the importance of incorporating regular SPF reapplication into your daily routine. Take this as a friendly reminder that safeguarding your skin and ink requires ongoing vigilance. Whether you're soaking up the sun's warmth or engaging in outdoor activities, make SPF reapplication your steadfast companion. Your tattoos will thank you for it, and your skin will remain protected, radiant, and beautiful for years to come.
 
STAY MAD,
Noah (aka: tender)



TAG US @MADRABBIT USE HASHTAGS #MADRABBIT #COMEGETATATTOOWITHME
Try risk-free & save with the Essential Sets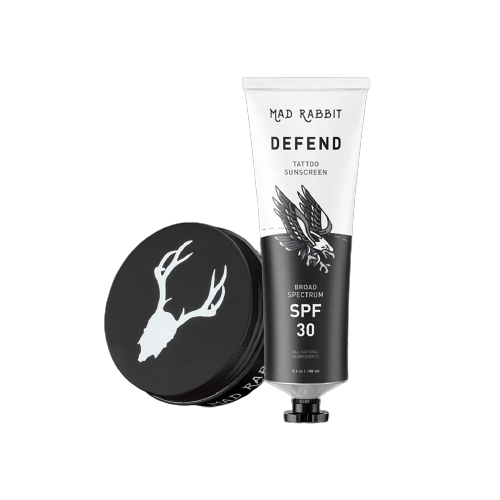 Best Seller
Daily Defense Set
Show off your tattoos in the sun and have them shining bright all day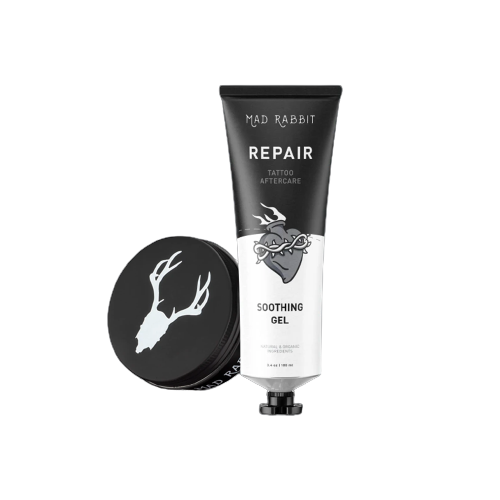 Best Seller
New Tattoo Set
The ultimate relief to heal fresh ink and make it shine