Dear Ambassador,

Hey there, whether you're a newbie or an old friend, welcome! We're stoked to have you here. So, guess what? Every two weeks, we drop a rad community newsletter that's all about celebrating your awesome achievements, keeping you in the loop, and dishing out some seriously valuable info to help you on your journey.

Being an ambassador is a total thrill ride, right from the get-go! But let's be real, it can be a lot to handle with the flood of information and messages coming your way. Don't fret, though. Stick with me, and by the end of this newsletter, you'll be well on your way to rocking that "badassador" status!

Now, today's newsletter is like your personal treasure map, showing you all the incredible resources at your fingertips and even introducing some shiny new ones to supercharge your ambassador game.

You know, I'm a lot like you. I love to know what's in store before diving in, so I can quickly jump to the juiciest bits. But hey, don't skip any sections, 'cause trust me, everything in here is pure gold! We've got a commission update that's gonna blow your socks off, featuring the top five sellers since our last edition. We'll dish out the inside scoop on commission resources like payouts and dashboards, and of course, share some killer tips to help you make those sales like a pro.

Next up, prepare to be dazzled by the absolute crème de la crème when it comes to challenge submissions. We'll unveil the secrets to engaging with your followers like superstars, with our best practices, tips, and tricks. And hold onto your hats, because we have some exciting treats in store for all you streamers and creative geniuses out there.

Oh, but hold onto your hats 'cause here comes the big announcement! Brace yourself for our mind-blowing Aftercare Patch challenges. We're beyond excited to see what you bring to the table. Honestly, peeking at everyone's challenge submissions is hands down the highlight of my job. Your sheer creativity ignites a fire in me to get even more creative in supporting you.

So buckle up, my friend, 'cause this newsletter is about to take you on a wild ride through the world of ambassadorship. Get ready to seize those resources, discover new horizons, and unleash your unstoppable creativity. Let's do this!


Commission Update 💰
In a world of diplomacy and intrigue, five enigmatic ambassadors emerged, surpassing all others in their extraordinary ability to sell. Whispers of mystic powers surrounded them as if they possessed ancient secrets. Ambassador Matthew's captivating voice swayed hearts, while Ambassador Kaylee's stardust cloak bewitched minds. Ambassador Nick's emerald wisdom uncovered hidden desires, and Ambassador Lisa's fiery passion forged alliances. Lastly, Ambassador Charles' gentle touch guided decisions subtly. Legends grew around them, their names etched in history as the masters of persuasion, forever mystifying the realms.

Shoutout to our top sellers:
Matthew Williams
Kaylee Williams
Nick Drewe
Lisa Taylor
Charles Anderson
"So, you want a short story about yourself?" the enigmatic storyteller inquired with a sly smile. "Ah, but there's a challenge you must face. To earn the tale, you must dethrone one of our illustrious top sellers, those who hold the keys to captivating narratives. Only then shall your own legend be woven into the fabric of our mystical stories."

Commission-Related Resources - Did you know that the ambassador dashboard enables you to monitor every usage of your code? Not only that, it offers a comprehensive overview of your earned and pending commission payments, as well as all reward redemptions.

If you haven't already, I strongly suggest dedicating a few minutes to exploring the ambassador dashboard. In addition to the mentioned features, you'll come across a wealth of past newsletters, brimming with valuable content. Furthermore, the dashboard provides pre-made templates that you can readily use to promote your code on social media. Just input your code, and you're good to go. While you're there, don't forget to visit the Settings tab. It's the place where you can view and edit your PayPal details, personal information such as your name and shipping address, notification preferences, and manage all your social media connections.
Tip: Have you never accessed the ambassador dashboard before? Unsure about the process? It's quite simple! Just head over to madrabbit.com, log in using your ambassador account email address and password, and navigate to the "Ambassador Dashboard" tab. Please note that the dashboard tab will be found within a drop-down menu if you're using a mobile device. If you have any issues accessing the dashboard, please contact us at ambassadors@madrabbit.com

Tip: Commission payout takes place every Wednesday via PayPal.

Ambassador Post Highlights 🤳

Enter the Enchanted Realm of Ambassador Post Highlights! Gather 'round, mystical souls, as we unveil the most extraordinary treasures from our bi-weekly challenges. Behold, the chosen ones who have transcended the ordinary, weaving their posts with magical finesse, blending our best practices with their unique, enchanting flair. These ethereal creations, both informative and fun, radiate with the brilliance of stars and will be rewarded with 200 bonus points. Let their mesmerizing brilliance inspire your own journey and transport you to realms beyond imagination.

Featured ambassador content:
You've mastered the art of propping your camera and utilizing both hands flawlessly, resulting in a stunning collection of perfectly timed shots. Impressive job!



Great job showcasing the process of warming up the product before application! By demonstrating this essential step, you've made it incredibly easy for your followers to achieve seamless results. Well done!



Your on-camera presence radiates warmth and friendliness, making this post an absolute delight to watch. It feels refreshingly organic, and I can't wait to see the incredible content you'll share in the future. Keep up the fantastic work!



You've done an exceptional job in delivering informative content while reminding us about the crucial importance of reapplying SPF. Your dedication to educating and looking out for your audience is truly commendable. Bravo!



Not only did you execute the product application flawlessly, but you also managed to cleverly incorporate a code plug seamlessly. It's a testament to your professionalism and attention to detail. Kudos to you!

Featured ambassador artist content:
Catch me with 50 cards in my hand lol. Well played meme!



Awesome to see your personal style in action. Bonus points for sneaking in a soothing gel swipe!



I wish I could tattoo myself 😣 You've hit the mark with this one, my friend!



Your guilt-inducing meme had me laughing out loud! It's so relatable and hilarious, and I appreciate the humor you've infused into it.
Feel free to continue sending in those hilarious meme submissions. They truly brighten up my day and bring a good laugh! 😄
Tip: Fear not, dear ambassadors who weren't featured this time around—your time to shine is just around the corner. Remember, even the stars take turns in the spotlight.

Ambassador of the week - This week's spotlight is on Arielle Anderson! 🔦👀 Be sure to check out all of her amazing IG content. Who's going to be featured next week? Don't forget to check our IG story to see if it's you!

The Benefit of Creator Accounts - Let me tell you about this awesome thing called a creator account. It's like a power-up for your social media game! So, a creator account is a special type of account designed just for content creators and influencers like you. It comes with a bunch of cool features and analytics that can really boost your online presence. You know how important it is to understand your audience, right? Well, with a creator account, you get access to juicy insights like who your followers are, how they engage with your content, and which posts are hitting it out of the park. That means you can tailor your content to keep them coming back for more! Oh, and the perks don't stop there. You'll also get handy tools for creating and scheduling content. Talk about a time-saver! With a creator account, you can keep your brand ambassador game strong, plan killer campaigns, and optimize your content strategy like a pro. So, get ready to level up, my friend, because a creator account is your secret weapon for boosting your brand visibility and promoting the products or services you represent. Let's go rock those social media platforms together! Discover the step-by-step process for setting up your very own creator account by clicking here!

June Challenges 📝

Calling all ambassadors! We have an extraordinary announcement that will revolutionize your tattoo aftercare routines. Prepare to be captivated by our latest creation—the brand-new Aftercare Patch Challenges! These challenges are designed to infuse a fresh and invigorating twist into your tattoo aftercare rituals. But that's not all—we need your help to spread the word about this groundbreaking product. By participating in our Aftercare Patch Challenges, you'll not only discover new ways to nurture and protect your ink but also become an ambassador for this exciting innovation. Join us as we embrace the new and unlock a world of possibilities together. Let's make this revolutionary venture a resounding success!

Evergreen Challenges:
Join MRT on Discord
TikTok | Mad Rabbit Unboxing
(Artist) Swipe | Soothing Gel - you can complete this challenge 100 times.

Ambassador Challenges:
Review Aftercare Patches on MadRabbit.com (200 points)
IG | Like & Share Our Aftercare Patch Launch Post (500 points)
TikTok | My First Tattoo (1,000 points)
TikTok | Aftercare Patch ASMR (1,000 points)
TikTok | Healing a Tattoo With Aftercare Patches (1,000 points)

Artist Challenges:
IG Post | Design an Aftercare Patch Infographic (2,000 points)
Tip: You can find all active challenge details in the ambassador dashboard.

Updates

New Creative Assets - Hey there, streamers and creatives! We've got something exciting for you. We've put together a bunch of advertising assets that you can use to level up your content game. Check out our awesome banner, two animated logos (one with space for your code and another with just the logo), and a collection of cool emojis. You can find all these goodies in the #social-resources channel on our Discord server. Not a member yet? No worries! Join our Discord community right here.

Discord is not only the place to grab these awesome assets but also the ultimate hub for connecting with fellow ambassadors. It's where you can ask questions, share ideas, and get all the support you need. Trust us, being part of our Discord family is a game-changer! So, don't miss out and join us today. See you there!

Tip: Love the new assets? Make sure to let @Piersic#9155 know on Discord!

New Product - 📢 Attention tattoo enthusiasts! 🖤 Introducing our brand new Tattoo Aftercare Patches! These innovative patches offer a 3-in-1 solution with a breathable barrier, cooling & soothing benefits, and reduced burning sensation. Clinically approved and disinfected, they expedite healing while protecting your tattoo. With clean, natural ingredients, we prioritize skin regeneration without any artificial additives.


 Our ambassadors, who are an integral part of our Discord community, were the first to receive the exciting news about the release. To ensure you don't miss out on similar opportunities in the future, join us and stay connected!
 
STAY MAD,
Noah (aka: tender)


TAG US @MADRABBIT USE HASHTAGS #MADRABBIT #COMEGETATATTOOWITHME
Try risk-free & save with the Essential Sets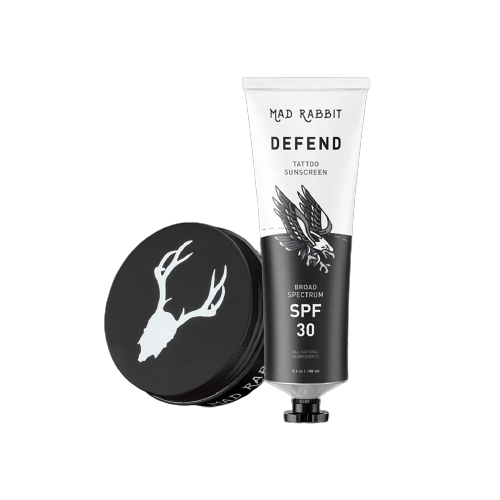 Best Seller
Daily Defense Set
Show off your tattoos in the sun and have them shining bright all day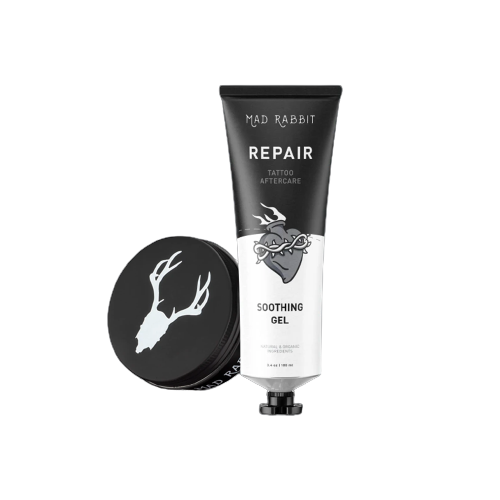 Best Seller
New Tattoo Set
The ultimate relief to heal fresh ink and make it shine