Dear Ambassadors,

Welcome to the vibrant month of June, where we bid farewell to spring and embrace the arrival of summer. As nature undergoes its transformation, we, too, find ourselves standing on the precipice of new beginnings and fresh opportunities.

To our seasoned ambassadors, we extend a warm welcome back. Your unwavering commitment and dedication have propelled us forward, achieving remarkable milestones and making a positive impact that extends far beyond our reach. And to our new ambassadors joining us on this exciting journey, we extend a heartfelt welcome. Your presence adds to the diversity and richness of our vibrant community.

June serves as a reminder of the resilience we have cultivated along our collective journey. We have encountered obstacles, surmounted challenges, and emerged stronger, armed with the wisdom to navigate the ever-changing landscape of our endeavors.

In this week's newsletter, you'll find a collection of captivating updates, inspiring stories, and exciting surprises that await you. First, we are thrilled to announce the top five sellers, accompanied by valuable tips on approaching potential customers. Second, immerse yourself in the creativity and impact of fellow ambassadors as we showcase the best posts since our last newsletter in the ambassador post highlights. Keep an eye out for the announcement of our Ambassador of the Week, as we celebrate outstanding dedication and creativity. Third, prepare yourself for the exhilarating challenges lined up for June, meticulously designed to ignite your motivation and propel you forward. Don't forget to mark your calendars for June 15th, when we'll unveil an exclusive opportunity to try a new and unreleased product. Lastly, explore the thrilling updates from the Ambassador Shop, where you will discover new rewards and irresistible prices.

We extend our heartfelt gratitude for your active participation in our community. Together, let us embark on this month's journey with inspiration, motivation, and a sense of pleasant surprise, as we unveil the incredible updates, stories, and opportunities presented in this week's newsletter.


Commission Update 💰

Welcome to the "Commission Update" section of our bi-weekly newsletter. Today, we're serving up a double dose of celebration and empowerment! Not only will we acknowledge our outstanding top five sellers for their stellar achievements, but we'll also equip you all with invaluable sales tips to unleash your inner sales rockstars. 🥳👏
Shoutout to our top sellers:
Matthew Williams
Nick Drewe
Kaylee Williams
Lisa Taylor
Charles Anderson

Now, let's shift our focus to turbocharging our sales prowess. We're about to explore the art of approaching potential customers with tattoos, an exciting opportunity that opens doors to new connections and sales success. These tips will arm you with the confidence to engage with tattooed individuals, captivate them with the remarkable benefits of Mad Rabbit, and skyrocket your sales to new heights!
Embrace the Power of Confidence - Remember, confidence is contagious! Believe in the incredible benefits of Mad Rabbit and the value it brings to tattooed skin. Approach your potential customer with a genuine smile and a warm introduction, exuding the confidence that comes from knowing you have an amazing product to offer.


Start with a Compliment - Tattoos are personal and meaningful expressions of art, and they deserve recognition. Begin by complimenting the individual's tattoos, showing a genuine appreciation for their unique ink. This will help break the ice and create a positive connection.


Educate and Inform - Share your knowledge about Mad Rabbit and its benefits for tattooed skin. Highlight how our products can enhance and protect the vibrancy and longevity of their tattoos. Be prepared to answer questions and provide information that showcases the value they'll gain from using Mad Rabbit.


Offer the Ambassador Discount - As ambassadors, we have the privilege of offering our customers an exclusive discount. Make sure to share your ambassador discount code, giving them the incentive to make a purchase and join the Mad Rabbit community.

Remember, it's all about building relationships and connecting with people on a genuine level. With these tips, you'll be well on your way to approaching individuals with tattoos and making successful sales. So, let's go forth with confidence, armed with these sales tips, and continue to spread the Mad Rabbit love far and wide. We believe in your abilities, and together, we'll reach even greater heights!

If you have any questions or need further guidance, please don't hesitate to reach out. Let's make this an extraordinary journey of growth and achievement. Now, go out there and show the world the magic of Mad Rabbit! 🐇✨

Tip: Do you have any valuable advice or insightful suggestions to offer? We welcome your input and would love to hear from you!


May Sales Challenge Winners - Hats off to our May Sales Challenge winners! You've taken the challenge head-on and we're thrilled to celebrate the impressive results you've achieved. It's clear that you've mastered the art of selling, and we're honored to have you as part of our exceptional team. Keep unleashing your sales superpowers and showing us all how it's done! Congratulations on your well-deserved victory! 🥇🥈🥉
Nick Drewe
Matthew Williams
Lisa Taylor

Tip: Have an idea for a sales challenge? Let us know!


Ambassador Post Highlights 🤳

Cue the confetti cannons and crank up the celebratory music, because we are about to give a big round of applause to our incredible ambassadors and their outstanding content! And let us tell you, folks, the submissions we received for National Sunscreen Day were simply mind-blowing! It's like you all harnessed the power of the sun itself to create such elevated and jaw-dropping posts. We're talking SPF 1000 levels of awesomeness here! 🌞 So, without further ado, let's dive into the dazzling array of posts that will leave you inspired, entertained, and itching to hit that "like" button! 😎💪


Featured ambassador content:
All-around great content. Your vibrant energy is infectious, and it's amazing to witness how meticulously you apply SPF on each of your tattoos.



You've truly mastered the art of showcasing each product, and your natural ease in front of the camera makes it a delight to watch. Don't forget to give a shout-out to your code!



Your on-camera presence is truly exceptional! You effortlessly exude a delightful combination of fun, friendliness, and informative content.



The quality of your camera work and editing is top-notch, setting a remarkable example for others to follow.



Props to you for setting up the camera and using two hands to unbox! Your thoroughness in showcasing every product and the extra effort you put into editing is truly commendable.

Featured ambassador artist content:
Your TikTok is a testament to your exceptional talent and growth as a tattoo artist in just three months. Your content is a joy to behold, and I eagerly look forward to witnessing your continued artistic journey.



Your meme brought a much-needed burst of laughter, and I'm grateful for the comedic relief you provided.



It's refreshing to see you enjoying the process of creating content. Your enthusiasm is contagious, and it translates into engaging and enjoyable videos.



Your content is a breath of fresh air, and I can't wait to see more of it! You've hit the ground running as a new ambassador, and your dedication is evident.

Tip: Fear not, dear ambassadors who weren't featured this time around—your time to shine is just around the corner. Remember, even the stars take turns in the spotlight.


Ambassador of the week - This week's spotlight is on Jessica Horne! 🔦👀 Be sure to check out all of her amazing IG and TikTok content. Who's going to be featured next week? Don't forget to check our IG story to see if it's you!

Tip: Make sure your posts catch our attention by tagging us twice! Besides following the specific tagging instructions for each challenge, please also mention us in your post's description and tag us directly on the post. This way, we won't miss any of your awesome contributions, and you'll be sure to meet the challenge requirements. Let's keep the creativity flowing!


June Challenges 📝

Now that June has arrived, we couldn't be more thrilled to introduce a brand-new set of monthly challenges for the first half of the month. Prepare to embark on exciting adventures and push your limits! However, mark your calendars for June 15th, as we have something extraordinary in store for you. On that day, we will unveil additional challenges that come with an exclusive opportunity to try a new and unreleased product.

Tip: Kindly take note that this opportunity is exclusively available to those who have successfully completed at least one previous challenge. We want to ensure that participants who have already engaged with our previous challenges have the chance to experience this exciting opportunity.

Evergreen Challenges:
Join MRT on Discord
TikTok | Mad Rabbit Unboxing
(Artist) Swipe | Soothing Gel - you can complete this challenge 100 times.

Ambassador Challenges:
Pinterest | Create Your Own Pin (500 points)
IG Story | Father's Day (500 points)
IG | Tattoo Balm Application (650 points)
IG Reel | Summer Is Here (1,000 points)
TikTok or IG Reel | Show us how you stay active! (1,000 points)

Artist Challenges:
Brainstorm | Come Up With A Challenge Idea (350 points)
IG Post | Create a Tattoo Meme (750 points)
IG Reel | The Significance of SPF (1,000 points)
TikTok | Tattoo Time-lapse (1,000 points)

Tip: You can find complete details for these challenges in the ambassador dashboard.

Updates

Ambassador Shop Updates - I have recently revamped the rewards categories layout to make it easier for you to navigate and discover all the amazing rewards we offer. Now, it will be much more apparent to you that we have a wide range of rewards available, including free products for artists, merch, product sets, new ink, as well as rewards for reaching sales milestones. Enjoy exploring the expanded selection of rewards!

Ambassadors, exciting news! Our brand-new T-shirt has arrived in the Ambassador Shop. Upgrade your style and proudly represent Mad Rabbit. Wear it to spark conversations with curious individuals and share your discount code. Get ready to spread the love for Mad Rabbit wherever you go!


Tip: Hurry up and seize the opportunity! The price of the previous shirt has been slashed to just 5,000 points. If you're interested in owning one, act swiftly as they're going fast, and once they're gone, they won't return.

Attention, Artists! As ambassador artists, it is crucial for you to experience the products firsthand, enabling you to effectively speak about them and share your insights. Therefore, we are excited to announce that upon joining, licensed artists will receive a complimentary soothing gel.

In addition, we have lowered the points required for Pro Glide to just 500 points for all artists. While there are no limitations on the number of units you can redeem, we kindly request that you redeem a maximum of two at a time. This measure ensures that there are ample quantities available for everyone. Your cooperation in this matter is greatly appreciated.

Tip: You can redeem your free soothing gel in the products section of the ambassador shop.


Wholesale - Artists, looking for a way to soothe your clients' skin after a tattoo session? Our soothing gel sachets are back in stock and available for wholesale purchase! As an artist, you can now sign up for our wholesale program and receive access to these amazing products. Not only can you use them in your own practice, but you can also give them out as samples to your clients to help them through the aftercare process. Don't miss out on this opportunity to provide the best possible care for your clients. Sign up for wholesale here


STAY MAD,
Noah (aka: tender)



TAG US @MADRABBIT USE HASHTAGS #MADRABBIT #COMEGETATATTOOWITHME

Join the Discord
Try risk-free & save with the Essential Sets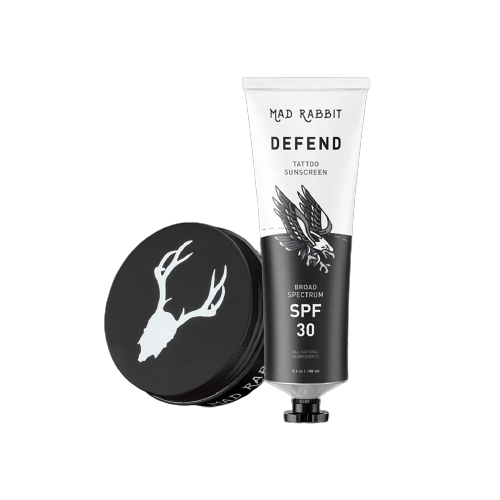 Best Seller
Daily Defense Set
Show off your tattoos in the sun and have them shining bright all day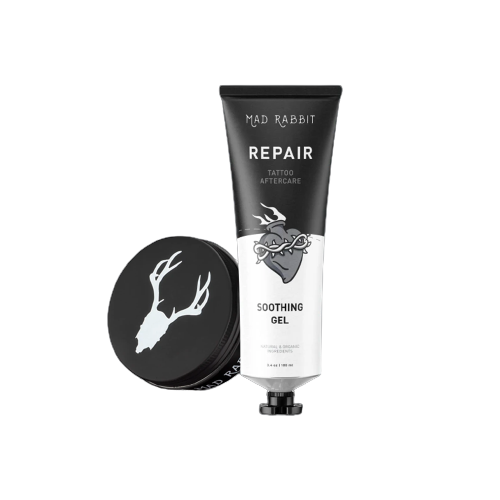 Best Seller
New Tattoo Set
The ultimate relief to heal fresh ink and make it shine