Dear Ambassadors,

Welcome to the latest edition of our bi-weekly newsletter! As we embark on this journey together, I can't help but marvel at the incredible place we find ourselves in this year. The past few months have been a whirlwind of progress, growth, and extraordinary achievements.

Looking back, we have witnessed firsthand the power of collaboration and dedication. Each day has presented us with new opportunities to make a positive impact, both individually and collectively. As ambassadors of our company, you have played an invaluable role in bringing our mission to life. Your unwavering commitment and passion have been the driving force behind our shared successes.

At this moment, we have a unique opportunity to reflect on our journey and acknowledge the transformative power of resilience. We have faced challenges head-on, adapting and evolving in the face of adversity. It is through these experiences that we have grown, both personally and professionally. Our ability to navigate uncertainty with grace and determination is a testament to our collective strength.

As we step forward into the coming months, let us carry with us the wisdom we have gained. Let us embrace the lessons learned, the victories celebrated, and the connections forged. Together, we have built a community rooted in compassion, empathy, and a shared vision for a better future.

I am immensely proud of each and every one of you. Your unwavering dedication and unwavering commitment continue to inspire us all. Thank you for being ambassadors of our company, spreading our message far and wide. To the moon we go! 🚀

Alright, enough fartin' around. Let's dive into this newsletter. Today we've got:
Commission updates with our top 5 sellers 🔥

A sweet addition to the May sales challenge 🍭

Ambassador post highlights 🌟
Challenge reminders 💪
An exciting new reward announcement 🎉


Commission Update 💰

It's time for our bi-weekly rendezvous in the commission update section, and this time around, we've got something exciting in store for you. We understand that it can feel repetitive to always focus on recognizing our top sellers, so we thought, why not switch things up a bit? In addition to celebrating their accomplishments, let's also share some valuable tips and insights that can help all of us excel in our sales game.

First off, let's give a round of applause to our exceptional top sellers. Your dedication and hard work deserve to be celebrated. Keep up the fantastic job!
Matthew Williams
Nick Drewe
Lisa Taylor
Chris Crowder
David Chea

Now, let's dive into some tips and tricks to help everyone boost their sales and take their performance to new heights. Here are three nuggets of wisdom to consider:
Cultivate Meaningful Ambassador-Customer Relationships - As ambassadors, one of the keys to sales success lies in fostering genuine connections with our customers. Take the time to understand their needs, provide personalized recommendations, and offer exceptional support. By being a reliable and trusted advisor, you'll not only enhance customer satisfaction but also build long-lasting relationships that amplify the impact of our program.


Sharpen Your Product Knowledge - To sell effectively, you need to know our products inside out. Stay updated on new features, benefits, and use cases. The more knowledgeable you are, the more confident you'll be in presenting our offerings and addressing customer inquiries.


Harness the Power of Social Media - In today's digital age, social media can be a game-changer. Embrace platforms like Instagram, Facebook, and Twitter to engage with your audience, showcase our products, and share your personal experiences as an ambassador. Authenticity and creativity will help you stand out from the crowd.

Remember, we're all in this together. Let's support and inspire one another as we work towards our goals. Feel free to share your own tips and success stories on Discord or by replying to this email. Your insights might just be the game-changer someone else needs.

Now go out there, ambassadors, armed with newfound knowledge and determination. Let's make the upcoming weeks even more successful and rewarding for everyone.


Final Stretch of the May Sales Challenge! - Exciting news, ambassadors! As we near the end of the challenge, it's time to reveal the coveted prizes that await our top performers. The first-place winner will claim an exclusive, brand-new ambassador shirt (before it releases btw) and a generous $150 gift card. Congratulations in advance!

But that's not all! Our second-place winner will also be rewarded with a sleek new shirt and the opportunity to choose a product of their liking. And let's not forget our outstanding third-place achiever, who will proudly sport the stylish new shirt.

As the challenge wraps up, we applaud the remarkable sales efforts of all participants. Keep up the fantastic work as we enter the final days of May, and we'll be announcing the winners in our upcoming newsletter.



Ambassador Post Highlights 🤳

It's time to give a big round of applause to our top posters! Your creativity, talent, and dedication have truly shone through, and we couldn't be prouder of your contributions.

But here's the thing, we don't want to stop at just celebrating our top performers. Each and every one of you has the power to make a difference. Whether you're an experienced ambassador or just starting out, your unique voice and perspective matter. So, let this be a reminder to keep unleashing your creativity, exploring new ideas, and sharing your passion with the world. You never know who you might inspire along the way.

And that's not all! In addition to celebrating your amazing posts, we've got some fantastic social media tips coming your way. These insights will help you take your online presence to new heights, engage your audience, and create meaningful connections. So, get ready to elevate your social media game and make an even bigger impact as ambassadors of our brand.


Featured ambassador content:
Welcome to the family of ambassadors! Your content is already resonating with our audience, and we're excited for what's to come.

Your posts consistently exude positivity!

We love seeing Mad Rabbit in the wild. Keep up the good work, Ruben!

Thank you for your service!

Informative, aesthetically pleasing, and well-edited! The amount of effort you put into this is appreciated.

Featured ambassador artist content:

For those who weren't featured in this newsletter, don't be discouraged! Keep up the great work and continue to represent us with enthusiasm and creativity. We appreciate all of our ambassadors and are grateful for your contributions to our community.


Ambassador of the week - This week's feature is Heather Gribben 🔦👀. Thank you for all that you contribute to our community! You can check out her IG here. Who's going to be featured next week? Don't forget to check our IG story to see if it's you!

Now, let's switch gears for a moment and sprinkle in some social media wisdom. We know that being a savvy social media magician can take your ambassador game to the next level. So here are a few tips to help you captivate your audience and create a buzz:
Consistency is Key - Keep your presence consistent across your social media platforms. Establish a cohesive visual identity and tone of voice that reflects our brand. This way, when your followers see your posts, they instantly recognize and connect with your unique ambassador persona
Engage, Engage, Engage - Don't just post and disappear into the digital abyss. Take the time to interact with your followers, respond to comments, and initiate conversations. By engaging authentically, you'll forge deeper connections and build a loyal community around your ambassadorship.
Storytelling Magic - Use the power of storytelling to captivate your audience. Share your personal experiences, highlight the impact our products have had on your life, and invite your followers on an immersive journey. Authentic and compelling stories have the ability to create a lasting impression and inspire action.

So, my talented ambassadors, keep pushing boundaries, surprising us with your brilliance, and spreading the magic of our brand across the vast landscape of social media. We can't wait to see what artistic masterpieces and social media wizardry you have up your sleeves.

Tip: Make sure your posts catch our attention by tagging us twice! Besides following the specific tagging instructions for each challenge, please also mention us in your post's description and tag us directly on the post. This way, we won't miss any of your awesome contributions, and you'll be sure to meet the challenge requirements. Let's keep the creativity flowing!



Challenges 📝

Ambassadors, as the month draws to a close, don't forget to complete the May challenges and give it your all. Rest assured, we've got an exciting announcement for you on June 1st via Discord and SMS, where we'll unveil the thrilling June challenges. Get ready for more opportunities to showcase your skills and earn fantastic rewards. Keep up the great work and stay tuned for what's coming next!

One week left to complete…
IG Story | Vegan Balm Launch (350 points)
IG | Add Your Code/Link To Your Bio (350 points)
Survey | Tell us about you! (350 points)
Share The Love | Follow Another Ambassador (500 points)
IG | May 27th is #NationalSunscreenDay (1,000 points)
IG | May 29th - Memorial Day (800 points)

Artists, one week left to complete…
TikTok | Tattoo Compilation (1,000 points)
TikTok | Show off the Shop (1,000 points)
TikTok | Get To Know Your Tattoo Artist (1,000 points)
IG | Design A Star Wars Flash Sheet (1,000 points)
TikTok | AAPI Tattoo Design Challenge (2,000 points)

Not a single one of you has completed this challenge 🙁 First ambassador artist to complete this challenge gets a free product of their choice!

Other Challenges
TikTok or IG Reel | Show us how you stay active! (1,000 points)
[Artist] Come up with a challenge idea (350 points)
[Artist] TikTok | Tattoo Time-lapse (1,000 points)

Tip: You can find complete details for these challenges in the ambassador dashboard.


Updates

New Ambassador Merch - Exciting news, ambassadors! We're thrilled to announce the arrival of our brand-new T-shirt! 🎉👕✨ This stylish gem will be available for redemption in the Ambassador Shop starting June 1st. Get ready to upgrade your wardrobe and proudly showcase your Mad Rabbit pride. Here's a valuable tip: wearing Mad Rabbit merchandise can create opportunities to make sales. Many ambassadors have experienced the joy of being stopped by curious individuals, providing a chance to share their love for the brand and offer them their discount code. So, get ready to rock the new T-shirt and seize every opportunity to spread the love for Mad Rabbit!

Tip: Don't forget! You can win one of these for FREE by placing top 3 in the May Sales challenge.




Does it look a little blurry to you? Oops…Guess you'll have to wait until June 1st for the big reveal 😏


Vegan Balm - Our beloved Tattoo Balm has officially gone vegan! 🌱✨ That's right! Mad Rabbit is now a fully vegan brand, and we couldn't be more thrilled. We've made a small but significant change to the formula by swapping out beeswax for Carnauba wax, making our Tattoo Balm 100% vegan-friendly.

We're beyond proud to offer a product that aligns with our commitment to cruelty-free and sustainable practices. 🐰❤️

So, let's raise a virtual toast and celebrate this milestone together! Share the excitement about Mad Rabbit's transition to a fully vegan brand with your friends and followers.

Thank you for your unwavering support and for joining us on this incredible journey. We couldn't have done it without you!





Wholesale - Artists, looking for a way to soothe your clients' skin after a tattoo session? Our soothing gel sachets are back in stock and available for wholesale purchase! As an artist, you can now sign up for our wholesale program and receive access to these amazing products. Not only can you use them in your own practice, but you can also give them out as samples to your clients to help them through the aftercare process. Don't miss out on this opportunity to provide the best possible care for your clients. Sign up for wholesale here


STAY MAD,
Noah (aka: tender)


TAG US @MADRABBIT USE HASHTAGS #MADRABBIT #COMEGETATATTOOWITHME

Join the Discord
Try risk-free & save with the Essential Sets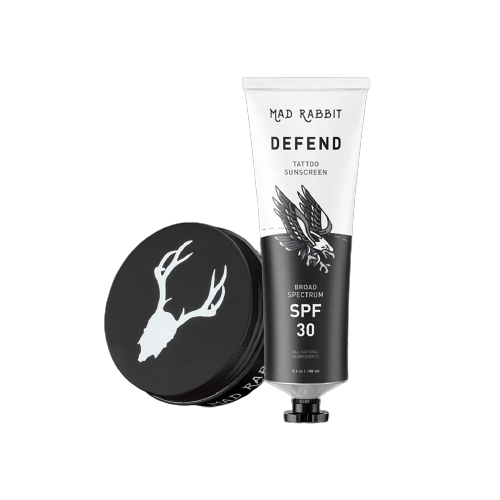 Best Seller
Daily Defense Set
Show off your tattoos in the sun and have them shining bright all day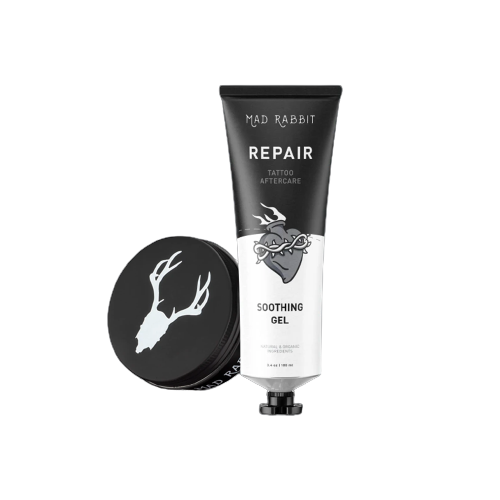 Best Seller
New Tattoo Set
The ultimate relief to heal fresh ink and make it shine