Salutations, young ones!

It brings me great joy to share the latest happenings in our midst with you. In this edition of our bi-weekly newsletter, we have magical updates to share from the past two weeks.

But before we dive into the details, let me impart some sage advice to you: always embrace your passions and follow your dreams. Never let anyone or anything hold you back from pursuing what you truly love.

Now, let us delve into the newsletter content. We have some fantastic news to share about our commission updates, shining a spotlight on the exceptional accomplishments of our top sellers. Additionally, we'll showcase the latest social media posts from our ambassadors and ambassador artists, celebrating their unique talents and creativity.

We'll also feature our May challenges and reveal some new ones for you to partake in. Whether you're a seasoned member of our community or a newcomer, rest assured that there's something here for everyone.

So sit back, relax, and enjoy the latest edition of our newsletter. And always remember to pursue your passions with unbridled enthusiasm, my dear young ones.


Commission Update 💰

Congratulations to our top sellers! We're excited to recognize the exceptional efforts of five outstanding individuals who achieved the highest sales since our last newsletter. We're proud of their hard work and hope that their success encourages others to work towards their own goals.

But let's not forget to give a round of applause to every member of our community, whether your name is on that list or not. It takes dedication and determination to keep pushing toward your goals, and we are constantly inspired by each and every one of you. And hey, who knows? Maybe next time, we'll see some new names join the ranks of our top sellers. Keep striving for greatness, and don't forget to celebrate every milestone along the way!

Our top five sellers for this reporting period were:
Matthew Williams
Nick Drewe
Lisa Taylor
Maddie McKee
Scott Loveday

Hurry! Time is running out to secure the top spot in the SPF sales challenge.
In addition, we'd like to give a special shoutout to Matthew Williams for winning the April Sales Challenge by selling the most Soothing Gel last month! Congratulations, Matthew!

May Sales Challenge - Whoever sells the most SPF this month will receive a $150 gift card. To be eligible for the prize, you must sell a minimum of $500 in the month of May. We wish you all the best of luck in this challenge!

Tip: Don't forget, there are also free rewards available for reaching each sales milestone. Once you hit a milestone, the reward will automatically appear in your dashboard and can be redeemed at your convenience.


Ambassador Post Highlights 🤳

Thank all our ambassadors who have added their code and link to their social bios. This not only helps with visibility and better identification but also helps you generate sales!

Overall, we have been blown away by the quality and creativity of the submissions so far, and we are eagerly looking forward to seeing what else you have in store for us in the remaining days of the month.

Shoutout to our featured ambassadors:
Your ability to connect with your audience and showcase our products in such a unique way is truly impressive.

Your commitment to quality and authenticity is evident in everything you post.

You are a master of your craft, and we are honored to have you as part of our ambassador program.

Don't be afraid to put yourself out there and share your unique perspective with the world. We can't wait to watch you continue to blossom as an ambassador!

We love how you approach challenges with enthusiasm and originality. Keep up the great work!

Featured ambassador artist content:
Your passion shines through in your posts. It's clear that you love what you do.

Your posts always radiate positivity and sincerity. Thank you for being a shining example of what it means to be a genuine ambassador.

Check out Acacia Porter's Star Wars Flash Reel

Your unique perspective and attention to detail really shine through in your content.
For those who weren't featured in this newsletter, don't be discouraged! Keep up the great work and continue to represent us with enthusiasm and creativity. We appreciate all of our ambassadors and are grateful for your contributions to our community.

Ambassador of the week - This week's feature is Raven Jelks-Karpunin 🔦👀 Check out her IG here. Who's going to be featured next week? Don't forget to check our IG story next Wednesday to see if it's you!

Tip: Make sure your posts catch our attention by tagging us twice! Besides following the specific tagging instructions for each challenge, please also mention us in your post's description and tag us directly on the post. This way, we won't miss any of your awesome contributions, and you'll be sure to meet the challenge requirements. Let's keep the creativity flowing!

Tip: If you love soothing gel swipes but struggle to create an aesthetically pleasing look, don't worry! Check out this tutorial by the talented fine-line tattoo artist, Meagan Kaller.


Challenges 📝

⏳ Only 3 Days Left To Complete…

IG Reel | Mother's Day Gift Guide (1,000 points) - Mother's Day is almost here! If you're a mom, what gifts are you hoping for this year? If you're shopping for a mom, what are some gift ideas you have? Share your Mother's Day Gift Guide ideas on Instagram Reels!


🆕 May Challenges

(Live Now) IG | May 27th is #NationalSunscreenDay (1,000 points) - This is your reminder to apply your sunscreen! May 27th is National Sunscreen Day, aka the perfect time to tell your followers why they should be using SPF daily to protect their ink. Post an image or a video of you applying the Mad Rabbit SPF 30 for this challenge.

👉 There will be two new challenges live on May 15th!!! I'll be sending out a reminder on Discord.


Other May Challenges
IG | Add Your Code/Link To Your Bio (350 points)
Survey | Tell us about you! (350 points)
Share The Love | Follow Another Ambassador (500 points)
IG | May 29th - Memorial Day (800 points)

May Artist Challenges
IG | Design A Star Wars Flash Sheet (1,000 points)
TikTok | Tattoo Compilation (1,000 points)
TikTok | Show off the Shop (1,000 points)
TikTok | Get To Know Your Tattoo Artist (1,000 points)
TikTok | AAPI Tattoo Design Challenge (2,000 points)

Tip: You can find complete details for these challenges in the ambassador dashboard.


Updates



Wholesale - Artists, looking for a way to soothe your clients' skin after a tattoo session? Our soothing gel sachets are back in stock and available for wholesale purchase! As an artist, you can now sign up for our wholesale program and receive access to these amazing products. Not only can you use them in your own practice, but you can also give them out as samples to your clients to help them through the aftercare process. Don't miss out on this opportunity to provide the best possible care for your clients. Sign up for wholesale here


A new reward coming SOON 🙊
STAY MAD,
Noah (aka: tender)
TAG US @MADRABBIT USE HASHTAGS #MADRABBIT #COMEGETATATTOOWITHME
Try risk-free & save with the Essential Sets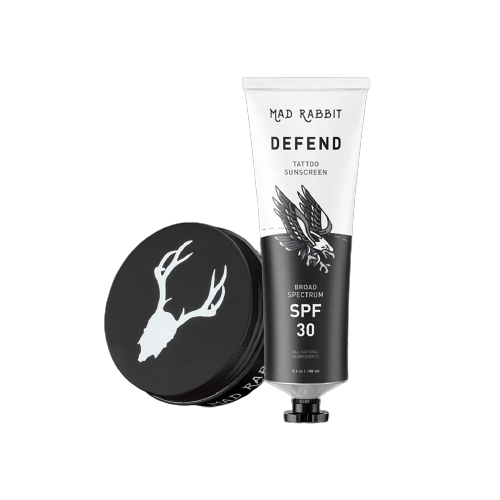 Best Seller
Daily Defense Set
Show off your tattoos in the sun and have them shining bright all day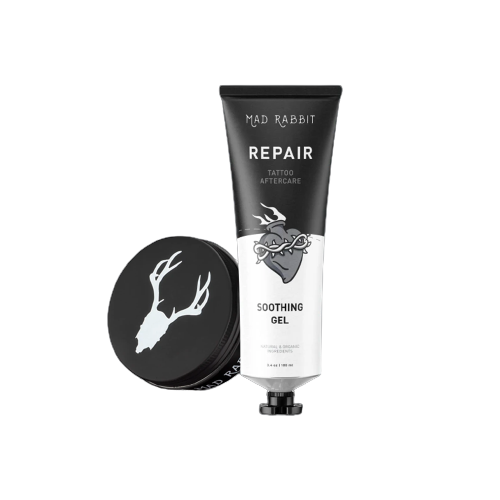 Best Seller
New Tattoo Set
The ultimate relief to heal fresh ink and make it shine