Greetings, ambassadors!

As we kick off the summer season, we want to remind you to prioritize your well-being and maintain a healthy work-life balance. Whether you find relaxation in art therapy or by simply taking breaks throughout the day, make sure to take care of yourself and avoid burnout.

Now, let's dive into some exciting updates! First off, we have a new commission update to share with you. Next, we want to highlight some of your incredible posts from the last two weeks and provide you with valuable tips on the best time to post as well as other social media best practices.

In addition, we have some exciting May challenges to announce, including a new SPF sales challenge and the return of our popular soothing gel sachets.

As always, we appreciate your dedication and commitment to our mission. Thank you for all you do as ambassadors, and keep up the great work! If you have any questions or feedback, please don't hesitate to reply to this email or reach out on Discord. We'll see you soon!

Commission Update 💰

We are thrilled to announce that five outstanding individuals have outperformed their peers by achieving the highest sales since the last reporting period. These individuals have demonstrated exceptional dedication, hard work, and a passion for achieving success. We would like to take this opportunity to congratulate them on their outstanding performance and thank them for their continued efforts.

Our top five sellers for this reporting period were:
Matthew Williams
Nick Drewe
Chandler Rose
Matthew Allison
Marisa Williams

Hurry! Time is running out to secure the top spot in the soothing gel sales challenge.


May Sales Challenge - Based on your positive feedback, we've decided to continue the sales challenge for the month of May. This time, whoever sells the most SPF will receive a $150 gift card. To be eligible for the prize, you must sell a minimum of $500 worth of products in the month of May.

Are you aware of the free rewards available for reaching each sales milestone? Once you hit a milestone, the reward will automatically appear in your dashboard and can be redeemed at your convenience.

Ambassador Post Highlights 🤳

During this week's Discord chat, some of you were asking for tips on the best time to post on social media in order to get more likes, shares, and impressions. It's important to note that social media algorithms are constantly changing, which means there is no ideal frequency for posting. Instead, it's recommended that you post consistently enough for your followers and the algorithm to become accustomed to it. Our social media manager, Sarah, suggests that posting consistently builds trust, leading to higher engagement and favor from the algorithm. To gain traction with the algorithm, Sarah recommends sharing Instagram reels, as they are frequently promoted.

Here are some other tips and best practices to consider:
Be consistent: Regular and consistent posting is key to building engagement and reaching your audience. Create a schedule and stick to it, whether it's daily, weekly, or monthly.
Find the right frequency: Posting too often can overwhelm your audience while posting too little can cause you to lose their interest. Experiment with different posting frequencies to find the sweet spot for your audience.
Use relevant hashtags: Relevant hashtags can help your posts get discovered by people interested in your content. But avoid using too many or irrelevant hashtags, as this can hurt your reach.
Engage with your audience: Responding to comments and messages, and engaging with your audience can help build a loyal following and increase your reach.
Post at the right time: Posting at the right time can increase engagement and reach. Analyze your audience and experiment with different posting times to find the best time for your content.
Create high-quality content: Creating visually appealing and informative content is essential to catching the wave and getting algorithms to pick up your posts. Invest time in producing high-quality and engaging content that resonates with your audience.
Analyze your metrics: Keep track of your social media metrics to understand what's working and what's not. This can help you make data-driven decisions to optimize your social media strategy.
Remember that social media is constantly evolving, so it's crucial to stay updated with the latest trends and algorithms to maximize your reach and engagement. If you have any other questions or topics you'd like to discuss, feel free to let us know!

Shoutout to our featured ambassadors:

Shoutout to our featured ambassador artists:
Check out why Katelyn Hegner loves Soothing Gel

Including information on the benefits of using Mad Rabbit are always encouraged. Great job with that, Katelyn!



Our first ambassador artist soothing gel swipe on lips. Lip-tacular!

Love soothing gel swipes but are struggling to create an aesthetically pleasing look? Don't worry! Check out this brief tutorial by the talented fine-line tattoo artist, Meagan Kaller.

Ambassador of the week - This week's feature is Marcia Zhao 🔦👀 Check out TikTok here. Who's going to be featured next week? Don't forget to check our IG story next Wednesday to see if it's you!

Challenges 📝

April Challenges Ending Soon…
IG Story | Share Someone Else's Tattoo Story (350 points)
TikTok | Favorite Things (1,000 points)
TikTok | Come Get A Tattoo With Me (1,200 points)
(Artist) Brainstorm | Come Up With A Challenge Idea (350 points)
(Artist) TikTok | Warm Weather Tattoo Tips (1,000 points)
(Artist) TikTok or IG Reel | #DayInTheLifeOfATattooArtist (1,000 points)
I have some exciting news to share with you all. There are some surprises coming your way and trust me, you'll want to have as many points as possible to take full advantage of them. Keep earning those points, and stay tuned for more details!


May Ambassador Challenges

IG | May The Fourth Be With You #StarWarsDay - May the fourth be with you… We love Star Wars and we know you do too! Share your Star Wars-inspired tattoo on Instagram for your chance to be featured on the Mad Rabbit Instagram page!

IG | Add Your Code/Link To Your Bio - Hey, Ambassador! Looking for a great way to make more sales? Make sure all of your followers know you are a Mad Rabbit ambassador! Add your own personal code or link to your Instagram bio and submit a screenshot as proof.

IG Reel | Mother's Day Gift Guide - Mother's Day is almost here! If you're a mom, what gifts are you hoping for this year? If you're shopping for a mom, what are some gift ideas you have? Share your Mother's Day Gift Guide ideas on Instagram Reels!

IG | May 29th - Memorial Day - Memorial Day is approaching on May 29th. We want to thank those that have served our country. Do you have any veteran tattoos or tattoos in remembrance of those who have been in service?

Survey | Tell us about you! - Help us learn more about you! The Mad Rabbit team is always looking for ways to improve our Ambassador Program. We want to make our challenges as fun as possible for you, and maybe even make some tailored to you specifically.

Share The Love | Follow Another Ambassador - As the Mad Rabbit Ambassador program continues to grow, we aim to build a sense of community among you all! When you search #MadRabbitAmbassador on Instagram, why not help support a fellow ambassador by following and double tapping? Now more than ever, it is so important to share the love! Follow an ambassador that stands out to you to build an IG connection.

May Artist Challenges

TikTok | Tattoo Compilation - One of our favorite things about the Artist Ambassador challenges is seeing all of the amazing tattoos you create. For this challenge, we'd like you to showcase your favorite tattoo from each month.

TikTok | Show off the Shop - It's time to show off the shop you tattoo at! Going to a new tattoo shop/artist for the first time can be nerve-wracking. Show people what they can expect by getting tattooed by you! What kinds of amenities does the shop have? What makes it special? In a TikTok video, creatively show what the shop offers, what the aesthetics are, etc.

Artist Intro | Get To Know Your Tattoo Artist - Hey artists! Are you ready to show off your creativity and introduce yourself to our community? We want to give a shoutout to all our talented tattoo artists out there and help you connect with your audience in a more personal way. For this challenge, we want you to create a TikTok video introducing yourself as an artist. Share a bit about your background, your artistic style, and what inspires you to create.

Design | Star Wars Flash Sheet - With Star Wars Day right around the corner, we want to see your creativity shine through. Your challenge is to create a Star Wars-themed flash sheet and post it on Instagram. You can make this a reel, or post a carousel (multiple images on IG) of your designs. This is your chance to showcase your skills and share your unique style with our community. We can't wait to see what you come up with!

Design | Cultural Tattoo Challenge - Our latest challenge is all about celebrating and appreciating different cultures through tattoo art. We're excited to announce the Cultural Tattoo Challenge, where you will create a tattoo design that incorporates traditional/cultural AAPI (Asian American Pacific Islander) elements. The challenge here is to research and respectfully represent AAPI cultural elements in the design. We encourage you to explore the unique aspects of the culture, such as art, symbols, and traditions. Your goal is to create a design that is not only visually stunning but also culturally sensitive and meaningful and share it on TikTok. Remember to also include a brief explanation of the cultural significance behind your design to educate and inspire others.

Stay tuned for the next newsletter, as we'll be announcing some new challenges that you won't want to miss!

Updates

Hey, ambassadors! Just a friendly reminder that we have enamel pins available for redemption in the ambassador shop. These pins are a great way to show off your brand loyalty and add some flair to your outfits. Don't miss out on this opportunity to snag one for yourself! Head over to the shop now to check them out.

Here's how the community has been wearing them:



Wholesale - Artists, Soothing Gel sachets are back in stock!!
Sign up for wholesale here to receive access.


STAY MAD,
Noah (aka: tender)


Join the Discord: https://discord.gg/uRkw8P9jkm
TAG US @MADRABBIT USE HASHTAGS #MADRABBIT #COMEGETATATTOOWITHME
Try risk-free & save with the Essential Sets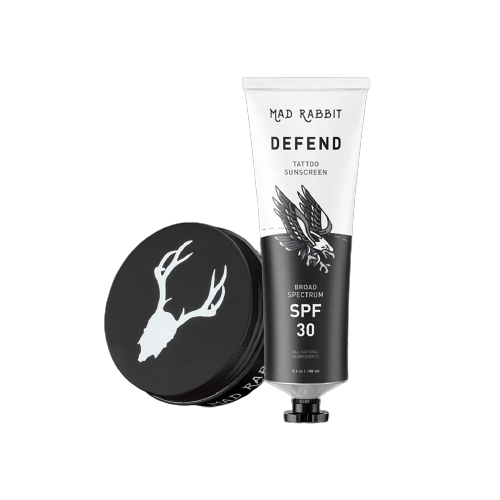 Best Seller
Daily Defense Set
Show off your tattoos in the sun and have them shining bright all day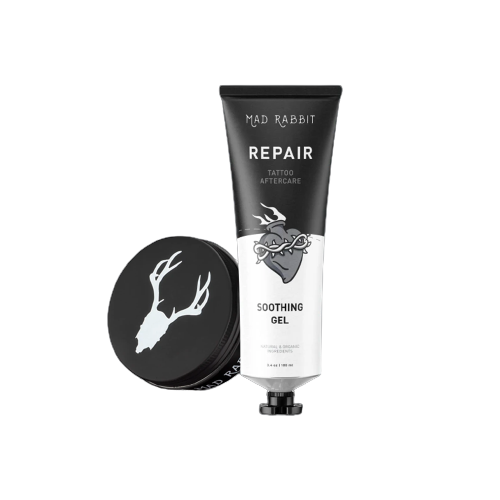 Best Seller
New Tattoo Set
The ultimate relief to heal fresh ink and make it shine