Happy Wednesday, ambassadors!

I hope that you all have been enjoying the beautiful weather as much as I have. Despite not typically being a fan of the sun or warm weather, this year it feels fantastic, almost like I'm recharging my batteries. Whether you're a sun-worshipper or not, it's worth getting outside and soaking up some rays (with appropriate SPF protection, of course). It's good for your well-being!

Lately, I've developed a growing interest in gardening, and along the way, I've come to appreciate the value of pruning. Yes, that's right, cutting back and trimming branches, buds, and spent flowers. You might be wondering why this is so important.

Consider a rose bush, for example. These bushes often produce more buds than they can support, and with limited resources, it's crucial to remove dead wood, crossing branches, and weak growth to promote the best health and appearance of the plant. And guess what? For most plants, this kind of major pruning should be done in early spring, which is right now!

The same principle applies to our lives, where we sometimes need to prune in order to promote new growth. Just like new growth is natural in plants, it's common for various tasks, ideas, and relationships to gradually enter our lives. But if we want to achieve complete personal development and optimal living, we must be willing to prune away the deadwood and unnecessary distractions.

So, if you're looking to start fresh this spring, consider pruning back the excess in your life and watch as new opportunities and growth begin to flourish.

We have a jam-packed newsletter for you today, so let's dive right in! First off, we want to give a big shoutout to our top sellers and provide you with some valuable sales tips to help you reach your goals. Plus, we're excited to share some of our favorite ambassador social posts and remind you of upcoming challenge deadlines. You won't want to miss our latest live challenges and other exciting updates, so keep reading!

Commission Update 💰

Let's give it up for our top five sellers! Showing us how it's done. Week after week. Absolutely killing it. Thanks for the hard work, all!

Reminder: whoever sells the most soothing gel this month will receive a $150 gift card.

Our top five sellers for this reporting period were:
Matthew Williams
Nick Drewe
Marisa Williams
Kyleigh Winkel
Emily Smith

Struggling to make sales? Try completing some challenges! We write challenges to help you build confidence, grow your social media presence, and make sales.

Still, struggling? Here are some tips:
Share your personal story: As an ambassador for the company, you likely have experience with the product and can share your personal story of how it helped you with your tattoo aftercare. This can be done through social media posts, blog articles, or video testimonials. By sharing your personal experience, you can build trust with your audience and encourage them to try the product for themselves.

Host a giveaway: Host a giveaway on your social media platforms and offer a free tattoo aftercare kit to one lucky winner. To enter, participants can be required to follow your social media pages, tag a friend, and share the post. This can help to increase brand awareness and drive sales through the use of your affiliate link.

Write product reviews: Write detailed product reviews on your blog or social media pages to help potential customers make informed purchasing decisions. Highlight the benefits and features of the product and provide your honest opinion.

Leverage your network: Reach out to your personal network of friends, family, and acquaintances who have tattoos and share Mad Rabbit's products with them. Offer to answer any questions they may have and provide your link/code for them to make a purchase.

Attend tattoo-related events: Attend tattoo-related events in your area and bring Mad Rabbit's products with you to showcase to potential customers. This can be a great way to connect with people who are interested in tattoo aftercare and generate sales.
 Remember, as an ambassador, your goal is to build trust and credibility with your audience and encourage them to try Mad Rabbit's products. By using these strategies and getting creative with your marketing tactics, you can personally make sales and increase your earnings.

April Sales Challenge(s) - It's heating up and so are sales incentives! This month, whoever sells the most soothing gel will receive a $150 gift card! In order to be eligible for the prize, you must sell a minimum of $500 in the month of April. If you like this idea, maybe we could even do another sales challenge this month 🙂

Did you know that there are free rewards for each sales milestone reached? When reached, each reward will automatically populate for redemption in your dashboard.

Ambassador Post Highlights 🤳

Your posts have helped us reach new audiences and spread the word about the importance of proper tattoo aftercare. We appreciate your enthusiasm and passion for our brand, and we're honored to have you on our team. Thank you!


Shoutout to our featured ambassadors:
Amazing post, Jay! Your content is organic, shot beautifully, and edited well.



Love your new ink, Amanda! Great job showing the soothing gel application + providing an informative voiceover!



Loved coming along with you for your new tat! Great reminder to eat something before getting tattooed.



10/10 for explaining absolutely everything! Great lighting too.



Great post, Teresa! It's almost like we were right there with you.


Featured ambassador artist content:
An extra thank you to Marisa Williams and Acacia Porter for being two of our most engaged ambassador artists! For your extra effort in completing challenges, I'll be sending you a Pro Glide gift.
From a non-tattoo artist, seeing artists in action is always super interesting! Thank you both for bringing us along for a day in your life.

Ambassador of the week - This week's feature is Jay Mathis 🔦👀 Check out her TikTok here. Who's going to be featured this week? Don't forget to check our IG story to see if it's you!
Honey, your content creator is showing.

April Challenges 📝

Ending Soon
Flash Challenge | Mother's Day ends 4/16 @ 11:59 PM EDT (500 points) - Tatted moms are cool moms 😎 Mother's Day is fast approaching and all of the moms and mother figures in our lives deserve it all. To help us celebrate Mother's Day, please post an image of you and your children (images do not have to show Mad Rabbit products but we'd love it if they did!). Make sure your ink is visible and poppin' in the content you post. We will be selecting a few to feature on our Instagram and emails in May.


IG | Recycle for Earth Month ends 4/22 @ 11:59 PM EDT (1,000 points) - April is Earth Month and we want to spread the word about the efforts that we make at Mad Rabbit to be kind to the earth. We are tasking you with a fun DIY (do it yourself) challenge where you can use your creativity! To complete this task, creatively upcycle a Mad Rabbit product after you have finished using it. Some examples are: cleaning out the balm tin and using it to hold something else, turning the balm tin into a stamp, etc. Post your creation on Instagram and make sure to tag our Instagram account @madrabbit and use the hashtags #MadRabbit #MadRabbitAmbassador #EarthDay #EarthMonth

Eighteen Days Left To Complete…
IG Story | Share someone else's tattoo story (350 points)
TikTok | Favorite Things (1,000 points)
TikTok | Come Get A Tattoo With Me (1,200 points)

Full challenge details in the ambassador dashboard.

April Artist Challenges
Brainstorm | Come up with a challenge idea (350 points)
TikTok or IG Reel | #DayInTheLifeOfATattooArtist (1,000 points)
TikTok | Warm Weather Tattoo Tips (1,000 points)


Updates

Discord - National Superhero Day is coming up and we want to see all your superhero-related ink! From now until 5 PM EDT on 4/17/23, please share your superhero-related tattoos in 🔥│flex-your-ink with the tag #superhero

Three of you will be featured in an upcoming email and will also win a $25 Mad Rabbit gift card.

Mad Rabbit x Forbes - Join us on a journey of passion and perseverance as Forbes shares our story of creating a revolutionary solution for tattoo aftercare. From identifying a critical pain point in the industry to building a thriving community of tattoo enthusiasts, Mad Rabbit is changing the game. We're thrilled to be recognized for our commitment to innovation, and we can't wait to see what the future holds for our brand. Read on for an inside look at our journey and the impact we're making in the tattoo world!


STAY MAD,
Noah (aka: tender)

Join the Discord: https://discord.gg/uRkw8P9jkm



TAG US @MADRABBIT USE HASHTAGS #MADRABBIT #COMEGETATATTOOWITHME
Try risk-free & save with the Essential Sets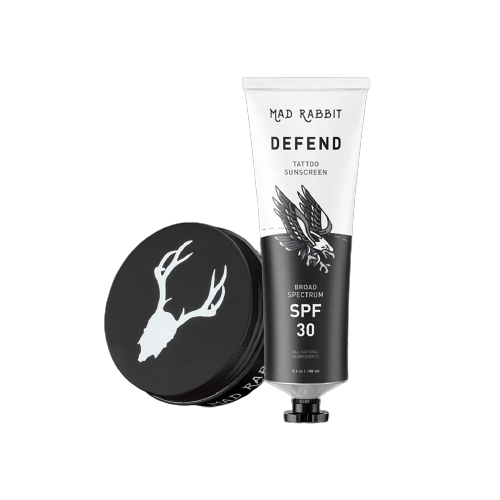 Best Seller
Daily Defense Set
Show off your tattoos in the sun and have them shining bright all day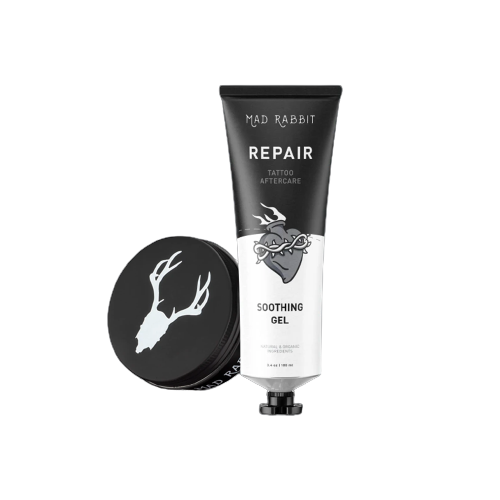 Best Seller
New Tattoo Set
The ultimate relief to heal fresh ink and make it shine