Hello, friends!

If you're new to the ambassador program, welcome! We're happy to have you and I can't wait to grow with you.

So, what's the deal with April? Well, for starters, the name April is rooted in the Latin Aprilis, which is derived from the Latin aperire meaning "to open." While this could be a reference to blossoming flowers and trees, it's also a reminder to expect and welcome other types of growth.

As we begin a new month, it's a great time to fine-tune and or reset our goals for the year. As you do so, remind yourself that it's important to set short-term goals as well as long-term ones. Remember, small wins create big wins so stay focused and don't get discouraged! You're doing great already.

I hope you all have your reading pants on because there are a lot of words between the top and bottom of this newsletter. Alongside our commission update, I'm excited to announce an April sales challenge! As always, we also have killer posts to highlight and new challenges to announce. Let's get into it.


Commission Update 💰

New names in the top five sellers list? We love to see it 🙌

Struggling to make sales? Try completing some challenges! We write challenges to help you build confidence, grow your social media presence, and make sales.


Our top five sellers for this reporting period were:
Matthew Williams
Nick Drewe
Glenn Meneses
Marcus Chronabery
Allie Phillips
Do you have any sales tips? Let us know and earn 100 bonus points. Offer valid to those who haven't already completed it.

April Sales Challenge(s) - It's heating up and so are sales incentives! This month, whoever sells the most soothing gel will receive a $150 gift card! In order to be eligible for the prize, you must sell a minimum of $500 in the month of April. If you like this idea, maybe we could even do another sales challenge this month 🙂

Did you know that there are free rewards for each sales milestone reached? When reached, each reward will automatically populate for redemption in your dashboard.


Ambassador Post Highlights 🤳

Thank you ALL for the effort you put into posting this month!

Are you having trouble completing challenges? Make sure you check out the #best-practices and #social-resources channels on Discord for tips and tricks. I'll also leave you with this quote, "Make it simple. Make it memorable. Make it inviting to look at. Make it fun to read." - Leo Burnett

The more you post, the easier it will become!


Shoutout to our featured ambassadors:
Awesome product application!

Nice, steady filming hand, Desiree! Great job showing a close-up of everything you unboxed too.

Great job remembering to use a clean paper towel to dry!

I appreciate the extra effort to make this post look good! A fantastic idea to sneak your daily routine in there.

Look at that before and after!

Featured ambassador artist content:

Ambassador of the week - This week's feature is Caleb Vigil 🔦👀 Check out Caleb's TikTok here. Who's going to be featured this week? Don't forget to check our IG story to see if it's you!


April Challenges 📝

There are only a few days left to complete the March challenges! Let's get into a groove and finish out this month strong so we're full speed ahead when April challenges drop on 3/1 💪

April Ambassador Challenges

🌎 IG | Recycle for Earth Month - April is Earth Month and we want to spread the word about the efforts that we make at Mad Rabbit to be kind to the earth. We are tasking you with a fun DIY (do it yourself) challenge where you can use your creativity! To complete this task, creatively upcycle a Mad Rabbit product after you have finished using it. Some examples are: cleaning out the balm tin and using it to hold something else, turning the balm tin into a stamp, etc. Post your creation on Instagram and make sure to tag our Instagram account @madrabbit and use the hashtags #MadRabbit #MadRabbitAmbassador #EarthDay #EarthMonth

🐶 IG | April 11 is National Pet Day - There's nothing we love more than our fur friends. April 11th is #NationalPetDay! Let's celebrate by showing off our tattoos dedicated to our pets. Post a photo on Instagram, or an IG Reel of your pet tattoo and use the hashtags #MadRabbit #MadRabbitAmbassador #NationalPetDay, as well as tag us on IG @madrabbit. Also make sure that your unique 20% discount code is included in the caption!

👭 IG Post or Reel | April 10 National Sibling Day - Got any brothers or sisters? April 10th is #NationalSiblingDay! Show off your matching sibling tattoos or any tattoo that you've gotten in the dedication to a sibling on Instagram. This can be either an IG Post photo or an IG Reel. Please use the hashtags #MadRabbit #MadRabbitAmbassador and #NationalSiblingDay and tag our Instagram account @madrabbit and to include your unique discount code in the caption.

🏆 IG Story | Share someone else's tattoo story - Tattoos say a lot about a person. Share a tattoo on someone else that you find cool, inspiring, or just nice to look at. Post this on your Instagram Story and give them a nice shout out! Make sure to use the hashtags #MadRabbit, #MadRabbitAmbassador, and tag our account @madrabbit.

📃 TikTok | Favorite Things - Has TikTok ever made you buy something? We can't stop shopping off our FYP. For this challenge, share some of your favorite things (beauty related, fitness, clothing, etc) P.S. one item must be a Mad Rabbit product ;)

Make sure to use the hashtags #MadRabbit #MadRabbitAmbassador #MyFavoriteThings and tag our TikTok account @madrabbit.

🔏 TikTok | Come Get A Tattoo With Me - Tattoo days are the best days and we want to share them with you! On your next tattoo day, create a TikTok vlog style of your day and use the hashtags #ComeGetATattooWithMe #MadRabbit #MadRabbitAmbassador. Make sure to include your unique discount code in the caption and tag our TikTok @madrabbit when you upload it.

April Artist Challenges

🧠 Brainstorm | Come up with a challenge idea - Ya'll are creative AF. Got any challenge ideas that you'd like to complete in the Mad Rabbit Artist Ambassador Program? Now is your chance to let us know! What challenges do you want to see in your dashboard?

🐰 IG | #NationalPetDay - There's nothing we love more than our fur friends. April 11th is #NationalPetDay! Post a carousel or IG Reel of some pet tattoos that you've completed. Use the hashtags #MadRabbit #MadRabbitAmbassador #NationalPetDay, as well as tag us on IG @madrabbit. Also make sure that your unique 20% discount code is included in the caption!

🎨 TikTok or IG Reel | #DayInTheLifeOfATattooArtist - Your life is cool and we wanna see it! Document in a vlog style video a day in your life in the tattoo studio. (Tattoo set up, clients, some Soothing Gel swipes, etc). Make sure to use the hashtags #MadRabbit #MadRabbitAmbassador #DayInTheLifeOfATattooArtist and tag our TikTok account @madrabbit.

🌞 TikTok | Share some tips on how to care for a tattoo as it's getting warmer! - Suns out, tatts out. Share some tips on how your clients should be taking care of their tattoos as it gets warmer. P.S. Our SPF 30 is a great daily product to use to protect ink from harsh UVA/UVB rays. Use the hashtags #MadRabbit #MadRabbitAmbassador #TattooCare, as well as tag us @madrabbit. Make sure that your unique 20% discount code is included in the caption!

Artists, how are you liking the challenges so far? Please reply to this email with any feedback that you have on the new segment so far. In the meantime, we're working on more ways to get product in your hands!

Updates

Ambassador artist - If you're an ambassador tattoo artist (apprentice or licensed) and haven't already signed up, please fill out this form so I can get the proper tags added to your account: https://forms.gle/dZCTHUvhtnTJq4z87

Discord - Have you joined our Discord? NO?! Well you better join! It's one of the best ways to connect with other ambassadors, ask questions, and meet friends. Oh, we also do giveaways 🙂

Join here: https://discord.gg/uRkw8P9jkm


That's all for this week, folks! See you again in two weeks :)

STAY MAD,
Noah (aka: tender)


TAG US @MADRABBIT USE HASHTAGS #MADRABBIT #COMEGETATATTOOWITHME
Try risk-free & save with the Essential Sets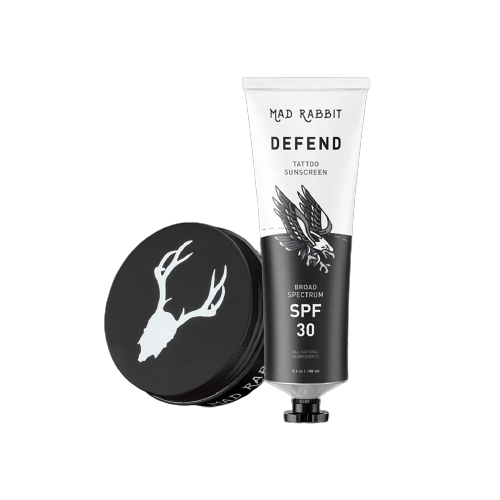 Best Seller
Daily Defense Set
Show off your tattoos in the sun and have them shining bright all day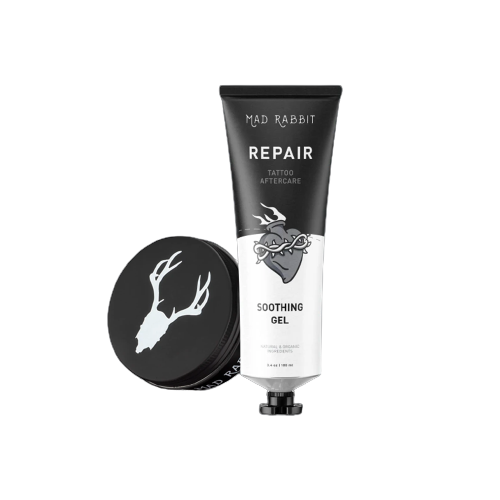 Best Seller
New Tattoo Set
The ultimate relief to heal fresh ink and make it shine