Ambassador!

Hi, ambassador 🥰 Long time no talk.

Winter? Spring? Summer? What season even is it anymore… Don't get me wrong I love hoodie season but I'm ready to flex my ink! March 15th though, at least we aren't Julius Caesar. Ya know because getting stabbed is way worse than not being able to wear a t-shirt. Tender, aren't we literally getting stabbed when we get tattoos though? Omg time to move on.

Last month I encouraged you to take a second to pat yourself on the back and reflect on all that you accomplished. Well, there must have been something in that pat because March has been incredible so far. While none of the efforts you put in are overlooked, I want to give a big shoutout to the 90+ ambassador artists that have helped jumpstart the new segment of the program. To thank you, stay tuned for a giveaway announcement somewhere in this letter.

Today's newsletter will include a commission update, ambassador post highlights, challenge reminders, and a few other exciting announcements. Let's get into it 😛

Commission Update 💰

New names in the top five sellers list? We love to see it 🙌

In addition to the 20% commission, each time you reach a sales milestone (e.g., first sale, 10 sales, 50 sales, 100 sales) free rewards will automatically unlock in your dashboard. What… what if we ran up some sales and cashed out our milestone rewards together 👉👈

A few things I wanted to mention:
During the commission payout today I noticed that there are a number of you with invalid PayPal email addresses. If you haven't already, please log in to the ambassador dashboard and navigate to "Settings > Other" to ensure that yours is correct. Otherwise, payments made to invalid accounts will automatically fail and return to us. Until your credentials are correct, payments will continue to fail and get lumped into the next payout(s).
To clear up some of the confusion I've seen in challenge submissions, your discount code provides a 20% discount, not 10%, 15%, or any other number! When making sales, it always helps to have accurate information. So, if there are any questions you have about your code or the ambassador program in general please reach out to us on any channel.

Our top five sellers for this reporting period were:
Matthew Williams
Nick Drewe
Glenn Meneses
Zoe McKee
Chris Crowder

Do you have any sales tips? Let us know and earn 100 bonus points. Offer valid to those who haven't already completed it.

Ambassador Post Highlights 🤳

Each piece of content you create is like a raindrop and I am dancing in the rain. For real though, keep this up and in a few months' time this section of the newsletter will be as long as a Cheesecake Factory menu.

In addition to shining a spotlight on some of our ambassador posts, I'd also like to share some of the amazing artist submissions we've received!

Shoutout to our featured ambassadors:
Featured ambassador artist content:

Ambassador of the week - Last week's feature was Maddie McKee 🔦👀 Check out her TikTok here

Who's going to be featured this week? Don't forget to check our IG story to see if it's you!


March Challenges 📝

Shoutout to those who have already completed the March challenges! It seems like giving you the whole month to complete challenges has been a huge success and we will continue to release challenges like this.

Reminder: There are only two days left to complete the Twitter | Share what makes you feel lucky (300 points) challenge.

Are you feeling lucky? We are, it's almost St Patrick's Day! 🍀🌈 Do you have a lucky item? For this challenge, tweet about what makes you feel lucky (e.g., rabbit foot, 777, etc) and tag us @madrabbittattoo


Reminder: February Challenges Extended
IG Post | Pro Glide Launch (500 points) extended through 3/17 - winners announced 3/18
IG Story | GNC Launch (500 points) extended through 3/31
IG Reel | Mad Rabbit Launches at GNC (1,000 points) extended through 3/31
TikTok | Mad Rabbit Launches at GNC (1,000 points) extended through 3/31

Other March challenges:
💅 TikTok | Show your aftercare routine (750 points)
📌 Pinterest | Share your fave product (400 points)
✨ IG Post | B&A with Tattoo Balm (750 points)
🗣 IG Post or Reel | Share your tattoo story (1,000 points)

March Artist Challenges
🆒 Swipe | Soothing Gel (100 points per submission, up to 100 submissions)
🏥 IG Reel | How to take care of your new tattoo (1,000 points)
📃 Review | New Launch: Pro Glide (500 points)
🆕 IG | How to use NEW Pro Glide (500 points)

April challenges will be announced in the next newsletter.


Updates

In case you missed it… on March 1st we launched a new segment of the ambassador program specifically for tattoo artists! So far, the support and engagement from you all has been incredible. Thank you so much for that. To reward those who have stepped up and completed challenges, redeemed rewards, and have help spread the word, we will be gifting 50 Pro Glides!!! Want to secure one for yourself? Get active 😏💪

Artists, as you continue to complete challenges we will continue to support you with other resources and rewards. There's a lot more coming so stay tuned.

If you're an ambassador tattoo artist (apprentice or licensed) and haven't already signed up, please fill out this form so I can get the proper tags added to your account.


New Reward LIVE - I'd say it's about time for some new swag in the shop. What do you think? On Discord last week I teased the new reward but today I'm revealing all. Extremely proud and excited to announce our new pins. In the ambassador shop now.



Love the pins? Make sure to thank our graphic designer @ffffolden#9797 and head of ops @rexio#0017 for their hard work on Discord!


Did you make it to the end of the newsletter? Here's a cookie if you did 🍪


STAY MAD,
Noah (aka: tender)


Have feedback? A challenge idea? Just wanna chat? Connect with us on Discord

TAG US @MADRABBIT USE HASHTAGS #MADRABBIT #COMEGETATATTOOWITHME
Try risk-free & save with the Essential Sets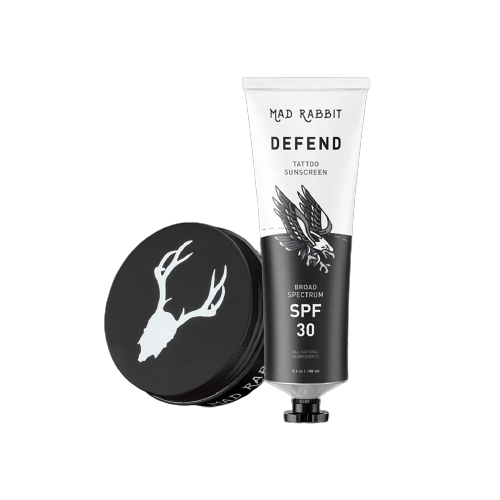 Best Seller
Daily Defense Set
Show off your tattoos in the sun and have them shining bright all day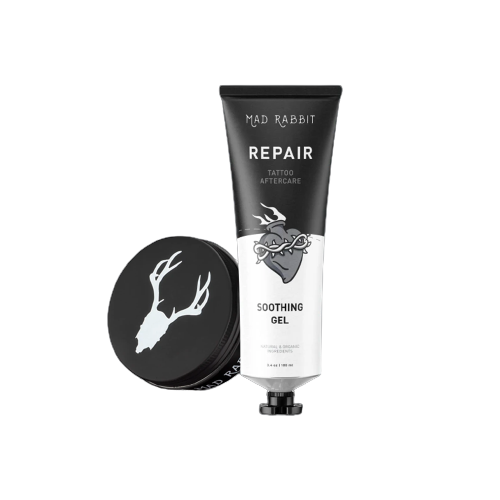 Best Seller
New Tattoo Set
The ultimate relief to heal fresh ink and make it shine