Happy discount candy day,
Ok, so you remember the last newsletter when I said February is filled with random holidays? Well, get this… today is World Hippo Day, Annoy Squidward Day and Single Awareness Day. Ouch? My feelings.
While I could write a super long introduction I'm not going to because there are a LOT of updates today. In addition to everything you're about to read (I hope), a new reward for the ambassador shop is currently in production 🤩
Commission Update 💰
Need help making sales? To help you out, ambassador Jessi Price has shared some insight into what has helped them. They write,
A solid tip is letting friends try my Mad Rabbit, especially after they get their first one. I have a lot of people ask if my tats are brand new or how they still look fresh, then just pop out a can and let them see for themselves! :)
What a great tip. Thanks, Jessi!
Our top five sellers for this reporting period were:
Matthew Williams

Zoe Mckee

Eric Schultz

Olivia Andujar

Nick Drewe

Next time I need a loan I'm just going to hit up one of the fab five. Nice work, all!

Ambassador Post Highlights 🤳

Thanks for all your excellent posts in support of our GNC launch! We're excited to be able to further represent and include our fitness-loving ambassadors.

Shoutout to our featured ambassadors:
What do we look for when reviewing content? Here are some tips:
Shoot in short and concise clips; think 5-15 second segments.

Use a steady hand, get help from a friend, or use a tripod to help you film.

Shoot via your camera and edit on a third-party app (not in TikTok) & save the video in the largest file format.

Shoot with natural lighting (next to a wind owl or in good lighting like the bathroom. If needed, bring a ring light or something to improve lighting if you are in a dark area.
Best free editing apps: Capcut, Splice
Both apps are available on Android and iOS.
Tip: There might be a watermark with the free versions of these apps. When you export your edited footage, trim the watermark off.
Ambassador of the week - Last week's feature was Olivia Reyes 🔦👀 Check out her TikTok here
February Challenges 📝
🖤 Share the Love | Random Acts of Kindness (350 points) - It's #RandomActsofKindnessDay, and we'd like to celebrate it with all of YOU! To celebrate, go through the hashtag #MadRabbitAmbassador on IG and leave a nice comment on one of your fellow ambassadors' posts. Make sure to follow your comment with the hashtag #RandomActsofKindnessDay
Only 24 hours to complete this challenge.
🐰 FLASH CHALLENGE | Love Your Pet Day (500 points) - Are you a dog mom? Cat dad? Well, it's time to show off those fur babies! For #LoveYourPetDay, we want you to post your pet tattoos with the hashtags #LoveYourPetDay and #MadRabbitAmbassador
📸 IG Post | Pro Glide Launch (500 points) - Exciting news!! We have just launched a new Mad Rabbit product- for tattoo artists! Introducing our all-natural, vegan tattoo glide developed for artists as a lubricant during the tattooing process. We'd love your help spreading the word!
To complete this challenge, post a photo of you setting up to tattoo (including any Mad Rabbit product). BONUS: We'll pick 5 lucky people to win a free one! Use the hashtags #MadRabbit #MadGlide
GNC Challenges Extended Until 3/1
IG Reel | Mad Rabbit Launches At GNC (1,000 points)

TikTok | Mad Rabbit Launches At GNC (1,000 points)
Full challenge details in the ambassador dashboard.
Note: when completing the IG Reel and TikTok challenges "Mad Rabbit launches at GNC," you should submit two different pieces of content.
Updates
Discord Giveaway - Reach server XP level three by February 20th for a chance to win a Tattoo Lovers Kit. Earn XP by being active in the server and sending messages. If you're already level 3+, you are automatically entered to win. Five winners announced 03.01.23
To check your rank, type /rank in #🤖│bot-spam
Type /levels in #🤖│bot-spam for a link to the leaderboard
While we're on the topic of Discord…
Check out our swag-tacular new Discord banner created by @rylee#6350
If you'd like to create a server banner for us as well, please do! The only restriction you have is that the file should be 960 x 540 16:9.
Tax season - If you earned $600+ with us in 2022 you will be receiving a 1099 form from our finance team.
New product - Exciting news! We are launching a new Mad Rabbit product- for tattoo artists! Introducing our all-natural, vegan tattoo glide developed for artists as a lubricant during the tattooing process.
"Tastes great! Just like grandma used to make."
- tender
"IGN 10/10."
- tender
"Wow. This stuff really glides like pro."
- tender
A new segment of the ambassador program - I'm over the moon excited to announce a new segment of the ambassador program for ambassador artists!! Whether you're an apprentice or a licensed artist, please fill out this form so we can add artist tags to your profile before the March launch.
STAY MAD,
Noah (aka: tender)
Have feedback? A challenge idea? Just wanna chat? Connect with us on Discord
TAG US @MADRABBIT USE HASHTAGS #MADRABBIT #COMEGETATATTOOWITHME
Try risk-free & save with the Essential Sets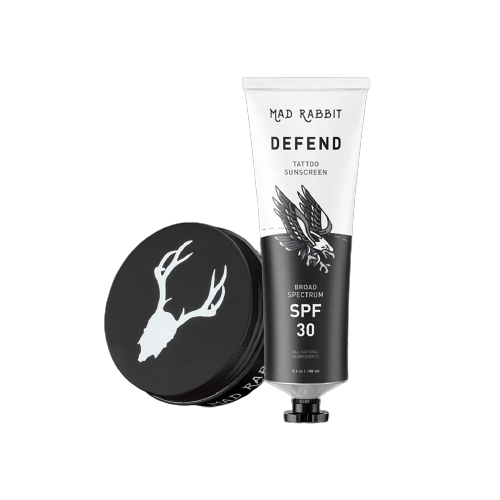 Best Seller
Daily Defense Set
Show off your tattoos in the sun and have them shining bright all day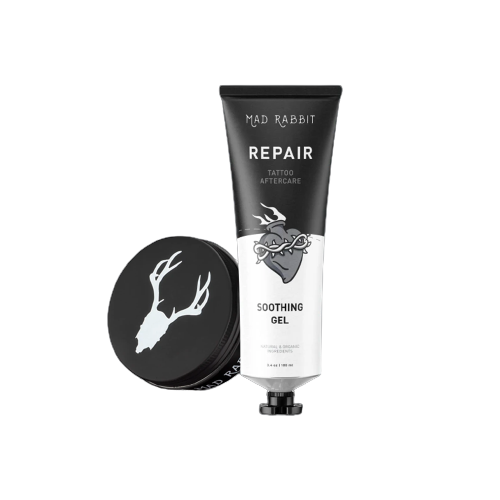 Best Seller
New Tattoo Set
The ultimate relief to heal fresh ink and make it shine