Welcome to the latest edition of our biweekly newsletter, your gateway to an extraordinary world of updates, creativity, and inspiration. Whether you've been part of this wonderful community for a while or if you're just joining us for the first time, we are absolutely thrilled to have you on board!
Before delving into the exciting sections of this newsletter, I'd like to share something that has been on my mind lately: stepping out of our comfort zones and embracing new experiences. Although it may seem daunting at times, practicing this art of venturing into the unknown will make us more open-minded and willing to embrace novel opportunities. Even if things don't turn out as expected, remember that you had the courage to try and that alone is commendable!
As we embark on this journey into August, let us remind ourselves that true growth and learning happen when we challenge ourselves beyond our comfort zones. It's an opportunity to explore uncharted territories and become better, bolder versions of ourselves.
Now, let's get into the heart of this newsletter. We kick off with a commission update, shining a spotlight on our top five sellers and providing some valuable tips for making your first sale and sustaining the momentum.
In the Ambassador Post Highlights section, we celebrate the best ambassador and ambassador artist's social media posts—ones that embrace the spirit of adventure and taking daring steps. As ambassadors and in our personal lives, let's take risks and venture beyond what's familiar.
Introducing our brand new August challenges, a delightful mix of fun and low-lift activities, we encourage you to dive in and seize these opportunities to express your creativity.
As Mad Rabbit ambassadors, you are the embodiment of bravery and ingenuity. By seeking innovative ways to share our message and connect with others, you inspire everyone around you to follow suit. Your willingness to try, fail, and try again sets a powerful example for our entire community.
So, my exceptional fellow ambassadors, let's unite our courage, ignite our passion, and journey forth together. Embrace the challenges, celebrate the victories, and learn from the setbacks. Together, we'll build a legacy of creativity and inspiration that touches hearts and leaves a positive impact on the world.
Wishing you all an August filled with wonder and growth! Let's make it a month to remember! 🌞🌻🎨
Commission Update 💰
In the Commission Update, we want to express our heartfelt appreciation for the tremendous effort you've all put in, as your dedication has made it possible for us to showcase the top 5 sellers. However, we also want to recognize and commend each and every one of you for your valuable contributions. It's truly astonishing to think that collectively, you've all played a significant role in taking care of thousands of tattoos – an achievement we cherish!
Whether you're a seasoned seller or embarking on your first venture, we've gathered essential tips to guide you on this rewarding journey of creative entrepreneurship. So, with passion and innovation as our guiding lights, let's embark on a path to greater success together!
Shoutout to our top sellers:
Matthew Allison
Matthew Williams
Kaylee Williams
Nick Drewe
Lisa Taylor
Tips for making your first sale
- Although selling in person can be effective, leveraging social media is an excellent method to secure initial sales and boost your confidence for in-person selling. Additionally, I aim to dispel any negative connotations associated with scary terms like "sell" and "sales." Ultimately, it's all about engaging in casual conversations. Embrace your unique personality and be authentic in your approach!
Familiarize Yourself with the Products

: Ensure you have a deep understanding of the tattoo aftercare products you are promoting. Use them yourself, so you can speak from personal experience.



Create High-Quality Content

: Utilize your creativity to generate engaging and visually appealing content showcasing the products. Use high-resolution images, videos, and captivating captions that highlight the benefits of the products.



Leverage Social Media

: Utilize various social media platforms to reach a wider audience. Focus on platforms that are popular among your target market, such as Instagram, TikTok, and Pinterest.
Tips for maintaining momentum
- Remember that success as an ambassador takes time and effort. Stay committed to your role, adapt to changes, and keep refining your strategies. The potential to earn a considerable income exists, but it's important to remember that becoming a successful ambassador requires dedication and hard work.
Stay Educated and Updated

: Continuously educate yourself about the tattoo aftercare industry, new products, and customer needs. Being well-informed helps you become a reliable source of information.



Attend Tattoo Events and Conventions

: If possible, attend tattoo events and conventions to network with potential customers and build relationships within the tattoo community.



Engage with our community

: Be an active participant in our community! Seek and share tips, tricks, funny stories, and motivational content. Support your fellow ambassadors, and they will reciprocate the support.



Maintain a Positive Attitude

: Stay positive and enthusiastic about the products you promote. A positive attitude can be infectious and draw more people to engage with your content.
Ambassador Post Highlights 🤳
Step right up to the dazzling spotlight of our Ambassador Post Highlights section! We are continuously seeking opportunities to venture beyond our comfort zones, whether it's through in-person selling or engaging on social media. Our challenges are thoughtfully crafted to empower you, just like your tattoos do!
We are thrilled to announce a treasure trove of creative goodies for you: brand-new Social Media Templates! Elevate your online presence with these captivating designs, readily available in both the Social Resources section of the ambassador dashboard and the #social-resources channel on Discord.
Unleash your creativity and let it shine as you proudly represent Mad Rabbit! Your unwavering dedication to planning, capturing, and editing your content truly makes a significant impact, and we are sincerely grateful for your valuable contributions!
Featured ambassador content:
+200 points for Kaeli Andrews' How Do You Prepare For a New Tattoo submission

Your graphic is incredibly enjoyable! It effectively emphasizes the importance of keeping your skin moisturized and protected from sunburn.



+200 points for Caitlin Lewis' How Do You Prepare For a New Tattoo submission

Outstanding work on highlighting the significance of proper pre and post-care.



+200 points for Lexi's Show Off Your Mad Rabbit Merch submission

We truly appreciate how cool you make us look in your hat!



+200 points for Ashely Tooker's Summer Photo Shoot submission

It's heartwarming to witness your dedication to skincare while enjoying the serene background noise.



+200 points for Marco Jimenez's Review Aftercare Patches on MadRabbit.com

Your review is highly thorough, and it exemplifies why writing good reviews is so crucial for any business. Thank you!
Featured ambassador artist content:
Your energy is incredibly positive and calming. Thank you for providing clear explanations on how to use repair patches and soothing gel together.



You have such persuasive skills; I'm convinced you could sell anything! Your video format is truly captivating.



The effort you put into creating this content is evident and highly appreciated. The combination of different shots and voiceover keeps the audience engaged. It's a visually informative and friendly video.



Excellent idea to prop up your camera to have both hands free for the unboxing. I'm eagerly looking forward to your product review!
Ambassador of the week - This week's spotlight is on Cipriana Taubman! 🔦👀 Check out her IG here. Who's going to be featured next week? Don't forget to check our IG story to see if it's you!


Tip: Remember to include your code or link in your captions/content! Place it in a visible and easily clickable area on the screen, ideally coordinating its color with your post's aesthetic. If you're using a link sticker, customize the text to make it more inviting and engaging.

Tip: Seeking higher engagement on your posts? Encourage your followers to take on the challenges themselves or ask open-ended questions, either in the post's caption or within the content. Be sure to interact and engage with the responses you receive to foster a lively and active community!

August Challenges 📝

Welcome to the exhilarating world of challenges! Haha, that kind of just sounds like life to be honest. Anyways– it's time to embrace the thrill and step out of your comfort zone as we invite you to participate in the audacious and captivating August challenges.

In addition to Ambassador and Ambassador Artist Challenges, brace yourself for an adventure like no other, as we proudly present our very first Sponsored Artist Challenges. We can't wait to witness the captivating content that will emerge from this spectacular event. And that's just the beginning—more challenges will be released later this month. So, gather your courage, ignite your passion, and let the spirit of adventure guide you through this extraordinary chapter!


Evergreen Challenges:
TikTok | Mad Rabbit Unboxing
(Artist) Swipe | Soothing Gel - you can complete this challenge 100 times.

Ambassador Challenges:
Twitter | Unveiling Tattoo Tales (400 points, up to 2 times)
IG | Invite Your Followers to Join the Program (500 points)
IG Post | National Book Lover's Day (750 points)
IG Reel | Back to School with GNC (1,000 points)
TikTok | Dry Healing (1,000 points)

Artist Challenges:
TikTok | Learning From Mistakes (1,000 points)
TikTok or IG Reel | Satisfying Stencil Peels (1,000 points)

Sponsored Artist Challenges:
IG | Pro Glide Spotlight (1,000 points)
IG | The Mad Rabbit Difference (1,000 points)
IG | Elevate Your Social Bio (500 points)

Note: The deadline for Repair patch challenges is set for 11:59 PM EDT on 8/7, so make sure you take this opportunity to showcase your skills and shine!

Updates

Snapchat - Mad Rabbit has officially joined Snapchat! 😎 Get ready for content that'll keep you engaged. Make sure to follow us to stay in the loop! Who knows, a fantastic giveaway might be just around the corner! 👀

But that's not all! We're also working on some incredible features for you, including exclusive Mad Rabbit Snapchat filters and a convenient Snapchat Shop. Get excited about what's coming your way!

👉 Join the fun by subscribing here


Show off Your Dog Tattoos on National Dog Day! 🐾 - National Dog Day is just around the corner, and we want to see your paw-some dog tattoos! 🐶 Whether it's a realistic portrait of your furry friend or a creative canine-inspired design, we'd love to admire your art.

How to Participate:
Share a photo of your dog tattoo in the #⁠🔥│flex-your-ink channel on Discord
Tell us what you love most about your dog(s).
Please use the hashtag #NationalDogDay in your post so that we can keep track of all submissions.

🏆 Three lucky participants will win a product of their choosing and earn the spotlight in an upcoming email campaign, proudly displaying their remarkable dog tattoos to our entire community. Celebrate the bond between you and your furry companion through ink. Don't miss out—submit your dog tattoo before August 18th!

With roaring enthusiasm and a touch of mischief,
Noah (aka: tender)


TAG US @MADRABBIT USE HASHTAGS #MADRABBIT #COMEGETATATTOOWITHME
Dear Ambassador,
Try risk-free & save with the Essential Sets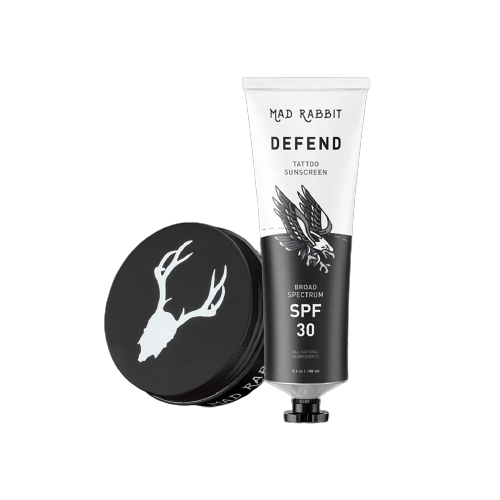 Best Seller
Daily Defense Set
Show off your tattoos in the sun and have them shining bright all day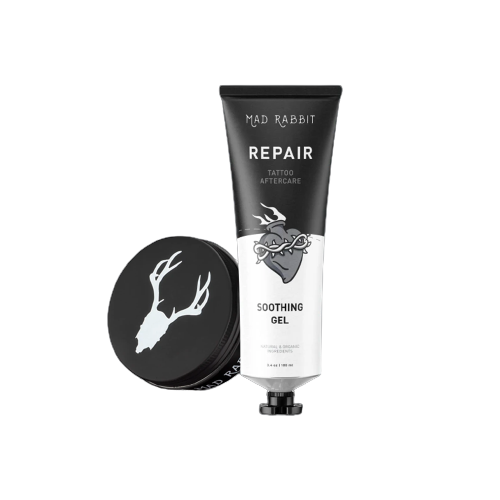 Best Seller
New Tattoo Set
The ultimate relief to heal fresh ink and make it shine