Greetings, fearless ink aficionados and newcomers alike,

Buckle up, because you're about to dive headfirst into the vibrant world of Mad Rabbit—a realm where tattoos aren't just ink, but a symphony of stories waiting to be heard. Whether you've been with us through thick and thin or you're just joining our electrifying ride, we're beyond thrilled to have you as part of our ever-growing family.

Here at Mad Rabbit, we're not just a company; we're a movement, a collective of individuals who wear their passion on their skin. We stand strong for inclusivity, championing every form of expression with unwavering enthusiasm. Our mission? It's all about celebrating individuality, artistry, and that untamed spirit of adventure that courses through our veins.

So, what's our groove? Picture it as dynamic—like the rhythm of a tattoo needle dancing on skin. Our voice is bold, inclusive, and forever forward-thinking as we reshape the landscape of integrated tattoo care. What sets us apart? The unwavering commitment to being personal and honest with every step we take. We're all about giving you the straight-up facts, arming you with the knowledge to make the best choices for your tattoo journey. We're in this together, and we've got your back.

But we're not just carving a path; we're blazing a trail. We believe that the tattoo experience goes beyond the chair—it's a lifestyle, a statement, a canvas of your identity. From the heart-pounding content we curate to the boundary-pushing products we create, we're not just a brand; we're your partners in embracing the tattoo culture.

And who are the architects of this awe-inspiring journey? You, our ambassadors. Your voices, stories, and insights are the lifeblood of Mad Rabbit. Whether you're a seasoned pro or you've just taken your first ink plunge, your experiences fuel our innovation. We listen, we learn, and we evolve. You're the heartbeat of our community, and together, we're pushing the boundaries of what tattoo care can be.

So here's to you—the ones who dare to make a mark, to stand out, and to challenge the norms. Welcome to the Mad Rabbit family, where individuality reigns supreme, and our collective spirit knows no bounds. As brand ambassadors, you're not just wearing our badge; you're embodying the essence of fearless self-expression and unmatched tattoo care.

Strap in, ink warriors, because we're on a journey like no other. The road ahead is illuminated by the stories etched into your skin, and together, we'll continue to set the world ablaze with creativity, authenticity, and a whole lot of badassery.

Commission Update 💰

So, you've strapped on your Mad Rabbit gear and you're ready to dive into the world of sales with all the energy of a tattoo machine in full swing. Well, get ready to watch your journey ink itself with success! 🚀💰

Making sales as a Mad Rabbit Ambassador isn't just about numbers—it's about sharing the love for our kickass products and empowering your fellow ink enthusiasts to care for their tattoos like never before. Here are some juicy tips to help you rock the sales game:
Authenticity Rules - Remember, you're not just selling products; you're sharing your passion. Be genuine and share your personal experiences with Mad Rabbit. Authenticity is the key to connecting with your audience.


Tell Your Story - Share your tattoo journey. How did you discover Mad Rabbit? What difference has it made for your tattoos? Your story adds a human touch to the products and resonates with others.


Product Know-How - Understand the products inside out. Know their features, benefits, and how they stand out. This knowledge will empower you to answer questions and address concerns.

And that's not all—being a Mad Rabbit Ambassador comes with a basket of benefits that just keeps on giving. Here are a few of them:
20% Commission - Every sale you make not only earns your audience a discount but also puts extra cash in your pocket. While 20% is the baseline, there are often opportunities to earn even more. Cha-ching!


Rewards Galore - Hit those sales milestones and watch the goodies roll in. From exclusive merch to limited-edition releases, we love to celebrate your wins.


Newsletter and Social Feature Stardom - Get ready to shine! The spotlight is all yours when you make a splash with sales. It's your moment to bask in the glory of our community.

So, there you have it—your roadmap to sales stardom. Remember, you're not just an Ambassador; you're a tattoo care advocate, a passionate torchbearer for all things Mad Rabbit, and a key player in our vibrant community. Let's set those sales on fire and make this ink-tastic journey one for the books!

A special shoutout to our top sellers:
Kaylee Williams
Matthew Allison
Lisa Taylor
Matthew Williams
Nick Drewe

Ambassador Post Highlights 🤳

It's time to shine the spotlight on the electrifying energy you bring to our community every day. Your passion, creativity, and unwavering dedication are a driving force that keeps the Mad Rabbit spirit alive and thriving. We're here to extend a heartfelt thank you for the flood of challenge submissions that have poured in.

In this section, we're all about showing some love for our top Ambassadors and Ambassador Artists. Your posts have the power to inspire, uplift, and ignite conversations that span the globe. From jaw-dropping tattoo showcases to behind-the-scenes glimpses of your journey, you're leaving an indelible mark that speaks volumes about the Mad Rabbit way of life.


Featured ambassador content:
This challenge was made for you! Loved learning about your literary tattoos. P.S. We love Mr. Book Worm



You really nailed the ASMR – great job!



We love seeing product applications in unboxing videos! Love how organic this post is.



Your editing skills, camera setup, and product presentation were all spot-on – and the humor was a fantastic touch!



Love the aesthetic and we appreciate your enthusiasm in celebrating National Book Lover's Day with us.

Featured ambassador artist content:
Thank you for your openness in sharing this! Your storytelling is exceptional. It's quite amusing that this happened more than once. Readers, don't miss out on checking out this post if you haven't already!



Your ink looks great! We appreciate the reminder that you can locate our soothing gel at GNC. Excited to catch more of your content soon.



Thank you for joining us in celebrating National Book Lover's Day as an artist! Your coverup looks fantastic as well.



You've left us thoroughly satisfied. That stencil peel was excellent!

Featured Sponsored Artist Content: Coming Soon


And to those who might be hesitating on the challenge sidelines, here's your nudge to join the fun! Our challenges are designed to be low-lift and high-reward, offering you a quick and enjoyable way to dive into the excitement. Whether you're a seasoned Ambassador or a newbie, the challenges are your playground—a space to express yourself, share your passion, and become an active part of our thriving community.

As an extra cherry on top, every challenge you complete earns you points that open doors to a treasure trove of rewards. Think of these points as your golden ticket, granting you access to our Ambassador Dashboard Shop, where you can snag a variety of products, merch, and exclusive Ambassador goodies. It's our way of saying 'thank you' for being a rockstar part of the Mad Rabbit journey.

So, fellow Ambassadors, keep those creative sparks flying, keep those stories flowing, and keep embracing the tattoo lifestyle in all its glory.


Ambassador of the week - This week's spotlight is on Destiny Santana 🔦👀 Check out her TikTok here. Who's going to be featured next week? Don't forget to check our IG story to see if it's you!

August Challenges 📝

Hello, social stars! Here's a friendly reminder that when it comes to excelling as a Mad Rabbit Ambassador, there's a key practice that can truly make your presence shine: regular social media posting. It's not just an idea we're tossing around; it's a fantastic way to broaden your influence, connect with your audience, and leave an indelible mark on the tattoo care landscape.

Our social challenges are all about embracing the fun, promoting tattoo love, and diving into the world of tattoo aftercare—all while growing your followers and boosting your potential for sales. By nurturing a habit of steady posting, you're doing more than just displaying your creativity; you're cultivating a community that shares your tattoo passion.


Ambassador Challenges:
Twitter | Unveiling Tattoo Tales (400 points, up to 2 times)
IG | Invite Your Followers to Join the Program (500 points)
IG Post | National Book Lover's Day (750 points)
IG Reel | Back to School with GNC (1,000 points)
TikTok | Dry Healing (1,000 points)
TikTok | GNC x Mad Rabbit Self-Care (1,000 points)

Artist Challenges:
Swipe | Soothing Gel (20 points, up to 100 times)
TikTok | Learning From Mistakes (1,000 points)
TikTok or IG Reel | Satisfying Stencil Peels (1,000 points)

Sponsored Artist Challenges:
IG | Elevate Your Social Bio (500 points)
IG | Pro Glide Spotlight (1,000 points)
IG | The Mad Rabbit Difference (1,000 points)

Think of your social media as a canvas, and every post as a stroke that paints a picture of your journey. The more you post, the richer and more vibrant that picture becomes. So, whether you're sharing your tattoo stories, showing off our products in action, or participating in our electrifying social challenges, remember this: each post isn't just a snapshot; it's a chance to spread the Mad Rabbit love, amplify your voice, and make your mark in the digital universe.

Stay consistent, stay engaged, and let the ink-infused adventure unfold one post at a time!

Updates

Snapchat - Mad Rabbit has officially joined Snapchat! 😎 Get ready for content that'll keep you engaged. Make sure to follow us to stay in the loop! Who knows, a fantastic giveaway might be just around the corner! 👀

But that's not all! We're also working on some incredible features for you, including exclusive Mad Rabbit Snapchat filters and a convenient Snapchat Shop. Get excited about what's coming your way!

👉 Join the fun by subscribing here

Show off Your Dog Tattoos on National Dog Day! 🐾 - National Dog Day is just around the corner, and we want to see your paw-some dog tattoos! 🐶 Whether it's a realistic portrait of your furry friend or a creative canine-inspired design, we'd love to admire your art.

How to Participate:
Share a photo of your dog tattoo in the #⁠🔥│flex-your-ink channel on Discord
Tell us what you love most about your dog(s).
Please use the hashtag #NationalDogDay in your post so that we can keep track of all submissions.

🏆 Three lucky participants will win a product of their choosing and earn the spotlight in an upcoming email campaign, proudly displaying their remarkable dog tattoos to our entire community. Celebrate the bond between you and your furry companion through ink. Don't miss out—submit your dog tattoo before August 18th!

New templates reminder - Have you checked out the brand-new Social Media Templates? Make posting easy and elevate your online presence with these captivating designs, readily available in both the Social Resources section of the ambassador dashboard and the #social-resources channel on Discord.


Labor Day - Heads up! 🚀 Get ready for our exciting Labor Day sale happening from 8/31 to 9/4. Enjoy a fantastic 20% off on the entire site, excluding sets. Please note that your usual code won't be valid during this period, so make sure to use your unique ambassador link to share the discount with your community.

And that's not all! We're boosting your commission to an incredible 25% throughout this sale. It's your chance to earn even more while spreading the savings. Thanks for being awesome ambassadors! 🌟

In ink we trust,
Noah (aka: tender)



TAG US @MADRABBIT USE HASHTAGS #MADRABBIT #COMEGETATATTOOWITHME
Try risk-free & save with the Essential Sets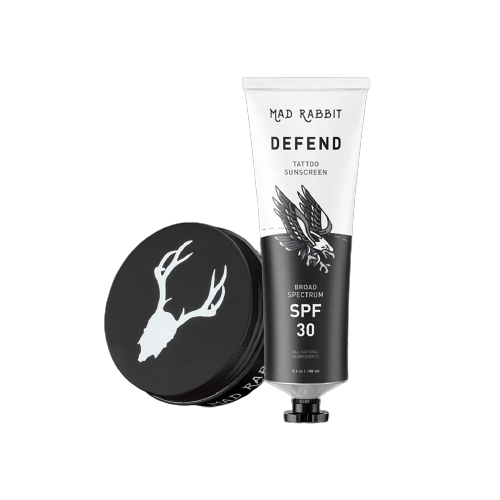 Best Seller
Daily Defense Set
Show off your tattoos in the sun and have them shining bright all day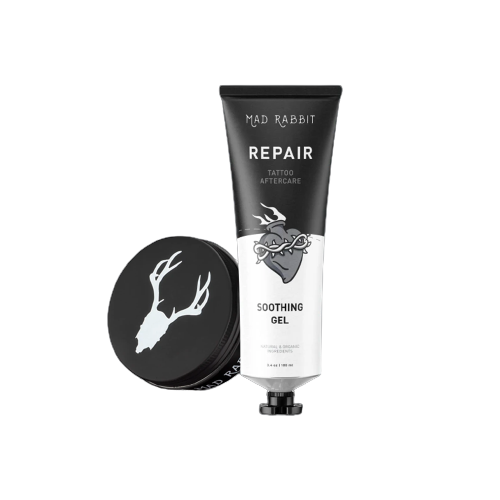 Best Seller
New Tattoo Set
The ultimate relief to heal fresh ink and make it shine