Dear ambassadors,

Whether you're a familiar face or new to our community, we're excited to have you here!

First off– How is everyone doing? While some of you are diving back into school or work after a sweet summer breather, others are literally weathering life's storms. Whatever it is that you are currently facing, just know we're here to have your back.

This weekend marks the commencement of a special month – the beginning of September! As we step into this fresh month, there's an air of rejuvenation all around us. The transition from summer to fall (cue the spooky vibes) reminds us that change is as natural as pumpkin spice in September. It presents an opportunity to let go of what's been holding us back and embrace new opportunities.

In these increasingly quieter moments of the year, amid leaves transforming and days growing shorter, it's a perfect time to reflect on your journey. Since you've already taken a pause to peruse this newsletter, let's collectively catch our breath, stay in the present, and acknowledge your accomplishments. Indeed, you're making great strides, my friend.

Looking beyond this instant, I find it productive to prime my mind with positive thoughts and good habits before the seemingly inevitable seasonal depression kicks in. Personally, I've found that jotting down what I'm thankful for, maintaining mindfulness, and spreading positivity work wonders.

And so, as we bid farewell to the sun-soaked days of August and prepare for the embrace of autumn's golden hues, I encourage you to soak up these last few days of August and the final weeks of summer. As we navigate the changes ahead, let's carry the spirit of these fleeting moments with us, allowing them to fuel our journey.

Alright, now let's shine the spotlight on the real stars here: you guys. Your stories, your wins, your journey with us – it's what keeps this community shining bright.

Commission Update 💰

Hold onto your tattoo sleeves, because it's time for one of our favorite segments.

Let's give a roaring round of applause to our top five ambassador sellers who have been spreading the tattoo aftercare love far and wide. These remarkable individuals aren't just selling products; they're spreading the gospel of vibrant, long-lasting ink!

A special shoutout to our top sellers:
Kaylee Williams
Matthew Allison
Lisa Taylor
Matthew Williams
Nick Drewe
If you're not on this list, don't be discouraged! Every effort counts, and your dedication is valued. Let's continue to support one another, learn, and grow together. The next update might see your name shining brightly at the top.

To all our amazing ambassadors, here's a little golden nugget of wisdom: Consistency is key! Just like a tattoo artist perfects their craft over time, your dedication to sharing the importance of proper tattoo aftercare can truly make a lasting impact. Personal anecdotes, before-and-after snapshots, and a sprinkle of humor are your secret weapons!

And hey, remember, you're not just selling products; you're building a community of proud, beautifully-inked individuals who are invested in the art on their skin. Keep being the vibrant, caring souls you are, and watch the magic unfold.

Ambassador Post Highlights 🤳

Are you still reading? I sure hope so 🥰

Prepare yourself, as we're about to plunge into the incredible realm of content that our community has been crafting since our latest update. However, before we proceed, here's a brief reminder: To have your wonderful posts showcased, please ensure that your social account(s) are set to public as we cannot view content from private accounts.

Featured ambassador content:

Featured ambassador artist content:

Featured Sponsored Artist Content:

Remember, dear ambassadors, engagement is the name of the game! Responding to questions, sharing your tattoo journey, and involving your followers in your creative process can transform your posts into captivating conversations.

Keep those questions answered, those comments flowing, and let your creativity sparkle through your interactions. After all, you're not just sharing ink; you're cultivating a vibrant, supportive community that thrives on connection.


Ambassador of the week - This week's spotlight is on Sponsored Artist Kelly Taylor 🔦👀 Check out her IG and TikTok Who's going to be featured next week? Don't forget to check our IG story to see if it's you!

September Challenges 📝

September has arrived, and you know what that means—new challenges! ✨

Get ready to roll up your sleeves, both literally and metaphorically, as we present a brand-new set of challenges that'll have you diving into the world of creativity, exploration, and of course, all things ink-related. But that's not all—remember to mark your calendars for the 11th, when we'll be unveiling even more thrilling challenges to keep the momentum going!

Now, here's the scoop: We could use your incredible support to make this month's challenges an absolute hit. We're all about nurturing a community that thrives on collaboration, inspiration, and shared experiences. So, if you've got any challenge ideas bubbling up within you, don't hesitate to hit that reply button or jump into our vibrant Discord community to share your thoughts. Your ideas are like the ink that brings life to our challenges, and we can't wait to hear them!

We've seen firsthand the magic that happens when you all come together to take on these challenges, whether it's trying a new tattoo style, sharing your artistic process, or exploring unique aftercare techniques. This is your chance to challenge yourself, have fun, and connect with fellow ink enthusiasts who are just as passionate as you are.

Ambassador Challenges:
IG Post | Show Off Your Ink
IG Post | Pose With Your Favorite Product
IG Post | Self-Care September
IG Story | Tattoo Playlist
IG Reel or TikTok | Where Do You Take Your Mad Rabbit?
Pinterest | Favorite Product Favorite Tattoo

Artist Challenges:
IG Carousel | Tattoo Transformation Carousel
TikTok or IG Reel | What Skill Are You Currently Mastering?

Sponsored Artist Challenges:
IG | Elevate Your Social Bio
IG | Pro Glide Spotlight
IG | The Mad Rabbit Difference

Whether you're an experienced challenger or this is your first time diving in, let's make this September unforgettable. Grab your creative gear, muster up that adventurous spirit, and let's embark on an ink-spirational journey like no other!

Updates

The last Super Blue Moon until 2037 rises tonight - 🌕 Don't miss the celestial spectacle tonight! Get ready for the Super Blue Moon, a rare event where the moon appears larger (Super Moon) and marks the second full moon of the month (Blue Moon).

According to In the Sky, August's second full moon will begin rising over the eastern horizon in the Aquarius constellation just after sunset tonight at around 7:10 p.m. EDT (2310 GMT). The Super Blue Moon will then set just before sunrise on Thursday, Aug. 31 at around 06:46 EDT (1046 GMT).

Labor Day Sale - Attention everyone! 🚀 Brace yourselves for the upcoming thrilling Labor Day sale scheduled from 8/31 to 9/4. Get ready to take advantage of an amazing 20% discount on the entire website, except for sets. We'll be providing a discount code for you to apply during checkout, so you can still use and share your codes.

But wait, there's more! During this sale, we're cranking up your commission rate to an incredible 25%. This is your golden opportunity to earn even more while helping others save. Thanks for being awesome ambassadors! 🌟

Hispanic Heritage Month Artist Feature - 👋 Hey there, all you awesome tattoo artists with Hispanic roots! Guess what? As we're getting closer to the start of Hispanic Heritage Month on September 15th, we're super excited to let you know about our cool idea. We want to shine a big spotlight on all the amazing talent in the Hispanic tattoo artist crew. So, if you're a Hispanic tattoo artist yourself, or if you know someone who totally rocks at tattooing and fits the bill, we're all ears!

Please feel free to get in touch by responding to this email with the content you have, or alternatively, you can share your ideas on Discord as a reply to this message.

New Merch - We value your input and connection with our brand deeply. As we continue to grow, we're eager to ensure that our merchandise reflects your preferences and aligns with your interests. We're reaching out to you, not as participants in the ambassador program, but as integral members of our community, to inquire about the kind of merchandise you'd love to see from us. Your insights matter greatly, whether it's about price points that resonate, the specific items you envision, or the style that resonates most with you. Would you prefer a collection of exclusive limited releases that capture the essence of rarity, or do you lean more toward a dependable basics line? Moreover, the prospect of artist collaborations intrigues us – does this resonate with you too? Your thoughts will guide us in crafting merchandise that truly resonates with our community's spirit.

Please feel free to get in touch by responding to this email with the content you have, or alternatively, you can share your ideas on Discord as a reply to this message.

STAY MAD,
Noah (aka: tender)


TAG US @MADRABBIT USE HASHTAGS #MADRABBIT #COMEGETATATTOOWITHME
Try risk-free & save with the Essential Sets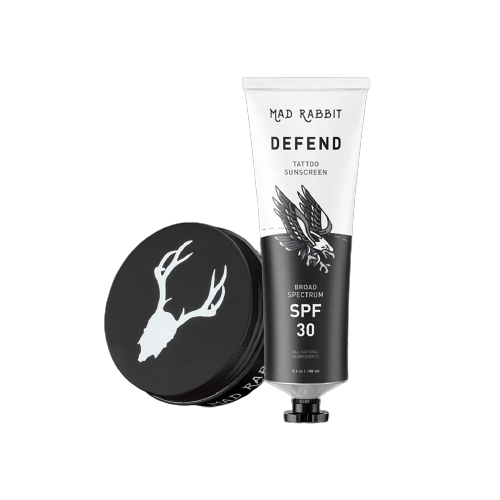 Best Seller
Daily Defense Set
Show off your tattoos in the sun and have them shining bright all day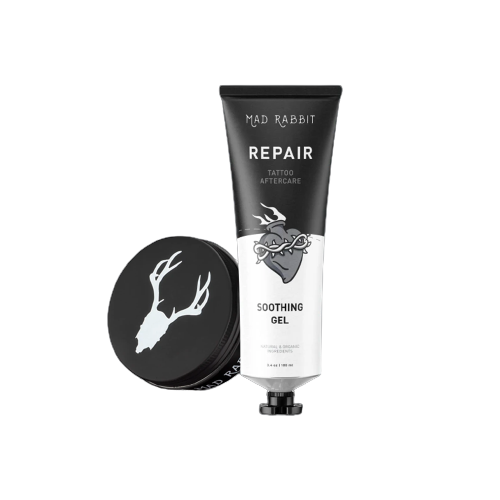 Best Seller
New Tattoo Set
The ultimate relief to heal fresh ink and make it shine