Whether you're a long-time member or brand new to our community, I want to extend a warm welcome to all of you. We're delighted to have you here. In these bi-weekly newsletters, I always search for interesting and fun holidays to share and celebrate with you. Recently, I hit a bit of a roadblock when it came to finding something exciting. I almost gave up, but today, I had a change of heart and decided to give it another shot. After all, why not, right? To my initial disappointment, I still couldn't find anything particularly fascinating. However, on closer inspection, I noticed an abundance of events involving the word "first." Take a look for yourselves; there are even more than I'm listing here!
On this day:
1948 - The School of Performing Arts opened in New York City. It was the first public school to specialize in performing arts.
1948 - Margaret Chase Smith was elected to the U.S. Senate and became the first woman to serve in both houses of the U.S. Congress.
1959 - The Soviet Union's Luna 2 became the first space probe to reach the moon.
1970 - The first New York City Marathon took place. Fireman Gary Muhrucke won the race.
1977 - The first diesel automobiles were introduced by General Motors.

Frankly, there's some pretty intriguing history here. As someone who often looks for deeper meaning in events, it's heartening to see all the significant occurrences that have taken place on this day throughout history. Many of these endeavors carried substantial risks, but here's the inspiring part: they all happened, and we continue to talk about them to this day. None of these accomplishments would have been possible without taking that initial step.
So, what I'm trying to convey is this: Today marks the first day of the rest of your life. Regardless of the risks involved, regardless of the size or significance of the "first" in your life, seize the opportunity and go for it!

As brand ambassadors for Mad Rabbit Tattoo, you are the architects of this incredible journey. Whether you're a seasoned ink enthusiast or you're just beginning to explore the world of tattoos, your experiences and insights drive our innovation. We listen to your stories, learn from your adventures, and evolve alongside you. You're the heartbeat of our community, and together, we're redefining what it means to care for your tattoos.

As we move forward, remember that your influence extends far beyond your words—it's a testament to the power of embracing individuality and the Mad Rabbit spirit. Together, let's continue to make our mark on the world, one tattoo at a time. We're honored to have you by our side, shaping the future of tattoo care with us.

Okay, enough with the preamble. Let's dive into today's newsletter, packed with tips, ambassador highlights, exciting new challenges, and opportunities to score some merch!

Commission Update 💰

Now, let's get down to business with our Commission Update. We've got some fantastic news to share, and we're introducing an exciting new challenge for the month of September that's bound to get your competitive spirit fired up!

First, a huge shoutout to our top five sellers since the last newsletter. Your dedication and hard work have not gone unnoticed, and we want to celebrate your outstanding contributions to the Mad Rabbit Tattoo community.

A special shoutout to our top sellers:
Matthew Allison
Kaylee Williams
Matthew Williams
Nick Drewe
Michael Locklear
Okay here's the scoop – September is all about taking it up a notch! From now until the end of September, we're launching a special sales challenge. The top three sellers during this period will have the opportunity to choose a merch item of their choice as a token of our appreciation. So, gear up, set your sights on the prize, and let's make this September a record-breaking month!


Feeling like you're losing momentum making sales?

Try some of these unconventional tips:
The Art of Non-Selling: Instead of focusing solely on selling, become a resource hub for your customers. Offer valuable information, tips, and insights related to the tattoo industry, care, and trends. When you establish yourself as an expert and a trusted source, customers are more likely to turn to you when they're ready to make a purchase.
Reverse Engineering Success: Share success stories and testimonials from satisfied customers, but with a twist. Instead of focusing on the end result, delve into the journey. Highlight the challenges they faced, the solutions they found using Mad Rabbit Tattoo products, and how they transformed their tattoo experience. This approach can resonate deeply with potential customers, showcasing the transformative power of our products.
Reverse Q&A: Encourage your followers to ask you questions about Mad Rabbit Tattoo products, the tattoo industry, or anything related. This flips the script and allows you to share valuable information in response to their inquiries, indirectly showcasing the benefits of our products.

Remember, your journey as a Mad Rabbit ambassador isn't just about sales; it's about building a meaningful connection with your audience. Utilizing our premade social templates and taking on our challenges can help you do just that. These tools not only simplify your content creation but also provide unique opportunities to engage with your followers, ultimately growing your influence within our community.

Ambassador Post Highlights 🤳

In this section, we're shining a spotlight on our amazing Mad Rabbit Tattoo community. We'll showcase the top-performing Ambassador Social Posts, highlight the creativity of our Artist Ambassadors, and share stunning work from our Sponsored Artists.

Stay tuned for the grand finale as we reveal our Ambassador of the Week, featured on our Instagram Story. Let's celebrate the incredible talent and dedication within our community!

Featured ambassador content:

Featured ambassador artist content:

Featured Sponsored Artist Content:

Experiencing a dip in your posting momentum?

Give these content ideas a shot:
Tattooed Travel Adventures: Document your travels and explore the tattoo culture in different places. Highlight local tattoo artists, studios, and traditions. It's a great way to combine your passion for travel and tattoos.
Interactive Polls: Use polls to involve your audience in decision-making. Ask them to vote on your next tattoo, the topic of your next livestream, or which Mad Rabbit Tattoo product they'd like to see in action. Engagement boosts visibility.
Behind-the-Ink Stories: Share the backstory of your tattoos. Explain their significance, the inspiration behind them, or the artists who created them. Personal anecdotes create a deeper connection with your audience.
Remember to stay authentic and true to your personal brand while experimenting with these unconventional posting ideas. Your unique perspective and passion for tattoos will shine through in your content, making it more engaging and relatable to your audience.


Ambassador of the week - This week's spotlight is on Carina Ortiz 🔦👀 Check out her TikTok here. Who's going to be featured next week? Don't forget to check our IG story to see if it's you!

September Challenges 📝

We're bursting with excitement to share some monumental news with all of you. It's official: Mad Rabbit can now be found in 2,000 Walmart stores across the United States!

This incredible milestone has been made possible by the unwavering support and love from our Mad Rabbit family. And now, we want you to be a part of this exhilarating journey!

But that's not all; with this expansion, we're introducing brand-new challenges that will not only amplify our presence but also let you showcase your Mad Rabbit spirit like never before. We believe in your power to make this launch an unparalleled success.

To make things even more accessible, we've provided templates in Social Resources in the ambassador dashboard and in the #social-resources channel on Discord.

However, here's an essential step before you head to Walmart to capture your content: Please complete the In-Store Shoot Request Form and send it to [email protected]. This way, we can notify the store that you'll be stopping by!

Are you ready to embrace this thrilling opportunity? Let's dive into the new challenges and set the stage for Mad Rabbit's grand entrance into Walmart. Here they are:
IG Story | Walmart Launch Template (500 points)
IG | Take a "Shelfie" with Mad Rabbit at Walmart (1,000 points)
Walmart Shop & Save Challenge (1,000 points + $25 reimbursement)
TikTok | Fall Walmart Haul (1,200 points)

Get ready to unleash your creativity, connect with your local Walmart, and let the Mad Rabbit magic shine. Together, we're about to make waves in the world of tattoo care!

Ambassador Challenges:
IG Post | Show Off Your Ink
IG Post | Pose With Your Favorite Product
IG Post | Self-Care September
IG Story | Tattoo Playlist
IG Reel or TikTok | Where Do You Take Your Mad Rabbit?
Pinterest | Favorite Product Favorite Tattoo

Artist Challenges:
IG Carousel | Tattoo Transformation Carousel
TikTok or IG Reel | What Skill Are You Currently Mastering?

Sponsored Artist Challenges:
IG | Elevate Your Social Bio
IG | Pro Glide Spotlight
IG | The Mad Rabbit Difference

Whether you're an experienced challenger or this is your first time diving in, let's make this September unforgettable. Grab your creative gear, muster up that adventurous spirit, and let's embark on an ink-spirational journey like no other!

Updates

Last Chance for a Hispanic Heritage Month Artist Feature! - 👋 Hey there, all you awesome tattoo artists with Hispanic roots! Guess what? As we're getting closer to the start of Hispanic Heritage Month on September 15th, we're super excited to let you know about our cool idea. We want to shine a big spotlight on all the amazing talent in the Hispanic tattoo artist crew. So, if you're a Hispanic tattoo artist yourself, or if you know someone who totally rocks at tattooing and fits the bill, we're all ears!

Please feel free to get in touch by responding to this email with the content you have, or alternatively, you can share your ideas on Discord as a reply to this message.

STAY MAD,
Noah (aka: tender)



TAG US @MADRABBIT USE HASHTAGS #MADRABBIT #COMEGETATATTOOWITHME
Greetings, Ambassadors!
Try risk-free & save with the Essential Sets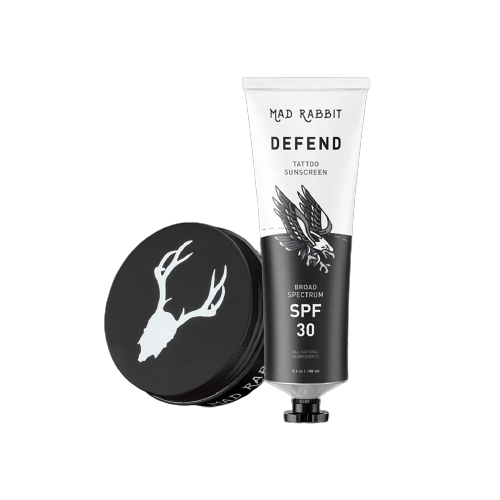 Best Seller
Daily Defense Set
Show off your tattoos in the sun and have them shining bright all day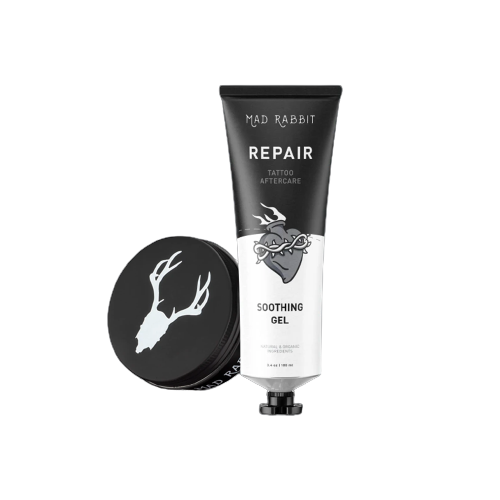 Best Seller
New Tattoo Set
The ultimate relief to heal fresh ink and make it shine