Hello, ambassador 👋
If you're new, welcome! If you're not new, welcome back 😏
Ok, so I'm not sure how you're feeling about it but did February even happen? Well, it obviously did but you know what I mean. Whether last month was your month or not, March is here, baby! Time for spring, the vernal equinox, the return of Daylight Savings Time, International Women's Day, Shamrock Shakes, March Madness, and so much more.
As days get longer, flowers begin to bloom, and warmer weather prevails, I'd encourage you to spend more time outside. Don't you know it's good for you?!
Despite February being short, we grew a ton last month! Take a second to pat yourself on the back (or give yourself a round of applause) for all the sales you made, the challenges you completed, and everything else you accomplished outside of the ambassador program. Keep up the good work.
Today's newsletter will include a commission update, ambassador post highlights since the last newsletter, March challenges, Discord contest winners, and a few other exciting announcements.
Commission Update 💰
Are we about to see a Matthew showdown? 🤠 Thank you all for the hard work!
Our top five sellers for this reporting period were:
Matthew Williams

Zoe McKee

Matthew Allison

Eric Schultz

Nick Drewe
Do you have any sales tips? Let us know and earn 100 bonus points. Offer valid to those who haven't already completed it.
Ambassador Post Highlights 🤳
It feels like you all are starting to find your content groove again and I couldn't be more excited. Every time I review submissions there seem to be more and more high-quality posts 🖤
Shoutout to our featured ambassadors:
These posts rock! Not only did you unbox the products, but you also showed proper application, shared info about each product, and remember to include your discount code. That's textbook postin'
Don't forget... to check out our IG story to see if you were our featured ambassador of the week!
March Challenges 📝
Shoutout to all of you who have already completed a March challenge! This month, instead of having two sets of challenges that run for two weeks each, we're releasing all challenges now and giving you the whole month to complete them. Please let us know if you prefer it like this or if you like having new challenges every two weeks!
February Challenges Extended
IG Post | Pro Glide Launch (500 points) extended through 3/17 - Winners announced on 3/18

IG Story | GNC Launch (500 points) extended through 3/31

IG Reel | Mad Rabbit Launches at GNC (1,000 points) extended through 3/31

TikTok | Mad Rabbit Launches at GNC (1,000 points) extended through 3/31
March Ambassador Challenges
💅 TikTok | Show your aftercare routine (750 points) - Have you gotten a new tattoo lately? If so, this is the perfect challenge for you to do. Post a TikTok sharing your tattoo aftercare routine for your new ink. Some great products to include here are Soothing Gel, Gentle Cleansing Soap, and Tattoo Balm Stick.
📌 Pinterest | Share your fave product (400 points) - Have you heard? We're on Pinterest! We'd like you to create your own pin on Pinterest about your favorite Mad Rabbit product. Make sure to tag us @madrabbittattoo and we might just re-pin your post! Use the hashtags #MadRabbit #tattoocare #MadRabbitAmbassador.
✨ IG Post | B&A with Tattoo Balm (750 points) - Bring your tattoos back from the dead with our best-selling Tattoo Balm. Apply daily for best use, but see results after one use. The balm keeps your tattoos feeling fresh and looking vibrant long after the first day you get them.
For this challenge, post your own before and after image using Tattoo Balm. The first image should be your tattoo without any product on it. The second image should be the tattoo after the Balm has been applied to it looking nice and hydrated. Please use the hashtags #MadRabbitAmbassador, #MadRabbit, and #TattooBalm when making your post.
🗣 IG Post or Reel | Share your tattoo story (1,000 points) - We love tattoos and we know you do too! Post a photo (or video!) of your:
Favorite tattoo

Funniest tattoo

Most painful tattoo

First tattoo
… and tell us the story of your tattoo. If posting a photo, include your tattoo story there. Use the hashtag #MadRabbit, tag our Instagram account @madrabbit, and be sure to include your unique discount code in the caption.
🍀 Twitter | Share what makes you feel lucky (300 points) - Coming 3/6
March Artist Challenges
🆒 Swipe | Soothing Gel (100 points per submission, up to 100 submissions) - Our best-selling Soothing Gel is an ultra-soothing, cooling gel that works fast to alleviate irritability and itchiness in fresh ink in need of relief. Someone with a new tattoo should apply the Soothing Gel twice per day for 2 weeks directly after getting a new tattoo.
We love seeing all the fantastic pieces our tattoo artist friends are working on! Post an IG Reel, IG Static Post, or TikTok applying the Soothing Gel to a new tattoo you have just done, using the hashtags #MadRabbitAmbassador #TattooCare. Here are some great examples: ex 1, ex 2, ex 3. Don't forget to tag us on Instagram or TikTok!
🏥 IG Reel | How to take care of your new tattoo (1,000 points) - The secret to keeping a new tattoo looking new for longer, is a good aftercare routine. We'd like you to share your expertise in the form of tips and tricks on how to take care of a new tattoo. The Mad Rabbit products that you can recommend are Soothing Gel to heal a new tattoo in 2 weeks, Gentle Cleansing Soap to keep fresh ink clean, and Tattoo Balm Stick to keep your new ink hydrated.
Please share the tattoo care routine that you recommend in an IG Reel. Use the hashtags #MadRabbitAmbassador, #NewTattoo, and #TattooCare when you upload the content to Instagram. Also, don't forget to tag us @madrabbit!
📃 Review | New Launch: Pro Glide (500 points) - Exciting news!! We have just launched a new Mad Rabbit product- just for tattoo artists! Introducing our all-natural, vegan tattoo glide developed for artists as a lubricant during the tattooing process. If you're a tattoo artist, we'd love for you to give the Glide a try! Then leave a review on MadRabbit.com letting us know how you like it. We look forward to hearing your thoughts!
🆕 IG | How to use NEW Pro Glide (500 points) - We launched our new all-natural, vegan Glide (made specifically for tattoo artists) last month! It is an all-natural tattoo glide developed for artists as a lubricant during the tattooing process. If you're a tattoo artist, we'd love for you to help us spread the word about the glide.
Make a post on Instagram (either an IG Reel or an IG carousel) showing how to use the glide. This should include your pre-tattoo and during the tattoo process (bonus points if you include a Soothing Gel swipe to wrap it up at the end!) Don't forget to tag us @madrabbit and use the hashtags #MadRabbit #MadGlide
Updates
Discord Giveaway Winners - Thank you to everyone who reached level 3! 🥉
Our Tattoo Lovers Kit winners are Discord users:
@Seer

@livi

@justadisneygeek

@Soulcrusher

@Stevemax27
Winners, to claim your prize please DM me your shipping address on Discord.
 
To check your rank, type /rank in #🤖│bot-spam
Type /levels in #🤖│bot-spam for a link to the leaderboard
New Ambassador Segment For Artists - I'm excited to announce that the new segment for ambassador tattoo artists is live! Today, on a rolling basis, if you have filled out this form you will see artist challenges in your dashboard.
📢 Once you see artist challenges in the dashboard, Pro Glide will be available for redemption in the ambassador shop!
Are you a new artist ambassador? If so, please fill out the above form so we can add artist tags to your profile 👆
STAY MAD,
Noah (aka: tender)
Have feedback? A challenge idea? Just wanna chat? Connect with us on Discord
TAG US @MADRABBIT USE HASHTAGS #MADRABBIT #COMEGETATATTOOWITHME
Try risk-free & save with the Essential Sets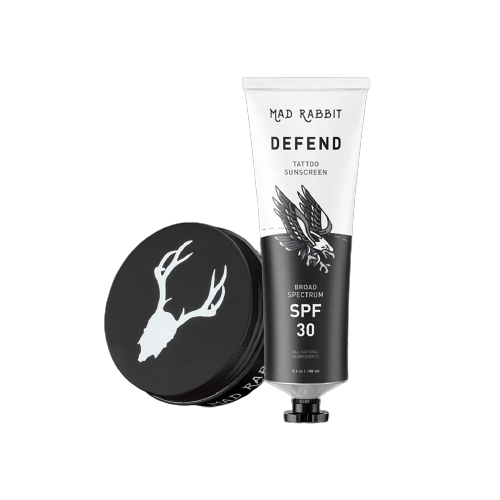 Best Seller
Daily Defense Set
Show off your tattoos in the sun and have them shining bright all day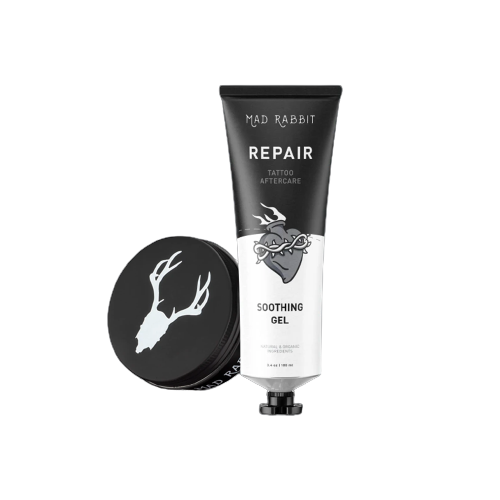 Best Seller
New Tattoo Set
The ultimate relief to heal fresh ink and make it shine