Dear Ambassadors,

As the autumn leaves fall and the world around us transforms, we come together for the latest Ambassador Newsletter. In this season of change, we encourage you to embrace rest and rejuvenation while also recognizing the power of strategic planning.

Fall's arrival brings with it a unique lesson – the importance of stability amid change. While spontaneity can add excitement to our lives, having a well-thought-out plan, particularly for ambassadors, can be the key to unlocking your full potential.

Just like your roles that require unwavering dedication, there are moments when it can feel like a whirlwind of tasks. Yet, the autumn season reminds us to take a step back, recharge, and reflect on personal growth. It's in this balance of reflection and planning that we can truly unlock our potential.

In this newsletter, we place a spotlight on self-care, the benefits of rejuvenation, and the critical role of strategic thinking. Just as trees shed their leaves to let go of stress and fatigue, we must also prepare for the future. This aspect of planning is essential for making a significant impact in your role as an ambassador.

We encourage you to share your strategies for finding balance and renewal during this busy season, and also your insights into the role of planning in your work. Your experiences can inspire fellow ambassadors, both in their personal lives and in how they approach content creation and sales generation.

In the spirit of fall, let's remember that rejuvenation and planning are interconnected. By recharging your spirit and energy and equipping yourself with a well-crafted plan, you can make a substantial difference within our community.

October marks the start of the holiday season, bringing with it a wealth of crucial dates and information. Please ensure you read until the end of the newsletter, as there's much to share.

And remember, if you ever find yourself in need of help or support, our community is here for you. We have a multitude of amazing individuals who are committed to checking in and taking care of one another. If this is something you'd be interested in, don't hesitate to reach out and become a part of this valuable resource.

As we navigate this season of change, stay connected and engaged. The Ambassador Newsletter is here to support and empower you during this transition.

Commission Update 💰

Welcome to the "Commission Update" section of our newsletter, where we take a moment to celebrate not only our top five sellers but all the incredible efforts from every member of our ambassador community. Whether you're on your 500th sale, or you're working diligently to achieve that very first one, having a well-structured plan can set you on the path to success.

The Power of Planning: A Guide to Sales Success

Planning is a powerful tool that can help you achieve your sales goals, whether you're just starting or a seasoned seller. Here are some tips to help you craft an effective plan:
Set Clear Objectives - Define your sales goals and what you want to achieve. Whether it's a specific number of sales, commission target, or customer engagement, having a clear objective is the first step.


Identify Your Target Audience - Understand your ideal customer. Who are they, what are their needs, and where can you find them? Tailor your sales approach to appeal directly to your target audience.


Optimize Your Sales Schedule - Timing matters in sales. Research when your target audience is most active or looking for your product, and align your sales efforts with those times.


Leverage Data and Analytics - Use data and analytics tools to monitor your sales performance. This information can help you adjust your strategy, focusing on what works and improving what doesn't.


Collaborate and Share - Reach out to fellow ambassadors and share your experiences. Collaboration can often lead to new insights and opportunities.


Stay Adaptable - Be prepared to adjust your plan as circumstances change. The ability to adapt is a valuable trait for any successful salesperson.

Remember, success in sales is not just about the number of sales but the process and strategies you employ. Everyone's journey is unique, and we're here to support you every step of the way.


Shoutout to our top sellers:
Matthew Allison
Matthew Williams
Kaylee Williams
Martha Camacho
Nick Drewe

Tip: Have you experimented with using a QR code that directs people to your ambassador link to boost your sales? Give it a try and share your results! Remember, when it comes to making a purchase, convenience and accessibility are key.

Ambassador Post Highlights 🤳

In this section, we shine a spotlight on our top Walmart, Ambassador Artist, and Sponsored Artist social media content, celebrating their creativity, influence, and engagement. As we applaud their achievements, we also recognize that successful content creation often begins with a well-planned strategy.

Planning Your Social Media Success: Tips and Techniques

Creating engaging and impactful social media content is an art that involves more than just creativity—it also requires a strategic approach. Here are some planning tips to help you curate a winning social media strategy:
Set Clear Goals - Define your social media objectives. Are you aiming to increase brand awareness, drive sales, or boost community engagement? Having a clear goal helps shape your content.


Know Your Audience - Understand your audience's preferences, interests, and online behavior. Tailor your content to resonate with your target audience.


Platform Selection - Select the right social media platforms for your content. Each platform has its own strengths and demographics, so choose where your target audience is most active.


Content Calendar - Plan your content in advance with a content calendar. Decide when and what you'll post, allowing you to maintain a consistent online presence.


Optimize Posting Times - Timing can significantly impact engagement. Research when your audience is most active on each platform and schedule your posts accordingly.


Trends and Challenges - Keep an eye on trending topics, challenges, and popular hashtags. Incorporate them into your content to stay relevant and reach a wider audience.


Engage with Your Community - Dedicate time each week to engage with your followers and respond to comments and messages. Building a genuine connection with your audience is key.


Analytics and Insights - Use social media analytics to monitor your performance. Analyze what works and what doesn't to refine your strategy.


Collaborate and Learn - Don't hesitate to collaborate with fellow ambassadors and artists. Exchange ideas and learn from each other's experiences.

Successful social media content isn't just about posting—it's about planning and strategy. The highlighted posts in this section represent not only creative excellence but also the strategic thinking behind each piece of content.

By investing time in thoughtful planning, you can navigate the dynamic world of social media more effectively, engage your audience, and achieve your goals. Let's dive into the "Ambassador Post Highlights" to draw inspiration from these outstanding examples and continue to shine together.

Featured Walmart Content:

Featured Ambassador Content:

Featured Ambassador Artist Content:

Featured Sponsored Artist Content:

Ambassador of the week - This week's spotlight is on Brooke Ray 🔦👀 Check out her TikTok here. Who's going to be featured next week? Don't forget to check our IG story to see if it's you!

Note: Remember to explore our ready-made social templates available in Social Resources on Discord and the ambassador dashboard. Simply insert your code, assist others in saving, and start earning some extra cash!

October Challenges 📝

In this section, we present you with exciting opportunities to showcase your skills, creativity, and passion. Whether you're a seasoned ambassador or just starting your journey, there's a challenge for you this month. Let's dive in!

New "Your Choice" Challenges: Unlock Your Creativity - We're thrilled to witness the incredible submissions for the "Your Choice" challenge. Your creative expressions have been nothing short of inspiring, and we can't wait to see even more! Remember, the best way to show your enthusiasm for a particular challenge is by participating in it. The stage is yours to let your creativity run wild!

Walmart Challenges:
[BONUS] Walmart | Earn a $50 Gift Card for Content (2,000 points) - This is your chance to shine and earn! We're thrilled to extend this exclusive opportunity to the first 30 individuals who share our passion for Mad Rabbit, tattoos, and engaging content creation. Create some captivating content, get rewarded with a $50 gift card, and secure a spot on our PR list, setting the stage for more exciting content collaborations in the future
[Last week to complete] IG Story | Walmart Launch Template (500 points)
[Last week to complete] Walmart Shop & Save Challenge (1,000 points + $25 reimbursement)
IG | Take a "Shelfie" with Mad Rabbit at Walmart (1,000 points)
TikTok | Fall Walmart Haul (1,200 points)

Ambassador Challenges:
Discord | Flex Your Ink (300 points)
IG Post | Spooky Tattoo Challenge (500 points)
IG or TikTok | Your Choice (500 points)
IG Reel or TikTok | Year-Round SPF Protection (1,000 points)

Artist Challenges:
IG or TikTok | Your Choice (500 points)
IG Post | Flash & Flourish (500 points)
IG Reel or TikTok | Product Demonstration (1,000 points)

Sponsored Artist Challenges:
IG | Elevate Your Social Bio
IG | Pro Glide Spotlight
IG | The Mad Rabbit Difference
IG Reel or TikTok | Soothing Gel Superiority
IG Reel or TikTok | Tattoo Care Routine Reveal
Your Choice

Updates

Exciting Product Feature Update: Generate Product-Specific Links! - We're thrilled to introduce a fantastic new feature that empowers you to create product-specific links! Dive into your ambassador dashboard and navigate to the "Your Referral Link" section on the main page. If you have any questions about this exciting addition, don't hesitate to connect with us on Discord or simply reply to this email.

Friday the 13th Flash Sale - Earn Easy Commission! - Friday the 13th is right around the corner, and we've got an exciting $16 flash sale on Soothing Gel waiting for you. What a fantastic opportunity to put your newfound product-specific links to work and earn some effortless commission!

Discord Spooky Tattoo Challenge - Greetings, fellow tattoo and thrill-seekers! With Halloween creeping up, it's time to showcase your spine-tingling tattoos. Whether it's a ghostly apparition, a ghastly goblin, or any other eerie design, we're eagerly anticipating your hauntingly cool ink.

How to Participate:
Share a photo of your spooky Halloween tattoo in the 🔥│flex-your-ink channel.
Let us in on the inspiration behind your spine-tingling choice.
Please be sure to use the hashtag #SpookyTattoo in your post to help us keep track of all your spine-chilling submissions.

🏆 Three lucky participants will not only win a product of their choice but also earn the spotlight in a special Halloween-themed email campaign, showcasing your hair-raising tattoos to our entire community.

Mad Monday Alert - October 16th, Mark Your Calendar! - Get ready for Mad Monday on October 16th! We're set to unleash a 25% sitewide discount (excluding sets), and to sweeten the deal, your commission and discount will both receive a special boost to 25% for this one-day event. Mark your calendars, it's an event you won't want to miss!

The world is a better place because you're in it,
Noah (aka: tender)



TAG US @MADRABBIT USE HASHTAGS #MADRABBIT #COMEGETATATTOOWITHME
Try risk-free & save with the Essential Sets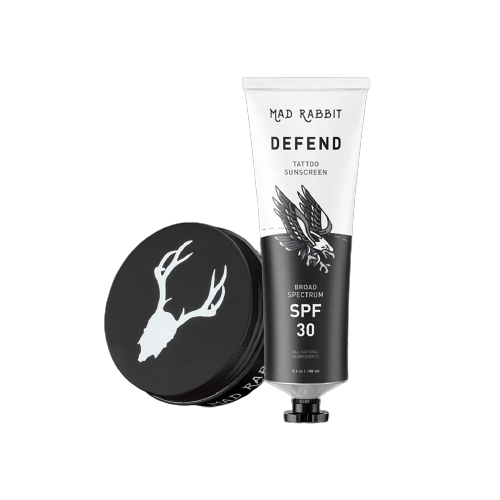 Best Seller
Daily Defense Set
Show off your tattoos in the sun and have them shining bright all day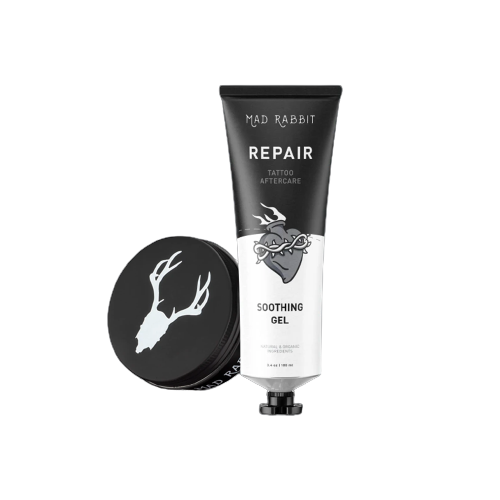 Best Seller
New Tattoo Set
The ultimate relief to heal fresh ink and make it shine