Dear Ambassadors,
Welcome to our latest edition of the Ambassador Newsletter. In this issue, we are thrilled to center our theme around celebrating the remarkable diversity of our ambassadors and the importance of embracing your unique qualities to become your most authentic self. Our ambassador program has always been, and will always be, about real people!
As ambassadors, you bring a wealth of distinct backgrounds, perspectives, and talents to our community. Each of you is a vital thread in the rich tapestry of our ambassador family. We encourage you to harness what makes you extraordinary and use it to fuel your success, not only in your role as an ambassador but also in your day-to-day life.
In this newsletter, we'll delve into the incredible power of authenticity and how embracing your true self can become the driving force behind your success as an ambassador. We'll also shine a spotlight on fellow ambassadors who have harnessed their unique qualities, demonstrating that our diversity is, without a doubt, our greatest strength.
In the coming weeks, let's celebrate our individuality, support one another, and empower one another to shine as our most authentic selves. Together, we will continue to make a meaningful impact within our community and beyond.
Stay tuned for engaging updates, valuable insights, and opportunities to connect with both new and experienced ambassadors in this edition. Thank you for being a part of our extraordinary ambassador community!
Commission Update 💰
Welcome to the Commission Update section where we celebrate the incredible sales achievements since our last newsletter. Our top five sellers have showcased their remarkable abilities, and they exemplify how embracing your unique qualities can be the key to becoming your most authentic self as an ambassador.
Shoutout to our top sellers:
Matthew Williams
Matthew Allison
Lisa Taylor
Kaylee Williams
Kelly Brown

Your uniqueness is your superpower, and it can be a driving force behind your sales success. Here are some valuable tips on how to harness your authenticity to excel in your role as an ambassador:
Tell Your Story - Your life experiences and journey are like no one else's. Share your story with your audience and connect with them on a personal level. This genuine connection can lead to increased trust and, ultimately, more sales.


Leverage Your Expertise - If you have expertise in a particular field or a passion for a specific product, use it to your advantage. Your knowledge and enthusiasm will shine through in your content, making it more engaging and convincing.


Be Relatable - Authenticity is about being relatable. Don't try to be someone you're not. Show the real you, with all your quirks and unique qualities. People appreciate genuine personalities, and they are more likely to buy from someone they can relate to.


Listen and Adapt - Pay attention to your audience's feedback and preferences. Use your unique qualities to adapt your approach and offerings to better meet their needs. This shows that you genuinely care about your customers.


Create Niche Content - Embrace what sets you apart and create content that speaks directly to your niche. Whether it's a particular style, a specific interest, or a unique perspective, tailoring your content to your unique qualities can attract a dedicated following.

Remember, sales are not just about pushing products; they are about building relationships and trust. Embracing your unique qualities and being your authentic self as an ambassador is a powerful way to connect with your audience, gain their trust, and drive sales. So, let's explore the achievements of our top sellers and see how they've harnessed their authenticity to excel.

Note: Your discount code is not just for your use; it's meant for your family, friends, strangers, and everyone else. Be sure to use it with every purchase, whenever possible! When you do, not only do you enjoy a generous 20% discount, but you also earn a commission, making it an even more rewarding way to save.


Ambassador Post Highlights 🤳

In this section, we showcase some of the most outstanding content from ambassadors, ambassador artists, and sponsored artists. These creations are a testament to the incredible diversity of talents and voices within our ambassador community.

Featured Ambassador Content:
Featured Ambassador Artist Content:
Featured Sponsored Artist Content:

Being featured in this section is indeed a remarkable accomplishment, and it demonstrates the power of embracing your unique qualities and authenticity as an ambassador. Here are some ways you can harness your distinctiveness to excel and have your content featured:
Express Your Artistry - Whether you're a visual artist, a writer, a musician, or a content creator, express your artistry in a way that reflects your unique style. Authenticity shines through in your work and makes it more captivating.


Tell a Story - Craft your content to tell a story that's true to you. Your personal narrative, experiences, and emotions are what make your content relatable and engaging. Sharing your story can inspire others and attract attention.


Collaborate and Network - Don't hesitate to collaborate with other ambassadors or artists. Your unique perspectives and talents can complement each other, leading to more innovative and captivating content.


Engage with Your Audience - Interact with your audience and listen to their feedback. This not only helps you improve but also demonstrates that you genuinely value their input.


Stay Consistent - Consistency is key. Continue producing content that reflects your authentic self and maintain your unique style over time. Consistency helps build a loyal following.

Remember, this section is a platform to celebrate the amazing work of our community members. By engaging with these featured content pieces, you not only show your support but also have the opportunity to learn and draw inspiration from your peers.

Ambassador of the week - This week's spotlight is on Kenneth Brown 🔦👀 Check out his TikTok here. Who's going to be featured next week? Don't forget to check our IG story to see if it's you!

November Challenges 📝

As we step into the latter part of October, it's a gentle reminder that time is running out to complete October challenges. We appreciate the incredible effort and commitment you've displayed thus far, but we know that together, we can reach even greater heights. So, let's rally and finish this month off strong!

Now, let's look ahead to the excitement and possibilities that November will bring. On November 1st, we'll be launching a fresh set of challenges designed to tap into your creativity and drive. In November, you can anticipate a mix of community-centric challenges, seasonal tasks, and enticing opportunities to earn rewards.

Our challenges are your opportunities to shine, connect with your fellow ambassadors, and make a meaningful impact. As the holiday season approaches, we'll have exciting tasks that align with the spirit of the season, providing you with ways to engage with your audience and drive your sales.

Stay tuned for the release of the November challenges, and let's continue to embrace the month of opportunities, supporting one another as we pursue our goals and elevate the ambassador community to new heights. Your dedication and uniqueness are our greatest assets, and we believe in your ability to excel in every challenge that comes your way.


October Challenges

Walmart Challenges:
[BONUS] Walmart | Earn a $50 Gift Card for Content (2,000 points)
IG | Take a "Shelfie" with Mad Rabbit at Walmart (1,000 points)
TikTok | Fall Walmart Haul (1,200 points)

Ambassador Challenges:
Discord | Flex Your Ink (300 points)
IG Post | Spooky Tattoo Challenge (500 points)
IG or TikTok | Your Choice (500 points)
IG Reel or TikTok | Year-Round SPF Protection (1,000 points)

Artist Challenges:
IG or TikTok | Your Choice (500 points)
IG Post | Flash & Flourish (500 points)
IG Reel or TikTok | Product Demonstration (1,000 points)

Sponsored Artist Challenges:
IG | Pro Glide Spotlight
IG | The Mad Rabbit Difference
IG Reel or TikTok | Soothing Gel Superiority
IG Reel or TikTok | Tattoo Care Routine Reveal
Your Choice

Note: Are you a tattoo artist who currently lacks access to artist challenges and rewards on your dashboard? Kindly complete this form, and we will ensure that the appropriate tags are added to your account.

Updates

Sponsored Artist Program - Calling all exceptional artists! Mad Rabbit, the foremost brand in tattoo aftercare, is on the lookout for remarkable talent to join our exclusive Sponsored Artist Program. As a Mad Rabbit Sponsored Artist, you'll gain exclusive recognition, lucrative rewards, and access to a vibrant community that celebrates the power of art. Don't miss out on this incredible opportunity to elevate your artistry and enjoy exclusive benefits. Apply now in the ambassador dashboard and let Mad Rabbit be your partner on the road to success!

And here's a little secret – active ambassadors (those who complete challenges, use rewards, and engage with our community) have the best chance to catch our attention. Demonstrating your dedication by participating in these activities can make a significant impact. Join us today and unleash your artistic potential!

Generate Product-Specific Links - We are excited to remind you of a fantastic feature that empowers you to create product-specific links! Simply head to your ambassador dashboard and find the 'Your Referral Link' section on the main page.

Rewards Reminder - It is crucial to ensure the accuracy of your address information, especially if you have relocated. To review or modify your address details, kindly log in to our website using your ambassador credentials to access the dashboard. From there, proceed to SETTINGS > ADDRESS.

Be Bold Be YOU,
Noah (aka: tender)
Try risk-free & save with the Essential Sets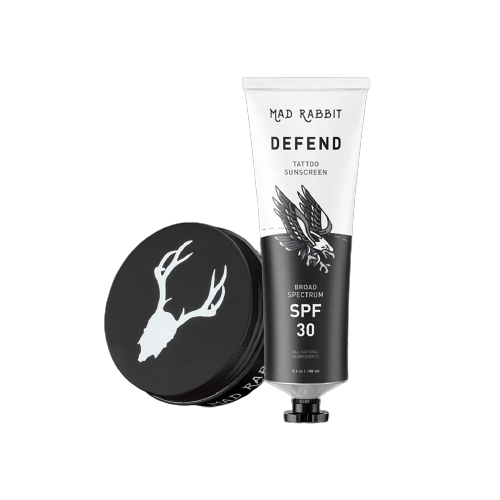 Best Seller
Daily Defense Set
Show off your tattoos in the sun and have them shining bright all day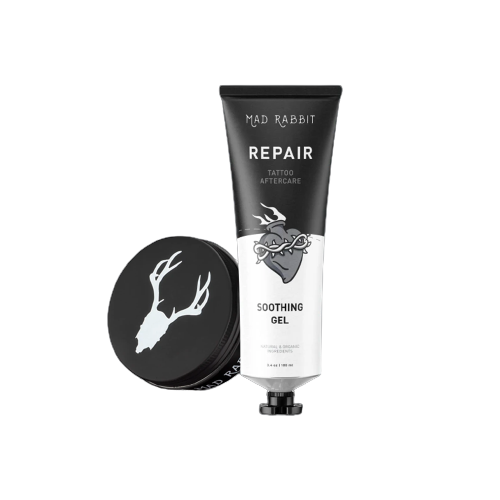 Best Seller
New Tattoo Set
The ultimate relief to heal fresh ink and make it shine