Dear Ambassadors,
Welcome to the latest edition of the Ambassador Newsletter, where we continue to explore the incredible diversity within our vibrant ambassador community. At Mad Rabbit, we're more than just a tattoo aftercare company; we're a family that encourages you to express your authentic selves boldly, especially when it comes to getting and taking care of your tattoos.
"Be Bold, Be You" is more than a motto; it's an invitation to embrace your individuality without reservation. Just as every tattoo tells a unique story, each of you brings a different background, perspective, and style to our community. This diversity is what makes us truly exceptional.
In this edition, we invite you to embark on a journey of self-expression and self-care, centered around the art of tattooing. We'll delve into the profound impact of authenticity and how it can empower you, not only as an ambassador but in your journey as a tattoo enthusiast. Whether you're getting a new tattoo, maintaining your existing ones, or helping others do the same, "Be Bold, Be You" is the guiding principle.
Together, let's celebrate our individuality, support one another, and encourage one another to express ourselves authentically, from the ink on our skin to the care we provide. "Be Bold, Be You" isn't just a phrase; it's a way of life that we passionately embrace.
Stay tuned for exciting updates, fresh perspectives, and opportunities to connect with your fellow ambassadors in this edition. Thank you for being an integral part of our extraordinary ambassador community.
Commission Update 💰
Achieve a sales milestone this month, and you'll automatically qualify for a chance to win a $50 Walmart gift card. These milestones consist of your 1st sale, 10th sale, 50th sale, and 100th sale. Not only will you automatically be entered into the prize draw, but you'll also receive complimentary rewards for each milestone you reach.
Welcome to the Commission Update section, a special space where we gather to acknowledge and celebrate your remarkable sales achievements.
Shoutout to our top sellers:
Matthew Williams

Matthew Allison

Kaylee Williams

Charles Anderson

Nick Drewe

We're here to not only celebrate your sales achievements but also to empower you on your journey. Embracing your authenticity is at the core of our mission, and we want to provide you with some valuable tips to help you sell our products with confidence and conviction. When you "Be Bold, Be You," your passion shines through, making your sales even more impactful.

Here are a few tips to maximize your success as an ambassador:
Tell Your Personal Story: Share your journey with Mad Rabbit and how it has transformed your tattoo care. Authenticity is a powerful tool for connecting with your audience.


Engage with Your Audience: Actively interact with your followers and potential customers on social media. Answer their questions, address concerns, and create a sense of community.


Educate and Demonstrate: Highlight the unique features and benefits of Mad Rabbit. Show how it's different from other tattoo aftercare products and why it's a must-have for every tattoo enthusiast.


Leverage User-Generated Content: Encourage your followers to share their Mad Rabbit experiences and results. This social proof can be a game-changer in building trust.

Thank you for your outstanding contributions, and let's continue to inspire one another to be bold, be you, and share the Mad Rabbit experience.


A message for artists: As ambassador artists, you play a crucial and unique role. You are the primary resource for tattoo aftercare guidance and information for both our new and experienced clients. Sure, you have the option to share your discount code with them on their way out the door. More importantly, you also have the opportunity to enlighten your clients about why our clean and vegan products surpass petroleum-based alternatives.

As an artist, have you ever considered incorporating the cost of our product(s) into the overall tattoo price and sending them home with the client as part of their aftercare routine? The quality of aftercare not only impacts your clients but also reflects on your artistry. Wouldn't you like your clients' tattoos to consistently showcase your finest work?

Ambassador Post Highlights 🤳

We're thrilled to highlight the remarkable creativity, passion, and dedication that you, our exceptional ambassadors, infuse into our community. Your distinct submissions vividly reflect the extraordinary spirit of our Mad Rabbit family.

Being an ambassador is more than just sharing products; it's a canvas for expressing your authentic selves and fully embracing the ethos of "Be Bold, Be You." This section vividly showcases the incredible diversity and talent within our ambassador community.

Featured Ambassador Content:

Featured Ambassador Artist Content:
Featured Sponsored Artist Content:

We want to offer you some valuable tips to help you unleash your authentic self when creating social media content and completing ambassador challenges:
Show Your True Colors: Don't be afraid to express your unique personality and style in your posts. Authenticity resonates with your audience.


Think Outside the Box: Challenge yourself to come up with fresh and creative ideas. Don't be afraid to explore new content formats, styles, or themes.


Engage with Passion: When completing challenges, put your heart into it. Your genuine enthusiasm will shine through and inspire others.


Share Your Journey: Take your followers on a journey by sharing your experiences and growth as a Mad Rabbit ambassador. It's a powerful way to connect on a personal level.


Connect and Collaborate: Engage with your fellow ambassadors, collaborate on challenges, and celebrate each other's successes. A sense of community can boost your creativity and motivation.


Ambassador of the week - This week's spotlight is on Samantha Polcino 🔦👀 Check out her What's in my bag TikTok here. Who's going to be featured next week? Don't forget to check our IG story to see if it's you!

November Challenges 📝

We've got something pretty awesome to share – a brand-new batch of challenges that are all set to fire up your creative spirit and draw us closer as the Mad Rabbit family!

This month, we've cooked up a bunch of exciting challenges that aren't just about showcasing our products – they're about unleashing your unique selves and embracing an attitude of gratitude.

Now, let's talk about the star of the show for November – the "Thankful Challenge." We're genuinely touched by your enthusiasm, not just for participating, but for diving into this challenge with all your heart. It might seem like a simple task, jotting down what you're thankful for, but the impact of keeping those warm and fuzzy thoughts close to your heart and mind is immeasurable.

But there's more to it! By sharing your gratitude, you're not only living and breathing the "Be Bold, Be You" spirit; you're igniting a spark in others. It's like a ripple effect – your heartfelt words might just help someone else see their blessings in a whole new light. So, from the depths of our hearts, thank you for giving your all to this challenge.

Ambassador Challenges:
Recruitment Challenge (Get 10 & Win)
Discord | Thankful Challenge (Chance to Win $100)
Your Choice | Ambassador Program Love
IG | Add Your Code/Link to Your Bio
TikTok or IG Reel | Walmart Hunt for Mad Rabbit
TikTok or IG Reel | Walmart & Vibrant Tattoos
TikTok or IG Reel | What's in your bag?
TikTok or IG Reel | GNC Holiday Wishlist

Artist Challenges:
TikTok or IG | Your Choice
TikTok or IG Reel | Mad Rabbit Lotion Love
TikTok or IG Reel | Soothing Gel Swipe Compilation

Sponsored Artist Challenges:
Your Choice
IG | The Mad Rabbit Difference
IG | Pro Glide Spotlight
TikTok or IG Reel | Tattoo Care Routine Reveal
TikTok or IG Reel | Soothing Gel Superiority

We're absolutely stoked to see what incredible submissions you'll bring to the table this month! So gear up, get ready, and let your creativity run wild. If you've never taken on a challenge before, guess what? This is your month!

Start off with a couple of the easier challenges like "Add Your Code/Link to Bio" and "Ambassador Program Love." They're fantastic for diving into the fun and unleashing your inner ambassador.

Updates

Sponsored Artist Program - Calling all exceptional artists! We're on the lookout for remarkable talent to join our exclusive Sponsored Artist Program. As a Mad Rabbit Sponsored Artist, you'll gain exclusive recognition, lucrative rewards, and access to a vibrant community that celebrates the power of art. Don't miss out on this incredible opportunity to elevate your artistry and enjoy exclusive benefits. Apply now in the ambassador dashboard and let Mad Rabbit be your partner on the road to success!

And here's a little secret – active ambassadors (those who complete challenges, use rewards, and engage with our community) have the best chance to catch our attention. Demonstrating your dedication by participating in these activities can make a significant impact. Join us today and unleash your artistic potential!

Mad Rabbit Studio Grand Opening - We're excited to announce that our first-ever Mad Rabbit Studio is opening this week! 🖤 Located in the heart of the Arts District in DTLA, our studio will serve as a beautiful tattoo shop and content studio. Opening our doors on Nov. 11th. 2023 🙌 Grand opening is proudly sponsored by @prtnerglobal, @happydad, @takearecess, @drinkhiyo, @juneshineco, and @liquiddeath. ⚡️

Tracking for Rewards and PayPal Points Exchange - Get ready for some thrilling upgrades to your ambassador journey! We're currently hard at work developing enhancements that will take your experience to a whole new level. In the near future, you'll have the fantastic opportunity to convert your points into PayPal rewards, and we're also working on a tracking system to keep you in the loop about your well-deserved rewards.

We can hardly contain our excitement and wanted to ask: Is this something you'd be interested in? Get ready to elevate your ambassador experience to new heights!


BE BOLD BE YOU,
Noah (aka tender)

Community Manager
Mad Rabbit
Try risk-free & save with the Essential Sets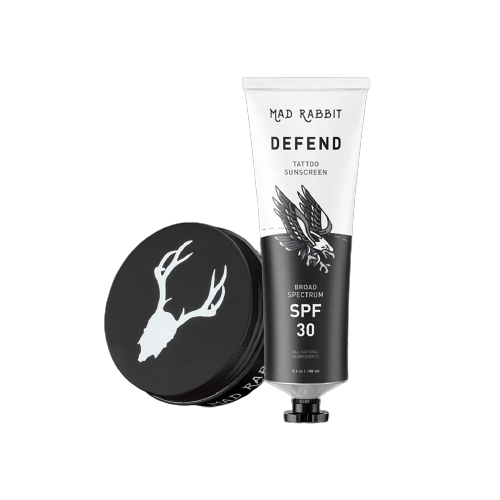 Best Seller
Daily Defense Set
Show off your tattoos in the sun and have them shining bright all day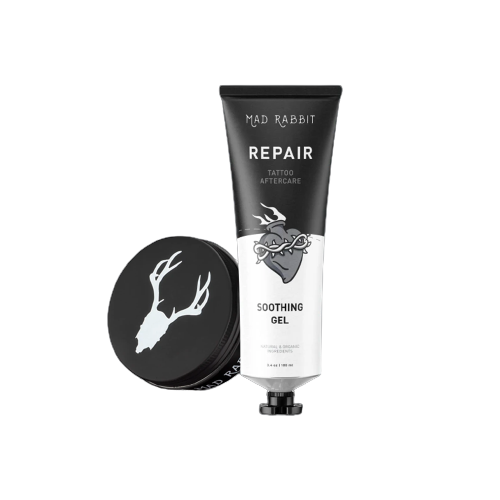 Best Seller
New Tattoo Set
The ultimate relief to heal fresh ink and make it shine