Getting a new tattoo can be an exciting and memorable process. But maybe the very first tattoo you got is... not your favorite, to say the least. 
Fortunately, there are plenty of ways to effectively cover up old ink and introduce a new tattoo that's even better. We will guide you through the tattoo cover-up process, provide some helpful tips, a bunch of great ideas and options for your new ink. It's okay to change your mind, and we're here to help! 
Note: When covering-up a tattoo it's important to look for an artist that is skilled in this craft. It takes a certain level of specialization and expertise to cover old ink. This involves a crafted vision and ability to see past the initial ink, understand the scope of the design, and effectively use patterns and shading to achieve the desired end result. Make sure to request an artist who specializes in cover-ups.
Colored Ink 
It's also important to consider the type of ink you're looking to cover. Generally speaking, it's easier to cover a lighter, less complex piece. With this in mind, consider what you are looking to cover-up. Do you want a new colorful piece? Or are you looking to go with a super detailed black design? A great solution can be reviving an old black outline with a beautiful colorful piece. 
Start by selecting a color palette with similar hues to your current tattoo. This will help when your artist begins the process of covering the ink. As opposed to black ink tattoos, colored tattoos are a bit more challenging to cover. Sticking with a similar color scheme will help! 
Increased Detail 
Another aspect of the tattoo coverup process is understanding the scale of detail. If you're looking to cover up a relatively simple design, increasing the complexity of the ink with a pattern or complex texture can help with the cover-up process. In increasing the detail of the new ink, it will make your old ink almost impossible to identify. 
Bigger is Better 
When it comes to scale, and covering-up old ink, the bigger the new piece is, the better! Visually, it will be increasingly difficult to spot the old ink when you have a new, beautiful, complex piece. Moreover, your artist will have additional flexibility and room for creativity if you opt to go with a larger cover-up. 
A bigger piece could include opting for a large and complex floral design or the depiction of a landscape. When you allow for a variety of ink weights, textures, and shading techniques, your cover-up will be more effective. The new design will also distract the eye with a variety of elements, allowing for the perfect cover-up! 
Black Details 
Allowing your artist to explore options, like complex geometric shapes, is also an excellent option for tattoo cover-ups. With the addition of black details an artist can more effectively cover-up a colored tattoo. The layering and shading of black ink are an extremely effective and beautiful way to incorporate and transform your old ink into an entirely new design. 
Covering words 
When it comes to cover-ups there are plenty of options to choose from. Maybe you're looking to cover-up some script or words? Using a complex design or detailed pattern will make the coverup most effective. This includes exploring floral patterns or designs rich in black textures. 
Covering Large Tattoos 
Maybe you're facing a more complex cover-up and wondering if it's possible to create something new, or if your current piece is too big? There are several ways you can successfully cover-up a large tattoo. You may be looking to change or modify a tattoo on your back, legs, or arms. This is a common part of the body where cover-ups occur! 
Incorporating a large floral piece, with several dimensions is an excellent option. You may also wish to consider a black or grey portrait. Perhaps there's a favorite location or landscape you would like to replicate? Or a tribute to a family member? A tribal design with a complex pattern is also a great option. 
In adding complexity of layer and dimension, even the largest cover-ups are possible. Your old tattoo may have faded a bit, and the piece may need a rejuvenation. This is a perfect way to not only cover-up the unwanted, but create something entirely new! 
Giving your ink an entirely new purpose and changing the style of your old tattoo is an excellent option. You can repurpose your ink and renew your focus with fresh art. 
Tattoo Cover-Up Important Info
A cover-up tattoo is unlike a regular tattoo. It is important to do your research and ensure you are looking for skilled artists that specialize in cover-up tattoos. There is increased strategy and attention to detail that will be required with a cover-up. Your artist will explain the options and perhaps limitations of what's possible. 
Use an experienced artist
There are many artists that specialize in tattoo cover-up designs. Artists will take a multi-dimensional approach when covering-up the old ink. Take a look at the artist's previous work and ask to see some examples of cover-ups they have done in the past. 
It's also critical to discuss expectations. The design of your previous tattoo may dictate what your artist is able to do and the colors with which you are able to work with. Perhaps your old tattoo is slightly faded, allowing your artist additional flexibility. Or maybe your old ink is a composition of light colors. Whatever your individual case may be, make sure to discuss how the cover-up will impact your skin, and what you can do to keep it looking vibrant and healthy. 
Proper aftercare
Your cover-up tattoo may take longer to heal, especially if larger. With this in mind, it's critical that you have a proper aftercare routine. We recommend washing your new ink at least twice a day with antibacterial soap. Let the tattoo air dry and then apply a product that provides exceptional, breathable hydration. 
We may be biased, but we also recommend trying out our Mad Rabbit Soothing Gel, which is specifically formulated to support the healing process and sooth possible irritation that may develop. The soothing gel allows for proper airflow to the tattoo, supporting the growth of new skin and initial scabbing. 
Tattoo cover-ups are a great option if you're looking to rejuvenate or completely rework your current ink. A successful cover-up will involve open communication with your artist, an expert eye, and a willingness to incorporate new design elements into your ink.
Try risk-free & save with the Essential Sets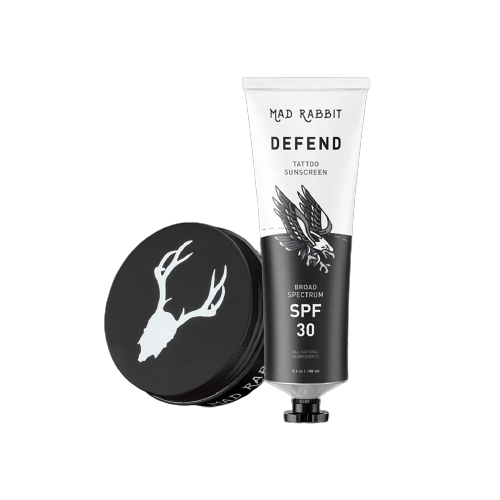 Best Seller
Daily Defense Set
Show off your tattoos in the sun and have them shining bright all day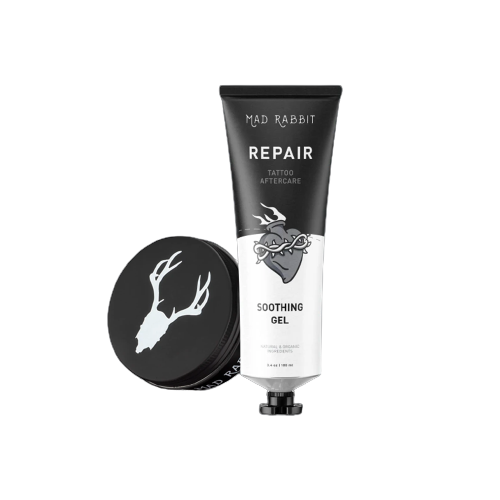 Best Seller
New Tattoo Set
The ultimate relief to heal fresh ink and make it shine