Small tattoos can be an entry into the world of ink. Thinking of tattoo designs? We've got you covered! Flower tattoos, tiny tattoos, heart tattoos, rose tattoos, lion tattoos, tribal tattoo or finger tattoos! There are so many different styles, approaches, and designs when it comes to small tattoo ideas. The tattoo inspiration is endless, especially once you walk into that tattoo shop, something will stand out...a little tattoo, calling your name. It will be the coolest, we promise. We will explore small tattoo designs, some of the meaning behind small tattoos (minimalist tattoos) and which ones are on our radar when it comes to the tattooing world. A small tattoo is a great way to either add to a piece or start with something new. Whether you're hesitant on the best friend commitment or you're just looking for a cute small tattoo, we've got you covered. 
If you want to start on building a piece across your chest, arms, or legs, a small tattoo is the perfect way to begin. Remember to always consult with your tattoo artist on your ultimate goal and what you are looking to accomplish when it comes to tattoo design ideas and achieving the best small tattoo possible. A small chest tattoo, with simple black ink, can look great as a stand-alone or as part of a larger piece. As you build your chest or arm piece, a small tattoo will bring it all together. When thinking about placement, think collarbone! There is a fine line between strategic placement and a random small tattoo. When in doubt, start with something small.
Another great way to get started on an arm piece or a standalone piece is a small wrist tattoo. This can work with a symbol, letter, or outline. Keep it simple and not too detailed, as over time the ink might blur if it's not properly maintained. The wrist is a great smooth and relatively flat area to start, so a variety of designs will look great in this location. Let's get technical for a moment, the inner wrist is one of the most popular places to get a tattoo. Why? The inner wrist allows for a good amount of visibility, and relatively low pain levels, when compared to the area of the wrist that has more bone. If you're thinking of getting a small tattoo on the outer wrist, you may want to reconsider, as this area has a very small concentration of fat, and is right where your wrist bone is located, making it a more intense...or painful, experience.
We're moving on up and making our way to the arm! If you want to be bold and adventurous, the arm is the next best place to start. If you're sticking with our small tattoo theme, because we are, then make sure the small tattoo is placed towards the top of the arm. If not, it might just look like it's floating in la la land, which….maybe that's the vibe you're going for? Another great place is the back of the arm, above the elbow area, super desirable spot if you ask us!
What's the next spot you may be wondering...well we're sticking with the arm theme, but moving down slightly, to the forearm. Were all for-the-arm. This is the ideal spot for a medium sized tattoo, so still small, but more adventurous. You can go with some script, words, a shape, go wild. It's a good one.
If you're indecisive, and change your mind frequently, a back tattoo...a small back tattoo, might be right for you. One individual small back tattoo in-between the shoulder blades is a great, yet simple place to be. For one, you don't have to see it frequently, and second, if it ends up not being centered, you don't have to worry! If it's your first tattoo on your back, be aware this will cause a sensation in your spine, and for many, is a sensitive spot. Also, triple check with your artist about the location and ensure it's centered between your shoulder blades. There's no going back. 
Whether it's the beginning of a new chapter, or just a hand tattoo to start, there are so many places for great small tattoos. From your wrist, forearm, chest, to back, we've got you covered. Thinking of where to place that butterfly tattoo? Well right now you have some new ideas for either meaningful tattoos or matching tattoos with your best friend...a lotus flower? Sounds perfect! We are here to provide inspo for inking! Good luck on that sick body art.
Try risk-free & save with the Essential Sets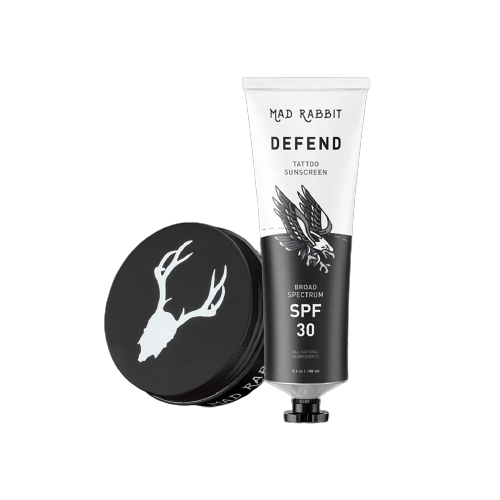 Best Seller
Daily Defense Set
Show off your tattoos in the sun and have them shining bright all day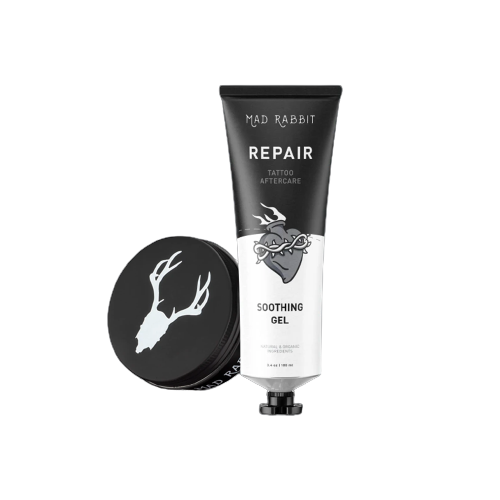 Best Seller
New Tattoo Set
The ultimate relief to heal fresh ink and make it shine