Tattoo artists are a unique set of individuals. They possess a variety of skills, from artistic talent to industry knowledge of tattooing, apprenticeship, and customer relationships. The industry has shifted over the years, with new artists, creative processes, styles, and methods emerging. 
Being a tattoo artist is not your typical 9-5 job. It requires a unique level of skill, knowledge of the industry, cultivating a customer base, and creating unique tattoo designs. What is it like to be a tattoo artist? Who provides the best tattoos? Where do they get their artistic inspiration from? You may discover that your favorite tattoo designs have some unlikely origins, and the history goes back further than you think. We are going to dive deep into these topics and explore a new realm of the tattoo industry. 
The Historic Roots of Tattoo Artistry
To find the origin of our treasured modern tattoo designs and motifs, we must go back to the beginning of the visual art form itself. Tattooing has been part of human tradition for many thousands of years, with both aesthetic and therapeutic benefits in various cultures. 
The oldest evidence of a tattooed person is more than 5,300 years old, a body discovered in the Alps, inked with lines and crosses on his back and legs. This suggests that the first tattoos were minimal in scope and design, with only basic tools available and limited knowledge of artistic technique.
Apart from an interesting anthropological study, this ancient sample reminds us that all tattoos begin as an intuitive process, a vision in the mind's eye, which must be translated into reality via tools, methods, and a tradition developed through the ages. This creative impulse and imagination serve as the source of all art and continue to inspire tattoo artists to this day. Every new generation of visual artists stands on the shoulders of giants and traces back a legacy of artistry to the very start.
As cultures developed new approaches to tattooing through the centuries, tattoo designs evolved along with the defining characteristics of that time and place in art history. The Cherokee Nation, for example, used tattooing to create ceremonial patterns and designs permanently on the skin. Men of the tribe were often tattooed with dots on their faces, while women received circles to represent the sun or moon. 
In China, tattoos of fierce beasts like dragons and tigers were used to accentuate the strength and power of male warriors, drawing from traditional myths and fairytales shared throughout the region. Japanese tattooing also reflects cultural motifs, ranging from woodblock printing and Shodo calligraphy to Yamato-e scrolls depicting landscapes and rural life in pre-modern Japan. 
Literature and poetry also form the basis for art throughout history, as great artists strive to bring stories to life and immortalize characters and arcs with illustrations, paintings, and sculptures. Combined with new creative expressions and trends, these varied art forms offer a foundation for tattooists to make artistic leaps and develop styles. The result is a mix of art, both old and new, synthesized on ink and skin to last a lifetime. 
20th Century Strides in Tattoo Design
Because tattoos were limited to certain classes of people through the ages, the 20th century was a turning point in tattoo art history for the better. It was no longer warriors, bandits, and sailors who got tattoos — the art form became available to everyone and entered the mainstream in new ways. 
In other words, the traditional stigma of tattooing has faded fast in the last 40 years, and a renaissance of modern and old-school designs has come to the forefront. The United States led the charge in this cultural development, like many other fields in the 20th century. 
However, the concept of "traditional tattooing" as we know it now refers to a specific style of bold lines, basic shading, limited color palettes, and striking "flash" designs that fill the walls of parlors. This specific form of tattooing was birthed out of necessity and efficiency, as soldiers and sailors could pick a design "off the wall" and receive quick service from artists in a streamlined and cost-efficient manner. 
These designs include favorites like the fearsome crawling panther, the steady anchor, the colorful swallow, and the red rose, as well as religious imagery of crosses and depictions of Christ. Swords, sabers, snakes, and skulls also emerged alongside post-war biker and urban street culture, going hand-in-hand with leather jackets and powerful Harleys. 
Such classic designs didn't appear out of thin air, however. Many of these familiar motifs originated from old-school animations, pulp fiction magazines, carnival and rodeo promotions, and even children's toy catalogs and story books. The Kewpie, for example, was a comic strip character that later became a German figurine for children before appearing in various advertisements and television programs. By the 1950s, tattoo artists adopted the Kewpie design, quickly becoming a flash tattoo icon in parlors everywhere.
Offering a mix of Americana, nostalgia, and timeless design, many flash concepts can be traced back to these humble origins and persist to this day in new and refined forms. 
Another source of inspiration for an artist is sought through fine art. Tattooists may visit art galleries for inspiration or travel to places such as New York City to connect with other artists. Famous artists such as Matisse, Picasso, Salvador Dali, and Vincent Van Gogh all serve as inspiration through various means of technique, color, and imagery displayed. 
Each piece of art serves as a unique inspiration. Artists will often keep a personal sketchbook or drawing tablet with various pieces. Some artists even create flash sheets, where they can offer flash tattoos for drop-in clients. 
The Modern Marketplace of Design
With the rise of technology and global connectivity, tattoo inspiration now comes from anywhere and everywhere. Today's tattoo artists may seek ideas through social media, scrolling through their Instagram feed and seeing what styles might be emerging, such as floral tattoos or specific ink tattoos. Moreover, tattoo shops, studios, and tattooists share their works of art within the community. Coupled with this is the emergence of large, collaborative events where artists gather for tattoo conventions to share techniques, art, and inspiration with each other. 
World Tattoo Events is a site that lists all of the tattoo conventions by country and specific location. From NYC to Seoul, social media has connected artists. Your next tattoo may be inspired by an international flavor as the tattoo industry is growing and is global, with events worldwide. This can be seen through large conventions such as the Tattoo Arts Convention in Dallas, Texas. The event will be three days, with artists flying in from around the world. Some famous and well-known artists include Tyler Nolan, Megan Jean Morris, and Cee Jay, to name a few. 
By fostering a communal and enthusiastic environment, the convention highlights new technologies, tattoo vendors, and entertainment. With such a vibrant setting, tattoo conventions ensure the flow of ideas, exchange of information, and enthusiasm within the industry. Often, competitions are held, and awards are given to the various artists.
The goal of such conventions is to foster a collaborative and energetic environment. The tattoo industry is built off of years and years of knowledge, technique, and adaptations of various styles. In order for an individual artist to develop their own unique style, they must first build the fundamentals and then seek inspiration. 
Such inspiration may be derived from art around them, the environment, other artists, or their own personal preferences. In looking at the fundamentals, an artist must first establish the basics of their technique. This includes lining, coloring, shading, and lettering. We will explore each of these techniques and how they tie into tattoo inspiration.
Techniques and Methods Over Time
Some tattoo designs are eternal, but the fundamentals of tattoo application have largely remained the same throughout the ages. The first basic skill, also known as lining, is the technique of creating basic lines or shapes on the skin. The specific needle used for such a technique is a group of round needles, varying in thickness, dependent on the line the artist and client wish to achieve. Artists may also combine varying lining techniques to create a more complex or layered illusion for the piece. 
Lining may seem like a basic technique. However, it's critical when providing structure and definition to a piece. The lining of a piece also plays into the style. Some artists are known for their complex and detailed line work, such as Jojo Chronic, owner of @chronicink and @skindipbeauty and tattoo artist. Her work is light, airy, and focuses on the movement of fine lines to create beautiful shapes. With a simple black line, Jojo can create a beautiful outline or silhouette. Jojo's style focuses on line work instead of coloring and is rooted in a minimalist approach.
Coloring may be understood as a type of fill, or quite literally, the coloring of a designated. The techniques used for coloring vary by artist, with some using a layering technique to create depth, while others use a series of small circles to fill the desired space. The pressure said artists use with the needle and ink can create a variety of shading effects on the skin. Artists normally work from the darker, more concentrated areas of the piece, outwards, easing pressure as they move to the outer layers of the skin. There are two primary reasons for this approach. The first being the isolation of colors as the artist works on the piece, ensuring the darker and more concentrated areas do not easily mix with the lighter areas. And the second being the use of resources. Each color an artist uses requires a new needle, tube and tip. So as to reduce the insanity and concentration of the color. This plays into the artists shading technique, which each develop over time and can create a 3-D and visual representation of real objects, scenes, or individuals.
Tattoo shading and the various shading techniques can help to set an artist apart. Artists tend to shade with both black ink and colored ink. It is through the layering and shading of various inks that artists can create custom colors, variance, and realistic art. Depending on an artist style, they may adapt their shading techniques to the desired piece and their client. Bright colors are often achieved through layering techniques and advanced shading. 
The final technique, while looking at an artist skillset, is lettering. Lettering refers to the letters a tattoo artist designs in order to spell out phrases, write names, or add letters to pieces. The kerning required to achieve visually appealing letters takes time to develop. It also requires the artist to have an advanced skillset in order to understand how to lay the letters on a client's body in order to best represent the piece. Each of these core techniques plays into the skillset an artist cultivates.
Inspiration That Lasts Forever
Like all forms of art in the 21st century, tattooing offers endless creative inspiration for artists and patrons alike. Subject matter may come from life experiences, the natural world, fine art of the past, or pop culture references mixed with classic tattoo designs we know and love. Some of the most beloved tattoos aren't from an art gallery or a Leonardo Da Vinci masterpiece. Instead, they come from personal experiences, collaboration with artists, and a dash of creative juice that transcends time and place.
With the tattoo industry growing more rapidly than ever, there is no limit to where and how inspiration is derived. Some artists push the boundaries of photo-realism in their technique, striving to reflect reality in its purest form with tattoos that look picture-perfect. Other artists are dedicated to avant-garde, mixing and mashing historical designs with new concepts for something completely original. 
Even watercolor techniques and other artistic methods have been adopted into tattoo form, proving that anything is possible through ingenuity and mastery. With tattoo tech and care methods improving all the time, the only limit is the imagination, and the growing community of artists and ink enthusiasts has plenty to go around. 
The tattoo community is arguably one of the largest sources of inspiration for artists and each other. From the start of apprenticeship to the studio an artist chooses, the style, concepts, and inspiration for art continually influence an artist to create amazing tattoos. This inspiration may have been ignited through formal art school, trade shows, tattoo conventions, favorite artists/mentors, and the advancement of certain skill sets. As you search for your next tattoo, the thing that matters most is your inspiration and ability to work with your artist to achieve exactly what you want. 
 Tattoo artists are constantly evolving and fine-tuning their style. A community of artists serves as the ideal environment to refine and enhance one's style. Whether it's a master painting from an art book, a fun and colorful cartoon, or a simple daydream, there's always a reason to get inspired and create the next great movement in tattooing. No matter what, remember to explore all avenues of inspiration, choose wisely, and use the best aftercare methods to make your design come to life as it should. 
Sources:
What is the History of Tattoos? | McGill University
Chinese Tattooing Traditions | China Daily
Global Tattoo Market | Fortune Business Insights
Try risk-free & save with the Essential Sets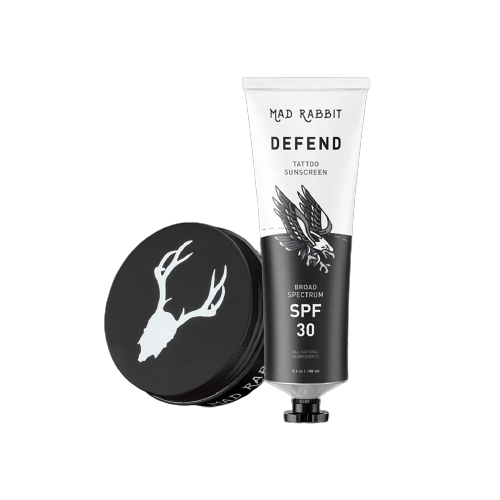 Best Seller
Daily Defense Set
Show off your tattoos in the sun and have them shining bright all day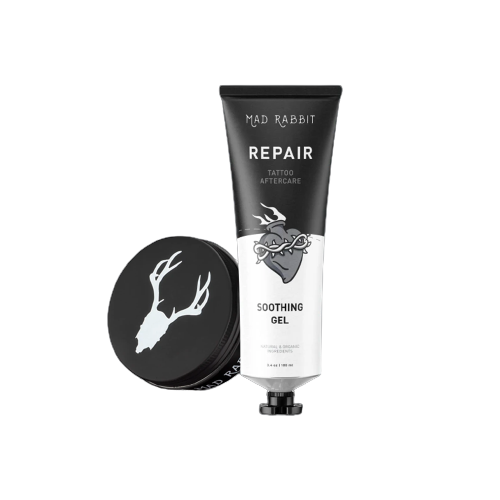 Best Seller
New Tattoo Set
The ultimate relief to heal fresh ink and make it shine