This year, we saw a surge of fine lines, butterflies, tattoo freckles, 90s revival, snoopy, sacred hearts, and the Virgin Mary. That's just to name a few. Tattoo trends come and go the same way fashion does. We're making our predictions for this next year's tattoo trends.
Cars
In the past few months, we've seen quite a few car tattoos crop up — usually black and white and fine-line with sexy shading. We imagine seeing more and more car tattoos showing up in 2023. Whether it's your first love or your dream car, we'll see more of it.
Fine Line
Fine line artistry has been growing for years, but it's certainly not slowing down. We'll only see more fine-line artists and requests next year. There's a reason for it; fine-line tattoos are gorgeous, but they are more likely to fade than the bold lines of other styles. 
If you're joining the fine line movement, ensure your aftercare is on point and commit to a lifetime of sunscreen protection.
Portraits
Portraits of family members and loved ones were huge in the early 2000s. Think of Eminem's famous tattoo of his daughter, Hailie. 
With the emergence of more and more incredibly talented fine-line artists, we think we'll be seeing more portraits as well. Probably less of kids and lovers and more old-school vintage photos of relatives and famous people.
Curves
Curvy minimalist tattoos are going to be a popular trend in 2023. These tattoos are characterized by their simple, clean lines and smooth curves. 
The designs often feature abstract shapes, such as circles and waves, and are often done in black ink. While simple, these tattoos can still have a striking visual effect — especially when they're done in such a way as to mimic movement or highlight the natural curves of your body.
One of the reasons why curvy minimalist tattoos are gaining popularity is because they are so versatile — they can be arm tattoos, leg tattoos, and everything in between. They can be small, delicate tattoos that are perfect for a wrist or finger, or they can be larger and more bold, adding a touch of modern elegance to the back or thigh.
Another reason why these tattoos are one of our top upcoming trends is that they are timeless. Unlike some other tattoo styles, curvy minimalist tattoos don't have a specific time or place that they're associated with. They're not tied to a certain era or trend, so they will never go out of style.
Sticker Sleeves
This trend is characterized by a collection of small, individual tattoos that are arranged in a cohesive way to create a sleeve-like effect. These tattoos are often done in black ink and can be a mix of different designs such as flowers, animals, letters, and symbols. 
Once assembled, this collection of tattoos can look a little like a collection of stickers tastefully scattered about your arm. This look isn't just trendy — it adds a carefree appeal to your sleeve and uses the art to highlight your skin as the negative space. A great example of this tattoo style is Miley Cyrus' stunning sleeve.
One of the reasons why this trend is becoming so popular is that it allows for your own unique creative freedom. You can mix and match different designs, symbols, and styles to create a fully personalized sleeve. Additionally, small tattoos can be less intimidating than a full sleeve, so this trend may appeal to those who are new to tattoos and want to start small.
Another benefit of this trend is that it allows for easy customization. You can add new tattoos to your sleeve over time, making it a continuously evolving piece of art. As you grow and change as a person, your tattoo can grow and change with you.
Tribal
In the past couple of years, we've seen more and more authentic tribal tattooers featured in the industry. Between social media and travel opening up after the pandemic, tribal tattooing has become more accessible. 
We think we'll see more people will be getting in touch with their roots and ancestors this year. We also think there will be more contemporary tribal designs by native tattooers integrating their traditional designs with contemporary styles of tattooing.
Original Work
More customs, please! We see flash taking a back seat this year and more people coming in with their own ideas. And honestly, flash sheets will probably evolve to look more like a gallery in a book. 
Flash sheets have started to become one-off custom pieces that the tattoo artist has ready to go and are less like repeatable designs. It's popular now for artists to offer a few designs they've drawn recently as flash, and if more than one person would like a design they'll usually change it up quite a bit.
Mexican Influence
Did anyone else realize all their friends visited Mexico this year? Us too. We think we will be seeing a lot more Mexican tattoo artists on the rise. Mexico has a rich culture, and part of it stems from its indigenous people. 
The art in Mexico is some of the best in the world. Huichol people make incredible designs using beads, yarns, and beeswax, and we think we'll see more inspired tattoos from this. 
Lino printing, which is pretty famous in Oaxaca and Mexico City, will also start showing up in the tattoo format. This kind of art can be found all over Oaxaca. It's made from wood cutouts or a type of rubber cutout which is then plastered with paint and used to make prints.
Fewer Finger Tattoos
Everyone's fingers are already covered with stuff, and there's no room left! We'll have to find other body parts now. We're sure we'll still see a good amount of people getting finger pieces, but the era of crazy detailed small tattoos being done on fingers is over. 
Too often, we see finger tats gone wrong and cover-ups required on an already precarious and fade-heavy area.
Less Traditional Pieces
Traditional American tattooing will never, ever go out of style. It will always be there, and most tattoo-obsessed people will get one at some point. 
But we think we're going to be seeing it less this year. We're seeing more black and white and fine line body art and less colorful, bold line designs. 
The Americana-core isn't so hot right now, and people love to be first to a new trend. We see tattoo connoisseurs on the verge of every cool new trend and leaving behind heavy traditions.
Back Pieces
With numbing creams widely available and their use for easing pain being destigmatized, we think people are going all in on their tattoos in 2023. That means more huge pieces and definitely more back pieces. 
There is nothing more mesmerizing than an incredible back piece. And with everyone getting half-naked online and doing all those dances – nothing is going to garner more attention than doing that with a back piece. 
Aside from egotistical reasons, having a collection of a bunch of small tattoos has been the move for a couple of years now, while tattoos have become less taboo and more common. Now that tattoos are widely acceptable, we predict a pivot towards getting full-blown pieces and fewer little tattoos.
Lower Back Pieces
We already saw lower back pieces making a strong comeback this year, and we hope it's not over. Again, another early 2000s trend is making it back into the fast lane. 
We think we'll see fewer butterfly lower back tattoos and more that are words, cyborg/technical, and tribal. They'll probably also spawn into larger pieces like hip or back pieces. Or maybe trail the spice but keep to the center.
Unruly Drawings
We're starting to see a lot of tattoos that look like a kid drew them. No hate, no shade. That's just how it looks. It's wild, compulsive art — less traditional or classically trained talent. We think we'll start to see more of this. 
Renaissance Art
Classic paintings and statues will be inked into skin this year. This isn't something totally new, but before, we saw a lot of artists tattooing famous statues or painting in a contemporary style. Maybe line drawings or stick and poke. 
This year we'll see many more renaissance art pieces tattooed quite realistically. We think many artists will also take on a renaissance flair to their own style. With the excellence of fine line and shading we've seen on the rise, creating a rendition of renaissance art won't be a problem — only in how many requests these artists will be getting.
Seashells
Did everyone visit Posideon this past year? We've already seen this trend in the jewelry industry — seashells and pearls are adorned everywhere. We can only imagine this trend will continue onto actual skin. 
Seashells and water animals will take the place of scorpions and jaguars. We will see lots of dainty seashell tattoos and maybe a few jellyfish too.
Geometry
With all these new metaverse movies and spirituality on the rise, we will be seeing more people translate this into their body art. How do you cope with living in the matrix or existing in infinite planes of existence at once? 
Get a tattoo about it, whether it's sacred geometry or just a huge, badass geometric design.
Vases
Tattoos of vases. Not sure why but we think we'll see more awesome vase designs tattooed onto people. We're seeing black and white with mesmerizing patterns on the tops and bottoms and graphic elements in the middle. 
Maybe there's something in the vase, maybe not. This prediction also extends to lamps as well.
Chest and Neck
We're going hard this year. Face tattoos will take a back seat, and the chest and neck will go under the needle. Again, with the influx of numbing creams and the lack of tattoo taboos, 2023 is leaving it all on the table. 
We think we'll see full pieces covering the neck, chest, and shoulders. We imagine geometric designs or black work. Or crazy fine-line pieces with lots and lots of shading.
Get Your Appointments Now!
In 2023, more and more people will be getting tattooed. The tattoo industry is going to make more money than it ever has before. The world is opening back up, people aren't working from offices as much, and numbing creams are taking the pain away. 
Fine-line tattoos are in. Full pieces are in. Geometry and realism are in. Getting back to your roots and mixing folk art with contemporary style is in. We are so excited to see what you create this year. 
Sources:
Trends in tattoo-related Google search data in the United States: Time-series analysis | Research Gate
Lidocaine Numbing Cream | Daily Med 
Mexico: Create a Huichol Yarn Painting - Timothy S. Y. Lam | Museum of Anthropology
Try risk-free & save with the Essential Sets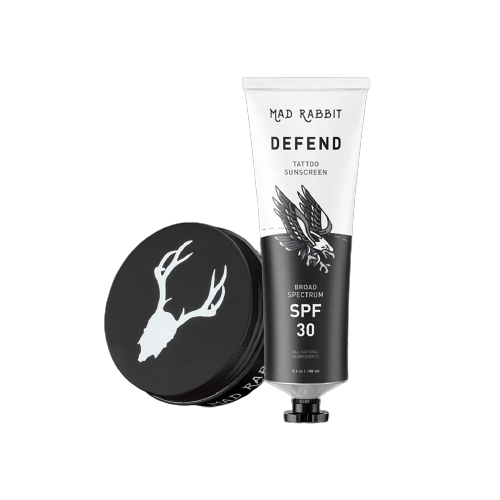 Best Seller
Daily Defense Set
Show off your tattoos in the sun and have them shining bright all day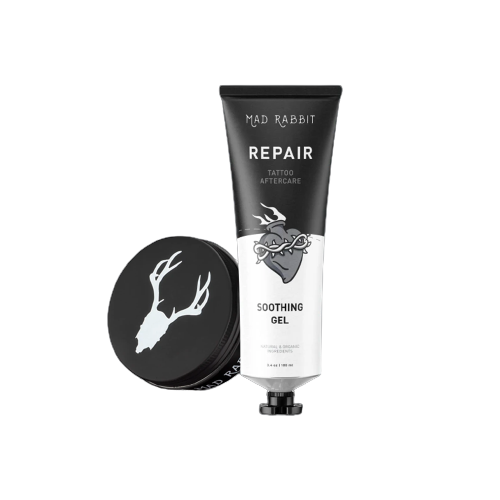 Best Seller
New Tattoo Set
The ultimate relief to heal fresh ink and make it shine