Looking for a way to rejuvenate and protect your tattoos, both new and old? There are many different moisturizers and ointments marketed toward your skin that are meant to help heal new tattoos and tackle dryness, which theoretically, can boost the vibrancy of your ink.
With everything out there, it can be difficult to know which formulas and ingredients are actually good for you, but a few might stand out to you — shea butter being one of them.
Shea butter is commonly found in moisturizing products, and for good reason! If you've seen this ingredient on the label or even as a standalone product on the shelves and are curious about the benefits of shea butter, we can help to give you an idea of what using shea butter on tattooed skin can do.
What Is Shea Butter?
Shea butter is a seed fat that comes from the shea tree. The butter comes from oily kernels within the seed. To get the butter, you grind the kernel up and then boil it in water. As this happens, the butter will begin to rise to the top and turn solid. It is a pale tan color and is very creamy after it's been properly formed. You might notice an earthy smell, which is completely normal. The end product is 100% natural, and it's commonly used as a nourishing fat alongside other natural ingredients.
What's in Shea Butter?
There are several raw nutrients and vitamins that exist naturally in shea butter, a lot of which help give shea butter it's naturally soothing and antioxidant properties:
Vitamins A, E, and F: These antioxidant vitamins help promote circulation and skin cell turnover, and can also help to naturally soothe irritated and dry skin.
Linoleic and oleic fatty acids: These fats help to balance the oils in your skin.
Triglycerides: This is the fatty part of the shea nut that contributes to nourishing your skin.
Cetyl esters: This is the waxy part of the shea nut that locks in moisture to your skin.
Depending on where you get your shea butter product, there might be essential oils or other ingredients included for additional benefits.
What Products Include Shea Butter, and Why?
There are a variety of different uses for shea butter, which make it a very versatile ingredient. Shea butter is found in a variety of beauty cosmetics and moisturizers because of its intense moisturizing capabilities paired with the fact that it plays well with other ingredients. Shea butter can be found in lotions, sunscreens, hair products, and yes, even tattoo creams.
The main goal of shea butter is to moisturize and protect your skin, whether it's helping to maintain healthy skin or protecting skin that needs a little extra support.
How Does Shea Butter Help My Tattoo?
Shea butter has many benefits, which is why it's become a booming product in health and beauty products. When you get a new tattoo, what you are essentially doing is creating an open wound with a needle, jabbing your skin many times over.
While it is a beautiful wound, you need to make sure you are taking care of both during the healing process and after, too. There are many products you will find aimed at protecting and helping to heal your new tattoos, but how do you know which one is better than the next?
For starters, products that are made with clean ingredients, both natural and synthetic, are going to be some of the best products for your skin and health. While some people may try to stay away from synthetic ingredients completely, there are actually some artificially made ingredients that can be made in a sustainable, eco-friendly way, and can provide benefit to your skin in a way that may not be achievable with natural ingredients alone.
Shea butter works well with other clean ingredients, and here's how it shines in a tattoo-specific formula:
Naturally Soothes and Protects
Shea butter is very high in Vitamin E, which works to help support the skin barrier while diving deep to provide antioxidant benefits, too. Both of these help to protect skin from beyond just the surface layer from things like pollutants, the effects of sun damage, dirt, germs, and other stressors that can age and dull your skin.
Deeply Nourishes and Moisturizes
Just because your tattoo has been healed up for a few years doesn't mean you shouldn't still be working to protect and nourish it! Shea butter can make it easy, especially when it's paired with other skin-supporting ingredients.
Skin eagerly absorbs shea butter, instantly benefiting from the nutrients and hydrating effects it has to offer.
Shea butter has also been giving petroleum a run for its money because of how well it can protect and moisturize, naturally. Tattoo artists have begun to phase out petroleum thanks to powerful botanical-based options like shea butter that can do a better job (while also not staining or sticking to clothes, which is definitely an added bonus!).
Pure shea butter is usually solid at room temperature, but the warmth of your hands will help slightly melt it so it can absorb into skin. In this consistency, the shea butter absorbs very well and can protect your skin for hours.
What's the Best Way To Use Shea Butter For My Tattoo?
As you've seen, shea butter is a hydrating powerhouse that can deeply nourish and protect skin, inked or blank alike, but it can be overwhelming trying to find a product that isn't also packed with harmful ingredients like artificial perfumes or synthetic dyes.
In Mad Rabbit's tattoo aftercare products, you will find shea butter intentionally incorporated into a combination of clean, effective ingredients that all work to make your ink shine.
Mad Rabbit's Tattoo Balm & Daily Lotion
Mad Rabbit products use clean, sustainably sourced ingredients that work to keep your tattoos healthy and vibrant. Here at Mad Rabbit, we carry two formulas that include shea butter: our enhancing tattoo balm and our replenishing daily lotion.
Tattoo Balm is best used on healed tattoos that you want to keep moisturized and vibrant. Even after your tattoo is healed, you can risk blurring lines and fading color by not taking proper care of your skin. If skin becomes dry and cracked, you could distort your tattoo.
The shea butter in our Tattoo Balm works to nourish your skin with the hydration and nutrients it needs to stay moisturized and healthy. Shea butter works in a dynamic duo with cocoa butter to keep your skin soothed and smoothed, while calendula tackles redness and irritability and beeswax works as a humectant to seal that water in for absorption.
For the daily grind, Tattoo Lotion also includes shea butter as a primary ingredient to hydrate and nourish skin. Plus, our daily lotion isn't just for inked skin — you can use this formula as you would body lotion to moisturize and soften skin, so don't be surprised when you mysteriously find your Mad Rabbit lotion on your partner's side of the bathroom counter.
Alongside shea butter is aloe vera, which is a potent natural soother that can calm irritated skin; sesame seed oil, which is rich in skin-loving vitamins A and E to combat fine lines and other visible signs of aging; and Chamomilla recutita flower extract to providing soothing relief to itchy patches.
Both formulas are also non-greasy, meaning no residue to stain or stick to clothes or anything else.
So, Is Shea Butter a Good Option for Tattoos?
Have you actually been reading? The answer is yes, absolutely!
If you want a naturally soothing, moisturizing, nourishing hydration powerhouse, shea butter is your best bet (though we gotta admit, we're fans of cocoa butter, too).
Mad Rabbit's Daily Lotion and Tattoo Balm work as well as they do thanks in part to the benefits of the shea butter included inside.
Sources:
SHEA BUTTER: Overview, Uses, Side Effects, Precautions, Interactions, Dosing and Reviews | WebMD
Patient Acceptability, Efficacy, And Skin Biophysiology Of A Cream And Cleanser Containing Lipid Complex With Shea Butter Extract Versus A Ceramide Product For Eczema | NCBI
Uv Photoprotection By Combination Topical Antioxidants Vitamin C And Vitamin E | NCBI
Try risk-free & save with the Essential Sets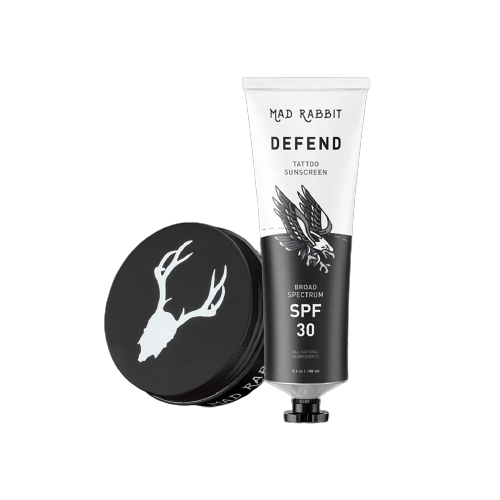 Best Seller
Daily Defense Set
Show off your tattoos in the sun and have them shining bright all day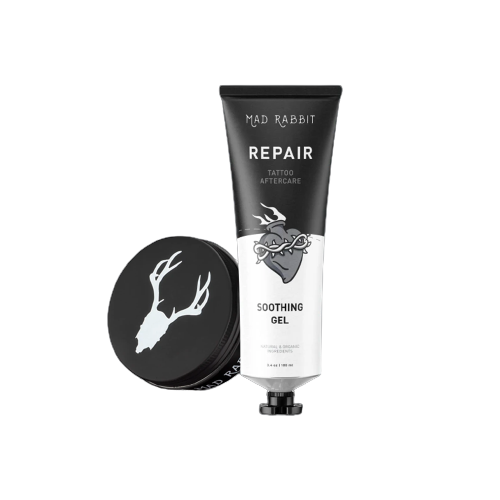 Best Seller
New Tattoo Set
The ultimate relief to heal fresh ink and make it shine