Meet Oliver Zak: dog-lover, MMA fanatic and one of the creative entrepreneurs that co-founded Mad Rabbit. 
Last week you met Oli's partner and fellow co-founder, Selom Agbitor. Since freshman year of college at Miami University, Oli and Selom have been the best of friends. They shared the same passion and entrepreneurial spirit to build a company that would make a splash in the tattoo industry, challenging the notion of what tattoo aftercare is and should be.
As a business student, Oli dove head-first into all the opportunities Miami had to offer. He had a variety of interests - from finance, to digital marketing and entrepreneurship, there wasn't a topic he didn't cover. Oli knew in order to be successful as an entrepreneur, he needed to have well-rounded knowledge and skills. Knowing he wanted to be an entrepreneur since he was a kid, Mad Rabbit was the perfect way to live out his life goal. 
Inspired after getting his first tattoo, Oli recognized the need for a better tattoo healing solution. He was shocked that his tattoo artist recommended petroleum jelly as a healing salve, considering all the chemicals and synthetics involved. Was a better solution out there? Not at that time, but it sparked the vision for Mad Rabbit. After late nights, strategy sessions with Selom, testing and re-testing, a product was born: Mad Rabbit created a superior natural balm to revolutionize the tattoo healing process.
As a co-founder of Mad Rabbit, Oli is extremely involved in the company's day-to-day operations and progress. From new product development (look out for the future of tattoo aftercare!) and strategic planning to ensure the business runs efficiently to meet the needs of the inked world. Combined with a passion for non-profit initiatives, Oli couldn't be more excited for the future of Mad Rabbit. What started out as an idea that two college friends had, Mad Rabbit has evolved into a brand that delivers holistic healing and embraces the unique story behind every tattoo.
A few questions for the co-founder:
What inspired you to start your own business?
I've always wanted to be an entrepreneur since I was young. I always viewed it as a path to better not only my life, but the life of others. I've dreamed of creating a product that adds value to peoples' lives. When I saw the lack of quality products in the tattoo industry, I knew it was a no-brainer.
What has been the most rewarding aspect of founding Mad Rabbit?
My favorite part about running Mad Rabbit is getting to listen to our customers talk about their tattoos. Everybody has a story behind each tattoo...I love getting the chance to hear what makes our customers who they are today.
What gets you up in the morning?
The drive to improve people's lives. I wake up every day looking to be the best version of myself, and I know that version of myself is very dedicated to helping those in need. My goal is three random acts of kindness every single day.
Where do you envision Mad Rabbit in 3 years?
What started off as a healthier solution to tattoo care has evolved into something way bigger than I ever imagined. In three years I envision Mad Rabbit as not only the premier tattoo-aftercare brand it is today, but more of a lifestyle brand. Furthermore, we are looking to expand our philanthropic efforts in the coming months. I don't want to give away too much, but expect some amazing tattoo-centric content in the near future.
If you had to pick one artist to listen to for the rest of your life, who would it be and why?
One artist to listen to forever.... I'm going to have to go with Panic! At the Disco. They have been by my side during some trying times in my life, and continue to put out great music today. Their lead singer, Brendan Urie, is an incredible person and has some pretty rad tattoos as well.
What has surprised you the most about Mad Rabbit?
The most surprising thing to me about Mad Rabbit is how strongly customers resonate with our brand. We built Mad Rabbit on individuality and self-expression, but never dreamed of the incredible participation that our customers show when it comes to telling their own tattoo stories.
Try risk-free & save with the Essential Sets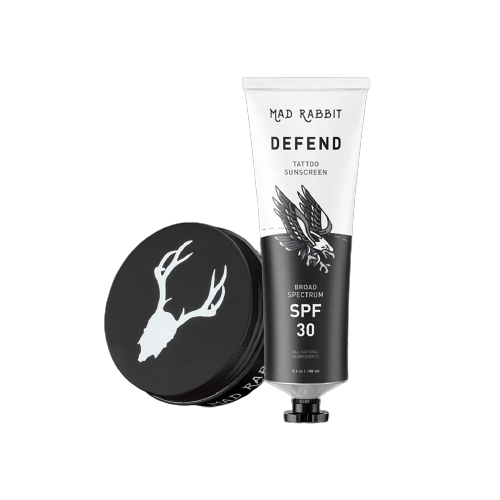 Best Seller
Daily Defense Set
Show off your tattoos in the sun and have them shining bright all day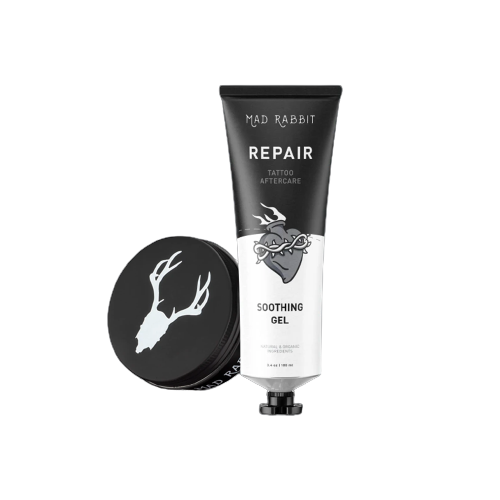 Best Seller
New Tattoo Set
The ultimate relief to heal fresh ink and make it shine