The neo-traditional style of tattooing has been around for years, drawing inspiration from classic themes, bold colors, and thick, bold lines. Marking a slight departure from the bare-bones American traditional style, neo-traditional is more dynamic, inventive, and defies expectations.
Because of this enigmatic reputation, it can be hard to pinpoint the exact nature of neo-traditional and what it entails. The best way to learn more about specific tattoo styles is to look at the most popular designs and real-life examples! 
Our goal with this article is to explore our favorite neo-traditional tattoo designs. Hopefully, you'll find some inspiration for your next piece in the neo-traditional style.
Neo-Traditional Tattoo Style Overview
The neo-traditional style is derived from the school of American traditional tattoos but incorporates modern techniques and unconventional design elements. 
While neo-traditional tattoo art maintains bold outlines, bright colors, and minimal shading, it combines the cartoonishmotifs of old-school tattooing with elements of Japanese tattoos, art nouveau, and other 20th-century art movements to create something totally unique. 
The subject matter of neo-traditional tattoos is also highly varied, expanding on the old-schoolmotifs of anchors, swallows, and skulls. You may find a broader range of subjects ranging from animals and intricate flowers to portraits and pop culture references.
In summary, neo-traditional tattooing takes the best of the American traditional style and ramps everything up a notch with more inventive designs and outside-the-box thinking. There's no limit to what's possible with neo-traditional, which gives tattoo artists an infinite range of creativity and inspiration in their tattoo studios.
Our Favorite Neo-Traditional Tattoo Designs
There's something for everyone in the world of neo-traditional tattooing, but which designs stand the test of time in this style? Here are some of the top designs to consider for your body's permanent collection.
1. Unconventional Animals
Animals have always been a pillar of body art concepts, but neo-traditional pushes the boundaries beyond what's usually expected of old-school designs. Rather than the typical crawling panther or tiger face, you'll find embellished portrayals of hawks, butterflies, sea creatures, and even mythological beasts.
In other words, neo-traditional's elevated detail and artistry gives you way more room for original animal designs. You can always go with the classics like wolves and lions, but why not venture beyond the norm?
2. Twisted Timepieces
The passage of time is the only constant in life, and neo-traditional designs often seek to capture this truth with depictions of timepieces like clocks and hourglasses. These designs are versatile and interpretive, often mixed with other motifs into larger pieces and sleeves.
For example, you may notice that small clockfaces and hourglasses are combined with portraits, animals, flowers, and other staples in the neo-traditional arsenal. These elements can be large or small and are designed to fit tight spaces, making them ideal for filling in gaps.
3. Heart On Your Sleeve
A beating heart is found within everyone, and what better way to convey your humanity than with an elegant heart tattoo in the neo-traditional style? Some hearts are more anatomically accurate than others, but many neo-traditional tattoo artists aim to turn these tickers into dramatic statement pieces. 
You may find hearts adorned with flames, daggers, or lock-and-key elements to add another layer of intrigue to the designs. The broader pigment options in neo-traditional let you experiment with purples and light reds that old-school ink may not permit.
4. Nautical Concepts
Tattooing has a long legacy at sea, but you don't need to be a wayward sailor to enjoy nautical themes in your neo-trad designs. We're talking about compasses, lighthouses, schooners, and all the usual suspects in the tattoo design book, complete with imaginative representations and complexity.
Many artists squeeze in subtle seafaring designs like ropes or waves to fill out their sleeve concepts, and somehow, they always seem to fit just right.
Nautical themes will always have a place in tattooing, and neo-traditional blends the best parts of old- and new-school designs to make these pieces stand out on land or at sea.
5. All-Seeing Eyes
They say that the eyes are the window to the soul, and this expression applies to the distinctive style of neo-traditional ink. With more detail and varying perspectives, neo-traditional artists offer countless interesting takes on eyes, whether isolated or incorporated into a larger piece.
Neo-trad artists can show emotion and intrigue with eyes alone, but they often add other elements to flesh out designs more fully. For instance, you'll find many eye designs, including a border of flowers, clouds, flames, leaves, or other flourishes to complete the puzzle.
The takeaway: eyes always look good on a sleeve, even if they're not the centerpiece.
6. Daggers and Razors
Neo-traditional tattoos sure look sharp, literally and metaphorically! Daggers are a classic theme in the American traditional style, and they've transitioned easily into the more modern iteration.
You'll find blades of all shapes and sizes in the neo-traditional style, from pocket knives to sartorial razors and much more. Full-on swords and sabers are also there for the taking, making great vertical elements that pair perfectly with other neo-traditional favorites. 
7. Powerful Portraits
A portrait tattoo always stands out from the crowd, and neo-traditional draws a balance between realistic and cartoonish, which is sure to please. Portraits can include beautiful women, celebrity renditions, or other idealized versions of cultural icons.
Just search for neo-traditional portraits of your favorite rockers or artists, and you'll definitely find some worthy source material. From Elvis and Sinatra to Amy Winehouse and more, this style is perfect for any portrait you can fathom.
8. Death and Dark Themes
Darkness is prevalent in tattooing of any style, and we're not just talking about the bold blackwork used to set the foundation for a design. In neo-traditional tattooing, you'll see representations of death ranging from reapers and skulls to demons and more.
These themes work great in the flashy-yet-classy style of neo-traditional, and you don't need to rely on a vibrant color palette to get the point across. Look at any artist's portfolio, and you'll surely see examples of darkness made beautiful in this style.
9. Dapper Gentleman
Also known as the "bearded hipster" or other names, this design category features a handsome, well-groomed man looking his best in bold ink. The neo-traditional style doesn't aim for hyperrealism, but it conveys this eternal gentleman's dashing good looks and style.
Think of this as the male version of the pin-up girl or another idealized human form. It's a visually pleasing design that pays tribute to the sartorial arts and brings out the best that this tattoo style has to offer.
10. Native American Motifs
Native American symbols and portraits are the perfect match for neo-traditional tattooing, featuring a wide spectrum of colors and artistic visions. Some of the most inventive pieces include warriors, chieftains, and women in native garb, plus feathers, arrowheads, and other embellishments. 
Headdresses are quite common in this style as they can be honored with increased detail and variety. Animals also often make their way into Native American-themed pieces, so there's no shortage of wolves and hawks to go around.
11. Sci-Fi and Fantasy
While you might think of sci-fi and fantasy as a new school tattoo staple, these themes are also abundant in the neo-traditional trend. These concepts range from castles and crypts to aliens, planets, and good old-fashioned UFOs.
Of course, the neo-traditional style goes heavy on detail and opens the door to new colors and dimensions that go off the beaten path. If you're a sci-fi or fantasy lover, the neo-trad school of tattooing should not be ignored.
12. Japanese Style Neo
Japanese tattoos fall into many subcategories, and neo-traditional carries the torch well. Popular designs include samurai, geishas, hannya masks, and majestic animals, real and imagined. Just check out some neo-traditional Japanese dragon tattoos to be blown away!
The Japanese style is so ubiquitous in tattooing that it's hard to know where it begins or ends. However, neo-traditional does a great job of incorporating these themes in a tasteful and subtle way. 
13. Psychadelic and Surreal
The odd and the esoteric are all on the table with neo-traditional tattooing, so don't hesitate if you want to get weird with your next tat. Acid colors and trippy designs are commonplace in this style, and you've got all the pigments to make it happen.
Talk to your tattoo artist about a surrealistic tattoo in this style, and they're definitely going to have fun drawing up your custom piece.

Remember that nothing is off-limits when it comes to tattooing, even if the concept isn't always rooted in reality.
Enjoy All Neo-Traditional Tattooing Has To Offer
Neo-traditional tattooing is arguably the biggest tattoo movement of the 21st century, building on old-school ink with endless imagination and precise techniques. 
As always, be sure to care for your neo-traditional ink from the moment you get it, keeping it clean, moisturized, and healed up. 
Once you get outdoors, keep your ink safe from the sun with SPF 30 for tattoos so your ink stays bright and bold no matter what. 
Sources:
Style Guide: Neo Traditional | Tattoodo
Neo Traditional Tattoos | TattooSEO
Top 93 Neo Traditional Tattoo Ideas | Next Luxury
A Guide to Neo Traditional Tattoo History & Meaning | Tattoo Glee
Try risk-free & save with the Essential Sets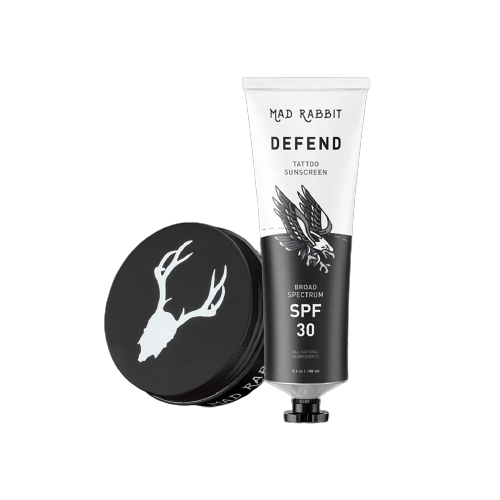 Best Seller
Daily Defense Set
Show off your tattoos in the sun and have them shining bright all day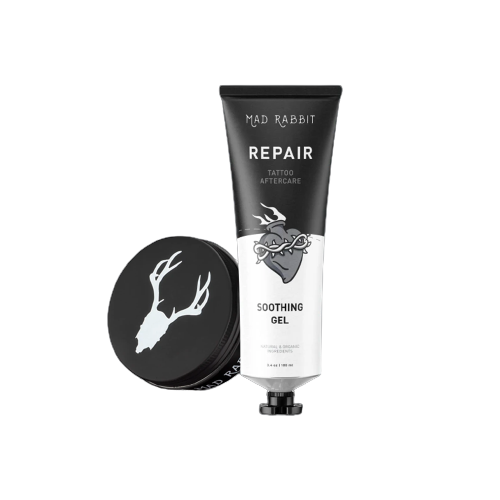 Best Seller
New Tattoo Set
The ultimate relief to heal fresh ink and make it shine