Your brand new tattoo deserves to be admired, but you want it to look its absolute best before flashing it around. Each new piece that you add to your collection desires the same attention and love that you've given the rest of your tattoos. 
When you get a new tattoo, there are certain rules that you should follow in order to support a healthy healing process, protect your skin from infection, and keep the vibrance of the ink. 
Right after you take your wrapping off, you're likely going to want to run your fingers along the new tattoo and admire it up close. Be mindful that your tattoo is a fresh wound and that you should keep clean and moisturized, read: don't immediately touch it just because you can. If you are someone who is covered in tats, you probably know by now just how important the aftercare of getting a tattoo is.
If you are looking for a soothing, relieving, and restoring tattoo gel, the Tattoo Soothing Gel by Mad Rabbit is quite the contender if we do say so ourselves. You'll quickly notice how relieved your new tattoo will feel with our gel, thanks to naturally soothing and cooling ingredients like aloe vera and bisabolol (a type of chamomile extract). 
Let's dive into tattoo gel a little deeper and talk about what tattoo gel even is, and how you can benefit from it from the day you walk out of the shop.
What Is Tattoo Gel?
Now, what exactly is tattoo gel? How might it be different from a medicated ointment or moisturizing lotion? While all of these items are marketed towards alleviating the discomfort that comes during a tattoo's healing process, our tattoo gel promises clean ingredients that work to help support the body's natural healing process, rather than just hydrate or numb the wounded skin. 
Petroleum jelly and mineral oils in other aftercare products work to create a barrier between the tattoo and the outside world. This barrier makes it impossible for your new tattoo to breathe, and congests the pores on your skin. 
The goal of tattoo gel is to soothe and mend your new tattoo with lightweight, natural properties that nourish your skin with skin-happy ingredients like antioxidants and fatty acids. We also include ingredients with natural soothing properties that help to reduce the itch and irritation. 
What Are the Benefits of Tattoo Gel?
For those that find themselves drawing up new tattoo ideas, planning out the placement for the next three tattoos they receive, and constantly searching for talented artists in their area, this product could sincerely change your healing process and help you to bounce back quicker than ever. Keep reading to learn more about the benefits of tattoo gel. 
1. It's specifically made for new tattoos.
Not all products out there are good to use on freshly wounded tattooed skin, even if they are marketed for things like cuts and scrapes. Medicated ointments can end up drying out your tattoo due to the ingredients in them that promote a fast healing process, and like we mentioned above, petroleum-based jellies even end up suffocating the wound. You may have used them in the past, but this is your sign to stop and move forward onto bigger and better products!

Tattoo gel is made with new tattoos in mind. Our formula was created to provide soothing, skin-supporting relief, especially when it comes to the dryness and irritation that are part of the healing process. You will want to replace other aftercare products for this tattoo gel — you won't find any common drugstore ointments made without toxic ingredients.
2. It can reduce itchiness.
Within the week after you get a new tattoo, it's likely that your tattoo will begin to scab over. Depending on how big your tattoo is and where the placement of it is, it might become very itchy as the skin heals and rejuvenates. 
While this is a totally normal part of the healing process, the last thing you want to do is scratch at your new tattoo. You risk scratching off scabs and opening the wound, which might cause issues with the ink's permanence and is likely to cause infection. 
Applying a thin layer of our hydrating tattoo gel on top of the tattoo can help provide soothing relief thanks to ingredients like bisabolol, which is a potent antioxidant derived from chamomile.
3. It is naturally cooling.
In addition to relieving the itchiness that scabs bring to new tattoos, our tattoo gel has cooling properties that alleviate redness and calm the skin. 
Aloe vera is used often in sunscreen and post-sun lotion, and it works to provide cooling relief for sunburns. When you get a new tattoo, you might notice that the skin surrounding it becomes tight and red. Now, your post-tattoo wound shouldn't be so painful that you are unable to focus, but it will generally cause a bit of discomfort and agitation until those little tiny puncture wounds start to close up. Rubbing against clothing, being brushed against by a hand, or even feeling the sun hit it for a second too long, and you will notice the annoying buzz that surrounds your fresh ink. 
Aloe vera is also a home remedy people use for treating burns, and because of its natural soothing and cleansing effects, it's a great ingredient to include in a tattoo soothing gel. Aloe vera can help support the natural healing process, while also keeping your skin hydrated and refreshed. If your skin is burning because of your new tattoo, it will welcome the coolness of tattoo gel. 
In addition to aloe vera, Mad Rabbit's Tattoo Gel includes other naturally soothing and antioxidant-rich ingredients that work to calm the skin. Bisabolol is derived from chamomile and helps to soothe stressed skin as well as reduce redness. Allantoin, derived from the comfrey plant, is also included in the tattoo gel and works as a soothing agent for irritated skin. Combining these three and many more helps to achieve an organic and thoughtful product that puts your comfort first. 
4. It's made with clean, effective ingredients.
By now, you might have realized that our tattoo gel consists of a variety of both natural and synthetic ingredients that are safe for skin. You deserve top-notch ingredients that work together to provide a tattoo-perfecting experience that reduces scarring and tissue damage from the moment you remove that protective wrap from the shop. 
Mad Rabbit's Tattoo Gel contains clean, sustainably sourced ingredients — here are a few of the hardest working in the bunch we haven't mentioned yet in this article:
Vitamin B12 helps to prevent and reduce the appearance of damage caused by environmental stress with its antioxidant properties. 

Vitamin C, which is an antioxidant that brightens and supports natural collagen levels so damaged skin can appear firmer and healthier.

Argan Oil is a lightweight oil rich in fatty acids, which helps retain moisture with a protective (but breathable) barrier between your skin and the outside world. 

Sweet Almond Oil protects your skin from UV radiation while keeping it nourished and soft. 

Plant Collagen, like animal-derived collagen, works to visibly plump and support healthy-looking skin. 
5. It's not just safe for your skin, it's good for your skin. 
You wouldn't want to put something on your fresh wound that's toxic. If you have experienced stinging and discomfort after applying gels and lotions to your fresh tattoo, it's likely that they contain ingredients that irritate the skin further or block the pores. 
With each individual ingredient in Mad Rabbit's Tattoo Gel transparent to you, you can feel safe knowing that they have long histories of being skin supporters that work to nourish, hydrate, and protect your skin. 
Just like all of our products, you don't *need* to be tatted up to use them — we're skincare experts who are also tattoo lovers, and we saw a gap in the tattoo industry where quality, skin-healthy ingredients just didn't exist in aftercare. That's why we created not just our soothing gel, but our tattoo balm, daily lotion, and even an SPF 30 sunscreen.
Mad Rabbit's Tattoo Gel
There are always new products on the market when it comes to tattoos, especially because they are becoming more welcomed by our society. If you wish to add to your personal collection, it's important that you take care of each tattoo you get the right way — we understand you want the best for your investment, and that's why we're here.
Mad Rabbit doesn't just have you covered for the immediate healing process, we provide you with multiple products all aimed at providing superior tattoo aftercare. We take care of our skin on every other part of our body, our hands, feet, face, so why not include specialized care for our tattooed skin? 
Explore our collection of plant-based tattoo aftercare that actually works, and see what the right ingredients can do to give your new tattoo the TLC it needs, or give a classic tattoo a little life again. 
Sources:
Tattoo Aftercare: Tips And Instructions | Medical News Today
The Effect Of Aloe Vera Clinical Trials On Prevention And Healing Of Skin Wound: A Systematic Review | NCBI
Reducing Occupational Stress With A B-Vitamin Focussed Intervention: A Randomized Clinical Trial: Study Protocol | NCBI
Try risk-free & save with the Essential Sets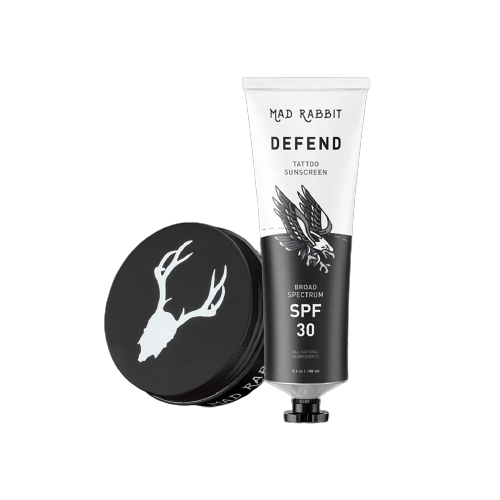 Best Seller
Daily Defense Set
Show off your tattoos in the sun and have them shining bright all day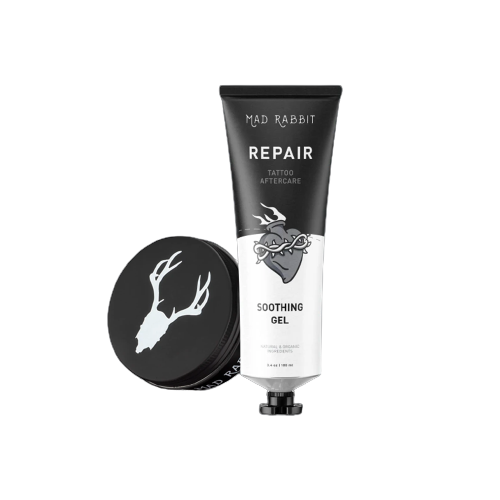 Best Seller
New Tattoo Set
The ultimate relief to heal fresh ink and make it shine