Getting tattooed during the summer can make the healing process difficult, but it's not impossible. 
You might choose to get tattoos during the winter or fall so that wearing long-sleeved clothing and pants protect it from the sun, but sometimes you get the urge for some new ink, and those cravings don't care what season it is. Sometimes, it ends up that your favorite artist only has availability in the summer before her books are full starting September 1st. You might go on vacation with your friends and decide to spontaneously get matching tattoos, and then what? How are you supposed to keep your tattoo out of the sun if you are supposed to be soaking it up?
Luckily, for people who want what they want, you can protect your brand new tattoos with tattoo sunscreen — of course, not until about two weeks after you got your tattoo done. New tattoos should stay out of the sun for the first 14 days! 
While the basis of this product is to protect your tattoo, you should be mindful of what the product is made of and how it can benefit your skin besides keeping UV rays at bay. Not all tattoo sunscreens are created the same and you might find that some are just better for you than others. 
If you are looking for a tattoo sunscreen that is reliable, restorative, and good for your skin, look no further. Mad Rabbit has got you covered with superior formulas that use clean ingredients that actually work, plus all the info you need to know to be informed about it. 
Caring For Your Tattoo
Getting a tattoo is not just one day of pain and then you don't have to pay any mind to it. You go through a healing process that can take several weeks, and if you don't properly care for your tattoo, you could end up with premature fading or even a bad infection. 
Most tattoo artists will tell you to keep your new tattoo out of direct sunlight after getting it, because it could impact how the ink settles into your skin. You also don't want to get a sunburn on freshly tattooed skin, because not only would that be insanely painful, but your skin could blister and damage the tattoo.
On top of keeping it protected from the sun, you will need to consistently wash your new tattoo with antibacterial soap until it's fully healed. Once your tattoo is healed, the aftercare doesn't stop there. You must continue to keep your skin moisturized and protected from the sun so that fading doesn't occur and your skin does not become dry and irritated. 
What Is Tattoo Sunscreen?
Tattoo sunscreen is not just some random bottle of sunscreen with the word "tattoo" slapped on the label (at least if you get it from reputable people) — it's formulated specifically to protect your tattoos from sun exposure while also supporting your skin for the healthiest tattoo yet. 
We all know just how important the sun is to our mental and physical health, so the goal is not to avoid the sun for the rest of life for the sake of protecting your tattoo. There are, however, precautions you can take so that your tattoo stays protected from the sunlight, and tattoo sunscreen can help!
How Does Tattoo Sunscreen Differ From Regular Sunscreen?
Tattoo sunscreen's ingredients work not just towards protecting your tattoo from the sun, but also toward supporting skin that's already been hit with a little too much sun exposure, while also providing nourishing ingredients that hydrates skin and keeps it looking as healthy as possible. 
Plus, tattoo sunscreen is specifically formulated to be gentle yet effective for sensitive skin — the last thing you need is a reaction to a too-potent synthetic ingredient that causes your freshly inked skin to break out. 
What Does the Sun Do to Tattoos? 
The sun can have damaging impacts on all skin types, not just tattooed skin, so protecting your skin from sun damage should become something you do on the regular. When you have tattoos, you're taken to the next level of protecting your skin from the sun.  
When you get a tattoo, the ink goes into the second layer of your skin, known as the dermis. 
UVA rays, also known as aging rays (though that's not what the A stands for), are easily able to penetrate this layer. When the tattoo is left exposed, this can cause the ink to break down. These rays can also cause discoloration in the ink, blurred lines, and washed-out colors, and it's all avoidable by just taking a minute or two to put on some sunscreen.
UVB rays are what are responsible for sunburns. This makes these rays just as damaging but in a more painful, lasting way. If you burn your skin, the fading process could happen much faster than with UVA rays. Did we mention that UVB rays are also strong enough to damage the DNA in your skin cells and cause skin cancer, too? Sunburns may get dismissed but they are no joke, especially when you've just punched a bunch of little holes in your skin. 
Newer tattoos are more susceptible to damage by UVB rays because the burning can happen easier on an open wound. Your artist is not playing with you when they tell you to stay out of the sun!
Protecting Your Skin
There are ways to protect your tattoos from the sun on a daily basis that can help improve your skin's health, protect the vibrance and crispness of your tattoos, and help you get the most out of your money and your artist's efforts. 
Along with keeping your tattoos covered with clothing, you should be applying sunscreen to your tattoos. Some sunscreens are oil-based and can leave your skin feeling like there is a slick coat covering it. 
If you are prone to breakouts, these sunscreens may not be the best option for you. Using a sunscreen that is made with thoughtful ingredients meant to protect and heal your skin will keep your tattoos vibrant, healthy, and looking brand new, and you don't have to search any further for it.
Mad Rabbit's Tattoo Sunscreen
With Mad Rabbit's Tattoo Sunscreen, you can feel confident that you are receiving a superior tattoo aftercare product that has your skin's health and safety in mind. We don't just think about how the sun is impacting your tattoos, but about all the factors that could influence your tattoo's health. 
Mad Rabbit's Tattoo Sunscreen is an SPF 30 sunscreen that is sheer and lightweight. It doesn't leave a thick residue like other sunscreens, and you don't feel oily for hours after putting it on. It goes on like a lotion and protects your skin for a couple hours at a time.
Ingredients Matter
Not only does Mad Rabbit's Tattoo Sunscreen protect your tattoos from sun damage, but it keeps your skin hydrated and nourished with top-quality ingredients. You don't want to put bad ingredients on your skin, and you don't have to with our sustainably-sourced, naturally-derived ingredients. This formula is 100% mineral-based, and it's not toxic to the environment like some other sunscreen is. 
A few notable ingredients that help to make our tattoo sunscreen so good for your skin include:
Zinc Oxide:

Zinc oxide is a mineral that works as a protective barrier between the sun's UV rays and your skin. 
Aloe Vera:

Aloe provides hydration and soothing relief to dry, irritated skin. 
Argan Oil:

Rich in antioxidants and fatty acids, argan oil moisturizes and protects your skin.
Vitamin C:

Supports natural collagen production and is high in antioxidants.
Calendula Extract:

Has natural soothing properties that relieve redness and irritability. 
Butyloctyl Salicylate:

Significantly increases SPF performance.

 
Cocoa Butter: Nourishes and moisturizes dry, irritated skin with its moisturizing fatty acids.
There are plenty of other essential oils and ingredients found in Mad Rabbit's Tattoo Sunscreen that boast both antioxidant and soothing properties, and you can check 'em out here!
Preventative and Restorative
To get the most out of your sunscreen, you want it to be both preventative and restorative. Many sunscreens focus on preventing sunburns from occurring and damaging the skin, but not all of them work to rehydrate and remoisturize your skin. This is one of the many reasons why Mad Rabbit's Tattoo Sunscreen is ideal for those who both want to protect new ink and rejuvenate old ink. 
It's not that your skin is more prone to be dry and irritated because you have tattoos, but you have undergone trauma to your skin that others might not have. You want to take care of your old tattoos just the same as you are taking care of your newer tattoos. While new tattoos are susceptible to sunburn damage, blistering, and infection, old tattoos often experience fading and discoloration due to a lack of proper care. 
Apply Mad Rabbit's Tattoo Sunscreen to your old tattoos every time you think you will be exposed to the sun for prolonged periods of time. This can help to not only protect from further fading, but our nourishing ingredients work to restore skin, brightening your tattoos and supporting hydration so your skin looks healthy and refreshed. 
Explore Mad Rabbit's full collection of premium, all-natural, sustainably sourced tattoo aftercare products here for protection at all stages of your tattoo.
Sources:
Sunburn Prevention and Treatment | WebMD
Tattoo Aftercare Tips | Medical News Today
Tattoo Sunscreen and Other Sun-Safety Tips to Protect Your Body Ink | Heathline
Try risk-free & save with the Essential Sets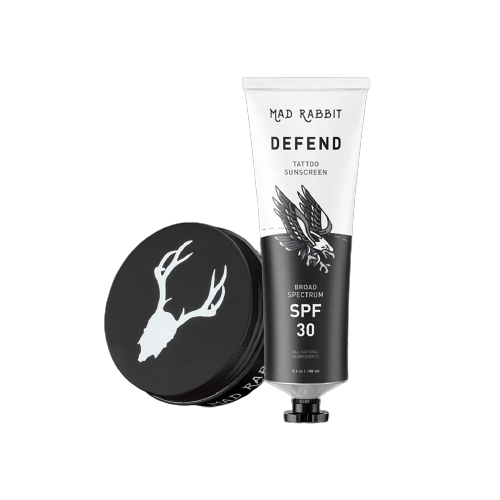 Best Seller
Daily Defense Set
Show off your tattoos in the sun and have them shining bright all day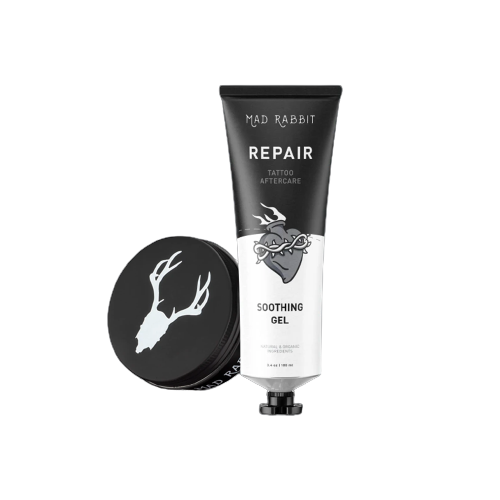 Best Seller
New Tattoo Set
The ultimate relief to heal fresh ink and make it shine