It's no secret that sun exposure can damage our skin over time. But how does direct sunlight affect a brand new or fully healed tattoo? Today, we'll explore the dangers of sun damage on a fresh tattoo.
But don't think fresh ink means no outdoor fun this summer. We'll also teach you how to protect your tattoos from the sun to keep them looking good as new while you enjoy the sunshine. 
We all have to protect our skin from the sun, tattooed or not, but there are a couple of special precautions you can take to protect your inked artwork.
How Does The Sun Damage Tattoos?
We all love a good beach day or hike, with the bright sun warming our skin. While the sun's rays feel amazing, they can damage our skin — especially when we have tattoos.
UVA Rays
UVA rays are the most penetrating of the UV rays. These rays get deep into the skin and can cause long-term damage like wrinkles, sagging, and other signs of aging. 
Tattoo artists can't fix sagging or wrinkled skin with any amount of touch-ups, and you might notice your tattoos appear distorted as your skin begins to sag.
UVA rays can also cause tattoo ink to fade. While light-colored inks are the most susceptible to fading, black and gray pigments aren't risk-free.
UVB Rays
UVB rays target the outermost layers of our skin and are the types of rays that give us sunburns. Fresh tattoos and sunburns do not mix and can even cause an infection if you get a sunburn during the healing process. 
Ensure you protect your tattooed skin from UVA and UVB rays to keep them looking good as new.
What if My Tattoo Gets a Sunburn?
While you should take steps to ensure you don't sunburn your tattoos, life happens. Thankfully, you can take a few easy steps to soothe a sunburned tattoo. 
First, apply a cool compress to the sunburnt places on your skin. If you have dark tattoos, this might be more difficult to find, so be patient.
After removing the cool compress, follow it with a lightweight moisturizer to ensure the sun doesn't dry out your tattooed skin. Our soothing gel can help soothe your sunburned skin with aloe vera and shea butter and won't irritate your skin with artificial fragrances or dyes.
Continue to keep your skin moisturized and your body hydrated. If you notice any more severe symptoms, like swelling, a blister, or a fever, you might have an infection and should consult a medical professional. 
After your sunburn is healed, you'll want to examine your tattoo closely to see if you need any touch-ups from your artist. 
How Can I Protect My Tattoos from The Sun?
You can try several methods to protect your tattoos from the sun. This summer, don't let the sun control your skin. Follow these sun protection methods to keep your tattoos protected and fresh. 
Sunscreen
Sunscreen is one of the best ways to protect your skin from UVA and UVB rays. It's super important to protect not only tattooed skin but non-inked skin from the sun. Lots of sun exposure without sunscreen can lead to signs of aging or even skin cancer, but these are easily preventable with the careful application of sunscreen.
For sunscreen to be the most effective, you should reapply it every couple of hours. Especially if you're prone to sunburns, the more frequently you apply, the better. 
Thankfully, since our sunscreen is super lightweight and non-greasy, reapplication won't make you feel weighed down by heavy products or buildup.
You should also make sure you put sunscreen on about 15 minutes before you're in direct sunlight to give it time to sink in. For the best results and absorption, rub a layer of our mineral-based sunscreen into your skin in circular motions until it absorbs.
How Our Sunscreen Works
Our SPF 30 sunscreen is mineral-based and uses zinc oxide to protect tattoos from the sun's rays. Zinc oxide is a super common ingredient in many skincare products because it helps protect and soothe the skin from various concerns. 
Zinc oxide is also one of the only ingredients the FDA has acknowledged as safe for use in sunscreens. We care about the health of your tats and the skin underneath, so we should use clean ingredients like zinc oxide. 
Alongside our protective ingredients, we also include a few other things to soothe the skin without feeling greasy or heavy. There's nothing worse than a heavy layer of thick, paste-like sunscreen on a hot summer day. 
Our sunscreen is complete with aloe vera to soothe skin, along with another antioxidant, vitamin C, which can support the body's natural repair of damaged skin and production of collagen. This way, you're fighting the appearance of aging while protecting against future damage.
Our sunscreen wouldn't be complete without key extracts: chamomile and carrot. Chamomile can soothe irritated skin, and while carrot extract won't improve your eyesight, it is a great and supportive essential oil.
Skip the Tanning Salon
Laying in a tanning bed is just as harmful (if not more) than a full day in the sun. Sunlamps and tanning beds emit ultra-concentrated forms of light to tan your skin quickly. However, these bulbs can wreak havoc on tattooed skin and cause painful irritation.
The FDA has also linked indoor tanning beds to melanoma and squamous cell carcinoma, dangerous types of skin cancer. 
Tanning beds emit both UVA and UVB rays. As we saw above, these concentrated rays can be super dangerous for all skin types — inked or not. People who started using tanning beds before age 35 saw a 75 percent increase in their risk for melanoma.
If you want to keep your tattoos looking fresh and your skin healthy, we suggest skipping the tanning bed. Opt for a spray tan or self-tanning lotion after your tattoos have fully healed if you're looking for quick tanning results. 
Spend Time Outside During Off Hours
If you have a fresh tattoo on an area of your body that is frequently in the sun, try enjoying the great outdoors when the sun isn't at its peak. Take an early morning hike or spend an evening on the porch, but try to avoid the hot summer sun between 10 a.m. and 4 p.m., when the sun is usually its brightest. 
If you need to be in the sun during peak hours and have a new tattoo, you'll want to ensure you cover it well and take other precautions to protect your art.
Cover Up
If you work outside or know you'll be spending a long period of the day in the sun, cover up with lightweight clothing to protect a new tattoo. If you are prone to sunburns even when using sunscreen, covering your tattoos with clothing might be your best bet to avoid damage, especially if they are brand new.
Tattoos that haven't healed yet are open wounds, so take extra care with new ink. Your tattoo artist will tell you how long you need to keep your new tattoo covered up, and when it's safe to switch from a clothing cover to a mineral-based sunscreen.
Conclusion
We love spending time outdoors, but we also know that the sun can cause considerable damage to our tattoo designs. We're committed to helping you keep your body art looking good for a long time. 
Our broad-spectrum mineral sunscreen is one of the best ways to protect your tattoos from the sun, whether it's your fresh first tattoo or an old one you've had for years.
Avoid having your tattoos exposed to the sun for long periods, and steer clear of tanning beds. This concentrated UV radiation can cause serious damage to your tattooed and non-tattooed skin. Opt for a spray tan or bronzer for a quick glow that's safe on healed tattoos.
Our mineral-based sunscreen can keep your skin safe and supported all day long. Try our Daily Defense Set, which also includes our revitalizing Tattoo Balm, to keep your tattoos looking extra-vibrant and protected from the sun.
Sources:
Tattoo Sunscreen and Other Sun-Safety Tips to Protect Your Body Ink | Healthline 
Tattoo Aftercare: What to Know | Web MD
How to Take Care of Your Tattoo | Web MD
Indoor Tanning: The Risks of Ultraviolet Rays | FDA
Questions and Answers: FDA posts deemed final order and proposed order for over-the-counter sunscreen | FDA
Try risk-free & save with the Essential Sets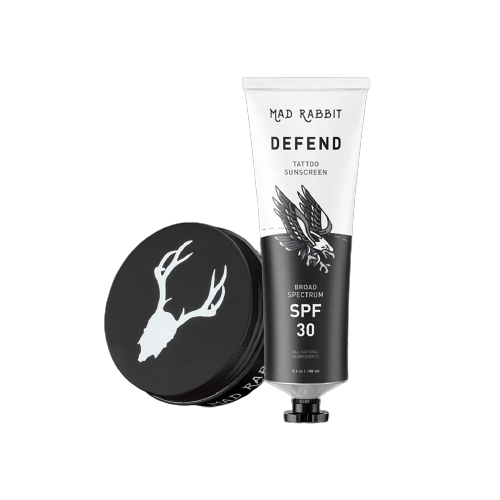 Best Seller
Daily Defense Set
Show off your tattoos in the sun and have them shining bright all day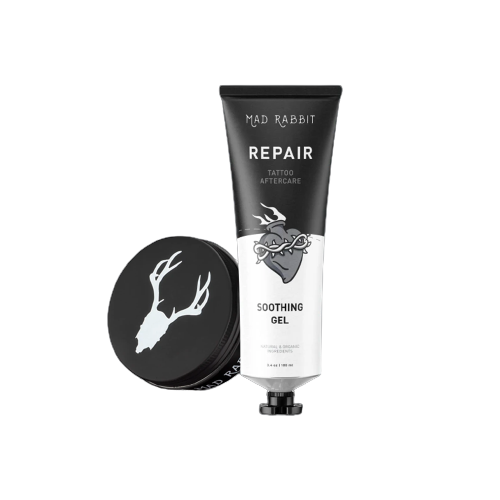 Best Seller
New Tattoo Set
The ultimate relief to heal fresh ink and make it shine