HELLLOOOOooOO Ambassadors,
Dear, me! Has it really been a fortnight since our last ambassador newsletter? (it has been) Not going to lie, I kinda missed you. Ok enough talking– let's get into the action.
New Challenges LIVE September 1
Tattoo Story - Your "My First Tattoo" and "My Favorite Tattoo" posts were so well done we were left wanting to hear more about your tattoo experiences! For this challenge, share your Favorite tattoo, Funniest tattoo, Most painful tattoo, or First tattoo. The reward for this challenge is 1000 points. Go get them big bucks.
Show off Your Tattoos in the Workplace - It's not uncommon to hear, or have the perception, that having visible tattoos is not acceptable in the workplace and may hinder job opportunities. However, is this true? Are most companies tattoo-friendly now? What do your colleagues really think about your tattoos? Are employers becoming more flexible? We are exploring tattoos in the workplace and want to take a close look at our Mad Rabbit Ambassadors' experiences.
TikTok | Mad Rabbit Unboxing - We're challenging you to document an unboxing of one of your Mad Rabbit purchases, along with a trending sound. WOO! Let's unbox some shit!
Shh!... be very very quiet about this one.
-NO! Get LOUD about it!
Labor Day is coming up and we wanted to give you the inside scoop about the deals to be had. The challenge to accompany this sale will be to post an IG Story showing your favorite Mad Rabbit products and include the following sale info + your unique discount code.
Feel free to tease the sale on your IG story EARLY (with your discount code obvi)! Set a countdown and get your followers excited to save big this Labor Day Weekend! Make sure you don't miss out on the opportunity to earn commission.
Labor Day Weekend SALE (September 2nd - September 6th)
$5 off $25

$10 off $50

$25 off $75
Regarding referral purchases, we will be paying out every Wednesday.
If you think you should be getting paid but haven't been, please check that your PayPal email address is correct. To do that, log in to the ambassador dashboard and navigate to Settings > Other
Best Practices Ambassador Content Highlights
You all have been KILLING the content lately and we want to recognize some of those extra great posts:
 
Didn't make the cut this week? That's OK! Continue posting and we will always be sure to feature your content 🥰
Note: to be featured you must have a public profile.

In case you missed it…
We launched numbing cream last week! The non-greasy, 5% Lidocaine treatment cream quickly numbs skin to deliver fast-acting pain relief to affected areas. A combination of antibacterial, anti-inflammatory ingredients and lightweight hydrators support skin's natural barrier to soothe irritability and promote optimal skin function: both surface and below.

Tattoo Tip: Apply to clean, dry skin 30 minutes before your session to help numb pain receptors before the artist starts! To make the effects EXTRA concentrated, apply to skin and instead of rubbing in, wrap area with plastic wrap for max absorption.

Make sure you don't miss out on an another opportunity to try an unreleased product by signing up for SMS and email notifications and staying in touch on socials.


STAY MAD ✌,
Noah (aka: tender) & Amy (aka: Turmanator)


Have feedback? A challenge idea? Just wanna chat? Connect with us on Discord

TAG US @MADRABBIT USE HASHTAGS #MADRABBIT #COMEGETATATTOOWITHME

Filming Best Practices 🤳
Shoot in short and concise clips; think 5-15 second segments.

Shoot via your camera and edit on third-party app (not in the TikTok app) & save video in largest file format for highest quality

Shoot with natural lighting (next to a window) or in good lighting like the bathroom. If needed, bring a ring light or something to improve lighting if you are in a dark area.
Want to see some example content? Check out these videos: Fellow ambassador Ashley Rosentreter's GRWM TikTok video + Mad Rabbit's Balm Stick Education Video
Try risk-free & save with the Essential Sets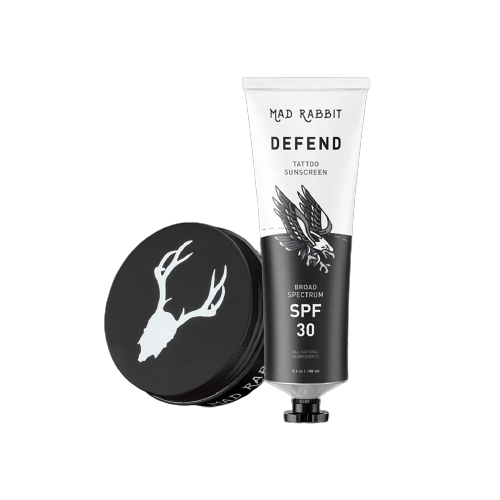 Best Seller
Daily Defense Set
Show off your tattoos in the sun and have them shining bright all day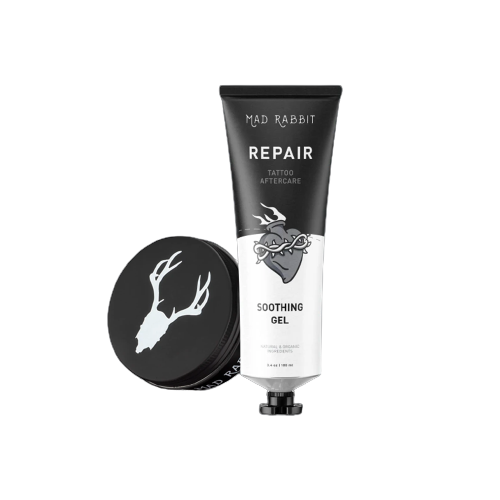 Best Seller
New Tattoo Set
The ultimate relief to heal fresh ink and make it shine